A unique approach to digital marketing [Video]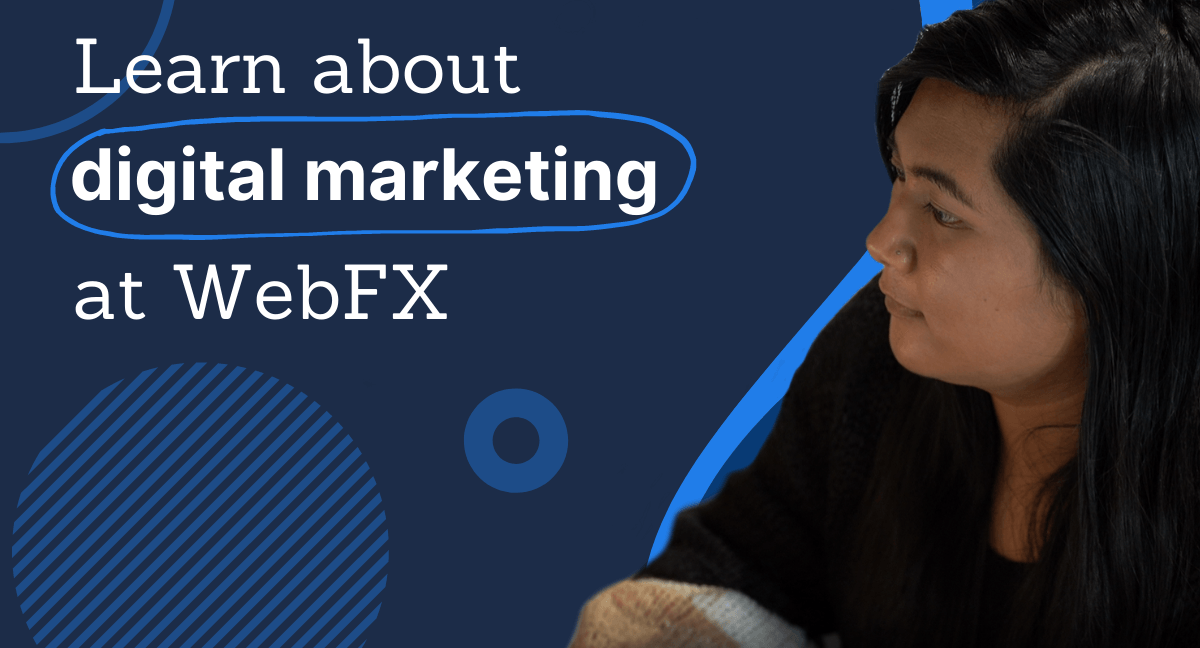 Get an inside look at how our SaaS marketing company develops a custom digital marketing strategy for your business to help you be a top-tier performer in your industry.
Whether you want to boost your leads or increase your sales, WebFX offers all the digital marketing strategies you need to help your business thrive online.
Here's a preview of the services we offer:
SEO
If you're looking to help improve your rankings in search engines and drive traffic to your site, SEO is the strategy you need. When you partner with WebFX as your SaaS marketing firm, we'll help you optimize your website to rank better in search results and drive more qualified traffic and leads for your company.
View Our SEO Services
PPC
With PPC advertising, your business can appear at the top of search results for relevant search terms. From click-worthy ad copy to engaging landing pages, we can help you craft PPC campaigns that drive more leads and conversions for your business.
View Our PPC Services
Email marketing
Want to nurture prospects directly in their inbox? When you invest in email marketing from WebFX, we'll help you craft compelling emails that more people open and engage with in their inbox. With MyEmailFX, we can help you create, send, and monitor your email campaigns all in one place.
View Our Email Marketing Services
Content marketing
Content marketing helps you establish yourself as an authority in your field, build trust with your audience, and drive more traffic to your site. With our in-house team of writing experts, we'll help you craft content — from blogs to videos — that engages and delights your prospects.
View Our Content Marketing Services
Social media marketing
When you partner with WebFX as your SaaS marketing company, you can get help connecting with prospects and building relationships with them on social media. From branding your profiles to posting engagement-worthy content to interacting with your audience, we can help you build a social media strategy that drives more leads and conversions.
View Our Social Media Marketing Services
Social media advertising
Want to reach prospects that haven't discovered your business yet? With our social media advertising services, we can help you craft eye-catching ads that target more qualified leads that turn into conversions for your SaaS company.
View Our Social Media Advertising Services
Web design and development
Whether you need a newly designed site or a redesign for your current site, WebFX is the SaaS marketing company that can help you do it. We'll help you create a site that's unique to your business and provides an optimal user experience. Plus, if you need a website fast, our RainmakerFX program can help you build a site in 30 days!
View Our Web Design & Development Services
Learn More About RainmakerFX
Do I need a SaaS marketing agency?
Marketing SaaS companies is no small feat, so you want to ensure you put your marketing campaigns into the right hands. If you're unsure about hiring a SaaS marketing agency, answer these questions first:
Do I know or does someone on my team know how to craft a marketing strategy?
If you're debating about hiring a SaaS marketing company, first think about who would run your campaign if you didn't hire a company. It would fall on you and your team.
Do you or your team members have any experience in crafting marketing campaigns? Do you know how to set up, run, and monitor digital marketing strategies?
If you don't have the experience, it's best to leave it to a SaaS marketing agency that works with digital marketing day in and day out. You'll drive much better results by working with the experts.
Do I have the time to build my marketing campaign?
Building a marketing strategy is a time-consuming process. You need to set up your strategy, run it, and monitor the performance to improve. When you're busy running your business, you may not have the time to dedicate to building a marketing strategy.
By hiring a SaaS marketing agency, though, you can take that work off your plate. You can focus on managing new clients and providing top-notch services while your SaaS marketing firm focuses on getting those leads to your business in the first place.
Do I have the resources needed to manage my campaign?
To have a successful marketing campaign, you need resources. Whether it's people power or software, you'll need help operating your marketing campaigns. So, if you don't have access to either of those, you may want to put your marketing campaign into the hands of people who do.
By hiring the right SaaS marketing company, you'll get access to the people, software, and resources you need to have a successful campaign.
Why choose WebFX as your SaaS marketing company?
When it comes to marketing SaaS companies, you want to work with the best in the industry. If you're looking for a top-notch SaaS marketing firm, look no further than WebFX.
Here's why you'll want to partner with us:
We scale your marketing as your business grows
When you first dive into digital marketing for your SaaS company, you may not want to invest in a handful of strategies to market your business online. You may settle on one or two strategies and see how they help your business grow.
But what do you do when you decide to expand your marketing efforts, but your company doesn't offer the strategies you need?
At WebFX, you'll never have to worry about scaling your marketing efforts — we're a full-service digital marketing company that offers dozens of online strategies to help you expand your reach.
As your business grows and you want to invest in new strategies to continue your growth, we can scale your marketing efforts to ensure you're getting all the strategies you need.
We have an experienced team of marketing professionals
When you choose your SaaS marketing company, you want to partner with one that's experienced and knows how to craft campaigns that help you grow in your industry. At WebFX, we have over 20 years of experience in creating custom marketing strategies that help businesses thrive online.
With a team of over 300 marketing experts, we have the people power to help you manage your campaigns. Our team's diverse experience enables us to see your marketing campaigns from all angles to help you develop the best strategies for your business.
Our team of active learners stays up-to-date on the latest trends and changes in the industry. So, you can feel confident you're getting a campaign that's using the most up-to-date tactics to help you succeed online.
We deliver a one-to-one experience
There's nothing more frustrating than being passed from representative to representative. You want to have someone you can contact to ask questions, address concerns, and get updates about your marketing campaign.
At WebFX, we deliver a one-to-one experience. When you partner with us as your SaaS marketing company, we'll provide you with a dedicated account representative you can contact regarding your marketing campaigns.
We keep you in the loop about your campaigns, too — your dedicated account representative will provide you with weekly and monthly reporting to keep you informed on your campaigns' performance.
We offer in-house software
Marketing SaaS companies requires investing in tools to help you manage your online marketing. At WebFX, we offer a suite of in-house marketing tools that enable you to manage your marketing prospects better.
Our proprietary marketing software, MarketingCloudFX, enables you to track and manage your marketing data in one place. Our software provides you with crystal-clear reporting on leads, call tracking, and automation features to help you get the most from your marketing.
We also offer customer relationship management (CRM) software, CRMROI. CRMROI makes it easy for you to track which channels drive the most sales and revenue and discover how leads interact with your business. You can track the lifecycle of your leads and manage your sales pipeline to turn more prospects into customers for your company.
Our two software programs integrate to create a marketing powerhouse that helps you maximize your marketing efforts.
We know how to drive results
Other SaaS marketing companies say they drive results, but can they prove it? At WebFX, we have a proven track record of success for our clients. We've been driving results for our clients for over 20 years, and we're not stopping now.
In the past five years, we've done the following for our clients:
Driven over $2.4 billion in revenue
Driven over 6.3 million leads
Managed over 4.2 million phone calls
Managed over 11.6 million transactions
When you partner with WebFX as your SaaS marketing firm, you're partnering with a company that's driven to help you achieve your goals and drive the results you desire.