Generate More Revenue With a Full-Service Email Marketing Agency
Turn email marketing into a lead- and revenue-generating resource with WebFX, an email marketing agency with 25+ years of experience. Receive a full-service solution that includes developing, implementing, and managing your email strategy, as well as measuring its impact on lead generation, sales, and revenue. Keep reading to learn more or request a proposal now!
Grow your business with a top email marketing company
Email marketing is a smart investment for any company.
Whether you're a manufacturing company or a local restaurant, you can use email marketing to stay top-of-mind with your audience. Send promotional emails, monthly newsletters, and more to keep consumers and business buyers interested in your brand and primed to buy your products or services.
With our email marketing agency, your business can take full advantage of email marketing. Save yourself time (and your company resources) by allowing our dedicated specialists to build, develop, launch, and manage a custom email marketing strategy for your company.
When it comes to email marketing firms, you can trust WebFX.
Get everything your business needs with our full-service email marketing firm
Nothing — that's what you have to worry about when partnering with WebFX for email marketing. With our full-service solutions, you can focus on the tasks that need your attention and allow our email marketing firm to take care of building, managing, and implementing your email campaigns.
With our fully-managed email marketing services, for example, you'll receive:
Dedicated account manager
Custom email marketing strategy
Custom email template design
Email creation, from content to design
Email distribution through your preferred platform, from MailChimp to Constant Contact
Email subscriber management and segmentation
Split testing, including for email lists and subject lines
Regular reports, including for lead generation
Conversion tracking, plus call tracking
And more
If you're looking for an email marketing company that provides your business with greater creative control, no worries. You can take advantage of our email marketing plans that allow your company to supply each email's content.
What ESPs does your email marketing company support?
Whether your business uses MailChimp, Constant Contact, or another email service provider (ESP), our email marketing company supports these platforms. We also offer our exclusive email management software, EmailMarketingFX, which offers competitive delivery rates.
Don't see your ESP? Contact us online to speak with a strategist!
How our email marketing company creates successful strategies
At WebFX, our email marketing company takes a client-first and results-focused approach to email marketing. Learn how now:
1. Our email marketing agency gets to know your competition
We want you to have the best chance of standing out in your potential clients' inboxes, so we'll ask you about your competition, and create a custom email marketing strategy that drives even more results.
We'll research things like how they interact with their clients, their brand, their offerings, and more.
In getting to know your greatest competition, we'll get to know your industry better, too.
2. Our email marketing agency researches your industry
We want to know everything about your industry, so we have all the knowledge necessary to create a successful email marketing campaign.
We want to know how much people spend in your industry yearly, how your industry stacks up in the scheme of ecommerce, and more.
The more we know about your industry, the better we can craft the perfect email marketing campaign.
3. Our email marketing agency asks you about your audience
Your audience is the most important part of the equation. Without learning about them, we won't understand how to market your products to them successfully.
We'll ask you about things like general age group, male or female, geographic location, and more. This will help us understand how your emails should look, the tone they should promote, and the best way to sell your products and inform your audience in an email-based format.
After we know everything about your industry, competition, and audience, we'll start your campaign.
We have three different pricing packages for our email marketing plans. Your email marketer will fill you in on the differences between each, and help you fit the one that fits your business best.
Each additional feature depends on the package you choose. You can see some of our pricing outlined here, but if you want a full list of our pricing, you can visit our pricing, you can visit our email marketing optimization page.
Our digital marketing campaigns impact the metrics that improve your bottom line.
See More Results

WebFX has driven the following results for clients:

$3 billion
In client revenue

7.8 million
Leads for our clients

5.2 million
Client phone calls
Why choose WebFX as your full-service email marketing agency?
It can be difficult to find an email marketing agency that understands your business, your industry, your competition, and your goals. That's not something you have to worry about with WebFX, though.
Just check out the list of reasons clients choose us:
Get a dedicated account manager that knows your name, business, industry, and goals.
Receive a custom strategy built to your short- and long-term goals, plus reports that cover your key performance indicators (KPIs).
Access our client-exclusive tech platform that tracks, monitors, and reports leads, sales, and revenue generated from digital marketing channels like email.
Work with an email marketing firm with a 91% client retention rate — that's more than 40% higher than the industry average.
Choose an email marketing plan that works for your schedule, from fully-managed to client-provided email copy.
Use pre-built templates optimized for nurturing and converting leads with our lead nurturing services. Templates include welcome emails, abandoned shopping cart emails, re-engagement emails, event emails, and more.
Read our client reviews to learn more about why businesses see us as one of the best email marketing companies in the USA.
What kind of emails do email marketing companies create?
When you hear the term email marketing, you may think of one thing — an annoying promotional email in your inbox. But if the emails you're receiving are annoying, they're likely not coming at the right time, targeting you incorrectly, or they're not personalized to your likes and interests.
When you do email marketing right, it can drive astronomical results for your business.
At WebFX, our email marketing agency creates emails like the following:
| Service | Uses |
| --- | --- |
| Welcome or onboarding | Greet first-time subscribers, website visitors, leads, and more. |
| Recruiting | Attract new and qualified employees. |
| Seasonal | Highlight holidays like Mother's Day or promote holiday sales, like Black Friday. |
| Re-engagement | Connect with subscribers who haven't visited your website in a specific timeframe. |
| Event | Promote an upcoming event, like a webinar, in-store sale, or product launch. |
| Abandoned cart | Alert subscribers or website visitors that left your website without completing their purchase. |
| Post-purchase | Build brand fans with post-purchase emails that share helpful guides, encourage feedback, and more. |
Here are the different kinds of emails that email marketing agencies provide and how they work.
1. Welcome emails
Welcome emails are a great way to show your audience that you've received their request to opt in to your emails and that you're excited to have them as a part of your subscriber list.
There are a lot of ways to go about a welcome email, and the choice is yours.
You should keep these emails short and sweet as to not scare recipients into thinking that all of your emails will be extremely long-winded.
If you're sending a welcome email because someone filled out a form on your website to learn more about a product or service, you should be sure to provide info. You can talk about the product or service directly in the email or provide a link that will take customers to your website to learn more.
If the welcome email is triggered because someone filled out a form to opt into your monthly newsletters, you can keep it simple and welcome them to your online community. You can include a link or two to your website and give them a little information about your company.
If the welcome email goes out because they signed up for a special offer, don't let them down! Provide the perk you advertised and welcome them to your online community.
2. "You've left something behind!" emails
These are known as cart abandonment emails, and they can help you to finally close the sale that never made it to the conversion stage.

Shoppers abandon carts often —and email is a great way to finally seal the deal.
In these emails, you'll want to remind the recipient what they left in the cart and offer them a button that takes them to the landing page where they can purchase. This makes converting easy and stress-free — and you just closed a sale.
3. Promotional emails
We all know how excited we get when our favorite clothing store releases a new collection, or our favorite car brand releases a new model.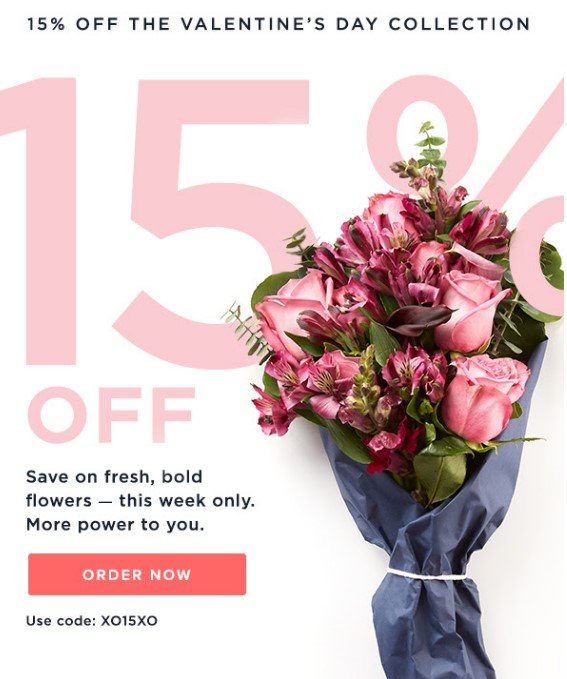 One of the best ways to sell new products is to promote them with an excitement-filled promotional email.
These are meant to get recipients excited about your new product or service — excited enough that they want to come to the store or purchase online.
You should always include a photo of the product you're promoting and the price.
Another kind of promotional email is one that tells your audience about an upcoming event. Whether your products will be featured at the event, you're hosting the event, or you're participating in the event, letting your customers know about it via email is a great way to get them to attend and support your business.
One of the most popular kinds of promotional emails is one that includes coupons and special offers. Your customers are much more likely to come to your store or purchase something online if they have a coupon to entice them.
You can provide a mobile coupon that gives the recipient a barcode to scan at the store, or you could make a printer-friendly coupon for recipients to cut out and bring to the store.
4. "We haven't seen you in a while!" emails
These emails let previous customers know that they're still on your list and entice them with new products and special offers.
For example, if they're part of your rewards program, and they haven't shopped in two months, one of these emails would help entice them to visit your website or come to your store. In a busy city like New York, email marketing is useful to attract shoppers to your store before they get to anyone else's. However, it's also extremely useful to small-town shops as well. Email marketing is an all-around fantastic strategy for any business.
These specific emails are effective because they're personalized to the recipient and show them their value to your business. It also shows them that their business is important to you and that you miss them as a customer.
If someone hasn't shopped with you in a while, it could also be that they've forgotten about you, they live a farther distance away, or they haven't needed to stop by.
This kind of email alleviates almost all of these situations — it reminds them that they've shopped with you before, and (if you provide them with a coupon or special offer) gives them a reason to stop back.
5. Weekly or monthly newsletters
One of the most common ways to stay in touch with your subscriber list is with weekly or monthly newsletters.
These kinds of emails make it easy for you to keep users up-to-date with the latest happenings at your company. Whether it be new employees, new products, or events that you're hosting in the future.
They're a great way to keep your subscribers in the loop, while also staying top of mind in your industry
How can our email marketing firm personalize your emails?
With an email marketing firm like WebFX, our proprietary software, EmailMarketingFX, makes it easy to personalize emails and get them into the right hands.
You can personalize emails in a number of ways.
Subject line
Customer's name
In correspondence with their time zone
Referring to past purchases
"You may be interested in…"
All of these emails are important — especially because personalized emails increase click-through rates by 14%, and increase conversions by 10%.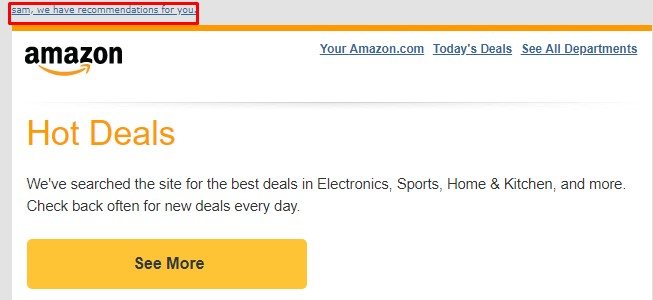 People like to feel that you know them. They don't want to be another bulk email that goes out every Wednesday to your entire list, rather they want to have emails that are catered to them, and that offer them products and valuable information that they would love.
View our email marketing agency's pricing
Explore our email marketing agency's service prices now:
| Features | Basic – Quarterly | Basic | Market Leader | Enterprise |
| --- | --- | --- | --- | --- |
| Number of emails included per month | 1 – Every 3 months | 1 | Up to 2 | Up to 4 |
| Email copywriting | Provided by client | Provided by client | Provided by client | Provided by client |
| (Up to two per email) Images used from your website or stock photography | | | | |
| Campaign & target strategy | | | | |
| Creative theme development | | | | |
| Design edits for each email | | | | |
| Coding of emails | | | | |
| Split testing subject lines | | | | |
| Conversion tracking | | | | |
| Testing of emails on 24 mail clients | | | | |
| Distribution of emails | | | | |
| Open rate analysis | | | | |
| Click rate analysis | | | | |
| Monthly/quarterly lead generation reports | | | | |
| Email metrics real-time login | | | | |
| List split testing | | | | |
| Call tracking | | | | |
| Online campaign project management | | | | |
| 500+ SMEs behind campaign driving results | | | | |
| Website signup implementation | | | | |
| Landing page implementation | View Pricing | View Pricing | View Pricing | View Pricing |
| Initial email template creation (Fully responsive pre-built template) | | | | |
| Custom email template design | $900 | $900 | $900 | $900 |
| Can send in any email platform you choose (i.e. EmailMarketingFX, MailChimp, Constant Contact, etc.) | | | | |
| Additional Emails | | | | $250 per additional Email |
| Email subscriber list management and segmentation | $100 per month | $100 per month | | |
| Monthly investment: | $125 per month (in addition to your email platform subscriber fees) | $300 per month (in addition to your email platform subscriber fees) | $600 per month (in addition to your email platform subscriber fees) | $1,200 per month (in addition to your email platform subscriber fees) |
| Need more information? Call Us: 888-601-5359 | GET STARTED | GET STARTED | GET STARTED | GET STARTED |
Why invest in email marketing?
Email marketing is a smart investment for a few reasons, including:
People trust and use email to influence their purchase decisions, as well as create a newsfeed for brands and products that they like. That's why email generates 50% more sales than any other lead generation method.
If you aren't seeing that kind of result from email marketing, an email marketing agency can help.
WebFX is a partner businesses trust.
Hear from HydroWorx, who saw a 236% increase in organic sessions with WebFX services.
Watch the Video Testimonial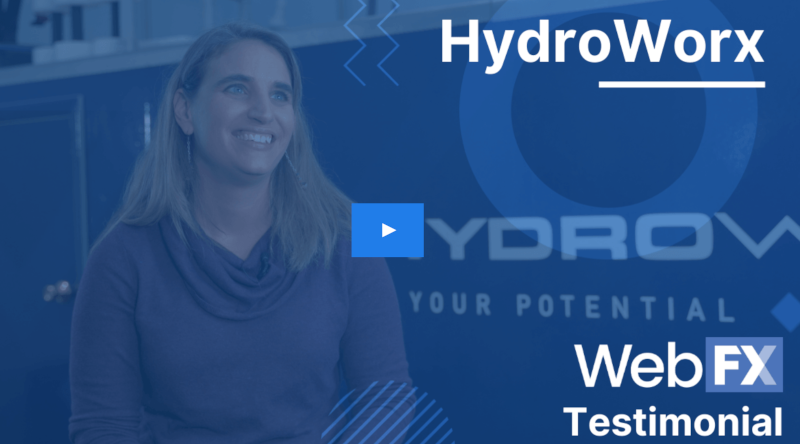 Why hire an email marketing firm?
We've already talked about the importance of email marketing to your company. Emails help you to stay top of mind, remind users of abandoned carts, and even increase conversions.
So now the only decision left is to decide whether to hire an email marketing company. The answer is yes.
If you're a business owner, you know how busy your days are. Between running a business, keeping your storefront clean, replying to Facebook messages, and filling orders, it's difficult to find time to do much of anything, let alone running an email marketing campaign.
WebFX makes it easy — we'll create a custom email marketing campaign and run it for you (or partially manage it) so that you see the results you desire.
Email agencies can give you their full attention and put all their effort into your campaign. On the other hand, if you ran your own email marketing campaign, it's unlikely that it would get all your attention since you're busy running a business.
Ready to Grow? Get your FREE Quote Today!
"We measure our success by how much we WOW our clients."

Bill Craig
WebFX President
How to choose the best email marketing agency for your business
With so many choices out there, finding the perfect email marketing agency can be difficult. But there are a few things to consider that should make your choice easier.
1. Location
Though being in proximity to your email marketing firm isn't crucial, you have to imagine the way you see your partnership going.
Do you enjoy in-person meetings with people working with your business? Or do you have no problem talking over the phone, emailing, or via Skype?
If you don't mind not being able to meet in person often, location won't matter. However, take time to consider if you'll want to regularly meet with your email marketer to talk about your campaign, new goals, etc.
2. Budget
One of the most important things about hiring anyone for your company is your budget. Though typically we like to think that we have limitless spend, when you're running a business, every penny counts.
That's why it's crucial that you consider your budget.
You should start by making a shortlist of all the email marketing agencies that you're interested in. You should also set a budget at the start of your search. This budget should be concrete, and not able to be amended.
That way, when you see an agency that is too high price wise, you can cross them off your list.
Not only does this make it easier to come to a decision, but it ensures that you're responsibly budgeting your business.
3. Their personality
You should never hire an email marketing agency without first getting to know them. You should do a lot of research before you contact them, and when you do speak, be sure to ask a lot of questions.
They should make it clear that your goals are their goals, and that when you work together, they are working to get results for you.
You should also monitor if conversation is easy, if they're confident in their abilities, and if they seem willing to go the extra mile for your company's success. They should have no problem sharing the exact prices of their services. If they seem hesitant, you should reconsider.
4. Reviews and testimonials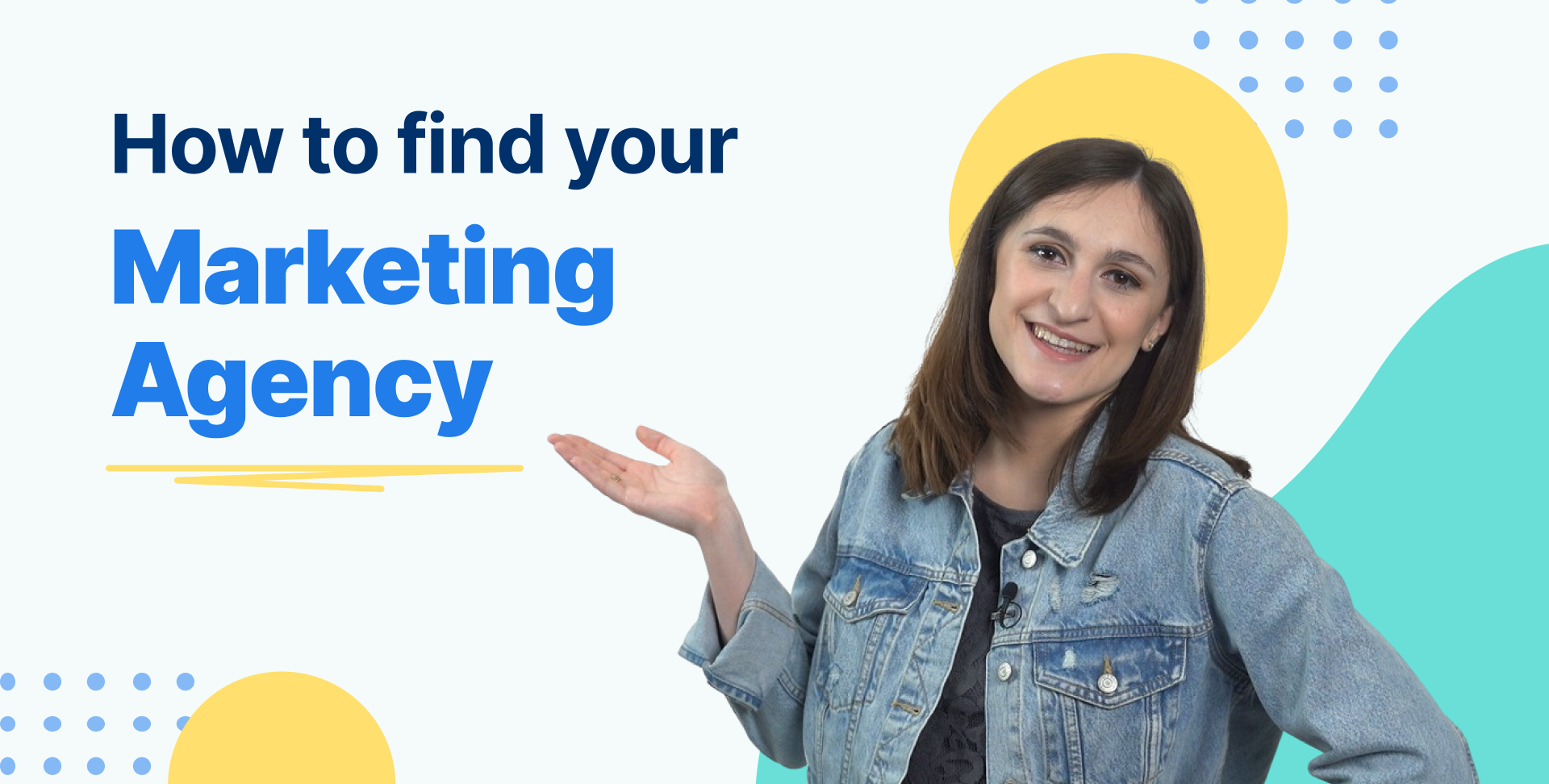 Another important deciding factor when choosing an email marketing agency is what their reviews say about them and how many testimonials they have.
Reviews can be found on sites like Yelp and can help you understand other customers' experiences with them. Everyone has a different experience, so you shouldn't shy away from an agency if they have one or two bad reviews. However, if most of the reviews are negative, you may want to keep looking.
A fantastic email marketing company will have hundreds of testimonials — or proof of how their satisfied clients feel about the services.
Testimonials can usually be found on an agency's website, and they can be in the form of textual content or a video.
An agency with little to no testimonials likely doesn't have much experience — so you should aim to find an agency with an excess of testimonials.
At WebFX, we have over 1,020, which shows potential clients that we mean business.
5. Their experience
Experience is huge when it comes to email marketing.
You want to find an email marketing agency that has been in the business long enough to know what email strategies work and which ones don't, and how to craft a custom campaign around your unique business.
The more experience an agency has, the better they'll be able to help you create the most effective campaign.
This doesn't mean you have to find an agency that's been in the business for decades, but at least 5 years is a must.
Email marketing agency FAQs
What is an email marketing agency?
Email marketing agencies are digital marketing companies whose services enable businesses to promote their brand, products, or services using email campaigns. They provide services such as strategy development, copywriting, design, distribution, and split testing.
How much does it cost to work with an email marketing agency?
Factors that affect email marketing agency pricing include the number of newsletters sent, the platform you use, and the complexity of your email design. Mid-sized businesses typically spend $300 to $2000 per month on email marketing if they work with an agency.
Are you ready to work with a top-notch email marketing agency?
If you're interested in starting an email marketing campaign, but aren't sure where to start, WebFX can help.
We're a full-service digital marketing agency which means we don't just specialize in developing your email campaign, but we also offer some of the best digital marketing strategies available. Some other services we offer include:
PPC (pay-per-click advertising)
Social media marketing
Content marketing
SEO (search engine optimization)
Web design
Web development
Infographic creation
Video production
Reputation management
If you're looking to create a well-rounded, multi-strategy campaign, we can help.
We've driven $3 billion in revenue for our clients, and we have the testimonials to prove it. We have over 1,020 client testimonials that speak to our superior services.
Not to mention, we've driven over 7.8 million leads for our clients.
Partner with a trusted email marketing agency
If you're looking to increase your brand awareness, keep your company top-of-mind, and increase your sales in a cost-efficient manner, email marketing is a great strategy for you.
When you're ready to jump in, feel free to contact us online, or call us at 888-601-5359.
We can't wait to hear from you!