5 Ways to Earn Leads with Social Media
Many marketing channels can help your company gain visibility and increase sales and revenue. Social media is one of these channels, but it offers something many other channels can't: the ability to engage with potential customers in a non-sales environment.
Instead of constantly selling products and services, your company can use social media to interact with your target audience without being overly promotional or salesy. This is one of the reasons social media is also effective for generating new leads.
When you highlight what your company has to offer in a low-pressure environment, you allow potential customers to learn about you on their own terms. Keep reading to find out how to turn your social media activity into a channel for generating viable business leads with premium content, interactive tools, and special offers. And give us a call at 888-601-5359 to speak with a strategist.
Don't forget, whether you need social media services in Minneapolis, or social media services in Miami, WebFX has you covered.
74% of people use social media when making a purchasing decision.
Make their decision easy with a stellar social media presence. See how your brand can level up by requesting a no-obligation proposal today.
One of our experts will be in touch within 24 hours!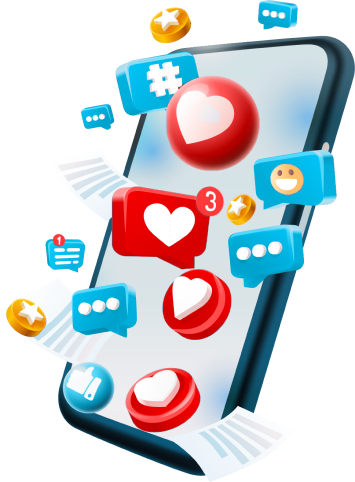 Video: Social Media Marketing Services from WebFX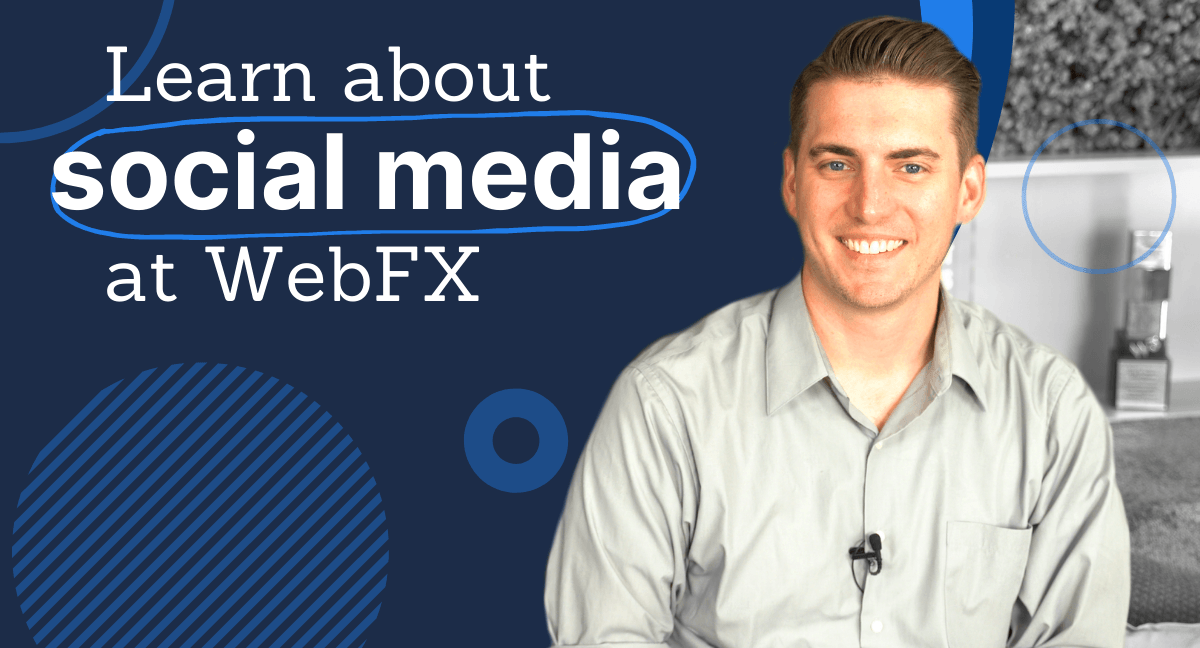 1. Complete your profile
A sparse profile looks incomplete and, therefore, unprofessional. Social media users expect the businesses they follow to take the time to provide the information they need, and they'll feel less driven to make contact if they see no copy, photos or descriptions of your business on your profiles.
Complete your social profiles before launching your lead generation strategy, and you'll get more followers, greater credibility, and ultimately higher returns.
Write a brief description of your business, products, and services, and upload a photo of your company's logo or building as your profile picture. Include other photos and even videos to show off your staff, office, and anything else that's visually interesting.
Include links to your site where appropriate, and if you're using a platform that doesn't have a URL field, add one to your bio. Most businesses link to their home pages, but a landing page could be acceptable depending on your current campaigns and goals.
2. Run paid campaigns
In order to make it easier for businesses to reach potential customers, platforms like Facebook, Twitter and Instagram have all rolled out paid advertising options over the past few years. Given the quality of leads from social media—not to mention its increasingly competitive landscape—these ads are a smart addition to your social strategy.
Develop the right headline and copy, and choose the best graphics for your ad. Know your target location and customer base, since this will determine when your ad appears. Include a strong call to action, and link the ad to a landing page or high-converting page.
Many social platforms also offer the ability to run lead generation ads, which are ideal for newsletter signups and collecting other information from people interested in your products or services.
Thanks to the advanced targeting options on most platforms, it's easy to get your message in front of the right people. And when paired with content that's tailored to their interests, you have a winning combination.
3. Spread the word about events
For some campaigns, the goal isn't to promote your company, but to highlight a specific event. Perhaps you've put together a conference and want to attract thousands of attendees. Maybe you've launched a new product and want to tell people about it.
Basically, if your business is running something that's time-sensitive, social media can be a great way to spread the word and build up buzz leading up to the event.
A few weeks before, create a Facebook event that includes time and location details, photos, and prices. Encourage your fans to RSVP to the event by promoting it on your company Facebook page. You can even run Facebook ads to promote attendance for your event.
Create a hashtag for the event and use it on all your social networks leading up to and during the event. On Twitter, encourage followers to use it when talking about your event or promotion. Post images from the event on Instagram using the hashtag and encourage others to do the same.
As long as you stay consistent across all of your channels, social media can be an extremely effective tool for making people aware of your event and encouraging them to attend.
4. Promote premium content
Part of your content marketing strategy involves producing the kind of high-level, evergreen content that piques the interest of potential customers and raises awareness of your company. What better place to share this content with the public than on social media?
Turn your latest piece of premium content into a lead-generation tool by sharing it on your social channels.
Post a link to the content in your timeline or news feed, and make sure the link goes to a page where you can capture names and email addresses in exchange for the content. Many premium content pieces contain infographics, micrographics, or other images.
Use those images to promote the content on visual platforms like Instagram and Pinterest. Infographics and micrographics perform especially well on Pinterest. When sharing on Instagram, make sure to update your profile bio URL with the correct link and then use the caption to encourage people to visit your profile to download or view the content.
If you're not getting much traction with this strategy, consider using paid campaigns. Before trying that though, try creating a social media content calendar.
Keep track of which topics and formats yield high response rates on which channel, and use the data to optimize future content marketing plans.
5. Create interactive content
Your company can use social media to communicate with current and potential customers, and it's a great way to build informal relationships. These relationships can provide useful insights into your target audience.
Some of the best ways to gain insight are interactive posts, like polls and contests. These are not only more engaging than regular updates, but can help you better understand your followers.
Facebook offers GIF polls, a unique combination of the two. Twitter also offers polls that allow you a unique opportunity to gather information from your audience. You can ask questions related to your products, world news events, or what type of content they like seeing from you.
Using contest tools, you can build and create unique contests for your audience that encourage them to provide you with information like their email address, or simply answer questions related to your brand or products. You can also host contests that encourage user-generated content by asking fans to submit photos of them using your products through a contest form or social media hashtag.
Time to Level Up Your Sales
Our long list of services helps you grow every aspect of your business with marketing strategies that are proven to increase bottom-line metrics like revenue and conversions.
In the past 5 years, we've managed more than 12.9 MILLION transactions across our client base.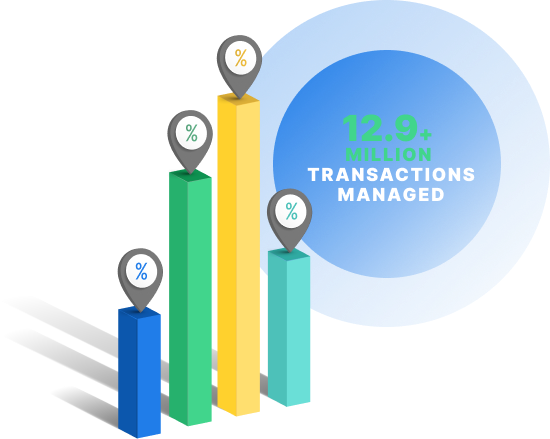 Want to generate more leads with social media?
Lead generation is a key benefit of social media marketing. Put these steps in place, and you can turn any platform into a viable channel for your lead generation strategy.
If you're ready to start generating leads on social media, don't hesitate to contact us! At WebFX, we have years of experience creating and managing successful social campaigns for our clients, and we'll do the same for you.