Content Marketing Ideas for Lead Generation
You can generate sales leads through email, social media, and tons of other avenues — but did you know that you can also earn them through content marketing?
Content marketing for lead generation is the practice of publishing original content on your website that attracts qualified business leads. This will not only help you move customers through the sales funnel, but also help your content become an important part of your formula for growth.
If you're interested in learning how WebFX can help you create a strong content marketing strategy, call us at 888-601-5359 to speak with a strategist, or keep reading for 7 types of content that can help you generate leads online.
Don't forget, WebFX offers lead generation services to clients across the country, so whether you're looking for lead generation services for your Minneapolis business or lead generation solutions in Philly, WebFX is here for you.
37% of marketers say that generating high-quality leads was one of their biggest challenges.
We want to decrease that percentage.
WebFX can help you generate high-quality leads with a customized marketing strategy.
Learn More About Lead Generation Services
1. Offer free webinars
Webinars are a low-cost way for you to showcase your expertise and educate your prospects. Pick a topic that's of interest to your prospective customers — it could include developments in news, your industry, your business, and more. If you have trouble coming up with a good theme for your webinar, think about the common questions that you hear and answer one of them in-depth during the webinar.
2. Offer books and downloads
Have some information you want to share? Don't just give it away without getting something in return. Turn the information into a well-written ebook or PDF download available on your website. Then, ask interested consumers to provide you with their name and email address to download it. You can add this information to your email list to create an email drip campaign that helps move customers through the sales funnel at certain points, maximizing conversions.
3. Create online courses and boot camps
Think about something that your business can offer the public in the way of a course or a boot camp. For instance, if you work in financial services, you could offer a four-week online-based course (for free!) on how to make tax time easier. You can promote these courses through social media, your blog, and other channels to make sure they get maximum exposure.
4. Send newsletters
Newsletters are excellent forms of marketing since they're sent on a predictable schedule and appeal to a wide audience — just check out these top marketing newsletters to see. Your newsletter should provide information that your customers can't get in one spot anywhere else. You can even embed images and videos to promote interaction with recipients. Make sure you also link back to your site, so customers can jump straight from your email to your business's online presence.
5. Release independent research
With the right ideas, resources, and outreach, you can position yourself to gather and release proprietary data on topics important in your industry. This type of research can give your business exceptional visibility when it's done at the right time. Bloggers, news reporters, and media outlets especially like to use credible data when it's relevant to something in the news. As long as you use credible sources, the sky is the limit for your research.
6. Create infographics
Infographics are everywhere, but they're not all the same quality. By creating a high-quality infographic, one that can incorporate the data that you've just collected, you can appeal to a wide audience with compelling information in bite-sized, easy-to-read bits. You can also add your business's logo, address, contact information, and more to attract traffic and sales leads. Plus, if another website posts your infographic, you can ask them to include a link back to your website for attribution, which helps your SEO.
7. Offer free trials of software
One way to get leads is to offer a free trial to potential customers so that they can experience what you make first-hand. Then, once the trial is done, your customer can come back, find the full product, and convert into a paying customer. After all, if your product is good enough, it should be able to speak for itself.
Ready to speak with a strategist now? We're happy to chat! Give us a ring at:
888-601-5359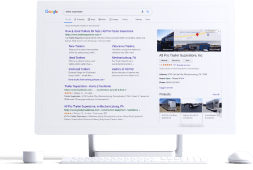 WebFX can help
WebFX specializes in content marketing, and we know what it takes to generate credible sales leads for businesses. Our team of experienced Internet marketers, content creators, and web designers can take your ideas (or create their own) and turn them into valuable additions to your website. We're sure our award-winning team can help your business grow by attracting more leads with engaging content.
Contact us today to start planning your business's track for growth!