SMB Web Design Services: Launch a Revenue-Driving Site
As an award-winning digital marketing agency, WebFX is the perfect company to help you drive top-tier results through your small business web design. Read on to learn more about our SMB web design services and how we can help your business!
SMB web design services to propel your online marketing
First impressions are everything. When it comes to your business, 94% of users' first impressions come from your web design. That's no surprise, considering that your website is the center of all your online marketing. It's where users can go to learn more about you and convert.
For that reason, your web design should be one of your company's highest priorities. And if you need a helping hand, you won't find a better agency than WebFX. When you partner with us for our small- to medium-sized business (SMB) web design services, you won't be disappointed.
Keep reading to learn more about our small business web design services. Then give us a call at 888-601-5359 or contact us online to get started with us, or use the calculator below to generate a customized web design quote for your business!
"I am really pleased with WebFX and the results they are starting to generate for our website. Many of our targeted webpages are listed in the first spot on search engines and our traffic has significantly increased. We also enjoy the value and traffic our new blog has generated. The content is topical and well-researched."
Marketing Manager
IT SOLUTIONS PROVIDER ON THE EAST COAST
Project Quote Calculator
Use the sliders below to indicate your needs, then click the "See Pricing" button for a free, instant quote.
Project Quote Calculator
We estimate your project will cost between and . Please complete the web form below for an exact project quote from a WebFX website design strategist.
Explore web design services for small businesses
Looking for a specific web design service for your small business? Check out our offerings:
Or, keep reading to learn more about our small business website design services!
What do your small business web design services include?
WebFX specializes in a range of web design tactics and provides numerous service features related to web design for SMBs.
Here are seven SMB web design service features we offer!
1. Website page setup
The first of our web design services for SMBs is website page setup. We'll create every page of your site from scratch or we can reoptimize your existing webpages. Our team will help you rework the pages you currently have while also adding some new ones as needed.
In addition to creating your pages, our web design services for small business help you organize them in an easily navigable way, ensuring that users have no issues finding their way around your website. If you're unsure how many web pages your site needs, we can help you figure that out, too!
We'll then work on optimizing your visual design. A website might be perfectly organized and feature stellar content, but if it looks unattractive, it still won't earn much traffic. WebFX will help you create an attractive website that catches visitors' attention.
Our SMB web design agency will put our design team to work crafting appealing visuals for all your site pages, optimizing everything from color schemes to font styles.
We'll also be sure that the visual components we use reflect your company's unique brand, enabling you to stand out in users' minds rather than blending in with your competitors.
2. Ecommerce web design
Building a regular website is one thing, but it takes even more work to create an ecommerce site. WebFX can help you integrate ecommerce functionality into your website to help you sell your products.
As we create all your informational pages, we'll set up your online store, from your product pages to your checkout pages. We'll make the transaction process as smooth as possible to ensure users complete their purchases.
As a part of our SMB website design services, we also make sure your online store is secure, displaying the security plugins we use so that users will feel comfortable and safe disclosing their financial information.
3. Content creation
One of the most important services WebFX offers is content creation. Your website won't drive traffic if there's no content there to draw in users. With content creation, you deliver crucial information to website visitors that helps keep them engaged and learning more about your business.
We offer professional copywriting services to help craft all your site's written content. To start with, we can help you write your blog posts.
We also offer a separate package for ecommerce copywriting services, where we can craft your product page descriptions for you.
Finally, we can craft multimedia like videos that inform users about your products or services and encourage them to buy.
For all the content we create, we'll ensure that it keeps readers engaged and directs them toward converting.
4. Responsive design
Many of your website visitors will visit your site from computers, but many others will do so via mobile devices. For that reason, your site must be mobile-friendly or you'll lose qualified traffic. Furthermore, Google ranks sites based on their mobile format, so your rankings will decrease without a mobile-friendly website.
WebFX includes responsive design with our web design services for small businesses to help you create a website that adapts to all devices. Responsive design is a type of website design that restructures your pages to fit the screen where they appear.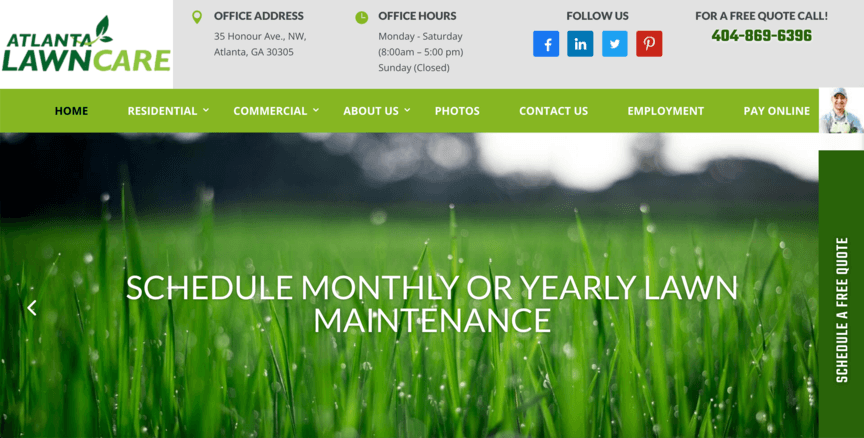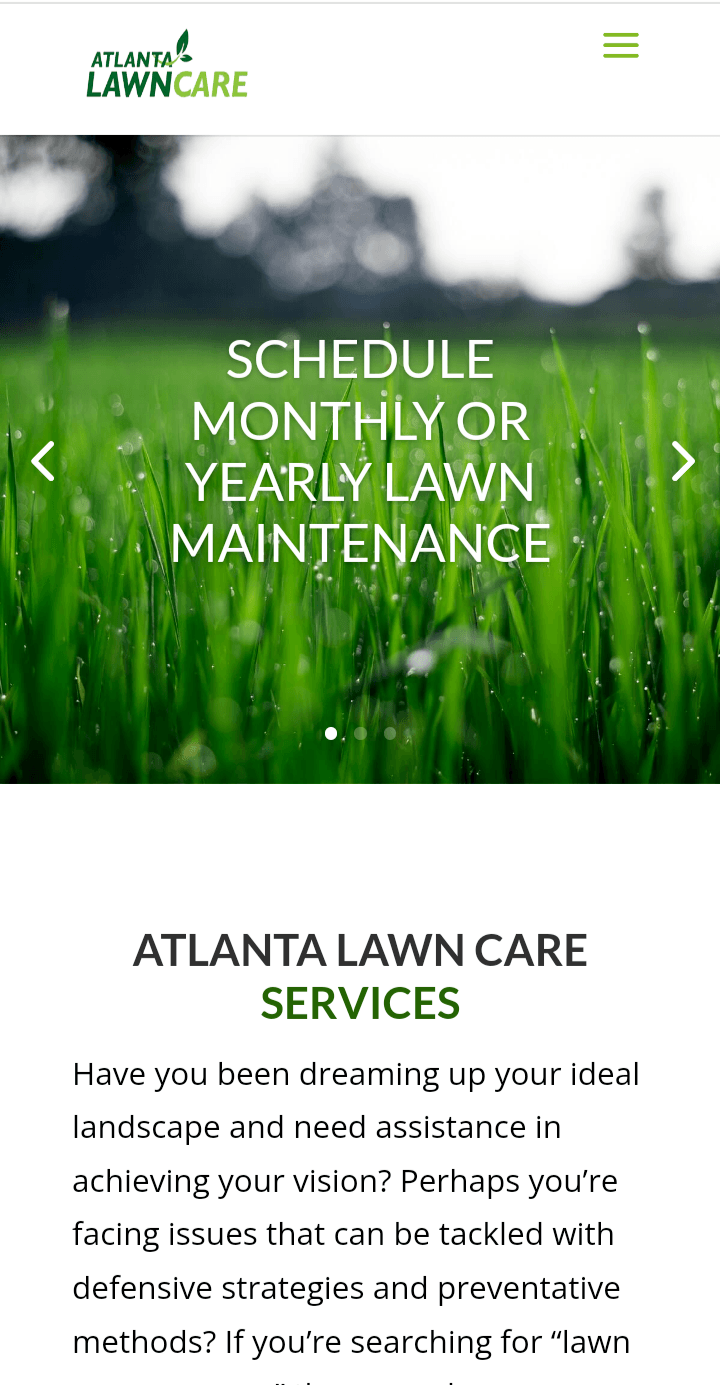 We'll help you set up responsive design on your site, ensuring that it's functional and appealing for everyone.
5. Search engine optimization (SEO)
Search engine optimization (SEO) is the practice of optimizing your web content to rank high in search results on sites like Google. At WebFX, SEO is our specialty. When we set up your website, we'll optimize it for numerous SEO ranking factors to help you get found in search results.
Some of the SEO tactics we'll implement include:
Through our SEO efforts, your site will improve its rankings for keywords in your industry, helping more people discover your SMB.
6. Database integration
One thing you may want to use alongside your website is a database. Databases help you do everything from process payments to collect and store customer data.
Whatever your need, if you want to integrate a database with your website, WebFX can help you set it up. We'll help you design and launch the exact database you need, after which we'll integrate that database with your site, so you can smoothly send information from one to the other.
If you're unsure what kind of database you need, we can help you figure that out as well!
7. Content management system (CMS) development
Some businesses opt to create their website from scratch using HTML, which requires them to have advanced coding knowledge. But if you're not an expert at coding, you may prefer to use a content management system (CMS) to make changes to your site.
A CMS lets you create and edit your website using a "what you see is what you get" (WYSIWYG) format, where you can see what the site will look like as you're editing it rather than doing it all via raw code. WebFX can help you choose and set up a CMS to use for your site.
That will enable you to make changes to your site whenever you want without having to possess tons of coding knowledge to do so.
Why choose WebFX for your SMB web design services?
WebFX is one of the best agencies out there for helping you design your website. But why partner with us for our web design services for SMBs?
Here are three major benefits that come with partnering with us for your marketing!
1. We have decades of web design experience
WebFX has been driving revenue through web design for well over two decades. To be more specific, we were founded in 1996, meaning we've been designing successful websites for our clients for more than 25 years.
With that level of expertise behind your website's design, you can feel confident you'll receive a website designed to wow visitors and provide a positive user experience. We'll apply everything we've learned in the past two decades to help boost your incoming traffic and conversions through your website's design!
2. We have an extensive web design portfolio
It's one thing to talk about how well we can design web pages, but here at WebFX, we also have something to show for our efforts. More specifically, we have a full web design portfolio containing over 1,128 websites we've designed in the past for our clients.
Just look through our portfolio to see what we're capable of creating for your business. By partnering with us, you can feel confident knowing that your site is in the hands of expert web designers.
We don't want to tell you about the work we do, we want to SHOW you.
View Our Portfolio

We've built over
Websites
in a variety of industries.
3. We're known for driving incredible results
WebFX stands out for the results we've driven for the many businesses that have partnered with us. In the past five years alone, we've generated over 7.8 million leads and $3 billion in revenue for our clients.
Those results are part of the reason our clients are so happy with our small business web design services.
In fact, they've left us with over 1,020glowing testimonials that speak to our incredible quality of service. When you partner with us, you'll gain access to that same service, driving amazing results for your company!
Build a revenue-driving site with SMB web design services
If you want a helping hand with building your website, you won't find a better agency than WebFX. We know web design for SMBs inside and out, and we can't wait to show you firsthand what we can do for you.
When you partner with us for our small business web design services, you'll gain access to all the services listed above. You'll also receive a dedicated account representative to keep you in the loop about everything we do to improve the quality of your website.
To get started with us, just call 888-601-5359 or contact us online today!