How to Get the Most out of Google Search Analytics
Google Search Analytics is essential for tracking your website performance and organic search traffic. It brings over data from Google Search Console's performance section into Google Analytics so you can view it in one central location.
Yet, it's challenging to tackle the fine points of set up, performance, and reporting. So, how do you really know you're getting the most out of Google Search Analytics?
In your ongoing search engine optimization (SEO) evaluations, aggregated search statistics can serve you well. Google Search Analytics passes on valuable insights about user behavior and desires — and it helps you navigate your success navigating Google's algorithms.
Google Analytics is full of incredible insights. You can view impressions, clicks, and more in a range of dimensions (device, country, landing page, and query) from the comfort of the platform — and combining your Google Analytics and Google Search Console data can help you drive better results with your digital marketing.
To get help with your search analysis now, contact us online about our Google Analytics consulting services or call us at 888-601-5359.
1. Set up Google Search Analytics
To benefit from Google Search Analytics, you first need to integrate the Search Console with your website and establish reporting. Without tracking the search query data, there's nothing to analyze.
Setting up Google Search Analytics takes three steps: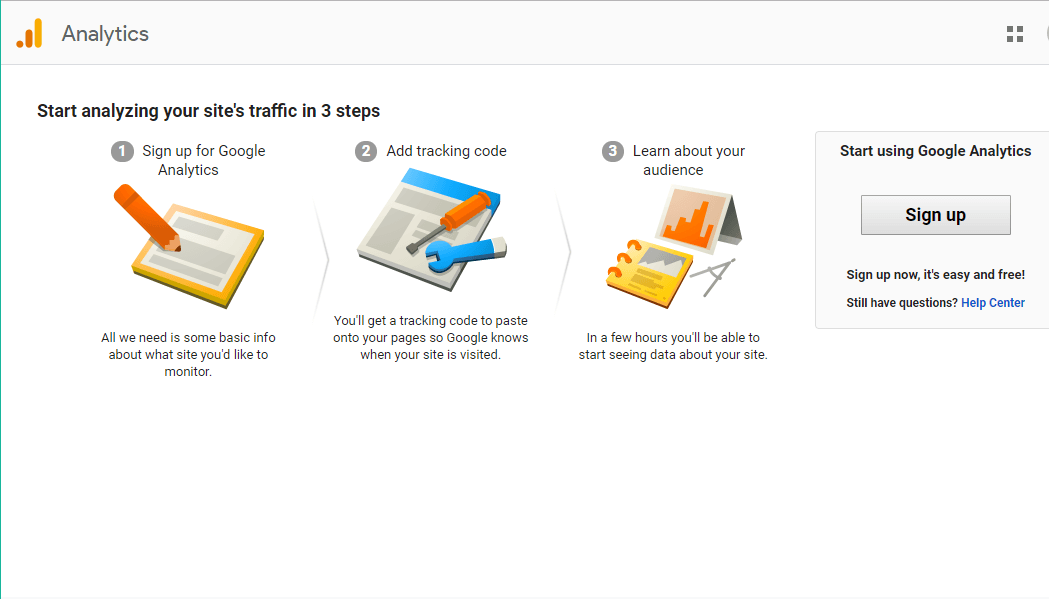 Once you're situated with Google Search Analytics, you can use the information to inspect the volume of traffic you're receiving and your overall SEO health.
2. Measure performance through Google Search Analytics
Performance measurements are the real essence of implementing Google Search Analytics. You can view the numbers behind your ranking and the outcome of your SEO on potential customers.
You might be familiar with the long-term data availability in Google Analytics, but Search Analytics limits you to the last 90 days of statistics. This up-to-date design helps you research current performance and stay relevant in your digital marketing.
From query data to bounce rate, you get a rich impression of your search engine presence. Let's look at what you can measure and what it means for your campaign.
3. Consider Google Search Analytics metrics
Google Search Analytics calculates the effects of your site on search engine results pages (SERPs) in three categories. They each reflect a stage of the sales funnel and customer interaction with your pages.
Look over acquisition
Google Search Console brings most of the acquisition-based metrics to the table. Including impressions, clicks, click-through rate, and average position, you have access to multiple actions you've earned from organic searches.
It's important to note that the number of impressions on the SERPs doesn't mean actual eyes connected with your page, because even if your page was on the fourth or twelfth SERP, it counts this as an impression.
The average position is helpful in checking how prominent your pages are for their related keywords. To give you context, there is an average of 8.5 organic search results on Google's first page for mobile formats and 8.6 on desktops.
Top rankings increase your leads and offer a better chance of high traffic. If your page sinks down to the 15th spot on average, step up your SEO tactics.
Understand behavior
The bounce rate — or percentage of single-page sessions — is the primary behavior metric for Google Search Analytics. Knowing the level of interaction with your pages can inform your future content creation.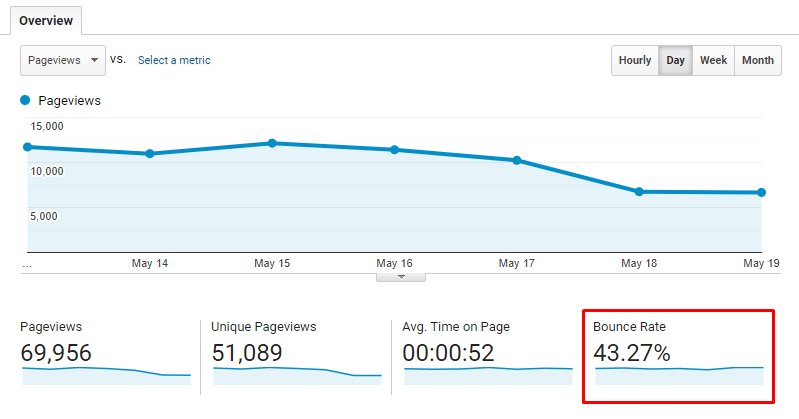 When someone leaves your site right after entering, you can take a closer look at your content and question how engaging it is. Attracting visitors for a satisfying amount of time draws people in and increases your conversion rate.
If you're wondering what an ideal bounce rate is, it can range anywhere from approximately 50 to 95 percent, depending on the kind of page you're checking.
Behavior data also involves Google Analytic-based sessions, which are visits to your site, and you can filter out paid and other sources to focus on your organic sessions. This overlaps with acquisition statistics, so you can weigh it in either of the categories.
Track conversions
Google Analytics provides useful reports about sales and revenue fluctuations, which can support ecommerce sites, small-to-midsize businesses, and large businesses.
In percentage form, the ecommerce conversion rate shows the ratio of transactions to sessions. This can shape the design and message approach of online stores and Internet-based markets in their digital marketing.
If your call to actions aren't urgent enough or your target audience isn't ready to purchase, you will see a low conversion rate. This allows you to reorient your strategy and encourage increased buying.
In the same way, transaction data can deliver the number of transactions that steam for people's search queries. If someone purchases a book from your ecommerce bookstore, you can see what keywords brought them there.
Revenue data displays the associated from the transactions, which gives you a clear picture of the profitability of your marketing campaign. Nailing down your current revenue from an e-commerce endeavor is easier with the structured chart of Google Search Analytics.
Alter Google Search Analytics dimensions
The dimensions in Google Search Analytics allows you to separate metric data into unique sections. While the metrics appear in side-by-side rows, the dimensions kick off the charts.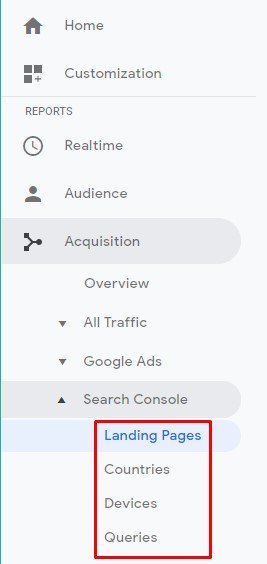 Here are the four dimension types and how their reports can enhance your goals:
1. Examine query search data: Concentrating on the queries that lead users to your site is probably the most crucial factor in Google Search Analytics. The actual query that matches a user to your content demonstrates the best keyword usages in your SEO efforts. The data alongside queries can let you know if your material gives Google enough context and how the search engine interprets your blogs, informational pages, and product pages. It can shift around the numbers if people find your content relevant and high-quality. For a general example, a top spot on Google for the query "farmhouse tables" might attract people, but if the page only offers a selection of dining tables, people who want a farmhouse coffee table will backtrack after their click.You can use query data to meet the expectations of users throughout their search. Pinpoint the strengths and weaknesses of your pages and decide whether you fulfilled visitors' questions and needs.
2. View landing pages: You can adjust reports to show specific landing pages and how they're associated with the previous metrics. Comparing successful landing pages with others can direct you as you decide what's working and what's not. Google Search Analytics crunches the numbers on all the URLs across your domain. URLs that match focused queries can pull high achievement for the site as a whole, elevating your entire domain. When it comes to landing page reports, Google Search Analytics sticks to canonical URLs, so there aren't multiple versions of data for the same content.Aside from aligning with search intent and ranking high on SERPs, you can look at delays and errors like page load speed, which is labeled "Site Speed" in this report. Smooth features and speedy loading can cause your site to climb Google's ranks, and on-page optimization can help your pages get there.
3. Survey country origin: You can watch how well your pages rank in various countries, and language details for your site can affect your performance. If you're trying to cater to several countries or narrow your focus to just one, this can follow your progress throughout the campaign.
4. Check device source: Since people increasingly Google from smartphones and other mobile gadgets, the device reporting can serve as a vital reference for mobile compatibility. Google's mobile-first indexing reinforces the idea that devices apart from desktops are on the rise, and in your SEO, you can't ignore mobile-friendly factors. If your site clicks decrease for mobile users, then your layout or features could be problematic for mobile phone users. You can boost your mobile design and functionality to catch up, and consult the Google Search Analytics reports to ensure your performance improves. Ideally, your search performance across devices looks similar, so you're accommodating most kinds of devices.
4. Review Google Search Analytics reports
Google Search Analytics is convenient for its ability to go through numerous angles of your SEO. You can check and uncheck boxes to move around the metrics and dimensions as you think over the best way to boost your visibility and user experience.
The charts are handy for comparing landing pages or queries, and customization allows you to arrange the chart for your distinct purposes.
The categories of Search Analytics should spur you on to implement solutions, and you can use them for continual tracking. Making suitable fixes to your site based on the reports can transform your site for people's experiences and Google's rankings.
Good agencies have more than 50 testimonials.
Great agencies have more than 100 testimonials.
WebFX has over 1000+ glowing client testimonials.
See What Makes Us Stand out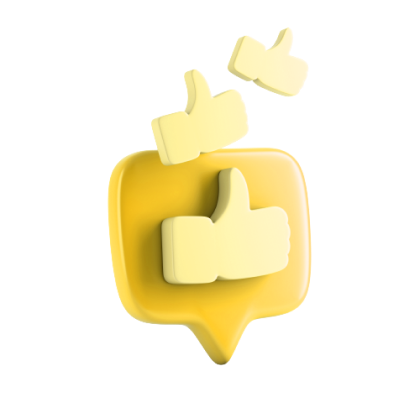 Maximize search analysis with WebFX
SEO is a major component of thriving online as a business, and analyzing search data is a logical optimization step that produces more leads, conversions, and revenue. Google Search Analytics is a sophisticated tool to plot your SEO course.
As you figure out how to capitalize on this tool, you can also benefit from a skilled digital marketing team. WebFX has been strengthening clients' website since 1996, and in the last five years, we've generated $3 billion of client revenue.
We're dedicated to driving revenue for our clients, and we want to do the same for you. Find out more about our SEO services and our Google Analytics consulting today by contacting us online or giving us a ring at 888-601-5359.
Earn a 20% greater ROI with WebFX