Over the past few years, the franchise industry in the U.S. has seen significant growth. As franchising continues to grow, so does competition among franchise chains.
So how can you make your franchise stand out? The answer is digital marketing. Digital marketing can help you creatively promote your franchise online to reach more customers and earn more revenue.
Let's take a look at 7 web marketing strategies your franchise can start using today!

Embed This Graphic On Your Site
Franchise Growth in the U.S.
According to the International Franchise Association, the franchise industry is set to grow 1.6 percent this year, bringing the grand total of franchise establishments in the U.S. to 744,437. Franchise employment is also projected to increase 3.3 percent to 7.8 million workers, adding 250,000 new jobs. Let's take a look at the growth of franchises in the U.S. over the past 5 years.
Number of U.S. franchises:
2017: 744,437
2016: 732,842
2015: 720,458
2014: 708, 973
2013: 697,943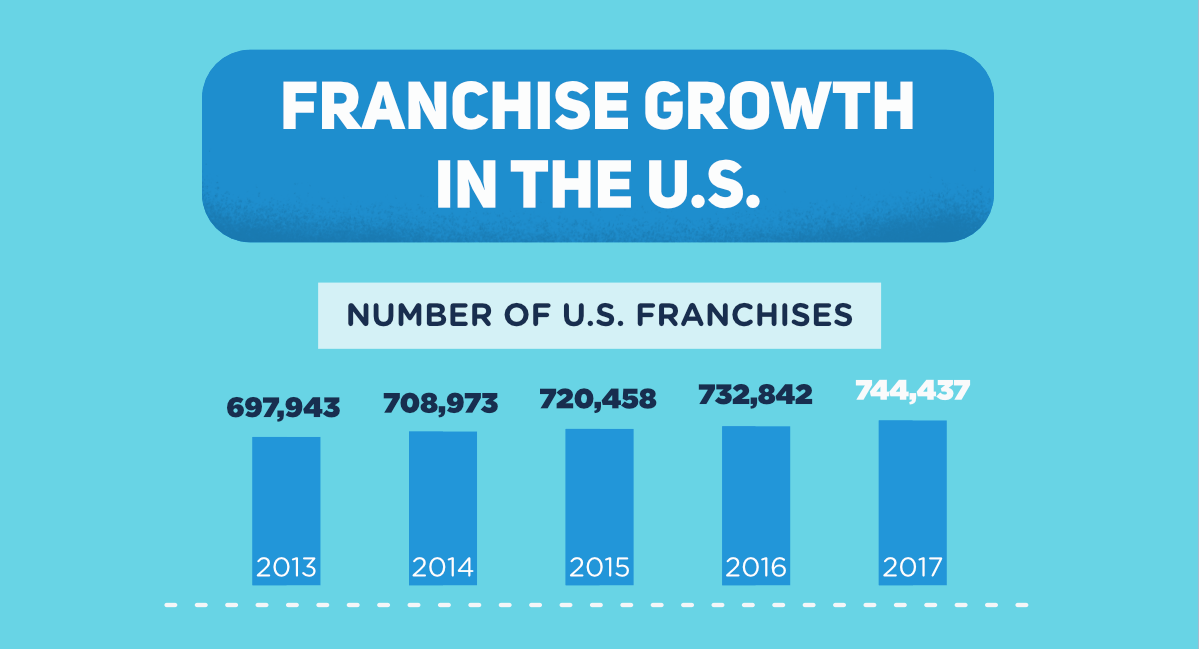 Top 5 states for franchise employment growth:
Arizona: 4.7%
Utah: 4.6%
Nevada: 4.4%
Florida: 4.1%
Colorado: 4.1%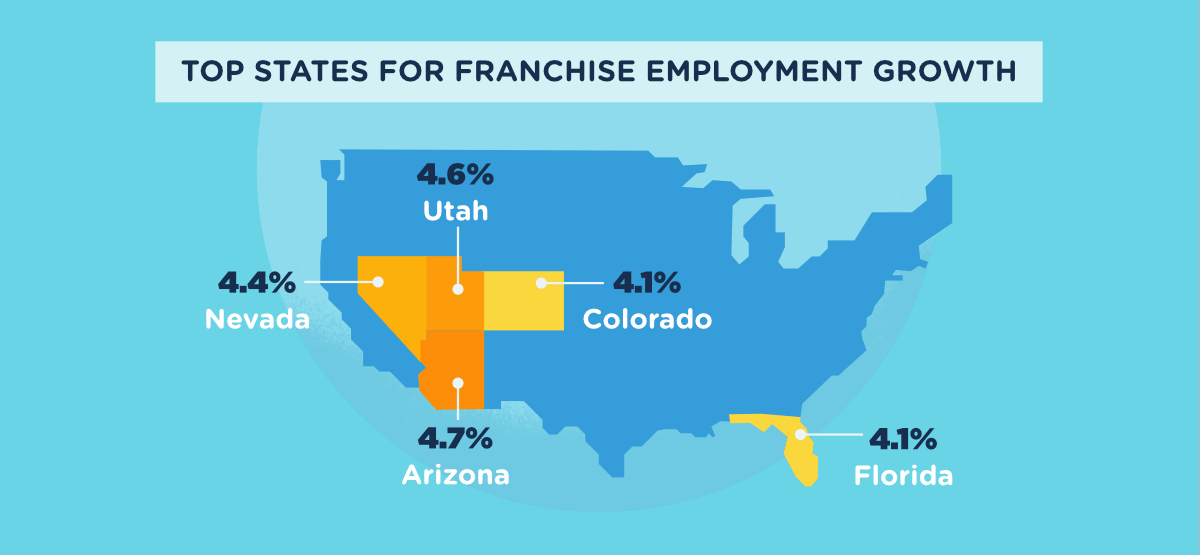 Top franchises by establishment growth:
Personal services: 2.3%
Quick service restaurants: 1.9%
Table/full service restaurants: 1.9%
Retail products and services: 1.7%
Business services: 1.5%

As the franchise industry continues to grow, so does the need for franchise marketing.
Franchise marketing by the numbers
A study conducted by Higher Visibility surveyed more than 1,900 franchise professionals and developers across the U.S. Respondents were asked to select their top lead generating channels. The results?
Referrals: 63%
Social media: 55%
SEO: 39%
PPC: 39%
Content marketing: 24%
Public relations: 21%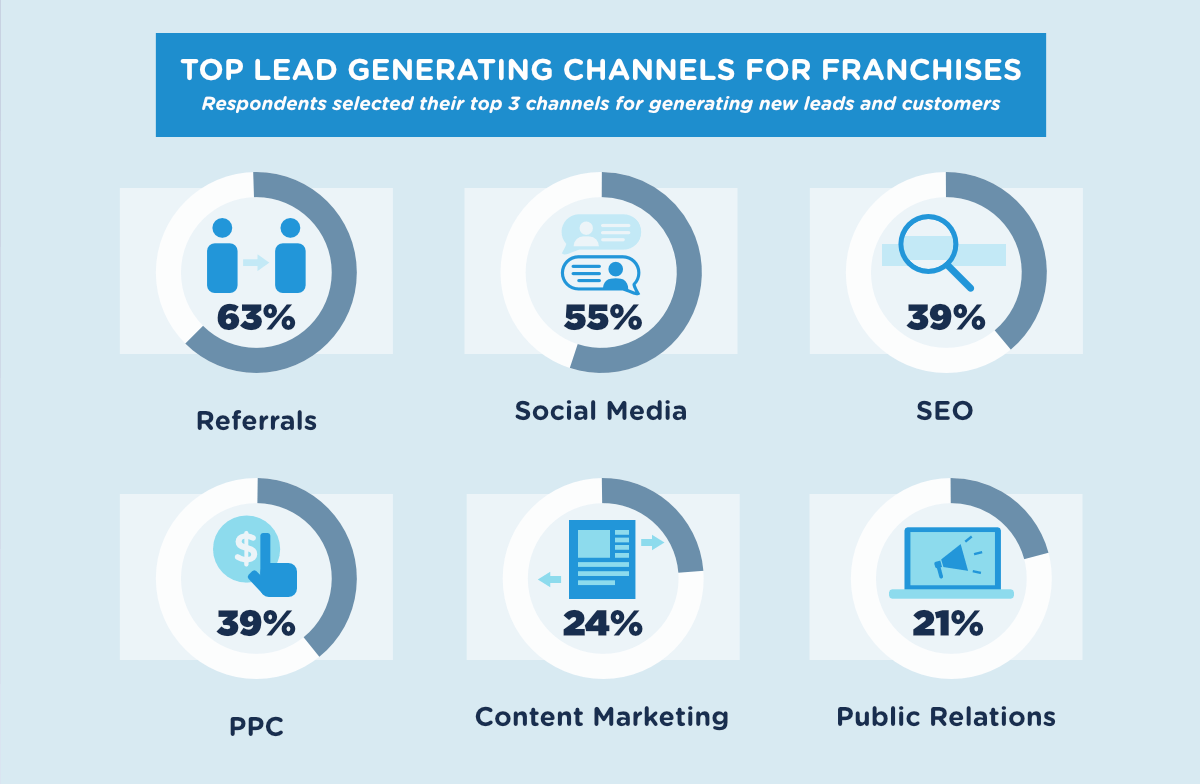 Digital marketing is clearly a profitable channel for franchises, as the majority of top lead generating channels are digital. Franchises are also dedicating more of their total marketing budgets to the best digital strategies. Percentage of marketing budget franchises dedicate to digital marketing:
More than 35%: 39%
26-35%: 13%
16-25%: 8%
6-15%: 16%
0-5%: 24%
Franchise owners recognize the importance of marketing. But what challenges do they face when marketing their franchises? Franchise respondents were also asked to select all marketing challenges that apply to them.
Here's what they said:
Generating quality leads: 63%
Budget to invest in ideas: 39%
Time to get everything done: 34%
Budget to add employees: 34%
Converting leads into customers: 29%
Marketing expertise: 16%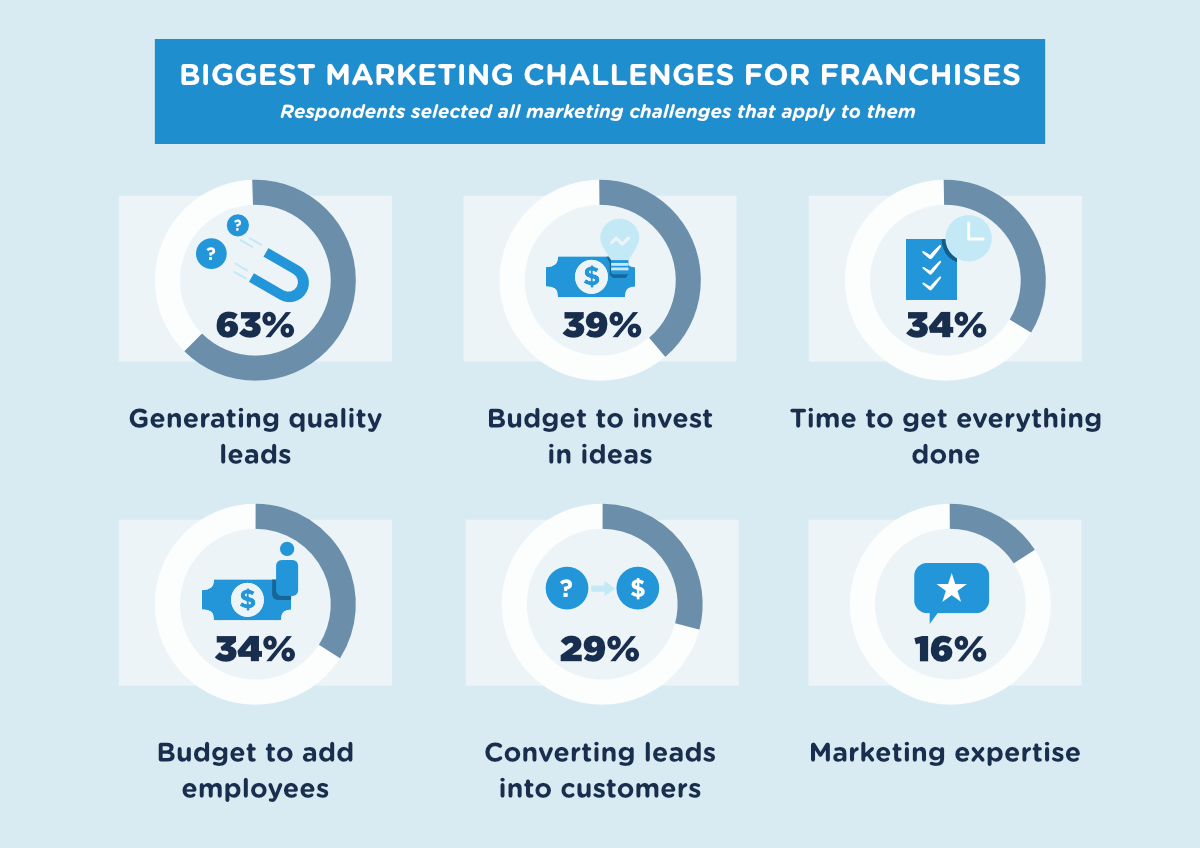 With 39% of franchises investing more than 35% of their marketing budgets to digital channels, online marketing is a profitable channel. And it can help eliminate many of the marketing challenges franchises encounter. Online marketing is also cost-effective, and it can help franchises attract more leads with less money.
So what are the top digital marketing strategies for franchises?
Top Digital Marketing Strategies for Franchises
Let's take a look at 7 top digital marketing strategies your franchise can start using today.
1. Local SEO
Local SEO can help your franchise rank higher in online search results so that you can reach more local customers. Since franchises operate in multiple locations, local SEO is key. And it can help more local searchers find and learn about your franchise.
Local SEO stats:
89% of people search for local businesses on their smartphones at least once a week
86% of people look up business locations on Google Maps
76% of local searches result in a phone call
72% of consumers who conduct local searches visit a store within 5 miles
71% of people look up a business before visiting the first time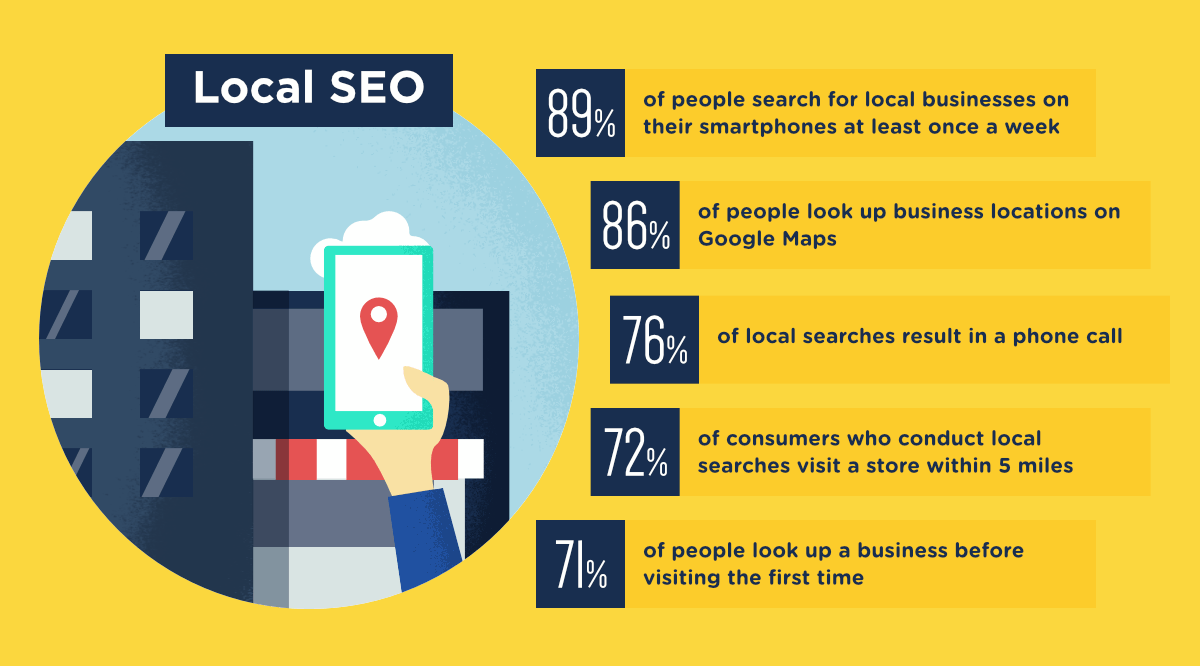 Local SEO tips for franchises:
Start with keyword research
Develop a clear site structure
Create original content that targets your location
Earn links from reputable websites
Make sure your NAP (name, address, phone) information is consistent across Internet listings

2. Pay-per-click (PPC) advertising
Pay-per-click (PPC) is a paid advertising strategy that allows you to bid for placement in a search engine's sponsored links. With PPC, you can set a budget, and you'll only pay when visitors click your ads. PPC also works fast, so if you want to quickly boost website traffic, leads and revenue for your franchise, PPC is a great option.
PPC advertising stats:
80% of companies focus on Google AdWords for PPC
65% of high-intent searches result in ad clicks
52% of PPC clicks come from mobile
46% of people can't tell the difference between paid ads and organic results
41% of all clicks go to the top three paid ads in search results
PPC tips for franchises:
Start with keyword research
Organize your keywords into ad groups and ad groups into campaigns
Create high-quality ads
Optimize your PPC landing pages
Evaluate and optimize your campaigns

3. Content marketing
Content marketing is one of the most effective strategies for generating leads online. It includes everything from blog posts to infographics, guides, and videos. Creating and posting custom content can position your franchise as an authority in your field.
And people will be more likely to want to learn more about your franchise if they read a helpful piece of content you created. Content marketing stats:
90% of organizations use content marketing
82% of consumers feel more positive about a company after reading custom content
78% of CMOs believe custom content is the future of marketing
68% of people read about brands that interest them
60% of people seek out a product after reading content about it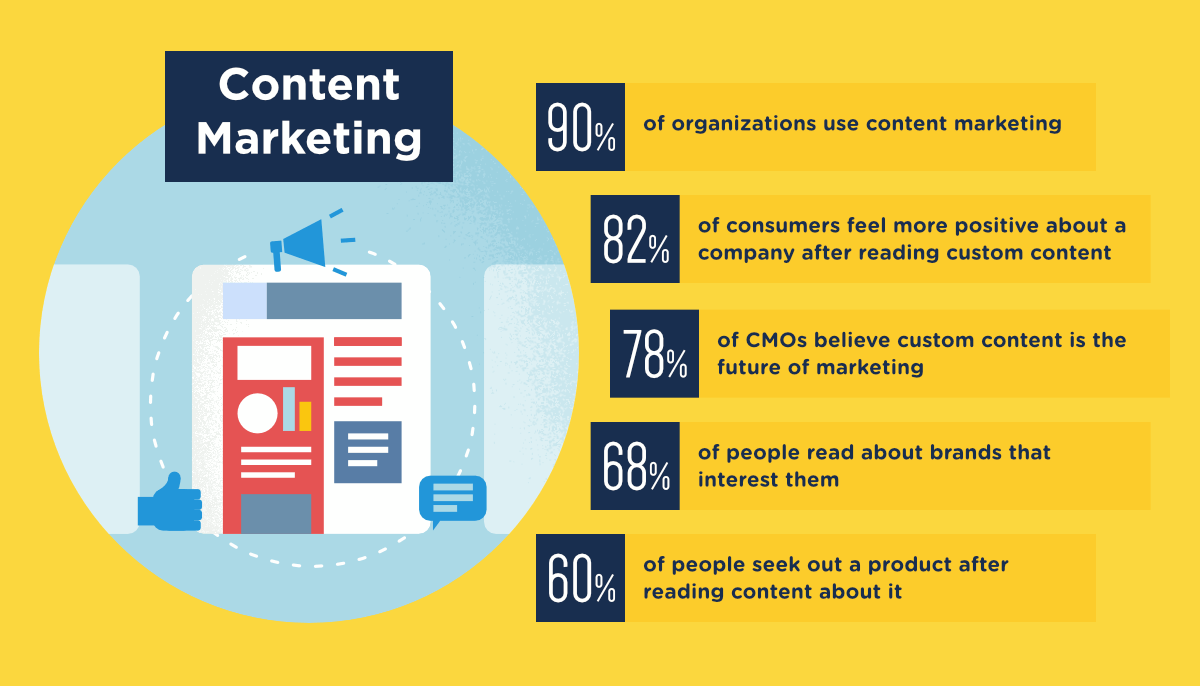 Content marketing tips for franchises:
Start with keyword research
Personalize your content
Maintain a frequent upload schedule
Use visual content to showcase your business
Promote your content on social media

4. Social media
Social media is a great way to reach and develop relationships with new customers. With 2.3 billion people currently using social media, there's a good chance at least a portion of your target audience maintains a presence on social media sites. You can use social media to monitor conversations about your franchise, encourage dialogue with current and potential customers, and provide them with the information they need to take the next steps with your company.
Social media stats:
3 billion people use social media
87% of marketers use social media
80% of time spent on social media happens on mobile
74% of people use social media when making purchase decisions
70% of the U.S. population has at least one social networking profile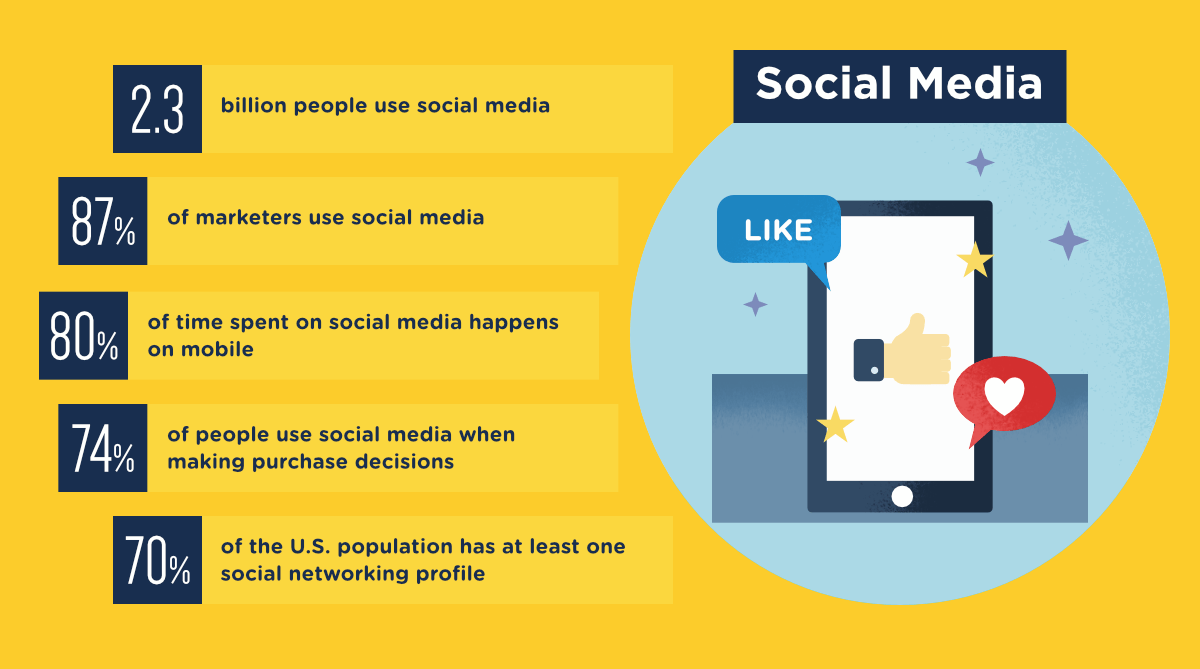 Social media tips for franchises:
Update your business info on social media pages
Add high-quality visuals to your posts
Monitor conversations about your brand
Encourage dialogue with customers
Use analytics tools to measure social media engagement

5. Web design
Web design is essential since your website is often the first interaction between your franchise and potential customers. Great web design can encourage visitors to stay on your site for longer periods of time. This sends positive signals to search engines, and it allows visitors to find the information they need to contact or visit your franchise.
Web design stats:
86% of visitors want to see information about a company's products and services on their website
64% of visitors want to see contact information on a company's website
52% of visitors want to see "about us" information on websites
39% of people leave websites if images take too long to load
38% of people leave websites if the content/layout is unattractive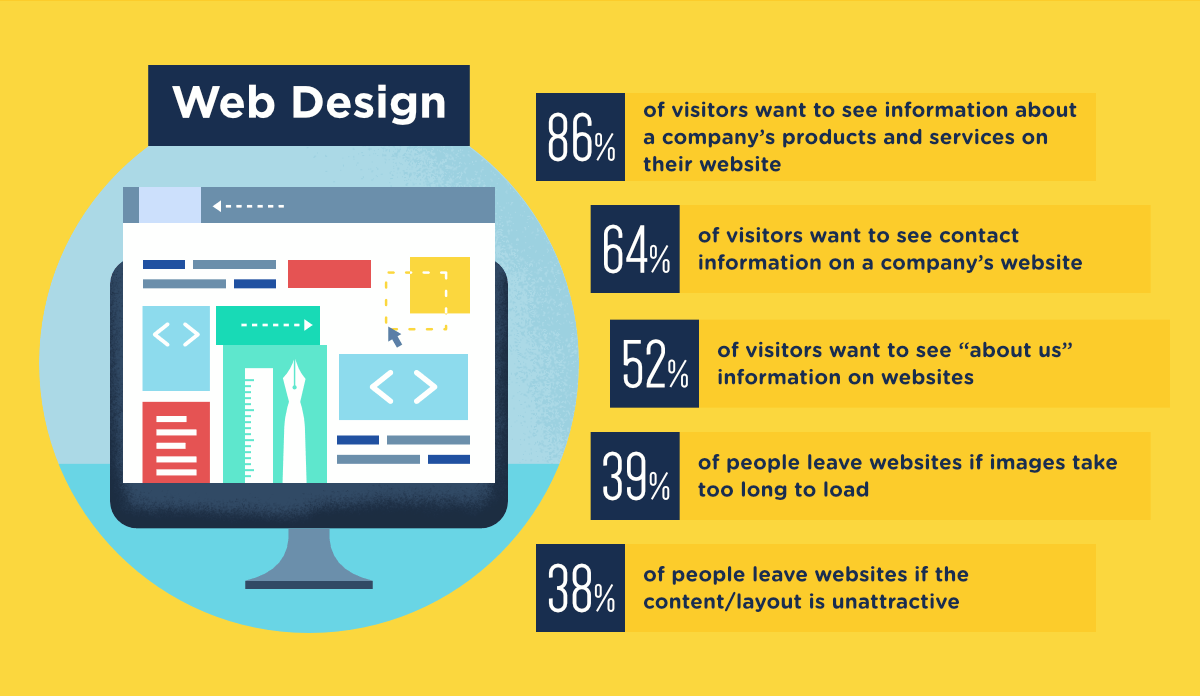 Web design tips for franchises:
Include your branding and logo
Make it easy for people to find your location
Include clear calls to action
Use responsive design
Streamline your navigation

6. Email marketing
Email marketing allows you to connect with current and potential customers directly in their inboxes. Compared to direct mail marketing, it's also extremely cost effective. With email, you can provide people with important information about your franchise and develop relationships that encourage them to become customers.
Email marketing stats:
Email marketing has an ROI of 4300%
91% of consumers check their email daily
74% of marketers say email personalization boosts engagement
72% of people prefer to receive promotional content via email
53% of emails are opened on mobile devices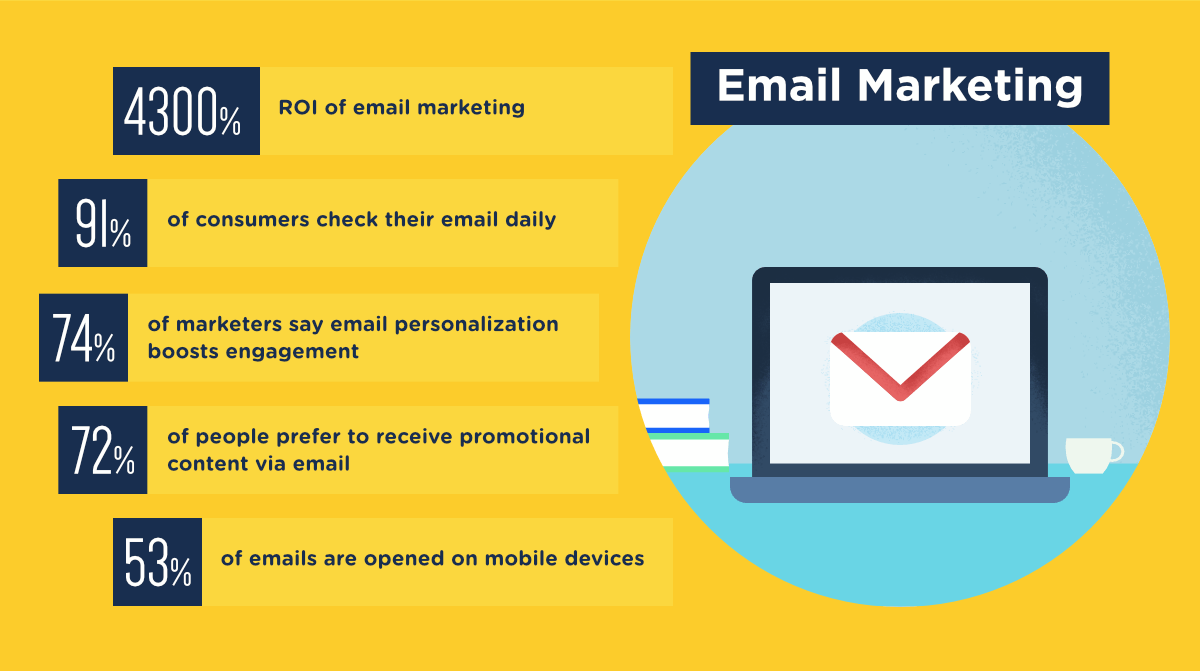 Email marketing tips for franchises:
Personalize email content
Promote consistent branding
Include calls to action
Pay attention to email analytics
Test and optimize your campaigns

7. Online Reputation Management
Online reputation management can help you manage online reviews to improve your company's status among Internet users. Since 85% of people use the Internet to research and read reviews before purchasing, this is extremely important. Responding to reviews, maintaining a positive outlook, and looking for solutions can also show potential customers that you are a reputable franchise.
Online reputation management stats:
86% of people would pay more for services from a business with higher ratings
85% of customers use the Internet to research before purchasing
79% of consumers trust online reviews as much as personal recommendations
73% of consumers say positive reviews increase their trust in a business
70% of people look at reviews and ratings before purchasing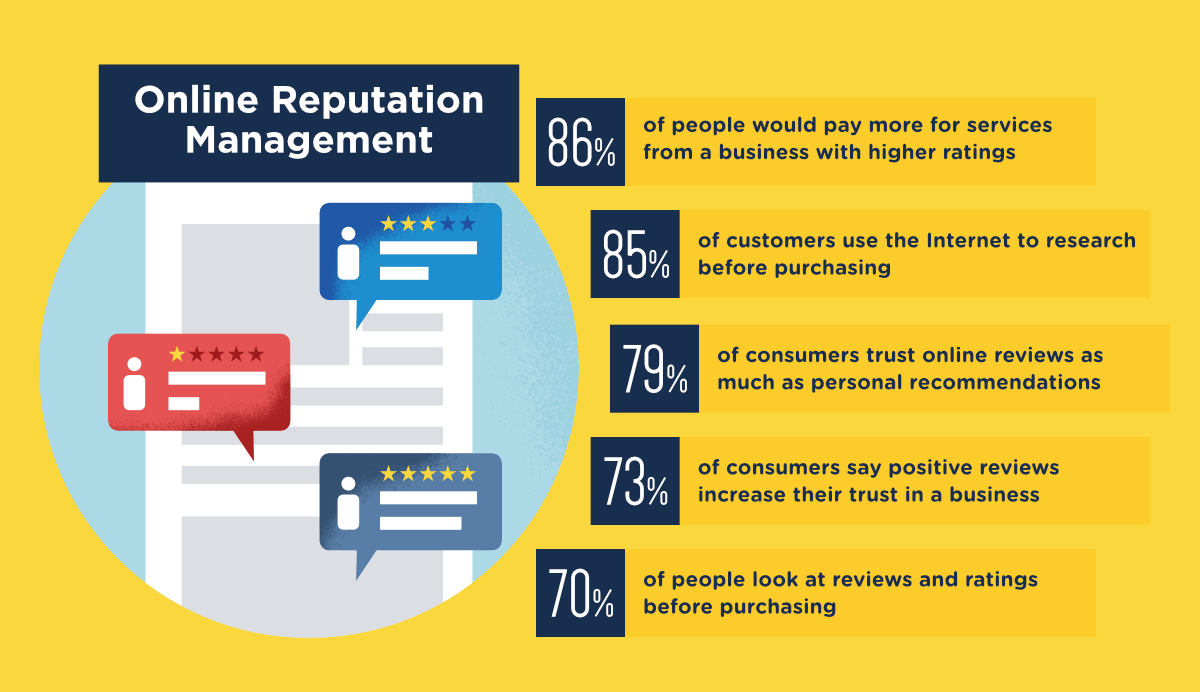 Online reputation management tips for franchises:
Encourage online business reviews
Make reviews easily accessible
Monitor business listings on sites like Google Business Profile and Yelp
Make an effort to reply to reviews
Look for solutions and stay positive

Want to learn more?
Interested in learning more about how you can market your franchise online to reach more customers and earn more revenue? Contact WebFX today, or give us a call at 888-601-5359 to speak with one of our franchise marketing experts. We're excited to work with you!
WebFX Careers
Join our mission to provide industry-leading digital marketing services to businesses around the globe - all while building your personal knowledge and growing as an individual.