Whether you're looking to grow your franchise or help your franchisees succeed, pay-per-click (PPC) advertising can play a pivotal role. That's why franchise PPC is an essential component to the advertising strategies of franchisors and franchisees.
Keep reading to learn more about the value of PPC for franchises. Learn what PPC for franchises is, how to launch a successful franchise PPC campaign, and more. If you're looking for PPC management services for franchises, contact us online or call us at 888-601-5359 to chat with a strategist!
Franchise PPC services
At WebFX, we offer several PPC services for franchisors and franchisees, including:
No matter which franchise PPC service (or services) you select, you will receive a custom strategy, as well as a dedicated account manager. Plus, you'll get the expertise of more than 500 digital marketing professionals, which has helped our clients earn more than $3 billion in revenue in the past five years.
What is franchise PPC?
Franchise pay-per-click, or PPC, is a form of online advertising that allows you to bid for ad placement on some of the most popular sites on the Internet, like Google and Facebook. With precise targeting, it can be one of the most cost-effective forms of reaching new customers.
Franchisor vs. franchisee PPC
Franchise PPC comes with two options, which include:
Franchisor PPC: This type of franchise PPC revolves around a centralized model. In a centralized model, the franchise's corporate team takes an active role in the PPC campaigns of franchisees. This team reviews, approves, and funds the ad campaigns of franchisees.
Franchisee PPC: This type of franchise PPC adopts a decentralized model. In a decentralized model, the franchisor allows the franchisee to take the lead role in managing its ad campaigns. This hands-off role requires the franchisee to develop, review, approve, and fund its PPC ads.
When talking about franchise PPC, it's common to compare franchisor and franchisee PPC.
While franchisor PPC requires more coordination, franchisee PPC often results in off-brand ads and wasted budgets. That's why many companies, including franchisees, prefer the centralized model because it's guided by experienced marketers and follows the brand's guidelines.
With the centralized model, franchisees can also focus on operating their business throughout the day-to-day, versus taking on the additional responsibility of marketing and advertising their different franchise locations.
Either way, franchisors and franchisees can take advantage of PPC management services.
How to build a franchise PPC campaign successfully
There are many elements involved in creating a successful PPC campaign.
From research to organization, here are the steps you'll need to take to launch a franchise PPC campaign successfully:
1. Do keyword research
Before you launch a new PPC campaign, you'll need to do keyword research.
Keyword research is essential to creating a successful PPC campaign because it helps you understand what keywords your potential customers are searching for, what the competition is like, and how much you should expect to pay for certain words and phrases.
This step will help you choose which keywords you would like to use for your PPC campaigns, and can also provide valuable insight for your other marketing strategies.
When bidding for keywords, you can choose how much you are willing to pay each time your ad gets clicked. The more you are willing to pay, the more likely it is that your ad will be displayed to potential customers.
Some keywords cost far more than others, due to how competitive they are. A broad keyword, such as "pizza," is going to have thousands upon thousands of advertisers competing for it. If you wanted to advertise on Google's first page of results for users searching "pizza," the cost per click would be extremely high, simply because of the number of bids for that keyword.
If you use a long-tail keyword, however, like "pizza in Harrisburg, PA" your cost per click will be far lower since there isn't near as much competition.
Choosing specific, long-tail keywords also ensures that the traffic you earn is from visitors who are truly interested in what you have to offer. After all, if they're searching for the exact keywords that describe your business or products, they're much more likely to become your customer than someone searching for generic words or phrases.
2. Organize your keywords into ad groups, ad groups into campaigns
Start by organizing groups of 10-20 keywords into an ad group.
These groups will determine how your ad is triggered, which is why it is so important to choose the correct keywords. Ad groups are specific, while campaigns are broader.
After organizing your keywords into ad groups, organize those ad groups into campaigns.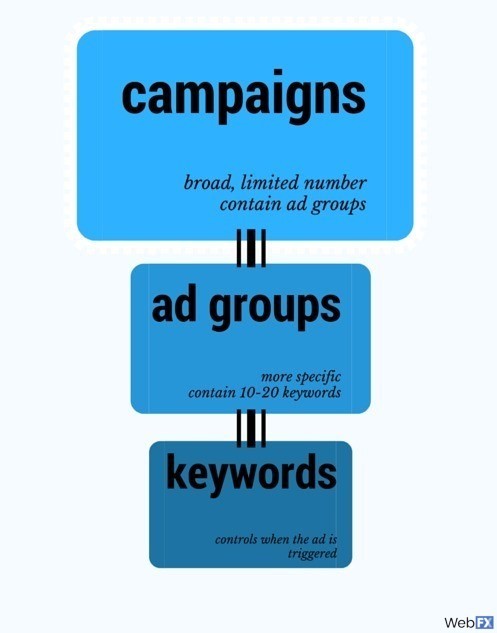 3. Create high quality ads
How exactly does Google choose which ads to post?
Your bid is the most important element, since it tells them how much you are willing to pay every time the link to your site is clicked.
However, the quality of your ads is also important. All advertisers are assigned a quality score, which is based on how searchers respond to your ads. If many of them click through and stay on your site, that shows Google that your ads provided relevant information.
4. Optimize your landing pages for PPC
Whenever a user clicks on one of your PPC ads, you can specify which page on your site they visit. The content on these landing pages should be designed to provide visitors with the information promised in your ad, and should also be optimized for conversions.
There are many qualities that your landing page should have in order to be considered optimized. PPC is a great tactic, but a click is only half the battle. You must ensure that your landing page is fit for your ad.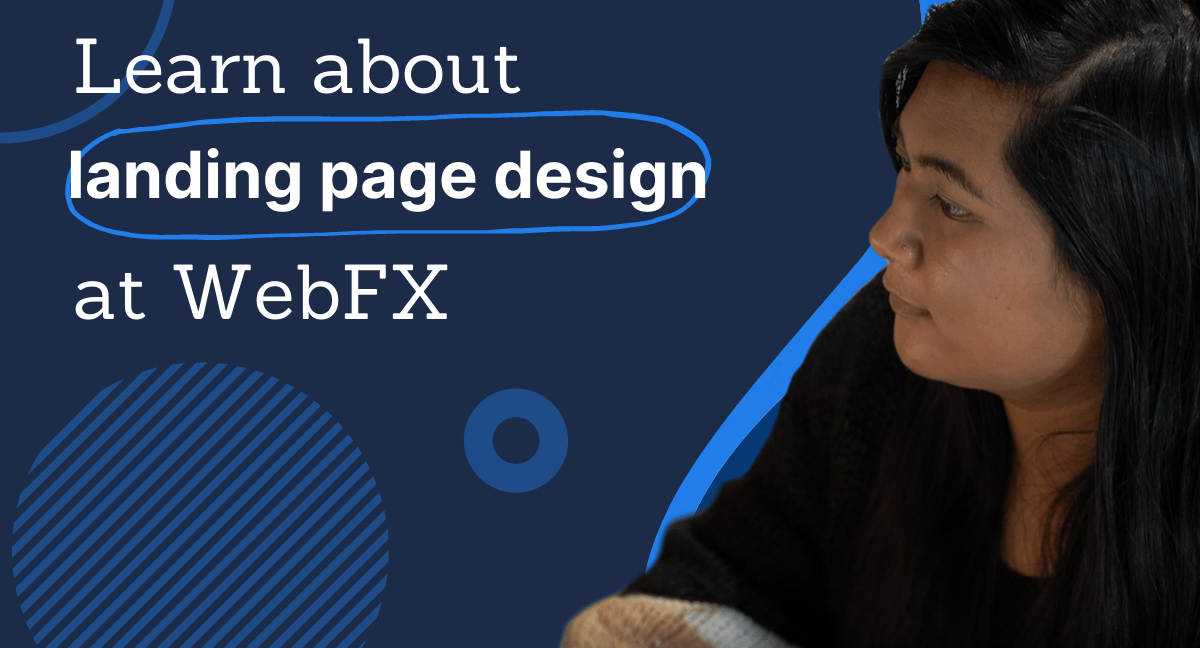 The first optimization point is to match what your ad describes. This is critical. If your ad mentions a specific product for $100, but upon arriving at your site, you actually charge $200, people will almost immediately bounce from your site.
Next, you need to have a call-to-action on your page. Depending on your business model, you might encourage them to make a purchase, sign up for a newsletter, or fill out a contact form.
You should also make sure that your landing pages don't take too long to load. If it takes more than 3 seconds, chances are your potential customers will bounce to another site that loads faster.
A/B testing is another great way to optimize your landing pages.
If you're not getting as many conversions as you expected, test your page to find out why. A simple A/B test will change one element on the page and present half of your traffic with one version and half with the other. After analyzing data, you will be able to find the perfect color to find out which elements generate the most possible conversions.
5. Don't let your campaigns fall behind
Search trends change over time, and you need to adjust your PPC campaigns accordingly.
It is important to keep watch on your campaigns and analyze your success in order to understand what needs to be changed to yield better results. You can often improve your PPC campaign by adding new keywords or bulking up your content.
2 tips for setting a franchisee-managed PPC campaign up for success
PPC for franchises can be difficult due to the fact that they have many locations. These locations are often run by different people, have different hours, and may offer slightly different products or pricing.
In most cases, you'll want to avoid sending your customers to your franchise's corporate site, but rather bring them to your location's site. This allows them to find information specific to your location or branch.
1. Create a template
If you manage several franchise locations, creating a template is definitely a smart tactic. You can use the same analytics to improve all of your campaigns, and simply switch out the location-based keywords where necessary.
Templates will also keep the design and information consistent across your campaigns. These templates will also help you to keep the same keywords across the board.
2. Analyze data
In order to ensure that your ads are getting the most possible clicks and traffic, it's essential to track your data. This will allow you to track which keywords, ad variations, and campaigns are most successful.
Ready to speak with a strategist now? We're happy to chat! Give us a ring at:
888-601-5359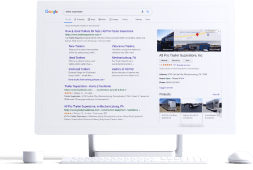 Want to start using PPC ads for your franchise?
If you are interested in starting a PPC campaign for your business, WebFX has the expertise you need to implement your plan from start to finish. We are a full-service Internet marketing agency that offers everything from SEO and PPC to email marketing and content marketing. We'll make sure that your PPC ads attract the audience you desire for your franchise.
If you're ready to get started with your campaign, contact us for more information or give us a call at 888-601-5359!
Earn a 20% greater ROI with WebFX