Many businesses implement new strategies to optimize their success in gaining clients. As the marketing world continues to change with advanced technology, companies must evaluate whether their sales tactics are producing effective results or if changes are necessary to remain competitive.
Targeting consumers rather than other businesses often requires a different approach. Everyday consumers might want a product to enhance their daily lifestyle. Instead of prioritizing factors like aesthetics, a business-to-business (B2B) sale should highlight how a program or service generates more revenue for a company.
Keep reading to learn about the B2B sales process. Then subscribe to Revenue Weekly to get the latest tips and marketing strategies delivered right to your inbox!
What is a B2B sales process?
The term "B2B," or "business-to-business," refers to a relationship or transaction between two businesses rather than between a business and consumers. Standard products and services exchanged between companies include:
Marketing research

Software

Raw materials

Consulting services

And more!
Sales made between these businesses are categorized as B2B sales. This category of selling and buying involves complex processes with several touchpoints and teams of highly trained sales professionals.
Corporate buyers tend to perform thorough research, comparing and contrasting the prices and qualities of different brands. They communicate with a B2B sales representative who uses specialized selling methods in strategic sequences.
With a vast range of different business products and services out there, making a B2B sale requires a strategy. Engaging with other businesses through the sales journey includes:
Managing emails

Making and answering calls

Conducting product presentations and demos

Building rapport

Identifying pain points

Solving problems
6 Steps for strategizing a successful B2B sales process
Your B2B sales process may vary depending on factors like your industry and the number of representatives working at your company. Most sales organizations implement five to eight stages in a sales cycle.
Learn these steps and fine-tune them to see what produces the most leads for different types of sales in your target market.
1. Research
Designing an effective and sustainable sales process starts with understanding your customers. Evaluate your target audience by establishing what they want to solve, how much they're willing to pay for results if your proposition offers the correct answer, and how your products add value to their businesses. Answering those questions sets the benchmark for your process.
Having the right product or service doesn't directly translate into making revenue. A strategized sales process requires research to relate to your audience. A successful approach may incorporate building a connection through stories and backing up the results from your brand with data-driven statistics.
2. Prospecting
B2B prospecting is the process of identifying and reaching out to potential business customers or clients. It involves researching and qualifying leads, initiating contact, and nurturing relationships to close sales.
The Internet provides endless opportunities for connecting with potential customers. To generate a list of leads, get familiar with the businesses and industries you want to serve. Google a business and see which related companies show up in the results to determine if they'd be a good fit for your list of prospects.
When scoping out future clients, you'll want to use a strategized customer data management system to collect information. You can make a list in Excel, use a map template, or add to a database to organize your approach. Include details like departments, names, phone numbers, and email addresses to prepare for communicating with your prospects.
3. Assessment
You may be able to predict whether a lead will purchase your product or service. A visual representation of the buying process in a sales funnel allows you to understand the consumer's journey. The stages typically include:
Awareness

Interest

Decision

Purchase

Evaluation

Delight or dissatisfaction

Repurchase
Identifying the stage of a buyer with a lead scoring system allows representatives to personalize messages for sales approaches. For example, introducing a product should look different than asking customers to review a service they bought. And the type of communication sent to a frequent customer shouldn't mirror the same message sent to a new lead.
4. Sales pitch
You'll want to prepare an effective sales pitch to inform, build interest and sell your products. Creating a workflow for these steps ensures your marketing representatives make the most of their conversations. Setting expectations for how your team introduces the company and your products helps everyone get on the same page for creating high-quality connections and generating trust with leads efficiently.
Making your sales pitch customer-focused helps improve your sales. Instead of jumping into an outline of your products and service features, aim to gain loyal and happy customers by focusing on building genuine connections. Explain how investing in your company could help them see results and areas of improvement in their life.
Craft a sales pitch deck that will enhance the experience of your prospect and help them remember key details from your pitch.
5. Negotiation
Businesses need to understand more about a product or service before making a purchase. Prepare your team to answer questions after the sales pitch. Provide training and supply each representative with a list of generated responses so they know how to get ideas across to potential clients with consistent and correct answers.
When speaking over the phone, respect your lead's time by offering brief and direct responses. How you provide information in the objection handling process represents the customer service of your company. Make sure you respond with professional and informative answers.
6. Closing and follow-ups
This stage should be the most exciting part of the sales journey for you and the customer. After learning how your company will improve their business practices, your lead may still need some convincing to make an official purchase. Many customers wait to see if a deal becomes available, so you could increase your chances of a final sale by providing a limited offer at the end of your call or in a follow-up email.
If you don't make a sale, check in later to see how the customer is doing and if they want to reconnect to learn more. When a lead abandons their shopping cart, you can retarget the prospect with another text, email, or phone call.
Make sure you thank any customers who buy a product and ask for feedback to see how you can improve the experience for them and future customers.
Time to Level Up Your Sales
Our long list of services helps you grow every aspect of your business with marketing strategies that are proven to increase bottom-line metrics like revenue and conversions.
In the past 5 years, we've managed more than 12.9 MILLION transactions across our client base.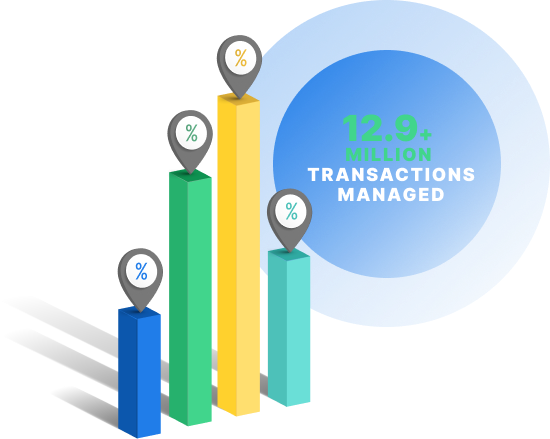 Want help with your B2B sales?
Strategizing your B2B sales process takes time and effort. Let the experts at WebFX help! We stay up-to-date with the latest marketing trends and techniques to help businesses of all sizes and industries increase their profits.
So far, we've driven over $3 billion in revenue for our clients. Our team of dedicated professionals prioritizes understanding your brand and target audience so we can take your business to the next level.
To get started with our B2B marketing services, call 888-601-5359 or request a free quote today!
How is your website's SEO?
Use our free tool to get your score calculated in under 60 seconds.
Get posts by email
Join 200,000 marketing managers and subscribe to Revenue Weekly!
"*" indicates required fields
WebFX Careers
Join our mission to provide industry-leading digital marketing services to businesses around the globe - all while building your personal knowledge and growing as an individual.