With its visual-based setup, Instagram has long been a valuable tool for marketers. And as one of the latest social media platforms to provide paid advertising options, it's now more valuable than ever.
If you've never advertised on Instagram, it's a great way to reach a new audience – especially if part of your target demographic is young. And given that Instagram's advertising options are still pretty new, now is a great time to experiment and get ahead of your competitors.
Plus, if you've ever run ads on Facebook, the process of creating and managing ads will be extremely familiar.
The social media giant purchased Instagram in 2012 and allows business page owners to advertise on it using the exact same Ad Manager tools.
Here's how to get started:
Not happy with your social media engagement?
We've got just the blog post for you.
Read the Blog Post & Watch the Video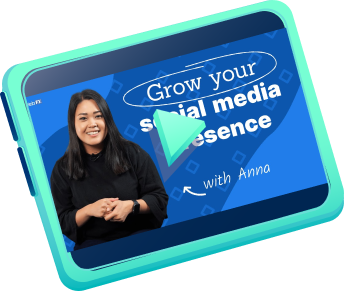 Set up your Facebook business page and Instagram account
To run ads on Instagram, you need a Facebook business page.
If you already have one, you're all set to start creating ads.
But before you do, you should also have an active Instagram account. Although you technically don't need an Instagram account to run ads on the platform, I highly recommend that you create one.
If a user sees your brand for the first time while scrolling through their feed, their first reaction will likely be to click through to your account and look at your other posts. If you don't have an account, that's a red flag that you only use the platform to promote your products.
Today's consumers prefer brands that interact with customers on social media instead of just trying to sell them things, and an active Instagram account is a great way to do so.
If you already have both a Facebook business page and an Instagram account, you can connect the two by going to your Facebook page and selecting "Settings." Click on the "Instagram Ads" tab, and select "Add an Account."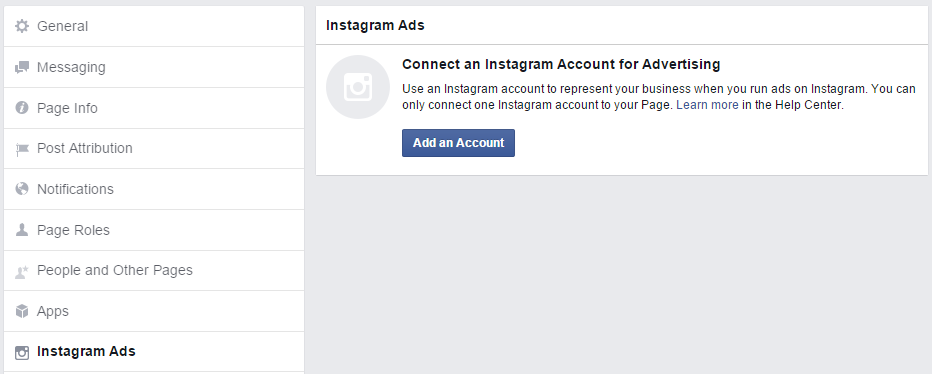 Once you enter your username and password, your Instagram account will show up as an option in Ads Manager.
Create your ad in Ad Creation or Power Editor
Now that your Facebook and Instagram accounts are connected, you need to decide whether you want to use the Power Editor or Ad Creation tool to create your ads.
There are a few key differences between the two, but unless you plan to create and manage ads in bulk (or manage multiple Facebook pages), I recommend Ad Creation.
It's much simpler than Power Editor, but still has all the tools you need to run ads on both Facebook and Instagram.
If you choose to use Power Editor, you can follow Facebook's instructions here. If you'd like to use Ad Creation, keep reading. As soon as you navigate to Ad Creation, you'll see the same list of objectives as if you were creating a Facebook ad.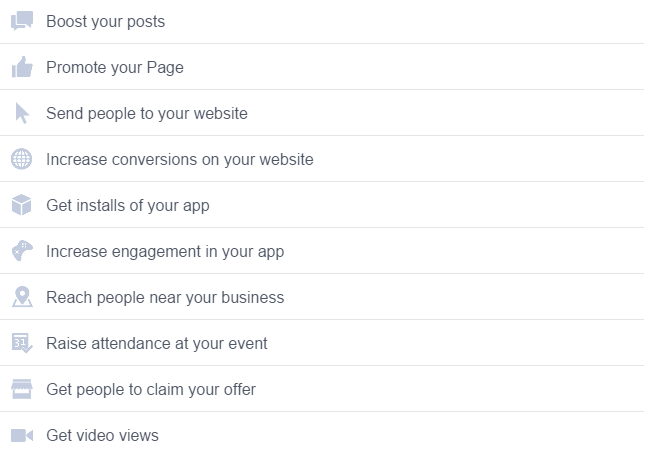 However, not all of these objectives are available for Instagram, so you'll need to select one of the following:
Send people to your website
Increase conversions on your website
Get installs of your app
Get video views
If you have experience creating Facebook ads, the steps for defining your audience and setting your budget are exactly the same.
If you've never used the platform for advertising before, follow the instructions here. Then, on the "Ad Creative" page, upload the image or images you want to include in your Instagram ad.
Unlike on Facebook, you do not have the option to promote or "boost" an existing post, meaning that you'll need to create an entirely new one.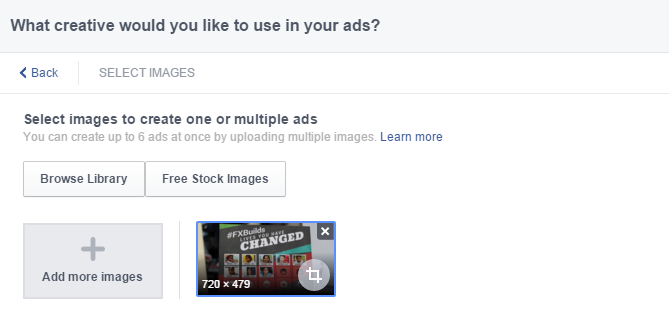 Then, below "What text and links do you want to use?" you can select where you want your ads to appear.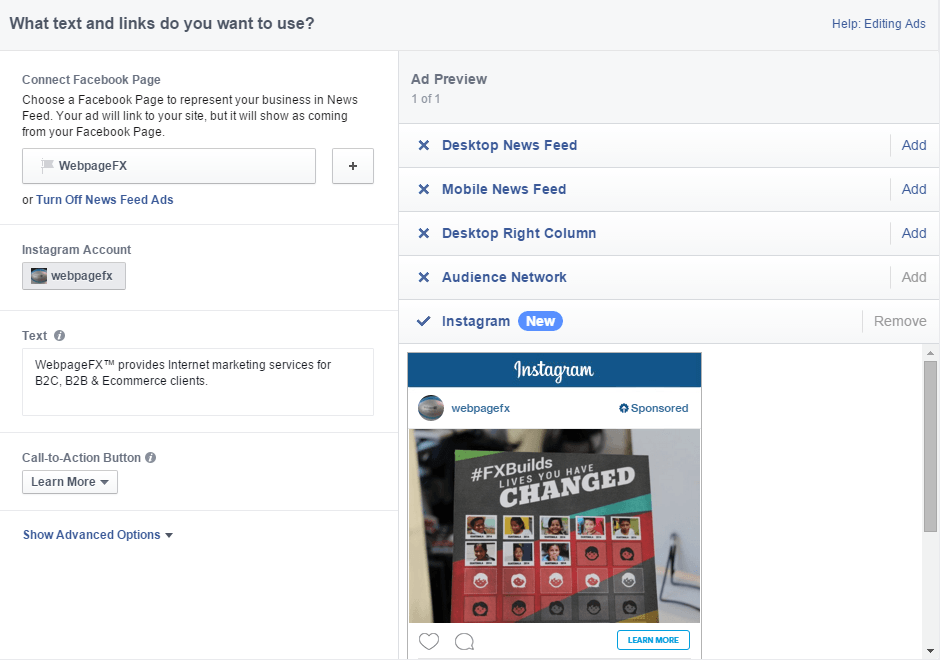 Unless you want your ad to run on Facebook as well, click "Remove" next to all the options but Instagram. Then, write the text for your ad and select which call to action you'd like to include with it.
From there, simply click "Place Order," and Facebook will review your ad within 24 hours.
As soon as it's approved, it will run!
Tips for creating effective ads
Creating Instagram ads is easy – but creating effective Instagram ads can be difficult. Here are a few Instagram ad tips to help:
1. Limit your text
Much like Facebook ads, Instagram ads cannot have text covering more than 20% of the image. This is easy to test using Facebook's Grid Tool. If your image doesn't pass this test, it won't be approved – simple as that.
2. Consider age restrictions
Is your ad for alcohol, a dating service, gambling, supplements, or a subscription service? If so, be sure that you only target them to users who can legally purchase your products. Failure to comply with Facebook's restricted content guidelines will result in your ad not being approved.
Plus, advertising to minors would be a waste of your ad spend anyway.
3. Review Facebook's prohibited content guidelines
On both Facebook and Instagram, the advertisement for drugs, tobacco, weapons, and adult products or services is not allowed. In addition, all ads must be in line with Facebook's Community Standards.
This means they cannot include copyright violations, adult content, shocking content, or content that makes assertions about a person's race, ethnic origin, religion, beliefs, age, or sexual orientation, among other qualities.
4. Use eye-catching images
This may sound obvious, but in order to be effective, your images need to catch users' attention. Instagram is a visual platform, and users see image after image as they scroll through their feeds. If you want them to stop and see what you're advertising, your ad needs to stand out.
So instead of simply using an image from another campaign, spend some time photographing (or having someone else photograph) your products or services in an interesting way.
This will require more of your time initially but will help your ads be much more successful in the long run.
74% of people use social media when making a purchasing decision.
Make their decision easy with a stellar social media presence. See how your brand can level up by requesting a no-obligation proposal today.
One of our experts will be in touch within 24 hours!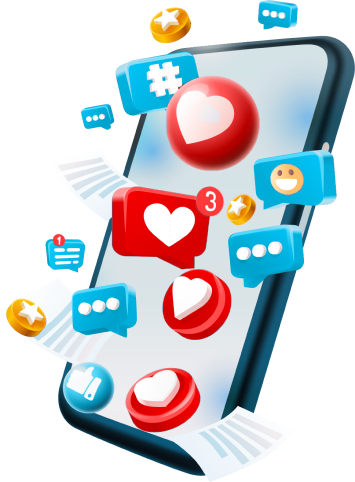 Do you use Instagram ads?
If you need help creating successful Instagram ads, give us a call at 888-601-5359, or contact us online!
How is your website's SEO?
Use our free tool to get your score calculated in under 60 seconds.
Get posts by email
Join 200,000 marketing managers and subscribe to Revenue Weekly!
"*" indicates required fields
WebFX Careers
Join our mission to provide industry-leading digital marketing services to businesses around the globe - all while building your personal knowledge and growing as an individual.