There are many different tools that can help you with your Google search engine optimization (SEO). Some of those tools come from third-party companies and require paid subscriptions. Others are not only free, but offered directly by Google itself.
One of the best tools is Google Search Console (GSC), which can provide you with valuable insights into your website's place in rankings and its overall online visibility. Knowing that, you might be looking to set up Google Search Console for your website, but you may be unsure how to get started.
That's why we've created a straightforward, step-by-step guide below to help you navigate how to set up Google Search Console. Read on to learn more!
Then, to get more tips that will boost your revenue, subscribe to Revenue Weekly, our email newsletter!
What is Google Search Console?
Google Search Console is a platform offered by Google that helps you track your SEO performance. To be more specific, it lets you view metrics like:
Clicks

Impressions

Rankings

And more!
Search Console also allows you to identify backlinks, improve your site's mobile-friendliness, and more. Overall, it's an excellent resource for monitoring and improving your website's visibility in Google.
Furthermore, it's free, meaning there's no reason not to harness the benefits it offers.
How to set up Google Search Console
Now that we've covered what GSC is, let's get into the main topic of this page — how to set it up. There are three major steps to setting up Google Search Console, and we'll cover each of them in more detail below. Keep reading to learn more about the Search Console setup process!
1. Sign in to Google Search Console
The first step to setting up Google Search Console is to go to GSC's website and create your account. The good news is that if you already have a Google account, you can access Search Console.
And if you don't have a Google account yet, the first thing you'll want to do is create one.
From there, it's easy to log in and get started. But logging in won't immediately give you access to all of Search Console's features — you still have to add and verify your website.
2. Add your website as a property
The next step in the Search Console setup process is adding your website as a property. A "property" in this instance refers to whatever you want to use GSC to track — most likely your website, although it can sometimes refer to apps as well.
You'll be prompted to do this as soon as you log in for the first time. You'll have two options for adding your site as a property. The first is to add it using your domain, while the second is to use a URL prefix.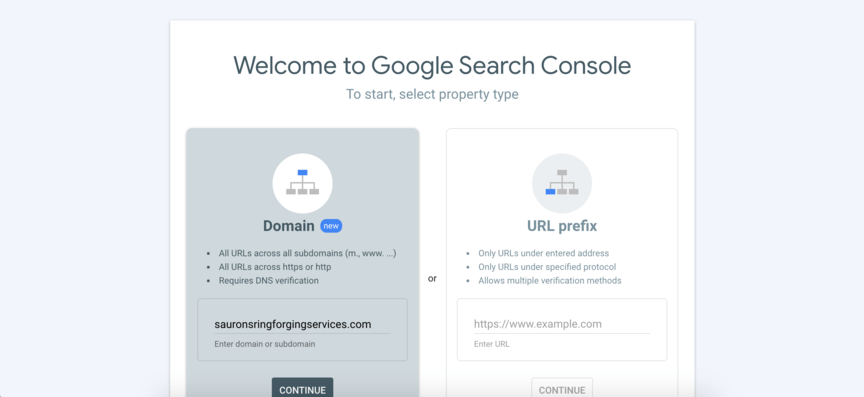 Using your domain is usually the best option, since it's simpler. If you choose to use a URL prefix, you may have to do it multiple times to account for each version of your site. For instance, if you have an HTTP version and an HTTPS version, you'll have to redo the process for each one.
3. Verify your site
Once you've added your site, the final step is to verify your ownership of it. The process is different depending on which option you chose in the previous step — domain or URL prefix. Let's walk through how to verify each one.
Verifying a domain
To verify your website using your domain, you'll need to go through your domain name service (DNS) provider. For example, if you used GoDaddy for your domain and hosting, you'll need to go through them.
When Search Console prompts you to verify your site, it will provide a drop-down menu of service providers. If your DNS provider is listed in the menu, you can select it to access detailed instructions specific to that provider.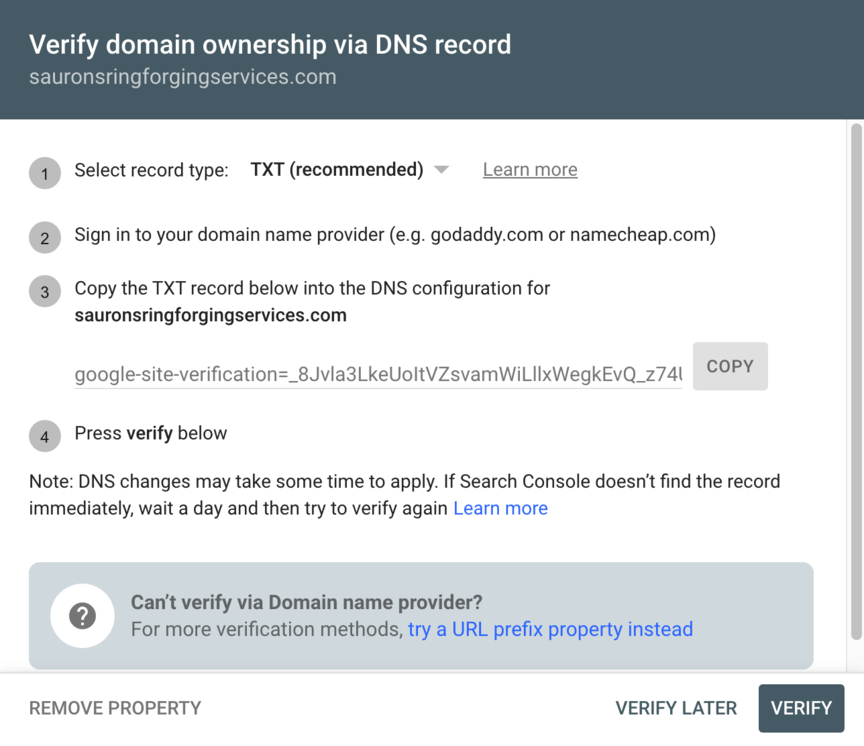 You'll want to follow those detailed instructions to verify your domain. However, the general process should run something like this:
Click "Copy" next to the TXT record GSC provides.

Visit your DNS provider's site and log in.

On your provider's website, pull up the domain you want to verify in GSC.

Locate your domain management screen and add a new DNS record.

Choose "TXT" as the type of record.

Type in "@" under "Host."

Paste the TXT record you copied into the provided field.

Click "Save." Then go back to Search Console and click "Verify."
From there, you should see a success notification in GSC indicating that your site is now verified. However, the verification can take up to 72 hours, so give it time before assuming it didn't work.
Verifying a URL prefix
There are a few ways to verify using your URL prefix.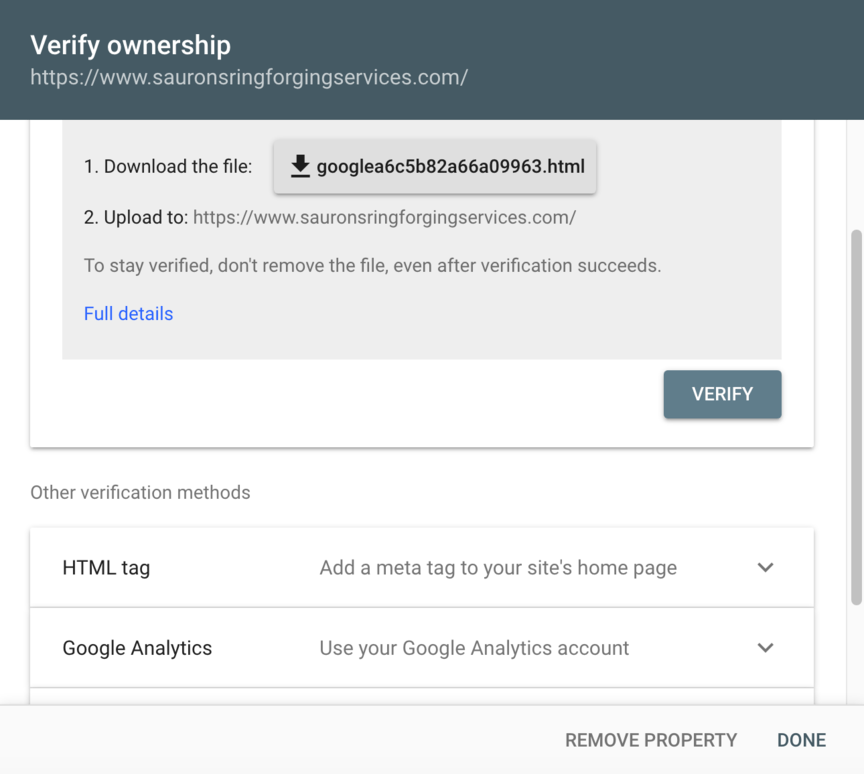 The first method is to upload an HTML file to your site's root folder. Search Console will provide the file, which you can download. You'll then go to your site's root directory and upload the file there.
Alternatively, you can verify using an HTML tag. The steps for this process vary greatly depending on what content management system (CMS) you use, but essentially, you'll add a meta tag to your website's header section.
Finally, if you already have Google Analytics or Google Tag Manager set up with your website, you can select the option to verify through one of those platforms by clicking a button.
What to do after setting up Google Search Console
You've finally completed your GSC setup process, and you're ready to start using the platform. So, what do you do now?
The first thing you should do is submit your sitemap to GSC. That will help your website rank better faster. To do this, just click "Sitemaps" in Search Console and add the URL for your website's sitemap. This step will verify that Google has fully crawled and indexed your site, in case it hadn't already.
From there, you can begin tracking metrics and looking for ways to improve your website SEO through Google Search Console!
WebFX can help you drive results through Google Search Console
With your Search Console setup taken care of, you're ready to start driving results for your SEO. But while GSC can help you pinpoint ways to improve your SEO, it can't make those improvements for you. You know who can? WebFX!
With over 25 years of SEO experience, we know exactly what it takes to boost your rankings in Google and get more visitors to your website. We'll do all the work for you so you can focus on other aspects of your business.
To get started with our SEO services, just call 888-601-5359 or contact us online today!
WebFX Careers
Join our mission to provide industry-leading digital marketing services to businesses around the globe - all while building your personal knowledge and growing as an individual.