7 minute read
Sarah Berry is a Google Analytics-certified Web Marketing Consultant at WebFX. She's written over 400 articles on digital marketing, covering topics like SEO, CRO, and Amazon. When she isn't polishing her Time Magazine Person of the Year Award, she's spending time with her flock of ducks.
To maximize the value of your search engine optimization (SEO) efforts, you need to know how to monitor your SEO rankings. Tracking your rankings lets you know what's working, so you can report your successes. It also tells you where you need to make improvements to get the best results.
In this guide, we'll give you the most important SEO key performance indicators (KPIs) to track and the SEO tracker tools you can use for KPI and search engine monitoring. While there are many tools you can use, we're sharing the best rank trackers out there. At WebFX, we provide ongoing reporting and analysis as a part of our SEO services.
Contact us today to learn more!
Our digital marketing campaigns impact the metrics that improve your bottom line.
See More Results

WebFX has driven the following results for clients:

$3 billion
In client revenue

7.8 million
Leads for our clients

5.2 million
Client phone calls
Why monitor SEO rankings?
Wondering why you should bother learning how to monitor SEO rankings? SEO tracking provides numerous benefits for businesses:
It allows you to justify your investments: If you don't track your SEO rankings, you won't know if your SEO strategy is working. SEO tracking gives you the information you need to justify your SEO investments and continue to get funding.
It helps you continually improve your rankings: SEO monitoring tools show you areas of your SEO you can improve, so you can continually optimize your strategy and results.
It helps you anticipate future changes: Learning how to monitor SEO rankings can help you identify ranking trends and adjust your strategy accordingly.
Top SEO KPIs to track
So, what SEO KPIs should you track? Here are the most essential:
Organic traffic
Organic traffic is the traffic that comes to your site through non-paid search engine results, rather than ads. Your organic traffic relates directly to your rankings, especially considering that more than 75% of users stay on the first page of results.
Tracking your organic traffic tells you how many people visit your site as a result of your SEO efforts.
Keyword rankings
Getting your site on the first page of search results for relevant keywords gives you a much higher chance of users clicking through to your site. With SEO metrics tools, you can see how you rank for the keywords you're targeting in one place. Tracking your keyword rankings helps you keep track of which keywords you're ranking well for.
If you're not ranking well for some keywords, you may want to improve the page's targeting those keywords or try different keywords.
Click-through rate
A page's click-through rate (CTR) is the percentage of people that clicked through to a given page from search results. If your CTR for a given page is low, this may be a sign that your page title and meta description aren't quite engaging enough. If you have an enticing title and meta description but a low CTR, your page may not sufficiently fulfill the search intent, which is the information the user is looking for when they complete a search.
Bounce rate
Bounce rate is an SEO KPI that refers to the number of visitors who leave your website after visiting just one page.
A low bounce rate suggests that your site is engaging and means you can guide users to conversion as they navigate your site. A high bounce rate may indicate that users didn't find what they were looking for, or that you might need to make your content more engaging.
Conversion rate
Your conversion rate is the percentage of site visitors that convert, which could mean making a purchase, signing up for a newsletter, or taking another action, depending on your goals. Your conversion rate reflects your ability to move leads through your sales funnel.
If your conversion rates are low, you can try adjusting your calls to action (CTAs), which are the text or buttons that encourage your users to take a specific action.
Site exit points
SEO tracker tools also allow you to see the pages from which users most often exit your site. Examine these pages to determine why users leave your site from them. You can try adding some internal links or CTAs to these pages, or improving the existing ones, to encourage visitors to stick around a little longer.
SEO metrics tools to use
You can use various SEO metrics tools to monitor your SEO performance. Some top SEO tracker tools are:
1. Google Search Console
Google Search Console is a powerful and free tool from Google that you can use for SEO tracking. Google Search Console allows you to see how your site is performing in search engines, as well as how many other sites are linking to yours, whether Google can crawl and index your site, and much more. In Google Search Console, you can see your rankings for different keywords, and various metrics about each page, including its:
Clicks: The number of times users clicked on the page in search results
Impressions: The number of times Google displayed the page in search results
Average position: The page's average rank in search results
2. Google Analytics
Google Analytics is another valuable tool from Google, especially when you link it with your Google Search Console account. With Google Analytics, you can explore how people get to your site and what people do once they get there. You can track a wide range of metrics with Google Analytics, related to:
How people interact with your site, including top pages, bounce rate, and exit points
Characteristics of people who visit your site, including their demographics, location, and interests
How people found your site
How many conversion goals you've reached and how different channels contributed to those goals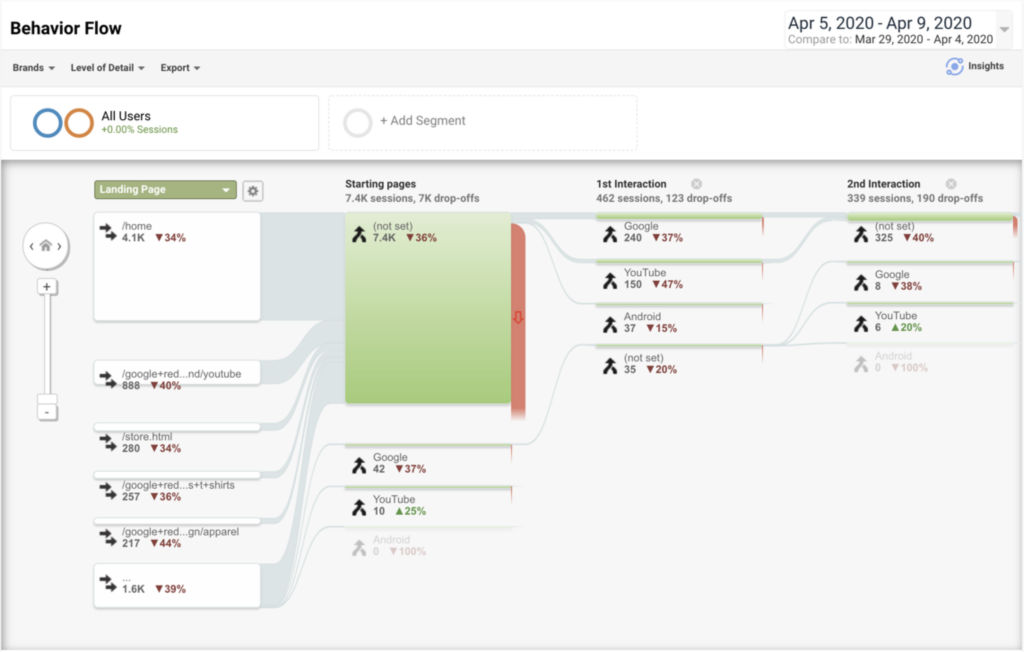 3. Ahrefs
Ahrefs is an excellent tool for tracking your keyword rankings and checking your backlinks. You can enter the URL of a page and get data about its organic keywords, backlinks, and other metrics. You can also see how many organic keywords your site ranks for through their rank tracking tools.
If you click on the number under "organic keywords" at the top of the page, you can see which keywords you rank for, your position in search results, the number of searches each keyword gets, and more. Here's an example of how Ahrefs displays site metrics, including the number of keywords for which your site ranks in the top 100 organic results and the number of backlinks your site has.


4. SEMrush
Another SEO tracker tool to consider using is SEMrush. This tool gives you information on your organic search traffic, keyword positions, backlinks, and more. This is another of our favorite SEO rank monitors.
Under the tool's "Position Tracking" feature, which you'll find in the "SEO Toolkit," you can find information about:
Your top keywords
Your visibility in search results
Your top competitors in search results
Your average search result position
And more
It also offers additional features, such as the ability to research keywords and monitor Google algorithm updates, and includes tools for monitoring paid search advertising, social media, and more.
5. MarketingCloudFX
MarketingCloudFX is WebFX's proprietary SEO tracking tool. It features artificial intelligence powered by IBM Watson and uses billions of data points to track your digital marketing performance and offer strategic recommendations. The MetricsFX tool within MarketingCloudFX enables you to track your site's search engine performance, including your keyword rankings and overall visibility.
It also provides recommendations to help you improve your performance in search. MarketingCloudFX also includes a range of other tools that provide call tracking, lead management, user experience personalization, and more, making it one of the best SEO tools.
Meet MarketingCloudFX:
One platform tracking countless metrics and driving stellar results.
Learn More About Our Proprietary Software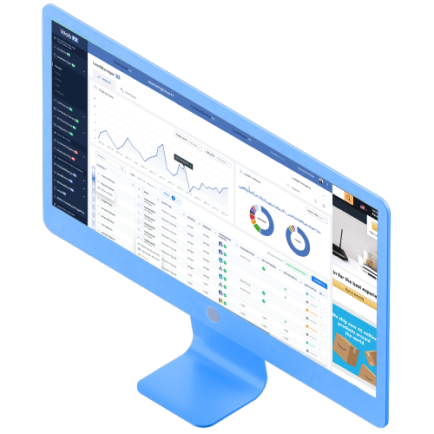 Work with the SEO tracking experts at WebFX
After reading our tips on how to track SEO rankings, are you still feeling lost? As a leading SEO company with more than 25 years of experience, WebFX knows how to monitor SEO rankings to get the best results.
We offer ongoing monthly reporting as part of our comprehensive SEO services. In addition, our MarketingCloudFX platform makes SEO tracking easier than ever and provides user-friendly reporting and recommendations. At WebFX, we develop and implement results-driven, data-backed digital marketing strategies.
Our work has generated over 7.8 million leads and $3 billion in revenue for our clients over the last five years. To learn more about our SEO services, explore our website or contact us today.
Sarah Berry is a Google Analytics-certified

Web Marketing Consultant at WebFX

. She's written over 400 articles on digital marketing, covering topics like SEO, CRO, and Amazon. When she isn't polishing her Time Magazine Person of the Year Award, she's spending time with her flock of ducks.

WebFX is a full-service marketing agency with 1000+ client reviews and a 4.9-star rating on Clutch! Find out how our expert team and revenue-accelerating tech can drive results for you! Learn more
Try our free SEO Checker
Boost your site's search performance with our free SEO Checker. Analyze your website for optimization tips on titles, headers, content, speed, and more. Get a free report now to enhance rankings on Google, Bing, Yahoo, and beyond!
How Is Your Website's SEO?
Use our free tool to get your score calculated in under 60 seconds.
Try our free SEO Checker
Boost your site's search performance with our free SEO Checker. Analyze your website for optimization tips on titles, headers, content, speed, and more. Get a free report now to enhance rankings on Google, Bing, Yahoo, and beyond!