Your Mobile SEO Guide: 9 Ways to Optimize for Mobile-Friendly SEO
Did you know that over 40% of transactions happen on mobile? If you want mobile users to engage with your website and become loyal customers, you must invest in mobile search engine optimization (SEO). Mobile SEO is the process of optimizing your site to rank better in search results and keep mobile leads on your page.
On this page, we'll talk about mobile SEO, why it's crucial, and nine ways to help you optimize for mobile-friendly SEO. If you want to learn more about mobile SEO, call us today at 888-601-5359 to speak with a strategist about our SEO plans.
WebFX is home to a whole team of mobile SEO experts
Looking for custom plans and pricing? Request a proposal to receive yours.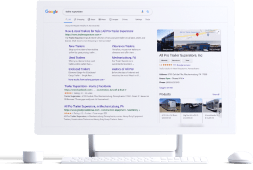 Request a Proposal
What is mobile SEO?
Mobile SEO is the process of optimizing your website to ensure that your site looks great and functions properly on mobile devices. When you perform mobile SEO, you'll provide a positive site experience to users since it looks great on any device, regardless of the screen size.
Mobile device usage has skyrocketed in the past few years. Seventy-six percent of consumers shop on mobile devices and this number is only expected to increase as smart devices become more accessible.
Many companies don't realize the importance of a mobile-friendly site, but when you don't have a mobile-friendly website, it hurts both your SEO and your audience's perception of your business. In fact, 52% of users are less likely to engage with your company again due to a bad mobile experience.
If you want to prevent bad mobile experiences, you must optimize your site to be mobile-friendly. We'll provide you with more tips on how you can do that later.
Why is mobile SEO important?
We've already mentioned why mobile SEO is valuable to your business, but let's take a look at a few statistics that show why mobile SEO matters:
When users browse online, 70% of the time, they're using portable devices to do it. If users spend the majority of their time using mobile devices to browse the web, you need to ensure they have a positive experience on your site. If you don't adapt, you risk losing an abundance of leads for your business due to poor mobile experience.
It only makes sense that if users have a positive mobile experience on your site, they're more likely to come back to your pages again. Returning to your site can have a significant impact on whether visitors become leads for your business.
A big part of mobile SEO is adapting your website to provide the best experience for your audience. If you don't have a mobile-friendly website, you risk people having a negative perception of your business and bouncing off your pages, which hurts your ranking. By having a mobile-friendly website, you'll improve the opinion of more than 60% of users that find your business.
Your mobile-friendliness impacts your conversion rate. If your site works properly on smartphones, your audience is more likely to purchase products from your company. A mobile-friendly website will help you earn more conversions for your business.
Since more and more people use their phones to search the web, Google has shifted to a "mobile-first index." What this means is Google's crawlers will read your mobile site first. Having a site that isn't mobile-friendly will hurt your position in the search results, leading to less traffic, fewer leads, and decreased revenue for your business.
How to check if you have a mobile-friendly website
Before you make drastic changes to improve your mobile SEO, check to see if your site is actually mobile-friendly.
The best part is you don't have to load every page on your mobile device to get a reading of your site's mobile-friendliness.
An easy way to test mobile-friendliness is to use Google's mobile page testing tool.
You can either search for the mobile-friendly test on Google, or go directly to the website.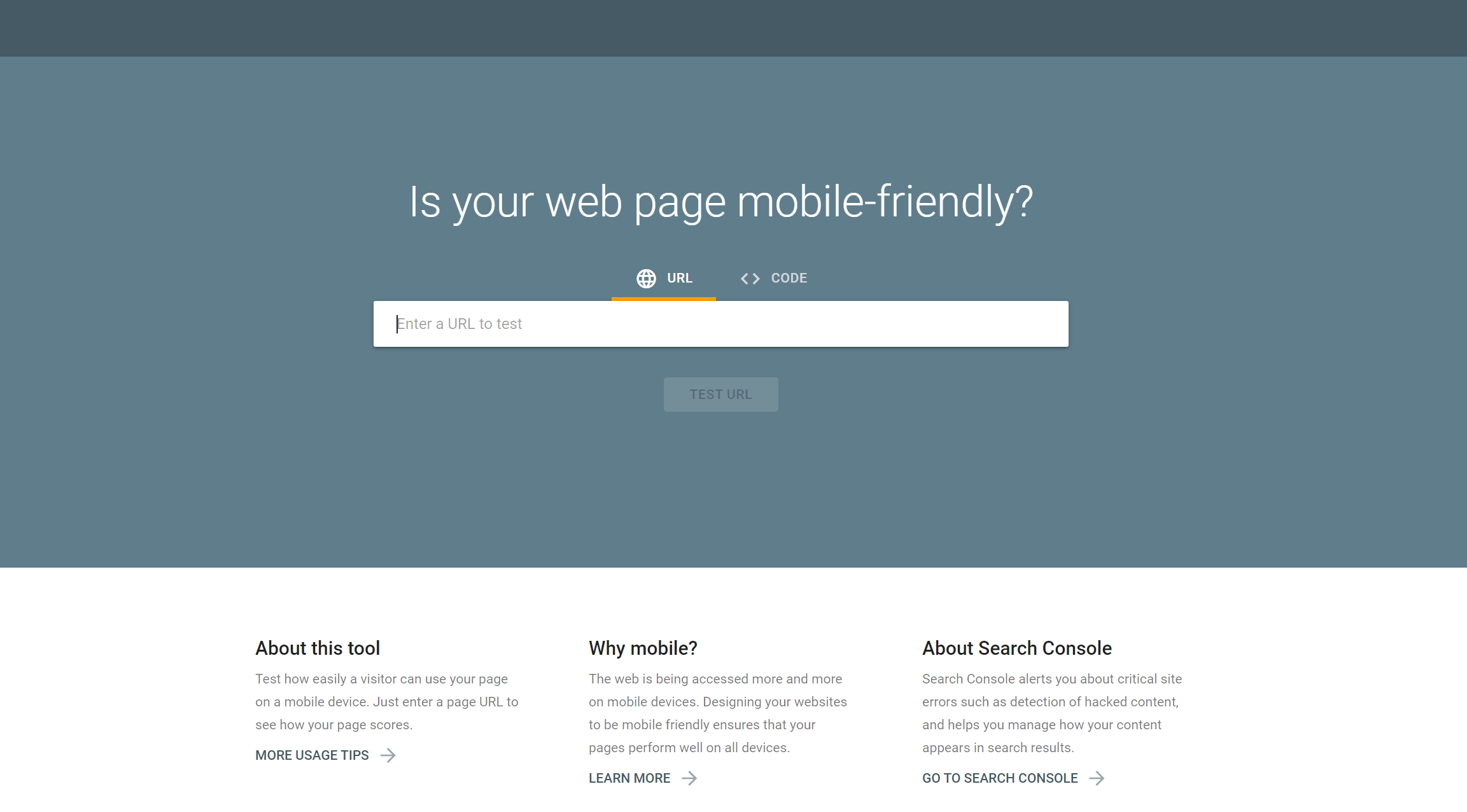 All you have to do is enter the URL of the page you want to check and click "Test URL."
If you use Google Search Console, testing your entire site is even simpler with the Mobile Usability report.
This will test the mobile-friendliness of your site and separate URLs into categories according to their issues.
Once your mobile-friendly analysis is complete, you'll have a better idea of the work you need to do for your mobile SEO strategy.
9 best practices for creating an effective mobile SEO strategy
Now that you know why mobile SEO is so important, it's time to start adapting your plan for your mobile users. Let's take a look at nine best practices for improving your mobile SEO strategy.
1. Improve your site's load time
Your site's load time is an integral part of the mobile experience. When users search for information on-the-go, they want to access it quickly. If your website doesn't load fast enough for your audience, they will bounce from your page.
To keep leads on your mobile site, you must improve your site's load time. Google PageSpeed Insights will provide you with information on your site's load time.

Through this tool, you can see where your site performs well and where it needs improvement. Google will provide you with ways to improve your site's load time for mobile users.
If you don't have experience with coding or don't have time to adapt your site to make changes, you can invest in page speed services from a digital marketing company. Page speed services enable you to rely on experts to help improve your page's load time, which gives you the freedom to focus on running your business.
2. Integrate responsive design
Responsive design is a crucial component of creating a mobile-friendly website. When you use responsive design, you ensure that your website adapts to any device a user uses. Whether it's a smartphone or tablet, your audience will get the best mobile experience for their device.
Integrating responsive design makes it easy for your audience to browse your site. They can easily scroll through your page and view your site correctly.
For example, imagine trying to access the desktop version of your site on a mobile device. Everything would be crowded and unreadable, causing your audience to continually zoom in and out to read the information on your website.
Without responsive design, you'll drive more leads away from your business. If they can't easily access and read your information, they aren't likely to remain on your site.
3. Focus on the user experience
This next tip goes hand-in-hand with responsive design. If you want to be successful with mobile-friendly SEO, you must focus on the user experience.
Responsive design is part of a positive user experience. When leads can access and browse your site easily on mobile devices, it provides a positive experience for them.
There's more to your website than just integrating responsive design. While responsive design is an excellent stepping-stone to creating a better mobile experience, you need to add other elements to your plan to ensure it boasts a great experience for users.
'Thumb-friendly' design
When you're designing your mobile site, you must make it easy for your audience to scroll through and click on elements on your page. To do so, you'll want to create a "thumb-friendly" design, since users primarily browse with their thumbs on mobile devices.
Easy-to-find calls to action (CTAs)
Call to action (CTA) buttons help your audience take the next step towards conversion. When you create a mobile-friendly website, ensure that your CTAs stand out on the page and are easy to find. Your audience should see a CTA on your page immediately, whether it's a phone number or phrasing that guides users to the next page. Your CTA should also be big enough for users to easily click.
Ensure font is legible on smaller devices
Since users browse your site on devices with smaller screens, you must make fonts readable on these devices. Whether you choose a bolder font or make the font size more prominent, you should adjust your font to be easily legible on a mobile device.
4. Be careful of pop-ups
Pop-ups are an effective way to draw your audience's attention to a certain action. Whether it's to sign up to receive emails or download free content, many companies use pop-ups to draw the user's attention towards the action you want them to take.
Specific actions can trigger a pop-up to appear on the screen. It may be when someone first enters a page, when they scroll to a particular part of the page, or even when they move their mouse to head back to the search results. Pop-ups effectively help catch your audience's attention and get them to look at the vital information you want to share.
However, these pop-ups can be an issue on mobile devices. If your pop-up takes up the entire screen on mobile, it will leave users frustrated. They won't be able to see the information that they visited your site for, and they might not understand how to get rid of the popup. This could cause users to leave your site.
If you're going to use pop-ups on your site, be careful of how you use them. You don't want to use too many pop-ups on mobile devices because it can drive people away. Use them sparingly and on parts of your page where the pop-up matters most, and it won't cover important information.
You should also make sure that your pop up displays an easy way to get rid of them, like a prominent "x" at the top.
If you want to be effective with mobile SEO, exercise caution when using pop-ups on your page.
5. Optimize for local
An essential part of mobile SEO involves local SEO. Mobile searches using the phrase "near me" occurred three times more in the past few years, meaning that more and more users search for local businesses.
People often search with phrases like "near me," "open now," and "where can I buy" to find local businesses near them. With so many people searching using local phrases on mobile, you must adapt your strategy to reach these people.
You can adapt to local searches by using local keywords. A keyword like "flower shop in Harrisburg, PA," is an excellent example of a local keyword. If someone searches for a local flower shop, they're likely to search "flower shop in [city]" to find one.
Using local keywords will help you appear in more local search results. It's a great strategy to help you excel with your mobile SEO strategy.
6. Implement a clean, easy-to-use navigation bar
Your navigation plays a vital role in how users find and access information. If your navigation is too challenging to use, users will get frustrated and leave your site. To ensure you're creating a positive environment for your audience, create mobile-friendly navigation.
The best way to create mobile-friendly navigation is by using a hamburger menu. Hamburger menus appear at the top of a page with three lines. When users click on this button, they'll see a drop-down menu with all the different pages they can visit.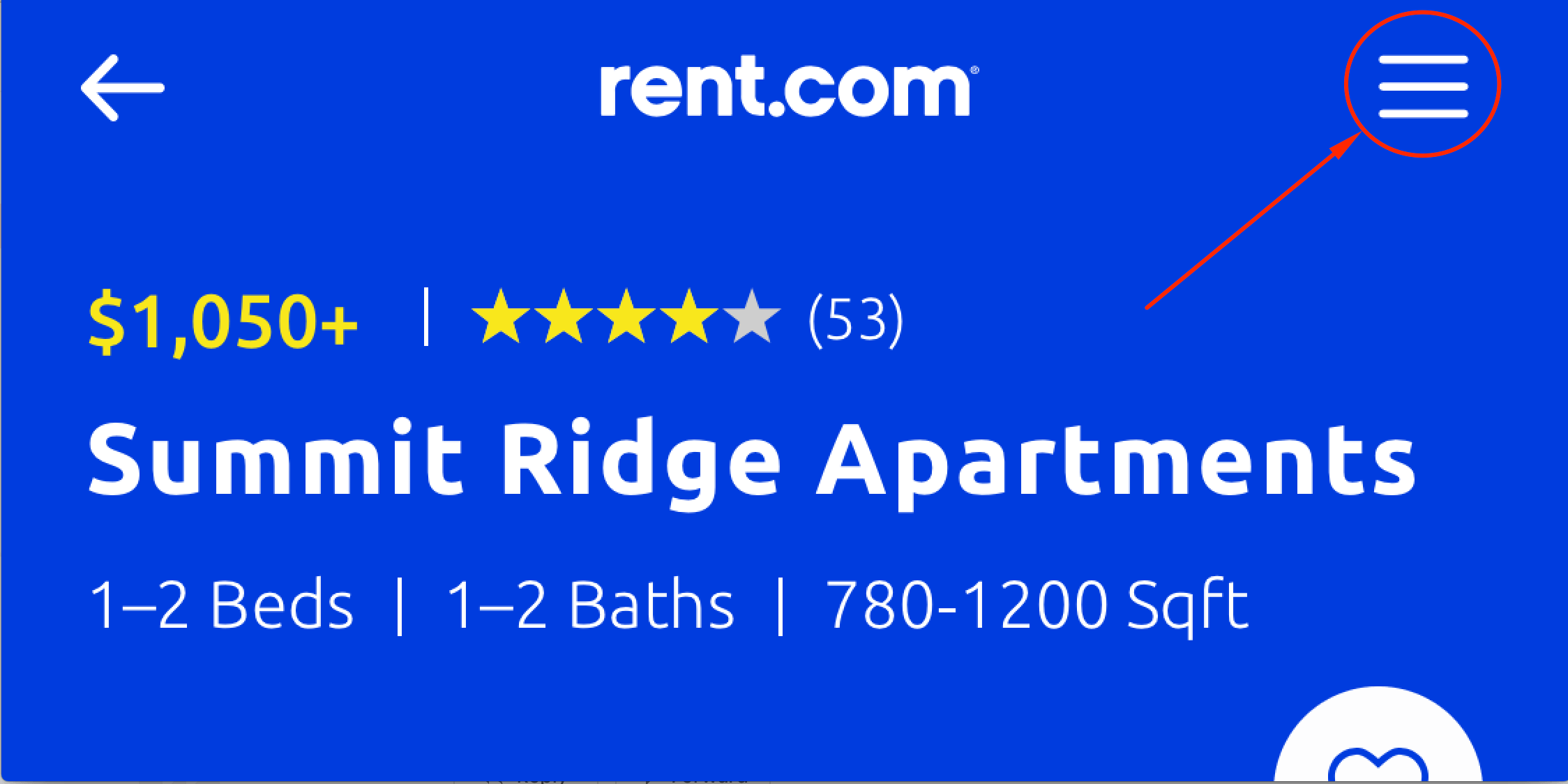 A hamburger menu makes it easy for you to keep your navigation organized for your audience. It keeps your site clean and is easy for your audience to use to find information.
7. Optimize title tags and meta descriptions
An essential part of mobile SEO is your title tags and meta descriptions. These two elements determine whether someone clicks on your listing in the search results.
Since mobile users look for information fast, they'll often use your title tag and meta description to determine if they should click on your listing.
Title tags
Title tags are the first thing your audience sees in the search results. These tags tell your audience what your page covers.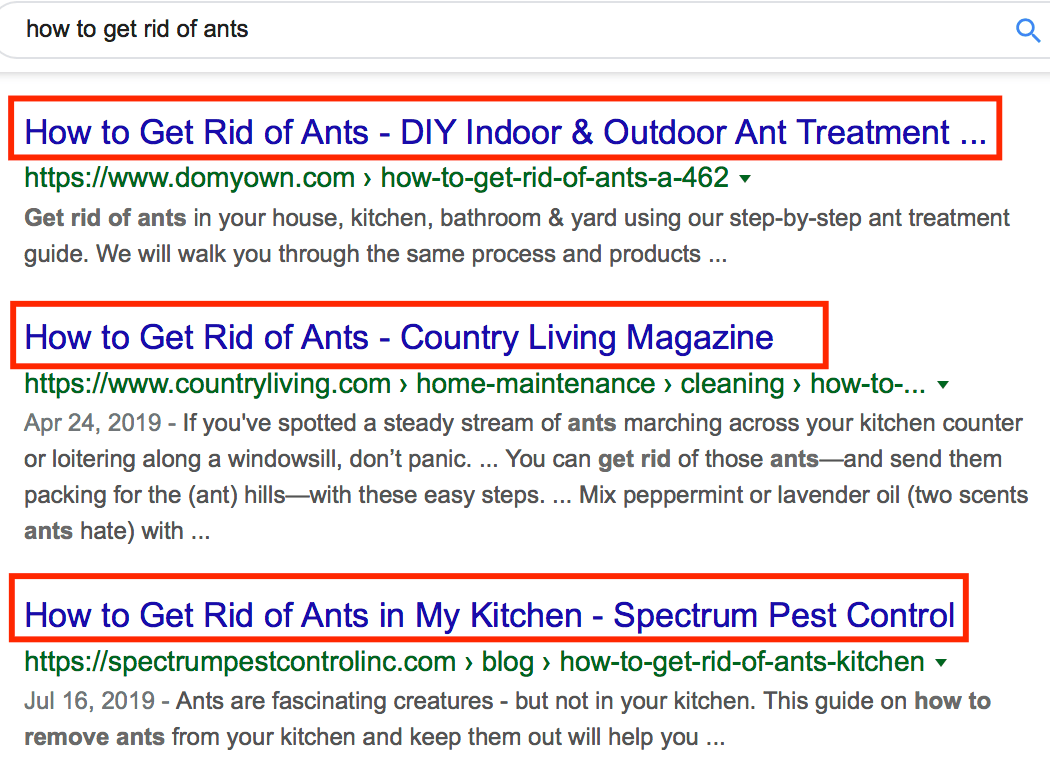 These title tags serve as a preview of your page. If you want to drive more relevant mobile traffic to your site, you must optimize your title tag.
A good title utilizes your keywords. Your keyword should appear at the front of the title tag, so your audience knows your listing is relevant to their search query. Your title tag should be descriptive and inform your audience about what they'll find on your page.
Meta description
Your meta description is the short blurb your audience sees after your title tag. It provides your audience with additional information about your listing.

Your meta description provides your audience with a preview of your page. It helps them determine if your page is relevant to their search query. You'll get more mobile users to click on your site if you have a short and descriptive meta description.
8. Create a separate mobile URL
When companies optimize for mobile, many will create a different mobile URL. With a separate mobile URL, you create a parallel site for mobile users. It allows you to create a custom experience for people who visit your website through mobile devices.
A mobile URL typically appears as "m.website.com" or "website.com/mobile." When users enter your site through a mobile URL, they see a version of your site that's adapted for mobile devices. This adaptation allows users to experience your site
9. Create mobile content
A great mobile SEO tip is to create mobile content. When you create mobile content, you format it to provide a positive experience on mobile devices.
If you want to create mobile-friendly content, you'll want to make it easy for users to scroll through it. For example, keeping paragraphs at 2-3 sentences will make it easier for your audience to read or skim through your article.
You'll want to add photos and videos to your content, too. It will keep your content interesting and offer engagement points for your audience. You'll also want to add interactive elements, like clickable buttons, to make it easy for users to browse your mobile site.
WebFX is a partner businesses trust.
Hear from HydroWorx, who saw a 236% increase in organic sessions with WebFX services.
Watch the Video Testimonial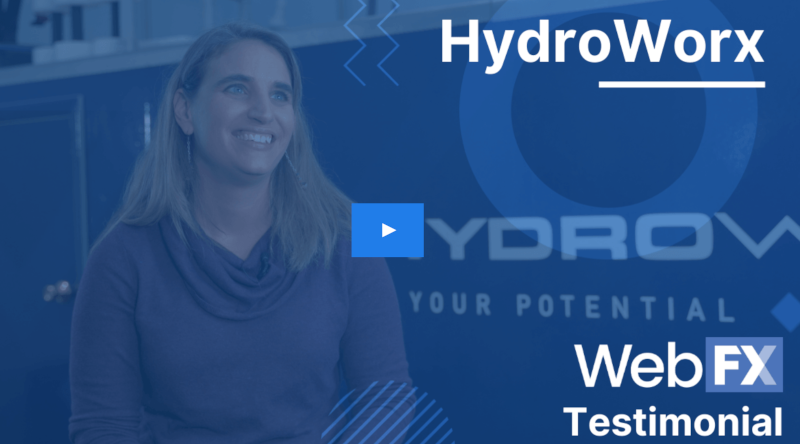 Start optimizing for mobile SEO today
Mobile SEO is an integral part of growing your business online. If you want to help your business grow through SEO, you must account for users that search for your business through mobile devices. A robust mobile SEO plan will help you reach leads interested in your business.
If you aren't sure how to get started with mobile SEO, our team of over 500 experts can help. With over a decade of experience, you can count on us to help you develop a mobile SEO strategy that drives more mobile users for your business.
Want to learn how to optimize for mobile SEO? Contact us online or call us today at 888-601-5359 to speak with a strategist about our SEO plans.
How Is Your Website's SEO?
Use our free tool to get your score calculated in under 60 seconds.