Search engine optimization (SEO) is a powerful strategy for helping more leads find your business — and 89% of marketers say it's successful. To maximize your SEO strategy, you need to target the right keywords and create in-depth content about topics that resonate with your audience.

With Google Correlate, you can easily identify search patterns and trends related to real-world data.
This advanced insight allows you to create SEO content that matches search intent and converts more customers. In this post, we'll discuss what Google Correlate is, how to use it, and how it can help you create a more effective SEO campaign. If you want to learn more about creating a custom SEO campaign, check out our SEO service plans.
DISCLAIMER: Google Correlate will shut down on December 15th, 2019 as a result of low usage as stated by Google.
What is Google Correlate?
Google Correlate launched in 2011 — and it operates similar to Google Trends, but in reverse.
It's easy to confuse these tools, so let's take a look at how they differ.
Google Correlate vs. Google Trends
Google Correlate: Identifies keywords with similar time-based or regional search patterns to queries you enter.
Google Trends: Analyzes the popularity of top Google search queries across regions and languages. With Google Correlate, you search for keywords based on known patterns to find other relevant keywords and learn about your audience. This tool helps you find related terms people often search.
When you use Google Correlate, you already know about trends. You use the data from the trends and input it to find keywords relevant to those trends. In addition, Google Correlate allows you to uncover keywords with a similar regional or time-based search pattern.
On the other hand, Google Trends allows you to type in keywords to see how those trends change over time. You can see:
When the keywords are most popular
Keyword interest by sub-region
Related topics
Comparisons of relevant keywords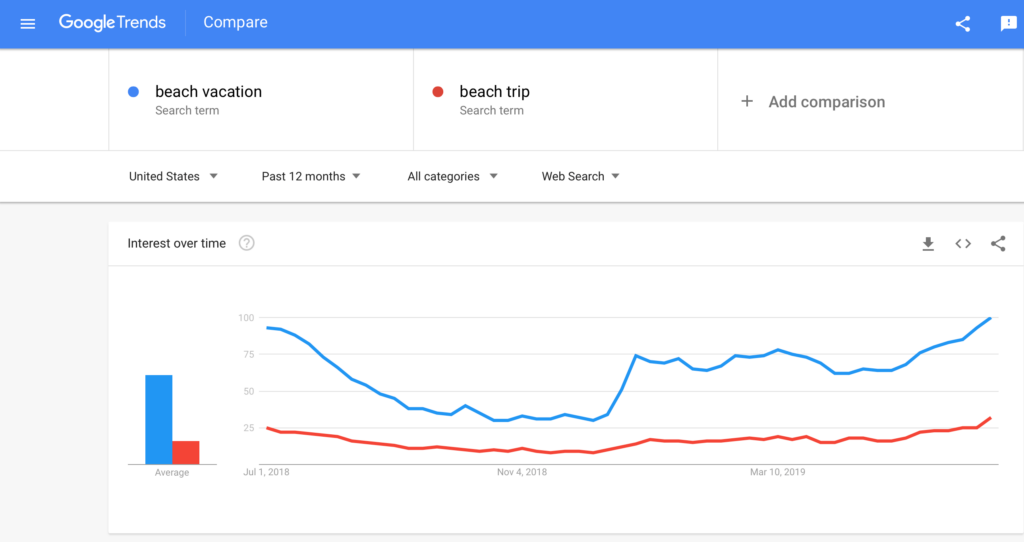 With Google Trends, you use keywords to find trends and patterns. If you have a list of keywords, you can input them into Google Trends to learn their popularity over time.
How does Google Correlate work?
Let's take a look at how to use Google Correlate. To start using Google Correlate, you'll type in a keyword and press "search correlations" to generate a list of related keywords.

Once you search the correlations, you'll get a list of 10 words sorted by association. These keywords are scaled to represent how often people search the two keywords together. A correlation of 1.0 represents a perfect correlation.
When you look at correlated terms, Google won't show anything with a correlation score below 0.6. If you want to see more than 10 terms, you must click "show more." You can see up to 100 correlated terms.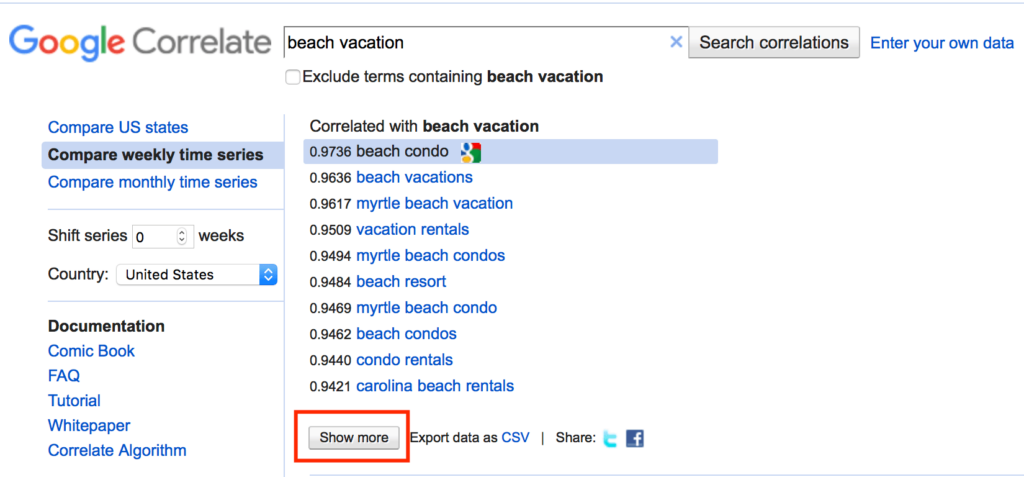 When you search for correlated terms, you can also exclude terms that contain the word you're seeking.

This feature allows you to find relevant vital terms that correlate with your core term but don't share the exact phrasing.
Let's say you search the term "manufacturing costs" via Google Correlate. If you don't exclude terms, you'll see dozens of results that include the words "manufacturing costs." If you exclude terms, none of your results will contain "manufacturing costs." Your results will be more relevant because they're not variations of your keyword, but rather, different keywords that are related to "manufacturing costs," like "industrial expenses." In addition to finding correlating terms, you can identify regional search patterns to see where people are most likely to search correlated terms.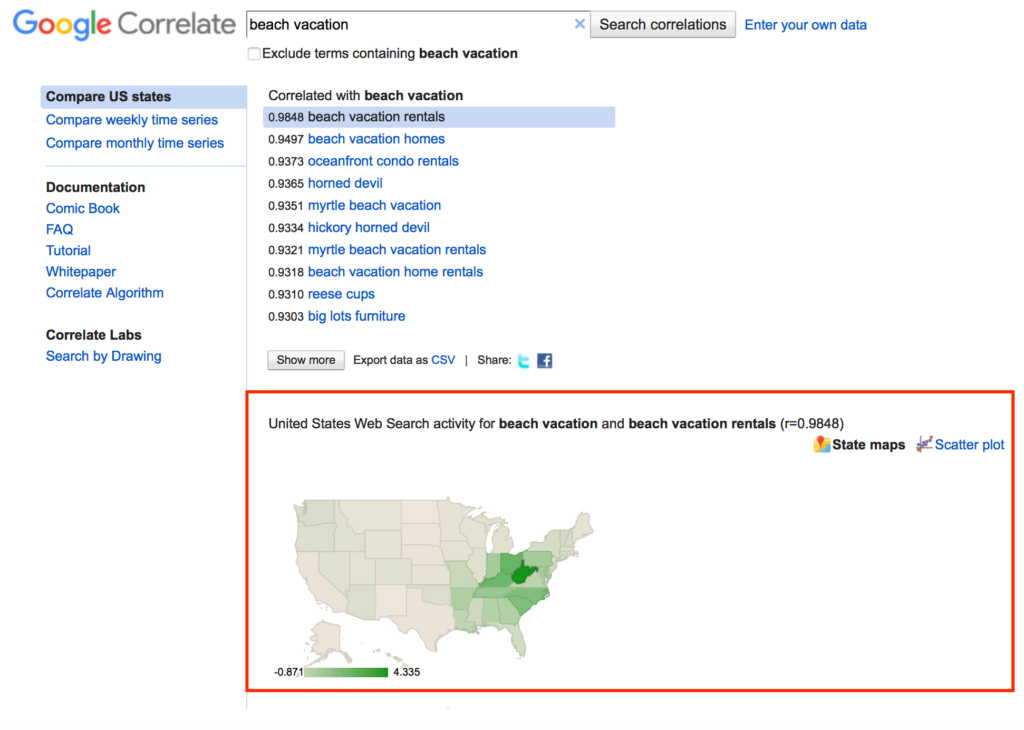 The states with the darkest shade of green are the most interested in those terms.
This map helps you see if you're targeting keywords that are popular in your area. Let's take a look at an example to try to help explain this more in-depth. As an example, let's say you own a camping supplies store.
You want to use Google Correlate to help you find relevant keywords that you can use to reach new people. It's summer, and you know that the peak time for camping is in the summer because the weather is beautiful and there are plenty of outdoor activities for campers. You want to target these people who are camping during this season, so you use Google Correlate to find relevant keywords that people will search at this time.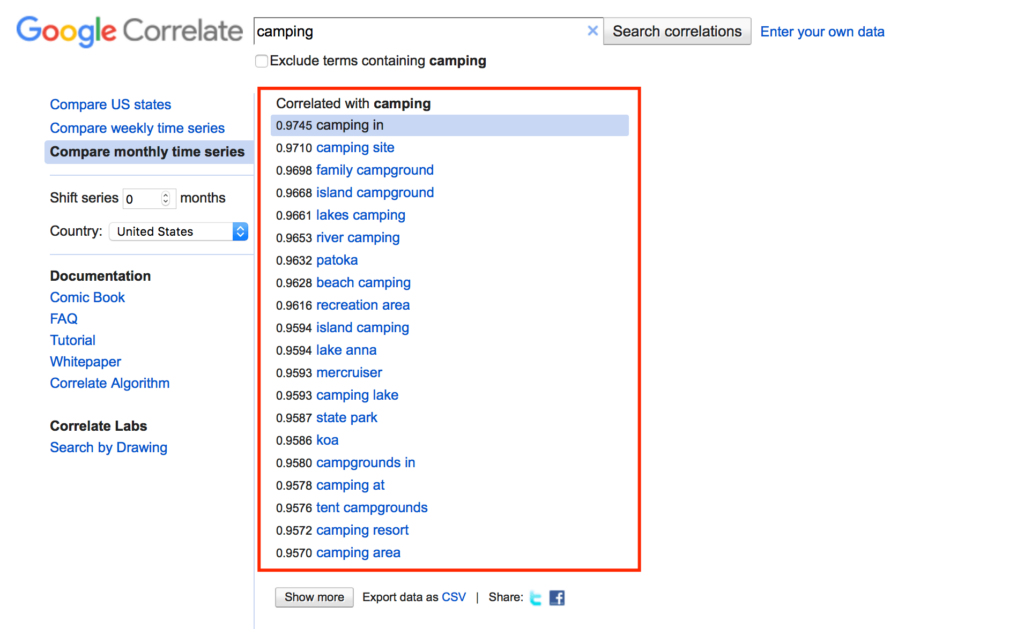 These results show correlated keywords such as "beach camping," "recreation area," and "camping site." You could then create content to target these keywords that appeal to people interested in camping. Overall, this correlation tool is a great way to find more relevant keywords to target people interested in your business, products, and services.
How can I use Google Correlate for my SEO campaign?
Google Correlate is a great supplemental tool for your SEO campaign. Let's take a look at three ways Google Correlate can help you create a more effective SEO campaign.
1. It helps you find new keywords
Google Correlate is an excellent resource for finding additional keywords related to your core terms. You can see critical terms that include or exclude your keyword. These are great Google insights that help you appear in more top searches in Google.
Let's look at a term like "camping sites." When you look at your correlated keywords, you'll find numerous options for reaching people.

In this example, you'll see other terms like "best camping spots," "best place to camp," "camping places," and "places to camp." These are great other keywords you can use to try and reach more people. Google Correlate will help you understand how your audience searches keywords and discover new terms you can use to reach them.
2. It helps you understand your audience
An essential part of SEO is understanding your audience. You must know who you're trying to target so you can create an SEO campaign that helps you reach the right people. Google Correlate will help you figure out your audience and who you're trying to reach.
Google Correlate allows you to identify patterns across time and locations. It helps you understand places where people have an interest in your business and when they are most likely to look for your products. Many companies like to compare U.S.
states to see where their products are most popular. You can see other terms that are associated with your key phrase and use those terms to understand your audience better and how they search. You understand your audience better when you know the types of terms your audience searches.
First, you can see the locations of people interested in your business. This map is the first step to understanding your audience. When you know what state your audience is from, you can get a sense of who is interested in your business.
Let's say you own a hotel at the beach. You're trying to figure out who is most likely to rent out your room. When you search "beach vacation," you find the correlating term "beach vacation rentals." When you look at this search activity map, you can see which states are searching "beach vacation" and "beach vacation rentals" the most.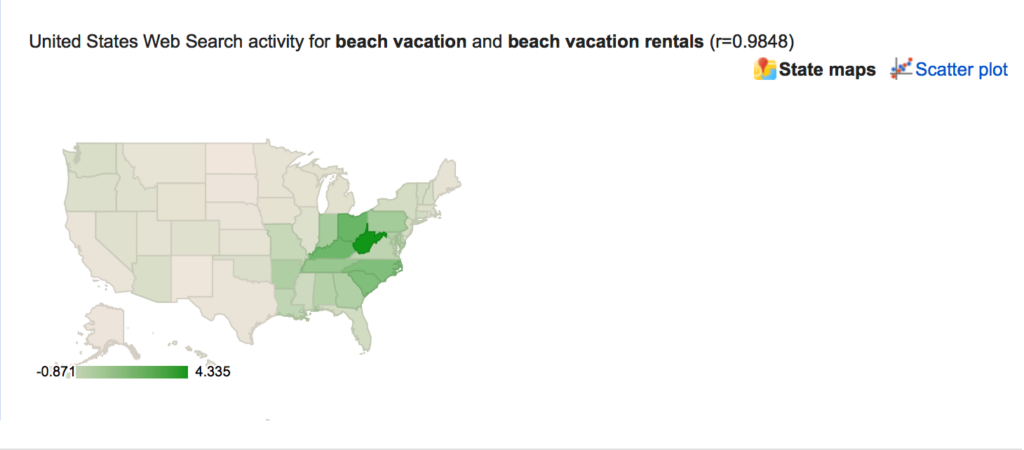 In this example, you can see that people from West Virginia, Kentucky, Ohio, and the Carolinas search those terms the most. If you're investing in local SEO, this tool is an excellent way for you to figure out where to target people near your beach house. For example, if you had a beach house at Virginia Beach, it would be great to target people from Kentucky, West Virginia, and Ohio.
If you had a beach house in one of the Carolinas, you could target people from those states. Despite these states being the most popular for searching "beach vacation rentals," you wouldn't want to target them if you had a beach house in California because it's too far. Google Correlate can help you with local SEO efforts because it allows you to see which areas are the most interested in your correlated keywords.
You can determine if those keywords are a good fit for your campaign and if they'll be useful in your region. Google Correlate allows you to formulate a hypothesis about your audience and know who's searching for your words. You can research to learn more about people in that region, so you can target them better (primarily if your business isn't in that state).
The correlating terms can also help you understand your audience better. While some of the keywords may appear random, they can hold more significant implications of the type of people interested in your business. Many of the correlating terms have the word "rental" in them.
This key term could indicate that you're targeting people who are in the middle to the upper-middle class that is looking to rent a place, rather than buy a beach house. You may need to dig a little deeper into the correlating terms to see how they apply to your audience. By using Google Correlate, you'll understand your audience better and be able to reach them with more relevant keywords.
3. It helps you create content at the right time
When you're learning how to use Google correlate, you will learn how it can help you with content creation. Content marketing is a crucial part of SEO because it helps drive traffic to your page. When you create content, you share valuable knowledge and information with your audience that gets them to visit your page and learn about your business.
If you create relevant content, you can appear in more top searches in Google. You can format your relevant content into blog posts, infographics, videos, and ebooks. With Google Correlate, you can help your business publish the right content when it's most relevant.
Since Google Correlate has a time series shift feature, you can see how correlating terms vary as time changes. This feature is especially helpful if you're a seasonal company or if you have a time/event cycle. Even if you aren't a seasonal company, you can still use this feature to know when to address people about products or services at the right time.
As an example, let's look at the correlating terms people search within a week of July 4th.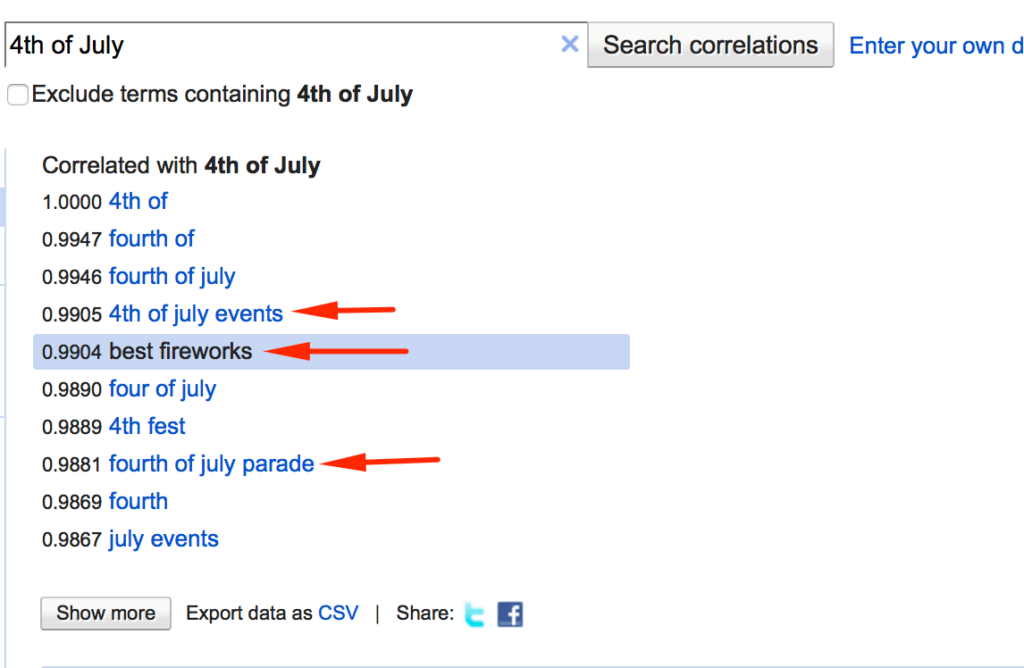 At this point, people search for firework shows, parades, and events. If you were hosting a Fourth of July event, this current time frame would be the best time to share a piece of content detailing an event you're holding.
Now, if you go back to correlating terms a week prior, you'll find that not many people were searching for events related to the Fourth of July.

You could hypothesize from this information that people aren't searching for Fourth of July events until closer to the date. Based on this hypothesis, you could try creating an abundance of content about your Fourth of July event in the week leading up to the Fourth of July.
This behavior may be different from Christmas time. People tend to prepare for Christmas weeks in advance of the holiday. If you searched Christmas-related terms around the Christmas season, you could find the right time to create content around that holiday.
Google Correlate will help you find the right time to write about any event at the right time. Whether it's surrounding a holiday, like Halloween or Christmas, or a time of year, like fall or spring, you can find the right time to publish the right content. The critical thing to remember is that Google Correlate won't give you the exact keywords to target, but it will give you plenty of general ideas to execute.
This tool is a great way to help you produce more relevant content and generate valuable insights for your content.
Use Google Correlate to improve your SEO campaign
Google Correlate is a great tool to help you improve your SEO campaign by assisting you in finding relevant terms, learning about your audience, and creating impactful content. It's a great tool to aid you in reaching the right people and generating content ideas. If you need help driving success with your campaign, WebFX can help.

Our team of over 500 experts will bring their knowledge and expertise to your campaign. We'll help you utilize Google Correlate to understand your audience better and create content that appeals to them. If you're ready to start making the most of your SEO campaign, contact us online to speak with a strategist about our custom SEO campaigns.
WebFX Careers
Join our mission to provide industry-leading digital marketing services to businesses around the globe - all while building your personal knowledge and growing as an individual.