How to Increase Domain and Page Authority
If you're trying to reach a larger audience online, one of your biggest priorities should be improving your rankings in search engines like Google. When potential customers and clients search for keywords related to your industry, they'll see your site and click to your site to learn more.
As this continues to happen, you'll see more traffic – and more importantly, more leads. Plus, you'll build brand awareness with users who become familiar with your company's name.
But in order to achieve high rankings, you need to show search engines that your site is more authoritative and trustworthy than the other sites attempting to rank for the same keywords. The only way to do this is to increase your domain authority.
Keep reading to learn how you can boost your site's authority, and give us a call at 888-601-5359!
Domain authority is a measure of how trustworthy your site is in the eyes of Google and other search engines. It plays a major role in how well each of your individual pages ranks in search results for keywords.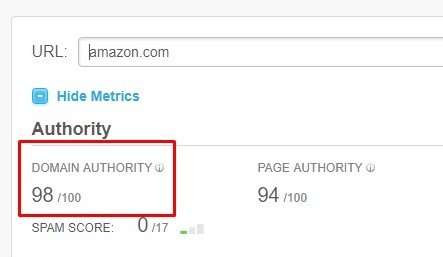 Page authority is a predictive score that measures how well an individual page can rank in search results. But given that domain authority plays a major role in determining page authority, it's more important to focus on improving your site as a whole than any one page.
So, how can you improve your site and increase your domain authority?
The most important factors are the quantity and quality of the links to your site. Google and other search engines see links as votes of confidence, because if someone is willing to send their traffic to you, they must be sure that you have content their readers will enjoy or benefit from.
This means that if you want to increase your domain authority, you need to earn links from reputable sites. However, this is often easier said than done.
Link building is an ongoing marketing strategy, and one that your company should continue to work on as long as you have a website. It's sometimes a complex process, but you can break it down into two basic steps: Create great content, and build links to that content.
1. Create great content
The most important thing to keep in mind when building links is that reputable sites provide proportionately valuable links. It should come as no surprise, though, that these links are more difficult to earn.
Sites that have strong reputations won't send their thousands of visitors just anywhere. Their editors and owners will be careful to only link to pages that provide value in some form, whether that's information, entertainment, or news.
So before you start writing, get familiar with the kinds of articles and posts the major sites in your industry publish. Look at the other companies they link to, and see what kinds of content those companies provide.
Is it original research? Infographics? Case studies? Opinion pieces?
Of course, you don't want to replicate other sites' content – after all, it's unlikely that any reputable site would run the same exact story twice. But once you know what those sites are looking for, you can research and create the kind of content they'll link to.
Take your time creating it, and make sure that the final product is unique and polished before publishing it on your site. Then, move onto the next step.
2. Build links to your content
No matter how great your content is, it won't earn links unless other site owners know it exists. In fact, you may need to spend more time promoting your content than you did to create it in the first place.
It's important to note, however, that if you're first starting out with link building, you should be realistic about how you contact. Sites with high domain authorities like the New York Times get hundreds of pitches every day, and your site will most likely go unnoticed unless you're already a reputable name in your industry.
In some cases, you can do this by looking at their "Contact" page. For most sites, however, you'll be more successful if you identify the most relevant section and contact the editor.
The way you write these can be the difference between a great link and an email that goes directly into the trash folder, so take your time and write genuine outreach emails. Address the person by name, make it clear that you're familiar with their site, and explain how your content could benefit their readers.
You probably won't hear back from all the sites you contact – and that holds true no matter how reputable your site eventually becomes. But as long as your content resounds with at least a few of those sites, the links you earn will be well worth the boost to your domain authority.
Want to increase your site's domain authority?
Increasing your site's domain authority is a challenging process, but one that pays off in a big way once your rankings improve. So if you want to help your company's site move up in search engine results, it's time to start building links.
At WebFX, we have years of experience creating successful content marketing and link building campaigns for our clients – and we'll do the same for you. Contact us today to speak with a strategist about how our talented team of Internet marketers can help improve your domain authority and attract more potential customers.
How Is Your Website's SEO?
Use our free tool to get your score calculated in under 60 seconds.