Instagram is one of the most popular social networking sites with 800 million monthly users. As it grows in popularity, Instagram continues to add new features to engage audiences. Use these Instagram stories tips to take full advantage of the platform and engage your audience!
These customized stories encourage users to post photos and videos for their followers to see. It's a great way to engage people on Instagram, without clogging up a user's feed by posting too many photos or videos. On this page, we'll discuss the basics of this feature and five tips to help you nail your Instagram stories.
Let's get started!
What are Instagram stories?
With Instagram stories, you can share engaging photos and videos that appear at the top of a user's feed. When you open your Instagram feed, you see a row of circles with each users Instagram profile photo.
These are people who have posted something to their story.

Your followers will see your circle at the top of their feed if they follow your business. These circles are lit up around the edges to indicate that someone has posted something recently.
People click on these circles and immediately see what the person posted. That post will remain there for 24 hours until it disappears. Users can post numerous photos and videos to their Instagram stories.
People can take a photo or video in the app or upload one from their camera roll that they've taken in the last 24 hours.
It's an easy way to add content to a page. Instagram enables users to post different types of videos. They offer a hands-free recording option, so users can videotape themselves without needing to hold on to a button.
You can also post different types of videos, such as boomerang or live videos. This is a feature that is growing in popularity. Last year, over 500 million people used the feature every day, and 68% of users became more interested in a brand or product after seeing it in a story.
It is a very popular feature that engages audiences and gets them to interact with your business. If you want to take full advantage of marketing on Instagram, you need to use Instagram stories.
5 tips to help you create effective Instagram stories
Now that you know more about Instagram stories, how can you create stories that are effective for your audience? Here are five tips to help you build better Instagram stories.
1. Make your content visually appealing
Instagram is a visual-based platform. If you're going to use Instagram stories, you need to create photos and videos that are visually appealing to your audience. There are many other businesses that will use Instagram stories to market their business.
You need to make your content stand out. The best way to do this is by making your content visually appealing to your audience. Instagram makes it easy for you to create creative content.
They have in-app tools that you can use to dress up your photo. Instagram offers different types of filters, markers, stamps, and other features to help you enhance your photos. With all these tools, you can edit your photos and make them visually engaging for your audience.
It is important, however, that you don't make your photos too busy, which brings us to the next point.
2. Don't overdo it
When you create your visually appealing content, be careful that you don't overdo it. If your photos and videos go overboard, you may end up deterring people away.
Make your content interesting and engaging, but don't overwhelm.
Your photos shouldn't be too flashy.
If you have too much going on in your photos, your audience will swipe past your photos without engaging. You want to increase engagement, so it is best to keep your photos interesting but not too over the top. As for your videos, make sure that they aren't too loud.
If you create videos that have loud sounds, users will skip over them immediately. To avoid this from happening, make sure that your videos have a good sound level and don't overwhelm your audience. It is important that you find a good balance for your content.
You want to add some character to your posts, but you need to be sure that it isn't too much for your audience. Make your content intriguing and engaging, but don't overwhelm. This may seem like a difficult task because you want your brand to stand out, but you don't want it to go over the top.
You may need to test your content on your audience to see what they respond to best. By keeping your content interesting but not over the top, you will keep your leads engaging with your business.
3. Use text in your Instagram stories
When you create posts, it is crucial that you include text in your Instagram stories. You want to make sure that people get the message from your post. Text in your posts ensures that they understand your posts clearly.
If you post a photo to market your business, your audience may not understand the offer. They may not understand the message you are trying to convey through your photo. You need to use text to ensure that they understand your message.
The same goes for your videos. Even though you can verbally state the offer, many users will listen to your videos without turning the sound on. If they just see a video without any text, they won't understand the offer and will skip past it.
By incorporating text on your posts, you ensure that your audience knows the context of your photo or video. You will increase engagement with your audience and get more people to take advantage of your business's offer.
4. Don't be too business-like
Instagram is predominantly used by younger people. If you're going to take advantage of this feature, you need to keep the audience in mind. This means you need to lay off being too business-like.
You want to maintain a certain level of professionalism but have some fun with your posts.
So, what exactly does that mean? When you post on social media, you don't want to be too stiff and formal with your posts. Your audience will find your content to be boring and won't engage with your stories as much.
This platform is an opportunity for your business to get a little looser with your posts. This doesn't mean you need to lose all aspects of professionalism. You want to maintain a certain level of professionalism, but have some fun with your posts.
It will help you engage your audience better. You can create more effective Instagram stories by making your posts interesting to your audience. This is an opportunity to be a little more whimsical with your posts and really relate with your audience.
By being more flexible with your Instagram stories, you will increase engagement with your audience.
5. Include a call to action (CTA)
If you want your Instagram stories to be effective, you need to include a call to action (CTA). A CTA gives your audience direction and tells them how to proceed next. When you use your Instagram stories, you often want your audience to check out your page, make a purchase, or complete some other action.
You need to tell your audience how to take that step. By including a CTA, you guide your audience to the next step. You want to make sure that you are clear about your CTA.
Make it prominent in your story to ensure that users don't miss it. This will increase the engagement in your Instagram stories. There are numerous types of CTAs you can use to engage your audience.
One of the most common ones is "swipe up to…" because it's a convenient way to help users find more information. When users swipe up, they are directed to any page of your choosing. You'll want to direct them to a page that is relevant to your post.
This is just one of the many popular types of CTAs you can use to clearly guide users to the next step. When you use a CTA in your Instagram stories, you will help guide your users to act on your offers.
Not happy with your social media engagement?
We've got just the blog post for you.
Read the Blog Post & Watch the Video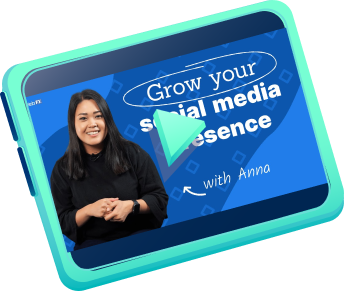 WebFX can help you create successful Instagram stories
Instagram stories are a unique feature that can help you expand your social media marketing campaign. You can engage your audience better and get them more familiar with your brand. By building up your brand, you will build your audience's confidence in making a purchase from your business.
At WebFX, we know how to create Instagram stories that engage your audience and encourage them to purchase from your business. We have a team of 450+ experts that will help you nail your Instagram stories. Our award-winning team has the knowledge and expertise to help your business create a successful Instagram campaign.
If you want to see how you can use Instagram stories to bring your business success, contact us online to speak with a strategist about your customized Instagram marketing plan! Or check out our Instagram marketing services online!