Social Media

What to Post on Social Media: Your Go-To Social Media Post Template
What to Post on Social Media: Your Go-To Social Media Post Template
11 minute read

Sam has been writing for WebFX since 2016 and focuses on UX, crafting amazing website experiences, and digital marketing In her free time, she likes to spend time on the beach, play with her cats, and go fishing with her husband.
As a business owner, it's important to consistently post new and engaging content on your social media profiles. But if you're like many businesses, you might question what to post on social media. When it comes to what to post on social media for business, we've created a social media post template to help you create the most engaging posts for your followers.
Keep reading to learn more, and make sure you sign up for Revenue Weekly, our email newsletter, to get more tips just like these directly in your inbox!
What to post on social media: Your social media post template
Every business is different, but the same social media post template is effective for each one. Below is the template you should use for four of the most popular social platforms — Facebook, Instagram, Twitter, and LinkedIn — for maximum engagement.
Written content
Written content is the first element on our social media template list. That's because the written content that you post has the opportunity to further explain an image or video, share a link, or facilitate conversations with your followers.
Your written content could tell a story, share information, or just explain the image or photo in your post. Your written content can make you come across as more human to your followers since you can caption things as if you were talking to them directly.
Facebook character limit: 63,206 characters (Ideally 40-80 characters)
Instagram character limit: 2200 characters (Ideally 140-150 characters)
Twitter character limit: 280 characters (Ideally 71-100 characters)
LinkedIn character limit: 700 characters on company pages, 1300 characters on individual accounts (Ideally 50-100 characters)
Images or graphics
If you're wondering what to post on social media, images and graphics are one of the best options. When you post a high-quality image or graphic, you help illustrate the point made in your written content.
Not only that, but users engage more with image posts than they do with plain text posts.
Facebook image guidelines:
Portrait: 2048 x 3072
Landscape: 2048 x 1149
Instagram image guidelines: 1080 x 566-1350
Twitter image guidelines: 1024 x 512
LinkedIn image guidelines: 522 x 289
Video
Video makes for some of the most engaging social media posts — simply because of their entertainment value. Whether you post a short 10-second clip or something that's a little longer, you can rest assured that your engagement rates will rise.
Facebook video length: Maximum 4 hours
Instagram video length: Maximum 60 seconds
Twitter video length: Maximum 2 minutes and 20 seconds
LinkedIn video length: Maximum 10 minutes
Why are engaging social media posts important?
If you're a business owner that scratches your head about what to post on social media, you're not alone. It can be difficult to be creative and consistently engage with your followers.
However, posting engaging content on the regular is crucial to the success of your social media presence.
Engaging social media posts are important for the following reasons:
1. They build brand awareness
The beautiful thing about social media is that your audience is far larger than just your followers. For example, if you post something on your Facebook account and one of your followers shares it, your post is now available to an entirely new audience. The same is true for users who retweet your content on Twitter or repost it on Instagram.
When your content spreads, you'll build brand awareness by getting your business in front of an extremely expansive audience.
2. They build brand trust
The more communication you have with your audience, the more they'll trust your brand.
Imagine your favorite brand that posts daily on social media. Then, imagine if they only posted once of month.
First off, they would no longer stay top-of-mind since you only see their content once per month, but you'd probably also trust them less. This stems from a lack of communication.
It's much easier for users to trust brands that post consistently because it shows that they care to share valuable information with their followers as well as connect with them
3. They give you more chances to connect
The more you post, the more chances you'll have to connect with your audience.
When you share different types of social media formats, users will interact with your content by way of comments and shares. The comments on your social posts create a great opportunity for you to personally connect with your audience by answering questions, joining conversations, and even providing customer service.
BONUS READING: What is Enterprise Social Media?
What to post on social media: 16 ideas for inspiration
Here are some of our favorite things to post on social media! We hope they inspire your social posts, too!
1. Informational articles
This post format is one of the most popular, and for good reason. When you link to an informational article from your website on your social media platforms, you'll increase website traffic while informing your followers. It's a double win!
You should also consider posting an image with your link, or a video that relates to it. And don't forget to write some text, too! Posting just a link is a good way to get users to scroll right past your post.
2. Infographics
Infographics are graphics that explain a complicated topic with illustrations. They're typically used when you want to share a lot of data in an easy-to-understand fashion. Infographics can go viral since they usually provide some sort of data or explanation — making them a great option for a social media post.
3. Fun facts
Fun facts are great ways to keep users engaged, and they can take the form of a text post or a graphic. You can easily create one yourself using a tool like Canva, or provide a video that further illustrates the fact! For example, the Philadelphia Zoo's Facebook page posted a fact about their blue-eyed lemurs and paired with a video of the animals!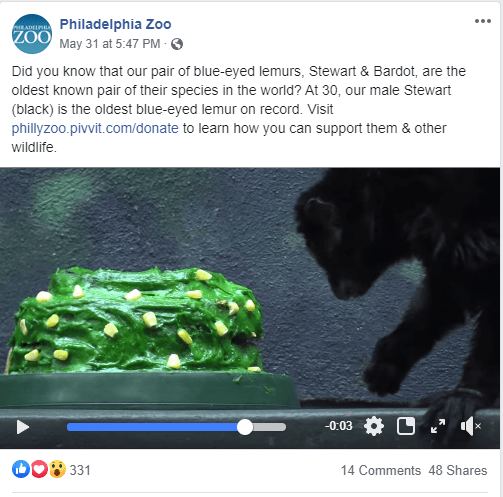 4. Quick tips
Sharing a quick tip is a great idea when you want to increase engagement. Users will appreciate your tip, and they might even share it with their followers! OxiClean, for example, shared this video full of tips on how to do laundry correctly!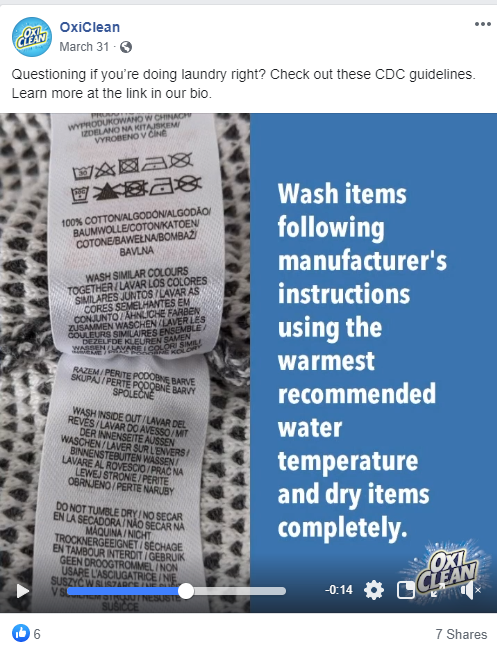 5. Special events
Is your storefront holding a special event? If so, posting about it is a great way to engage users with a social post. You could post about special events including:
Store opening at a new location
Rebranding reveal
Company fundraiser
Holiday celebration
Annual sale
And more
Posting about special events will not only garner engagement on social media, but it'll also boost event attendance!
6. Inspirational quotes
Everyone could use a good inspirational quote every now and then, and posting them on social media is a great way to engage users. Try providing a quote that relates to your industry!
7. #TBT posts
The "TBT" hashtag post stands for "throwback Thursday," and you've probably seen many posts labeled with the popular hashtag. A #TBT post gives you the opportunity to post a picture of your employees, your building, or a product from days gone by. You can get creative with this hashtag, so don't be shy!
8. User-generated posts
User-generated content is when you repost a customer's post that features your product. This is an extremely engaging social media post format since it shows your followers how others love your product, and also helps your brand seem more human since followers will relate to the customers in the photo. Check out how Dairy Queen posted user-generated content on their Facebook page!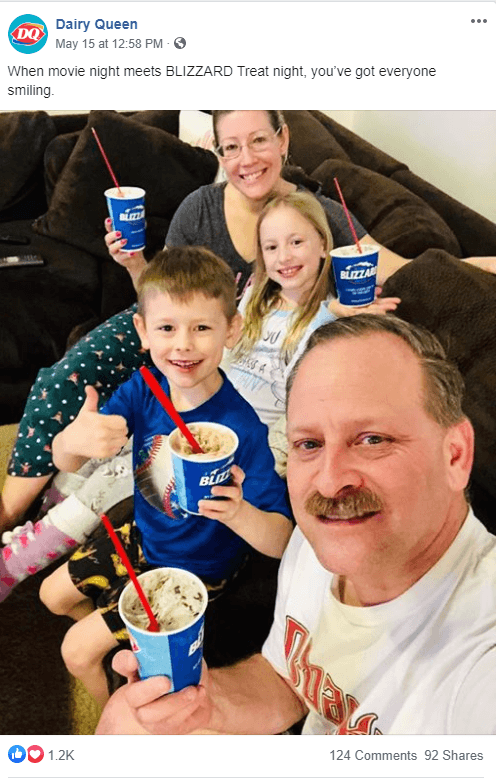 Of course, you never want to repost something without the user's consent!
9. Testimonials or case studies
Testimonials are positive comments that previous clients have made about your business, products, or services. Companies typically house their testimonials on their website but turning them into a social media post is a great way to engage your audience. You can even turn them into a graphic to boost engagement even more!
You can also consider posting a case study, which shows the data behind how your product or service benefitted a customer!
10. Contests or giveaways
If something says "free," users are bound to engage. When you post a contest or giveaway, you'll reap many benefits:
You can ask for a follower's email address to enter, giving you access to their contact information
You can ask followers to repost your content for a chance to win, boosting your brand awareness
You can ask users to post content featuring your product, which provides free advertising for your company
11. Videos
There are a variety of video formats you can share on social media, and all have their own set of benefits depending on your industry. Some of the most popular video formats include:
How-to
New product highlight
Facility tour
Employee spotlight
Informational video
12. Sale promotions
Nobody can resist a good sale, so if you're wondering what to post on social media, don't forget to post about upcoming promotions. You can post in the form of written content on a platform like Facebook or Twitter, but you'll likely get more engagement if you post it as a graphic, like this example on Instagram.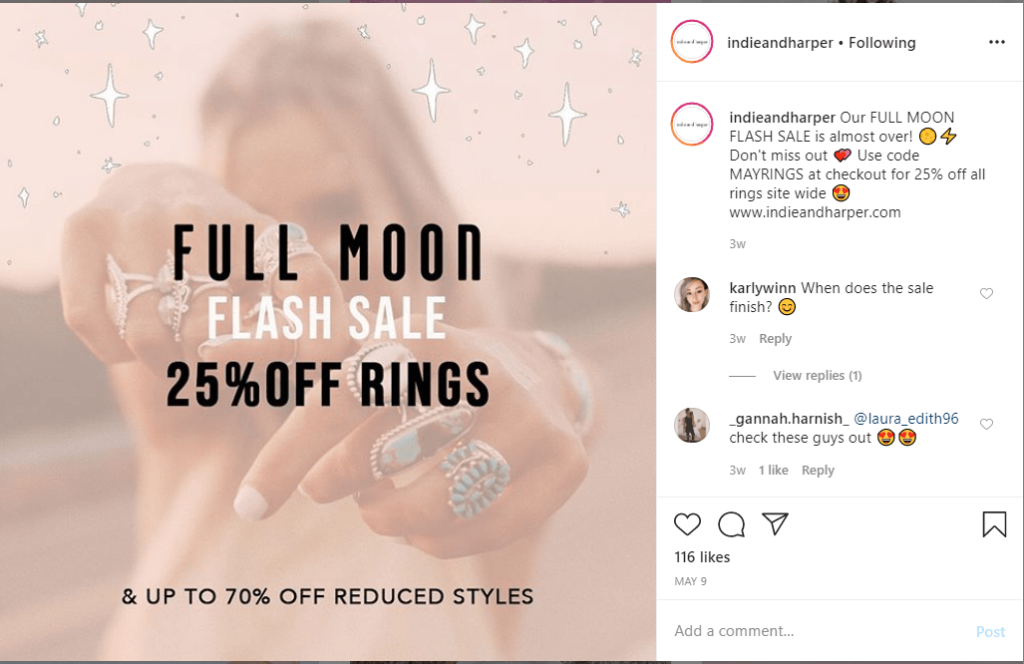 13. Team member highlights
Your team means a lot to your company and showing them off in an engaging social media post is a great way to help your customers put a face to the name. Not only that, but you can highlight a different employee every week, talk about how your team works together, and more.
14. Before and after images
If your product helps a user improve something, providing them with a before and after image can be extremely engaging. Not only will this kind of post prove that your product works, but it's also engaging to show a time-lapse of before and after using your product.
15. "This or that"
If you're looking for one of the most engaging social media posts, try a "this or that" post. These kinds of posts beg for audience engagement since most people love sharing their opinion. As with any post, you can ask this or that in written content, but you'll likely have more engagement if you share it in the form of a graphic like Avocados From Mexico!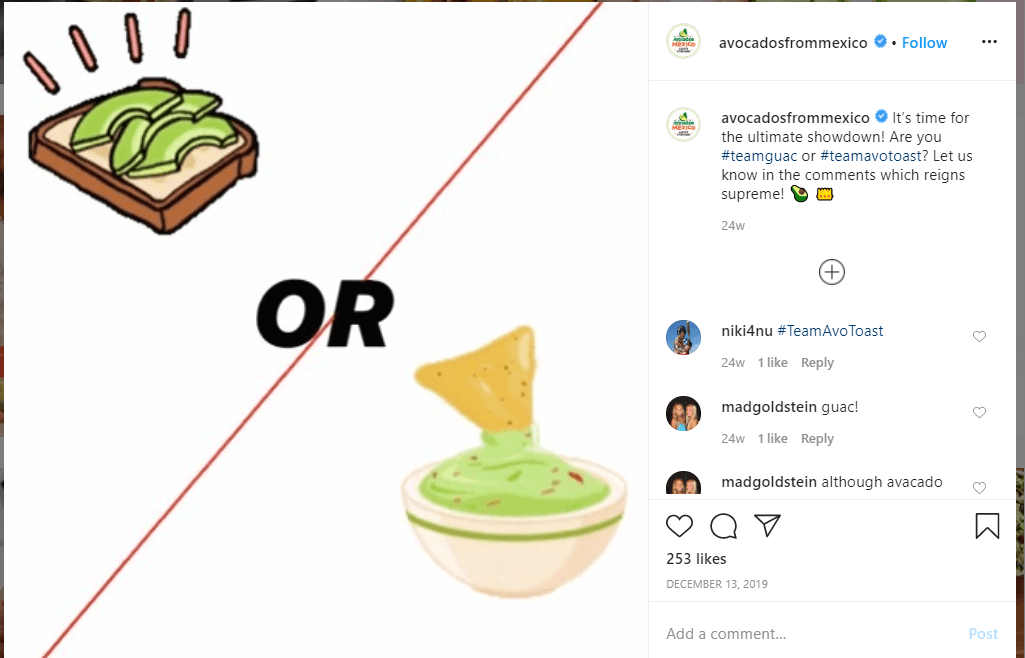 16. Current events
Posting about a current event is one of the best options when it comes to what to post on social media. It'll engage users since everyone is interested in world happenings, and users might even repost the information you have to share! For example, National Geographic posted a live video from them at the Kennedy Space Center on the day of the 2020 SpaceX rocket launch.
The video had more than 5000 comments, more than 5.8 thousand shares, and more than 2.3 million views. How about that for engagement?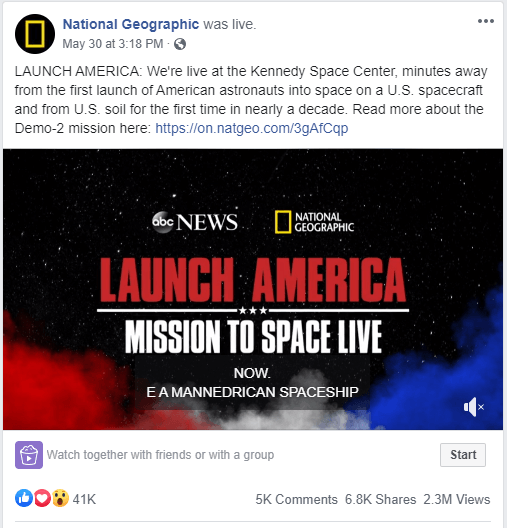 Still need help deciding what to post on social media?
If you're still wondering what to post on social media for business, you're not alone.
Running a business and managing your social media accounts is a lot to handle, which is where WebFX can help. We can help create a unique social media post template that is unique to your brand, research your competition to create competitive posts, and ensure that you consistently post engaging content on your social platforms. With over two decades of experience and more than 165,000 client social posts created, we feel confident in saying that our social media marketing and management services are some of the best.
Not to mention, there are tons of benefits of hiring a social media management agency. If you're ready to get started on your custom social media campaign, or learn more about why social media marketing is worth it, contact us online for a free quote, or give us a call at 888-601-5359!
Sam has been writing for WebFX since 2016 and focuses on UX, crafting amazing website experiences, and digital marketing In her free time, she likes to spend time on the beach, play with her cats, and go fishing with her husband.

WebFX provides digital marketing solutions with expert marketers, designers, and developers to increase visibility, conversions, and revenue.

Learn more
Twitter and Facebook Status Generator
Finding engaging social media content for your business can be difficult. Use our tool to quickly find ideas and post directly to your page.
Give Me an Idea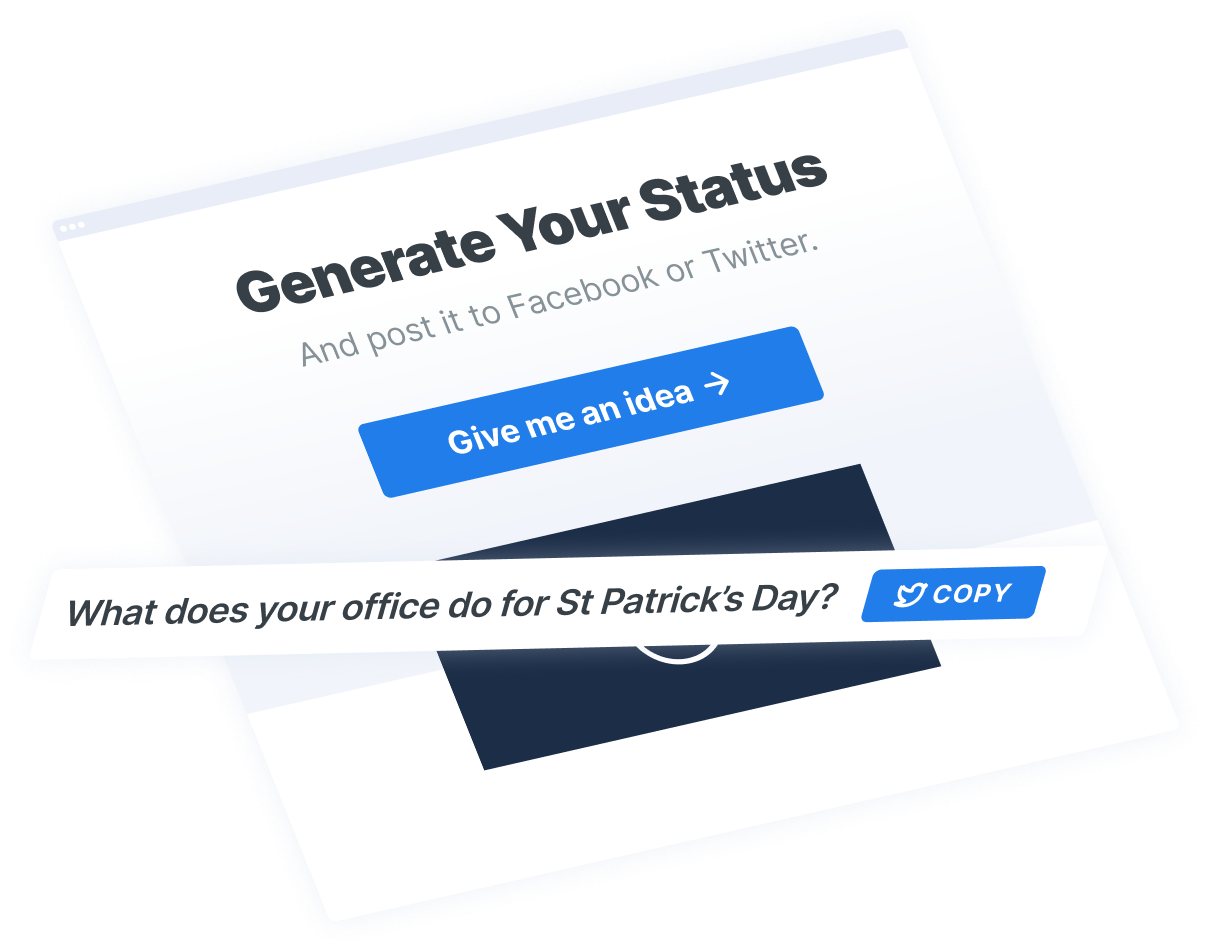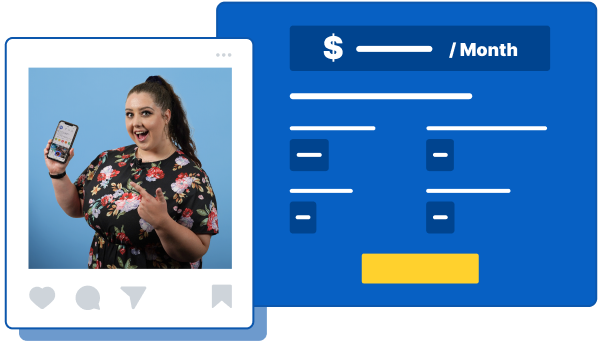 Twitter and Facebook Status Generator
Finding engaging social media content for your business can be difficult. Use our tool to quickly find ideas and post directly to your page.
Give Me an Idea