5 Ways to Use Facebook for Lead Generation
Do you think Facebook is just a place for ridiculous memes and puppy videos? While these things have a place on the platform, don't count Facebook out as a place to drive quality leads for your business. Not sure how to get started?
Keep reading for five ways to drive leads with Facebook, and check out our social ad services to learn more.
1. Update your call-to-action (CTA) button
A large, blue call-to-action (CTA) button appears below your page's cover photo, directing users to take action. Businesses often overlook the customization options available for this button. Updating your CTA button to match your business goals can drive qualified Facebook leads.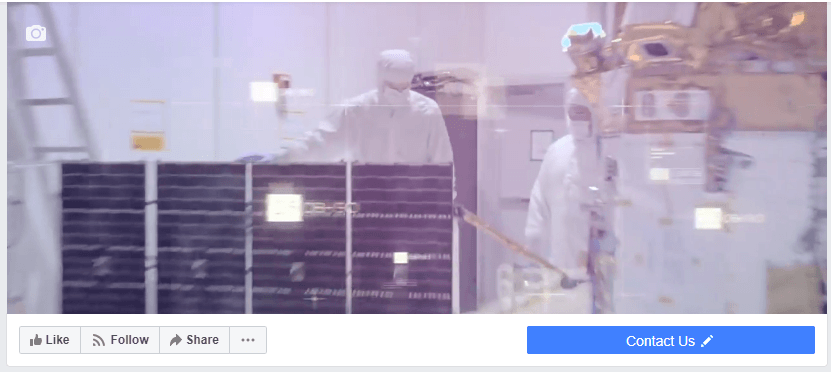 There are several categories to choose from when selecting this button for your page.
Book with you
Select this option when you want customers to visit your site to schedule an appointment or meeting.
Contact you
This category includes: Contact Us, Send Message, Call Now, Sign Up, and Send Email.
Use the "Contact Us" option when you want to send customers to a contact form on your site.
Pick the "Send Message" option when you are open to receiving messages from customers directly in the Facebook platform. You should only use this option if you have an employee or team dedicated to monitoring messages and notifications from your Facebook page. The individual or team should be equipped to answer professionally with correct information for your business.
Select the "Call Now" option if you'd like users to call your business directly.
Choose the "Sign Up" option if you'd like customers to sign up for your email list or other subscription-based services.
Use the "Send Email" option if you'd prefer customers contact a direct email address.
Learn more about your business
This category includes "Watch Video" and "Learn More." If you have a great overview of your business and services, direct people to watch a video posted to your Facebook page. This will move potential leads down the funnel and encourages them to learn more about your business. By increasing video views, you can also build an audience of users who have watched your video to use in paid social advertising.
Facebook offers the ability to create audiences of people who watched a certain duration of your video, making video views even more valuable.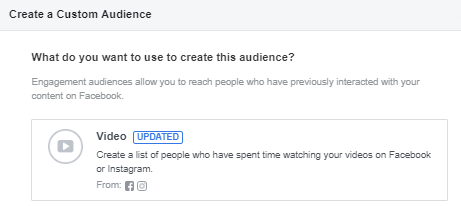 Facebook calls these custom audiences. You can create a custom audience of users who have viewed videos from your Facebook page.
Your audience size will grow as you increase views of content on your page. Use the "Learn More" option when you want to promote awareness of a specific service or overview of your business. When organic lead generation is your goal, you can choose a more specific call to action to show people exactly what you want them to do.
Shop with you
If your goal is lead generation, you probably wouldn't use "Shop Now" and "See Offers" as your call-to-action.
However, "See Offers" might make sense if you run specific promotions for discounts for your services.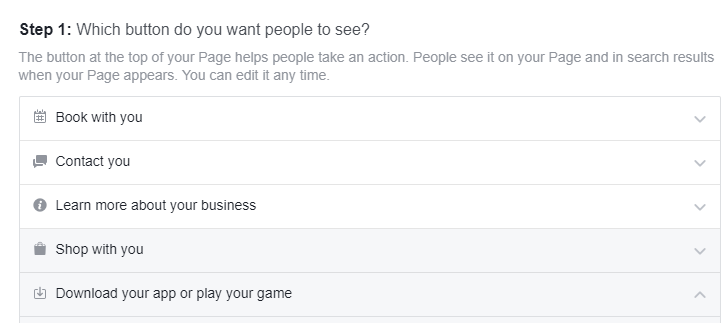 Add UTM tracking to your button
When driving traffic to your site, it's important to understand where your traffic comes from. You can use UTM tracking to better understand your traffic sources.
UTM parameters are codes that you add to a link that includes a source, medium, and campaign. This additional code informs you how your traffic arrived on your site depending on what information you include. If you're using a button that includes a link to your website, use UTM codes to track traffic coming from this button.
We recommend:
Source = facebook
Medium = social
Campaign = fb-cta
Content = contact, sign-up, learn-more, etc.
2. Promote free, valuable content on your Facebook page
Facebook is not the place to simply post contact information and promotional content and wait for leads to roll in. As organic Facebook reach for businesses becomes tougher, it's up to businesses to find ways to engage and attract a relevant audience. It's important for us to understand Facebook users' intent when going to the platform.
People are going to Facebook to connect with family and friends, connect via Facebook groups, and share content they find valuable, entertaining, or meaningful. We have to meet Facebook users in the way that they are natively using the platform. Begin a customer relationship by creating free, valuable content as an introduction to your business.
Content could include informative blog posts shared on your company blog or more in-depth resources like ebooks and guides. With more high-value content available on your site, require customers to input their information before receiving access to the content to generate a lead for your business.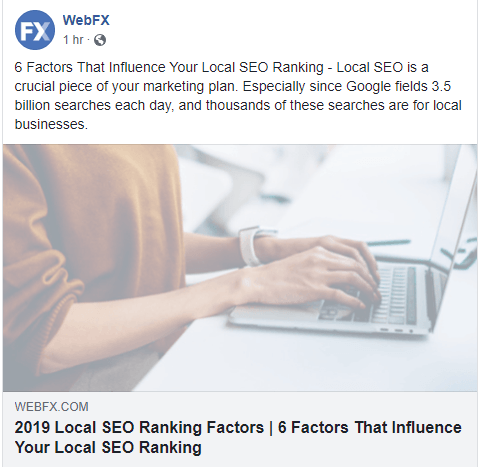 If you create valuable resources for customers, leverage your Facebook page as an outlet to distribute that content.
Pro tip: Make your messaging more effective by positioning the content in a way that it solves a customer's problem or helps them find a solution.

While you can demonstrate your expertise, try not to toot your own horn. Instead, focus on being a resource and valuable partner to potential customers. This goes a long way when it comes to gaining their trust.

You can also pin helpful content to the top of your Facebook page so that it's the first post people see when visiting your Facebook page.
3. Share content to showcase event involvement
Many lead-driven businesses are involved in events throughout the year like trade shows and conferences. Using Facebook to increase event attendance can drive more people to attend and contact your business. While this strategy probably won't drive a lead directly from Facebook to your site to fill out a form or make a call, Facebook is a great channel to promote events and encourage people to attend.
Whether you're hosting or attending, here are a few tips to start promoting events on Facebook.
Use Facebook events
Facebook Events are powerful tools for a few reasons:
They appear in local searches
Events are discoverable on Facebook Local
They provide a space for attendees to ask questions
And they provide a space for organizers to post updates about the event
If you're hosting an event for your business, create an event on your Facebook page. Include your event details like the date, time, location, registration information, photos, etc. to raise awareness for your event.
Consider posting once per week in the event post section to countdown to the event. You can showcase vendors, post photos from past events, tease catering information, and share other announcements. Keeping an active presence will interest attendees and encourage them to join in the conversation leading up to the event.
As users start to respond on this event page that they are going or interested, their friends and network will see information in their feed or in notifications. For example, you've likely seen notifications that friends are interested in events near you with links to the event pages.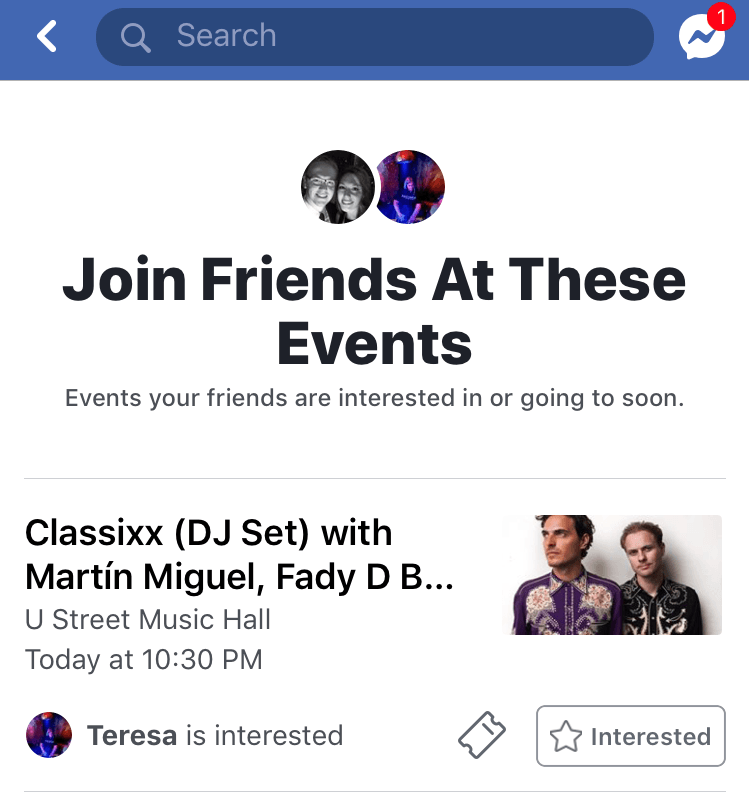 If you are not the event host, locate the host's Facebook page and search for events they created to post and share your excitement and involvement.
Use event hashtags.
If you are hosting an event, define an event hashtag to use in the promotion of your event and during the festivities.
Choose a hashtag that can be used for future years if you're hosting a recurring event — and avoid including year information like #MyEvent2023. Apply this strategy across all your social media channels by adding this hashtag to your social content and event promotion images.
Post event photos
Behind-the-scenes content performs well on Facebook because people are looking for authenticity and relatability. Take photos of your team, booth, or presentations to showcase the "realness" behind the name and logo of your business to build trust with your audience.
As you build trust with your audience, they'll be more likely to feel more confident working with you in the future.
4. Implement social advertising at several stages of the conversion journey
Several years ago, a business could run a single lead generation ad with a small budget and rack up impressive leads. That is not the case today. Now, people are more hesitant to share their information.
You need to nurture potential leads from the first time they hear about your business. We recommend testing different audience targeting. Find the people who will best respond to your content at each stage of their conversion journey from learning about you to making that final conversion.
For example, Facebook provides so many options to target people based on demographics, interests, and behaviors. Use different combinations of this targeting to see which types of targeting work best. Drive new traffic to your site by promoting blog content to new audiences built on interests, job industries, age, gender, etc.
Before launching any paid social advertising, install the Facebook pixel. The pixel is a small snippet of code you can add to the header of your website to track traffic across your pages. It tracks all users, not just users visiting from Facebook — and it enables opportunities to create remarketing audiences of site traffic.
We like to keep the Rule of 7 in mind which states that customers need to see you seven times before they act. Implementing social advertising at all stages of the conversion journey allows for more customer nurturing and remarketing to keep your business top of mind.
5. Strategically use Facebook lead gen forms in advertising
Facebook advertising has an objective: Lead generation. When you choose this objective, Facebook prompts you to create a form in the creation process. You can customize this form's imagery, information required, and even ask custom questions.
What does this type of ad look like in the News Feed? At first glance, the ad looks just like other ads. The difference-maker occurs after a user makes the initial click.
After a user clicks the ad, the form you created opens automatically and Facebook pre-fills information from their account such as name, email, and other contact information. The pre-filled information makes it a quick process for someone to send in their information. Sounds great, right?
Yes and no. Just because this form is easy to fill out, doesn't mean people will convert right away. We recommend using lead generation forms at the bottom of a customer's decision-making process when starting out.
To accomplish this, use a remarketing audience of people who have been to your site but haven't converted. You'll be much more likely to see conversions from an audience who already knows about you and is likely considering your product or service. We find the most effective lead generation campaigns include audiences who already know about the business.
These audiences are most likely in the consideration phase of their journey, making them more likely to convert. Once you gather data about the calls-to-action, content, and messaging that work best with your remarketing audiences, branch out into target audiences who are higher in the funnel. Keep an eye on your cost per lead to make sure these campaigns are profitable.
You can monitor this performance within Facebook Ads Manager.
93% of WebFX customers are extremely satisfied with their digital marketing results.
"Working with WebFX, everything is very organized and strategic. We're only a year into our partnership, and our expectations have definitely been met."
View More Client Testimonials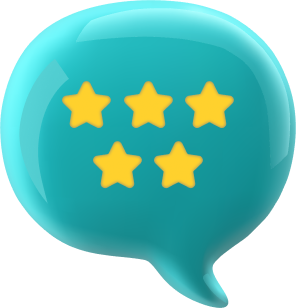 Managing a Facebook lead generation campaign
You may not have time to manage the organic and paid efforts of a successful Facebook lead generation campaign and that's okay. Try one tactic at a time and build from there! You can also seek the help of an experienced social media consultant to help manage and optimize your Facebook page and advertising.
Whether you manage a lead generation campaign yourself or seek the advice of a lead generation agency, implementing these tactics can bring you one step closer to your next customer.
Karley is a Social Media Analyst who loves volleyball, yoga, & donuts. Follow her on Twitter

@icekarleyr

.

WebFX is a full-service marketing agency with 1000+ client reviews and a 4.9-star rating on Clutch! Find out how our expert team and revenue-accelerating tech can drive results for you! Learn more
Twitter and Facebook Status Generator
Finding engaging social media content for your business can be difficult. Use our tool to quickly find ideas and post directly to your page.
Give Me an Idea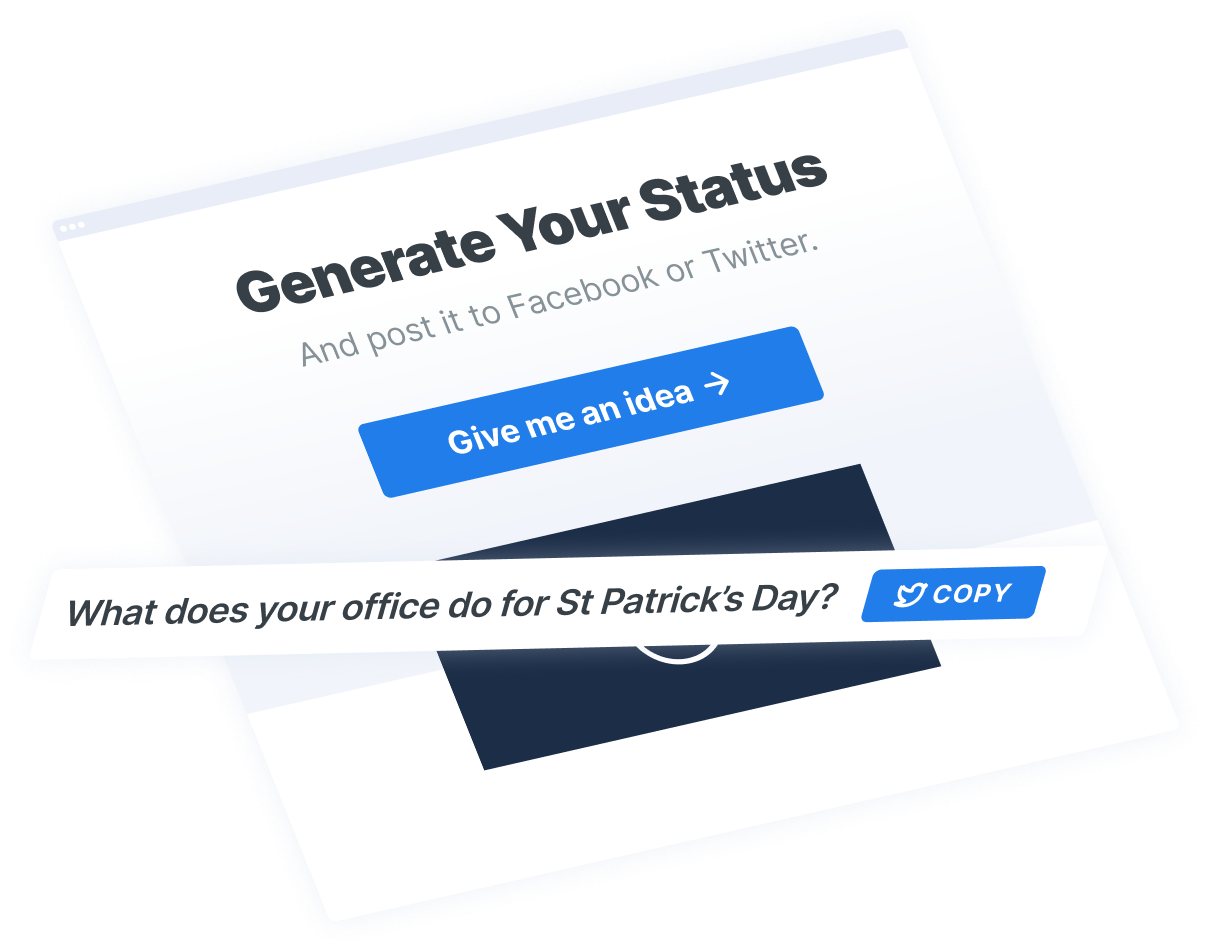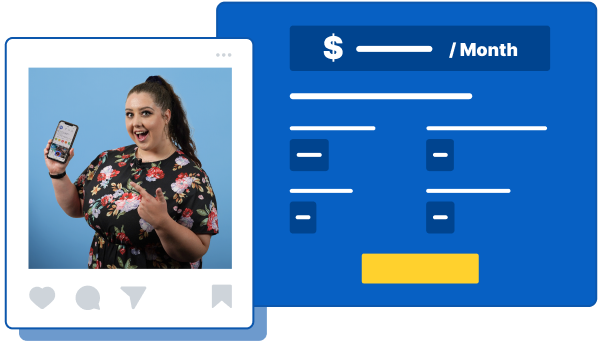 Twitter and Facebook Status Generator
Finding engaging social media content for your business can be difficult. Use our tool to quickly find ideas and post directly to your page.
Give Me an Idea