Google Remarketing: Create a Remarketing Campaign That Converts
When it comes to selling your products or services, you'll do whatever it takes to ensure that users see, connect with, and purchase your offerings. Using Google remarketing techniques can be extremely valuable when you're trying to get your products and services in front of the right audience at the right time. If you'd like to speak with a specialist before reading on, feel free to contact WebFX today or give us a call at 888-601-5359!
What is Google remarketing?
Google remarketing allows you to repeatedly connect with your target audience in order to build brand awareness and entice them to purchase. In fact, users that see retargeted ads are 70% more likely to convert.
With such an expansive audience, it's no wonder Google remarketing is one of the best ways to increase your sales and revenue.
We cover more of the Google remarketing basics in our video.
On this page, we'll talk about what Google remarketing is, how to set up Google remarketing, and how much Google remarketing costs.
Google remarketing 101
If you want to learn more about the marketing phenom known as Google remarketing, you've come to the right place.
Let's dive into the nitty-gritty of the marketing strategy.
What's so great about Google remarketing?
If you're skeptical of all the hype surrounding a Google remarketing strategy, you're not alone. Many marketers wonder if the strategy can work for their products and services and in their specific industry — but rest assured, Google remarketing works for everyone.
In short, a Google remarketing strategy allows you to re-engage customers who have previously visited your site and viewed your products without making a purchase.
It's a way of reminding them about your products and keeping your business top-of-mind, so when they're ready to purchase, they're more likely to choose your business.
A Google remarketing campaign is based on ads that are served to Internet users who have previously completed an action on your website.
The best part is, you can choose where you want to target your audience — whether it be YouTube, Gmail, the Display Network, or even in apps.
Perhaps the best part of Google remarketing is the fact that you can continuously build your brand awareness.
Countless benefits of Google remarketing
Wondering how Google remarketing can help your business grow? Check out these amazing benefits.
Easy ad creation
If you want users to click on your ads, you need to make them engaging, beautiful, and actionable — and with Google's Ad gallery, you can do just that. You'll be able to craft ads that have enticing text and beautiful graphics to effectively attract your target audience online.
Expansive ad reach
If you're worried about who you can reach with your remarketing ads, fear not! Google remarketing ads have an expansive reach that includes all devices on more than 2 million websites and apps. Talk about extensive!
Targeting with perfect timing
One of the most important parts of a successful retargeting strategy is to target your audience at the right time, and with Google remarketing, you'll always have perfect timing. The interface allows you to present your ads to users who have previously viewed your products and services, just as they're exploring your competitions' websites.
Granular advertising
Another element that makes Google remarketing so successful is the fact that you're able to target granular groups based on previous actions. For example, you may want to retarget users who have added something to their cart without making a purchase, or you might just want to target users who have previously viewed a specific product or service.
Cost-efficient pricing models
Google's automated bidding platform takes all the guesswork out of setting the perfect bid amount. The platform will automatically calculate an optimal bid in real-time for users viewing your ad. This ensures that you almost always win the ad auction at the best price possible.
Analytics abilities
If you're not analyzing the results of your marketing campaigns, you're missing out on opportunities to better your campaign and see more effective results. With Google remarketing, you'll have access to campaign reports to determine where you need to make tweaks to your strategy in order to make it as effective as possible.
5 ways to use Google ads for remarketing
Different products, services, and audiences require different kinds of ads. Each has its own benefits and work to accomplish a specific goal at a precise time in the buyer journey.
Check out the five different kinds of ads you can create with Google remarketing.
SEE REMARKETING EXAMPLES IN ACTION!
How to set up Google remarketing for your business
If you're sold on the benefits of Google remarketing and want to adopt the strategy for your own business, it's important to set up your strategy correctly. Check out our step-by-step guide that outlines how to set up Google remarketing.
1. Dig deep to determine your goals
Every business has the same goal of making more money, selling more products, and increasing revenue. Although this is a valid business goal, you'll have to dig deeper than that in order to create a Google remarketing campaign that delivers the results you want.
Before setting up your Google remarketing campaign, you have to determine who you want to target with your ads. Do you want to target users who took a specific action? Or maybe they didn't take the action that you wanted them to.
Now is the time to decide.
Here are some audience groups that you might want to target with your remarketing ads:
Users who have not seen a page that you want them to see: Let's say you own an outdoor hobby store. You've created a page on your website that outlines all the potential products that one might need for an ideal camping trip, and you want users to see it so that they'll be more apt to purchase those products from you.The only problem is, you're not getting a lot of traffic to that page, and you want your target audience to see it. Google retargeting allows you to target users who have been searching for the products you have to offer and show them ads for your website to guide them there to make a purchase.
Users who placed items in their cart, but didn't follow through: One of the worst possible scenarios as an online ecommerce store is when users care enough to put one of your products in their cart, but they don't follow through with a purchase.This isn't an uncommon problem — as a matter of fact, the average online shopping cart abandonment rate is a staggering 67%.That being said, one of the most common goals of Google retargeting is to target those users that abandon their cart before making a purchase.
Users who made it to a page, but didn't take the action you wanted them to: All too often, users land on a page just to take no action. It could be that they didn't mean to visit that page in the first place, but more likely than not, they're still unsure about your product or service.For example, you might want to target users who make it to your landing page but never provide their contact info. That information is crucial to your business because it allows you to continuously contact the potential customer.
In order to set up the perfect Google remarketing campaign for your unique business, you can use these three examples to determine what exactly you're trying to accomplish with your ads and go from there.
2. Determine how you'll address your goals
Now that you have your goals in place, it's time to determine just how you'll accomplish them. You can only do so with a great understanding of what your goals are in the first place, so be sure to complete step one before moving on to this step.
Here are some actions that you may want to take based on the goals that you outlined in step one.
Add remarketing tags to specific pages on your site: A user put one of your products in their cart but navigated away without making a purchase. That may signal you to add remarketing tags to that specific product page to bring users back. You can use Google Analytics for remarketing here.
Remarket your products and services to specific audiences on specific networks: You know that your audience actively watches your videos on your YouTube channel, so it's time to remarket your products on that specific network. Does your audience use a specific kind of app? Do you just want to advertise in SERPs? Google remarketing can help.
Create ads tailored to that specific audience: Users aren't taking the action you want them to, but it could be that you're not targeting them correctly. It's time to create ads that are truly tailored to the specific audience that you're trying to convert.
Create custom content pages on your website that target your audience: Your audience just needs a little push to convert, so you'll need to create custom content that entices them to dive headfirst into your products.
3. Set up your Google remarketing campaign
Now that you're aware of your goals and how you're going to tackle them, it's time to set up your campaign.
Create your audience list: The process will start with creating an audience that you want to remarket to, create a remarketing campaign, and lastly, adding text and images to your ads.In order to create your remarketing list, you'll first need to sign into Google Ads. From there, you'll click "Shared Library," followed by "Audience Manager."

You'll then click "audience lists," which is where you'll decide who you want to market to. From here, you can decide if you want to target website visitors, app users, YouTube users, customer list, or custom combinations.When your list is complete, it's time to set up your remarketing tags.
Set up remarketing tags: In order to set up your remarketing tags, you'll need to log into your Google Analytics account. From there, click the admin settings wheel at the bottom left of your screen.Next, click "tracking info," and then "data collection."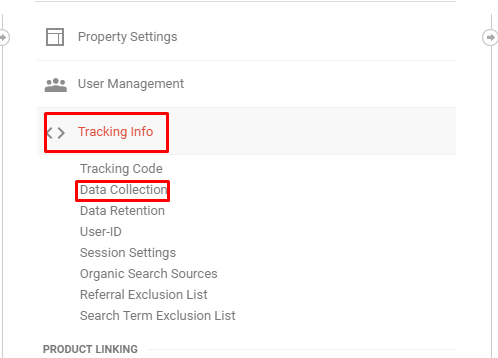 You'll then be given the opportunity to turn on your remarketing and advertising reporting features. You should turn both of these on!
From there, head back to your Google Ads campaign and return to the audience manager. Select Google Analytics from the audience source tab, fill out your details, and your tag will be automatically connected to your Google Analytics account!
Set up your campaign in Google Ads: After seeing up your lists and tags, it's time to set up your actual campaign.In Google Ads, simply click the "campaigns" button from the main menu and click the "+" button in order to create a new campaign.Here's where you'll have the opportunity to customize the goals of your campaign. Set these according to your specific goals and select "display network" from the campaign type.


Next, you'll be able to fill out the details of your campaign like the campaign name, locations you want to target, and more. You can also set up audiences based on their interests and habits, how they interact with your business online, and what they're actively searching.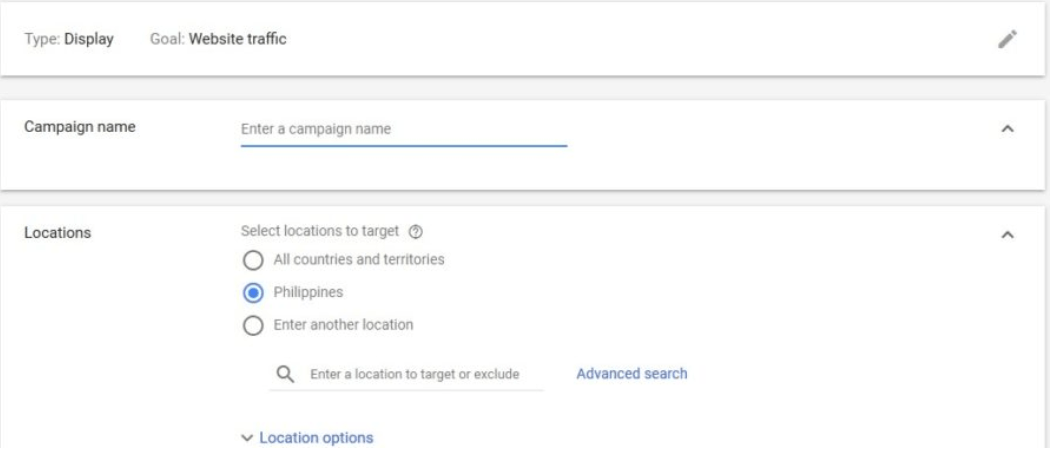 Create your ad: Now it's time to create your ad! This is where you'll implement your ad copy, images or videos in your ad, and how your ad appears to users.You should always put a lot of thought into your ad text and design because it can make or break a retargeting sale. Put some extra thought into any call-to-action buttons that you include to make sure they're actionable and effective.
4. Analyze different elements of your Google remarketing campaign
Putting so much time and effort into your Google remarketing campaign is useless unless you analyze the results.
There are many different elements you can test when it comes to your Google remarketing ads, and the results of those tests can help you make big improvements to your campaign.
Here are a few things that you can test:
Ads: Testing your ads is always a good idea. This will allow you to gain insight on whether or not your images are enticing, your ad copy is effective, and if there are any elements you should tweak for more engagement.
Bids: You should always monitor your bids in relation to your return on investment, impression share, and cost-effectiveness.
Landing pages: Your landing pages are where the magic happens, and if they're not optimized correctly, you won't see any benefit from your Google remarketing campaign. You'll want to A/B test your landing pages to ensure that they're enticing users to take the action that you want them to take.
Google remarketing cost – what to expect
An obvious question when starting any marketing campaign has to do with the cost involved. Will it break your bank or keep your marketing budget in check? Read on to learn more about Google remarketing costs.
Good news — remarketing ads are actually less pricey than regular pay-per-click, or PPC ads. Typical PPC ads cost anywhere from $1 to $2 per click, but with remarketing ads, you can expect to pay a modest $0.25 to $0.60 per click.
The best part? Remarketing carries the same rules as PPC when it comes to payment — you'll only pay when users actually click your ad.
That means with Google remarketing, you're essentially getting free brand awareness since you don't pay for users to see your ads.
Questioning how to set up Google remarketing? WebFX can help
If you want to reap all the amazing benefits that a Google remarketing campaign has to offer, WebFX can help.
We're a full-service digital marketing agency who has been driving real results for clients for over two decades. Our 500+ marketing specialists are experts at their craft, and consistently work to create the perfect custom campaign for every client.
We know that every business is different, which is why we don't believe in cookie-cutter marketing campaigns. The same holds true for our Google remarketing campaigns.
We'll help you plan out your goals for your campaign, as well as choose your target audience, set your bids, and create the picture-perfect ads that are sure to drive engagement and clicks.
Since we're a full-service agency, our offerings don't stop at retargeting ads.
Check out some of the other web marketing services we offer.