It's hard to sell a house when the shutters are falling off, and it's hard to sell a product when your ad isn't well designed. If you've ever questioned the importance of social media ads design, we're here to put your doubts to rest. When you have a social media ad campaign, it's crucial that you incorporate extraordinary social media ads design — if you want to make sales, that is.
On this page, we'll talk about the importance of social media ads design, walk you through the process of creating social ads, and give you tips on how to design social media ads that convert. If you're ready, let's get started! If you need help with your social media ads design and you already know it, contact us online or give us a call at 888-601-5359! You can also click below to look at a list of our social media advertising services!
Go on, you know you want to!
Our Stellar Social Media Advertising Services
Why social media ads design can make or break your campaign
How can one small part of your campaign create a make-or-break situation? Ads directly correlate with conversions and here's why:
A great ad design stops people from scrolling past it, while bad ad design can easily be missed.
Great ad copy entices users to click, while subpar ad copy means users might not be interested.
If you fail to consider all aspects of social media ads design, chances are users won't even pay attention, let alone click them — resulting in a lack of sales and a waste of marketing budget. When you design ads for social media, you essentially create a billboard for your product or service on platforms that boast millions if not billions of users. It means that your design can reach customers all over the world based on targeting options including qualifications like previous purchases or demographics.
But even if your ads reach the right people at the right time, the design of your social ads (including both visual and textual elements) ultimately determines whether you make a sale.
Let's jump into how you can design ads for social media that do more than just engage — they convert.
Bonus Read: How to Do a Social Media Analysis to Improve Social Success
How to design social media ads that delight and convert
We've talked about why social media ads design is so important to conversions, but how can you design ads that grab the attention of your audience?
We'll tell you everything you need to know.
How to design social media ads: precursors to consider
Consider these three important steps before designing your ads:
Decide what platforms you'll use to advertise. Every social platform offers different ad formats and specs. Before you can start designing your ads, you'll want to decide what platforms you'll use so that you can have an idea of what you can do with your ads.
Research ad types on each platform. Each ad platform offers a variety of ad types that serve a specific purpose based on what you're advertising. For example, carousel ads offered on Facebook and Instagram work wonderfully when you want to advertise more than one product.

Video ads offered on nearly every platform give you the opportunity to speak about or show off your product in depth. Before designing your ads, you'll want to research each platforms' offerings to decide what ads you'll create.

Decide what products or services to advertise. You might want to advertise a product because you're not selling enough, or you might want to put out a special offer for one of your best sellers! Regardless of the reasoning behind your advertised products, you'll want to decide what products you want to create ads for before starting the process. Make a list of these and set it aside!
1. Pull out your style guide
Although you should already be familiar with your style guide, it's great to take an in-depth look before you create your ads. When you're starting graphic design for your social media ads, it's crucial that the design of the ad speaks to your brand. For example, if you're a high-end perfume parlor, you may use curly fonts and a specific color pallet on your website.
Your ads should match that style to build brand awareness. If you stray too far from what customers typically see from your brand, you could end up confusing your audience or not grabbing their attention. Looking at your style guide at the start of the social media ads design process helps you keep your own unique brand elements top of mind.
Goal of this step: Get your mind on track with your brand elements like color and style.
2. Get inspired
Who is your biggest competitor and what do their ads look like? Although you never want to copy an exact design, it's totally okay to get inspired by the social media ads that your competition creates. For example, instead of placing an ad for a specific product, your competition might utilize a video in their ad that talks about the product.
That might inspire you to take another path with your ads or try a different format. Don't be afraid to try more than one ad format at once in order to see which drives more success. You might try a carousel ad with various products, and you might also try a video ad like your competitors!
Although it's great to let your competition inspire you, don't copy their strategy exactly — you never know if it's working for them or not!
Goal of this step: See what's out there and gain inspiration from your competitors.
3. Pull out the list of products that you want to advertise
Remember in the precursor section how we had you write down the products or services that you're most interested in advertising? It's time to pull out that list! Once you pull out that list, take notes on each product.
You'll want to jot down things like:
Special offer (if there is one)
Price of the product
Materials used in the product
Unique selling points (USPs) (what does your product have that others don't)
Use of your product
Quick facts about your product
Celebrities that endorse your product
Testimonials/reviews of your product
These are just a few things to take note of — this will help you brainstorm ad design and text. For example, as you're looking through testimonials, you might be reminded that one of your customers referred to your product as "revolutionary." This description could be a great selling point to include in your ad text. Furthermore, that might give you the idea to feature an image of your product with a five-star review with "revolutionary" in quotes.
Thinking in-depth about the product that you're creating an ad for will help you design ads for social media.
Goal of this step: Decide on the products you want to advertise and consider what about that product you might want to include in your ad.
4. Consider your vision
When you think about an ad for your product, what do you see? Do you immediately see an image of your product, or do you see something more abstract? Is there a lot you have to say about the product, or is simple better?
When you think about how to design social media ads, it's crucial that you consider your vision. If you sell the product and interact with it every day, your vision will help you create an ad that showcases your product the way you want it presented.
Goal of this step: Get your creative juices flowing and acknowledge what you already have in mind.
5. Start sketching ideas
When we say sketch, we don't mean create a Picasso painting. We simply mean to outline or wireframe some ideas for ads. As you start this step, consider the ad types that you decided on as a precursory step.
For example, if you decided on a carousel ad that features multiple products, you'll have to consider that in your sketch. If you decided on an image ad, depending on the social platform, you'll also want to consider how much text you'll be allowed to use. You want to create a collection of these sketches so that you have a few options to choose from when you're deciding on a final social media ads design.
For example, let's say that you create clothing, and when you're taking notes on your products, you come up with a few USPs.
Your clothing is hand-made in the USA from start to finish
You use the softest fabric available
You locally source all your materials
You might sketch an ad that has a picture of a shirt next to a design sketch of a shirt with the text "we sketched it here, we made it here." This example not only covers a USP, but it also shows off your product. The sketching step will likely take the longest, but it's worth it!
Goal of this step: Get some of your concrete ideas recorded.
6. Start exploring the ad platforms on social channels
After you have a list of your designs, it's time to start experimenting with your ad designs on the platforms that you choose. If you decided on Facebook ads, hop on to your Facebook account and start exploring the different options for ad design. With all the Facebook ad design options, you'll likely find a template or ad type that fits one of your sketches.
Goal of this step: To understand the social media ads design options on the platform you want to use to advertise your products.
7. Design your ads for each platform
Now comes the fun part — designing your ads on the social media platforms of your choosing! You can spend hours creating the perfect ad, but simple is typically best. Keep reading to learn some tips on how to design social media ads that convert!
Goal of this step: Create an ad that converts on each social platform.
6 social media ads design tips
When you design ads for social media, the goal is to convert users.
Here are a few tips to help you design social media ads that convert.
1. Do something different
With so many visuals bombarding users every day, it's crucial that you create an ad that nobody has seen before. That might sound like a daunting task — and it is. But to have successful social media ads, you need to produce an ad that is as unique as your company.
Don't be too overwhelmed — start small. Creating something unique could simply mean featuring a product that nobody has seen or framing it in a new way. And if you need help coming up with unique social media ads design, WebFX can help!
We have a whole team of social media ad designers just waiting to help your business soar with creative ads.
2. Use clear, high-quality images of your products
If you use grainy images of your products, you become instantly less trustworthy to buyers. When you use well-lit, clear, detailed images, users will trust your brand, and your products more.
Imagine if billboards were grainy — would you trust that brand? Likely not.
Clear images tell users that your brand:
Pays attention to detail
Has nothing to hide with their product
Takes the time to provide quality for customers
3. Consider color and font pairings
If you use too many colors or different fonts on your ads, users will become overwhelmed and potentially scroll right past them. Use colors and fonts within your style guide that compliment each other. When it comes to colors, you'll want to stick with one to two, and when it comes to fonts, one is typically more than enough for a simple ad.
Check out the text on this Food Network ad. They stick with two colors and use a font that's a part of their style guide.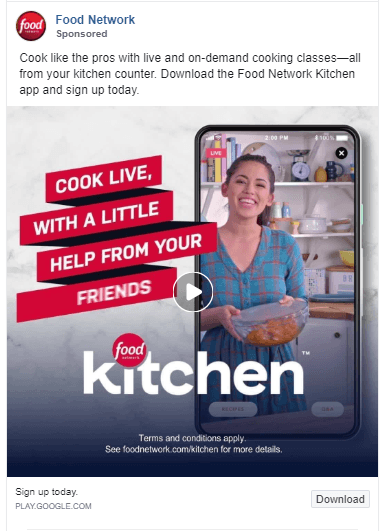 4. Use your logo
Whether users know your brand or not, featuring your logo on your ads can:
Help build brand awareness in new companies
Help users recognize popular or familiar brands
For example, in this ad for 30-Minute Meals, a cooking show hosted by Rachel Ray, the ad features the logo for the television show. This logo catches the attention of users that are already familiar with the logo and helps build awareness with those who might not yet be familiar with the brand.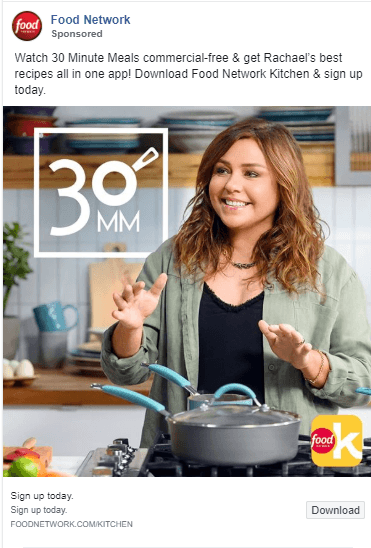 5. Keep video ads between 16-20 seconds
In a study provided by Marketing Land, they found that Facebook video ads had the most conversions when videos were between 16-20 seconds in length. You'll see in the chart that video ads between five and ten seconds barely converted, and video ads that are 21-25 seconds long also didn't see very many conversions. However, the top two video ad lengths were 16-20 seconds and 26-30 seconds.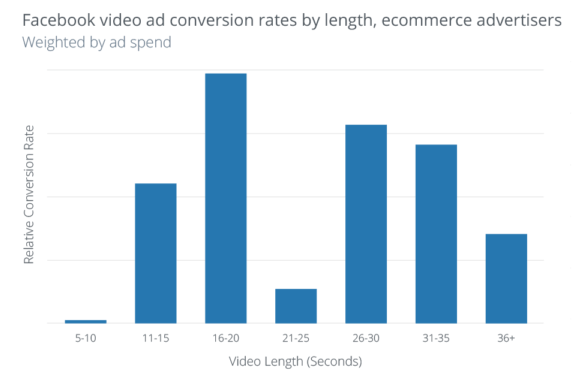 Image courtesy of MarketingLand.
6. Keep all your ads on brand
We've talked about making sure each individual ad follows your style guide, but it's equally important that each of your ads stay on brand with each other. Users should be able to look at one of your ads and know that it belongs to your company. That said, all your ads should have similar elements and work together to strengthen your brand and sell your products.
For example, here are a few different examples of Food Network ads. Check out the similarities!


Do you need help with graphic design social media ads?
If you're stuck in the social media ad design department, don't worry, WebFX is here to help! It's a daunting task to run a business and market it at the same time — especially when marketing has so many moving parts.
In order to run your business efficiently and effectively, it's ideal to hire a full-service marketing company to help you design ads for social media, keep up with your social presence, and more. At WebFX, we offer more than just social media ads design. We offer the following services, just to name a few:
If you need a little extra help designing social media ads that convert, contact WebFX online or give us a call at 888-601-5359!
WebFX Careers
Join our mission to provide industry-leading digital marketing services to businesses around the globe - all while building your personal knowledge and growing as an individual.