Did you know that ads increase brand awareness by 80%? That's just the beginning of what ad campaigns can do for your business.
Digital advertising helps you earn qualified leads with the click of a few buttons — and it's a great strategy for boosting your lead stream while you build organic rankings with search engine optimization (SEO).
In this post, we'll cover everything you need to know about ad campaigns like:
Keep reading to learn more!
By the way, if you're looking for tips and advice on marketing your small-to-midsized business (SMB) better, consider subscribing to Revenue Weekly. This newsletter has all the latest marketing tips and tricks you'll need to promote your business successfully online!
What are ad campaigns?
Ad campaigns are a form of marketing that allow you to reach your target audience with sponsored messages.
You can launch online ad campaigns via numerous channels, which we'll discuss below, and you can use ads to achieve goals like increasing brand awareness, leads, or conversions.
To better understand what ad campaigns are, let's look at some ad campaign examples.
6 creative ad campaign examples to inspire your own
Here are six ad campaign examples to help inspire your business:
Ad campaign example #1: Starbucks – Instant coffee
Starbucks is notorious for creating drool-inducing ad campaigns that advertise their new drinks and products.
In this ad campaign example, they showed off different combinations of coffee drinks people can make with their instant coffee.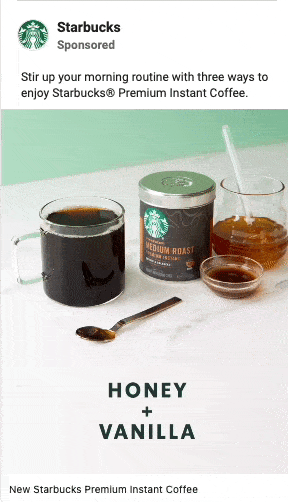 They also gave viewers an inside look at how to make their instant coffee to encourage them to click and purchase the product.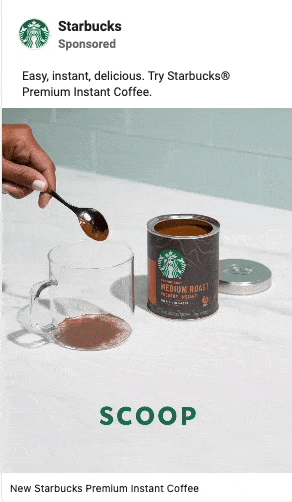 What makes this ad a good advertising campaign example?
These ads from Starbucks feature high-quality, engaging visuals, earning them a spot on our list of the best ad examples. Adding enticing visuals to your ad campaigns helps viewers visualize themselves using your products or services, making them more likely to buy.
Ad campaign example #2: Dunkin' – #DunkinAtHome
One of the best examples of ad campaigns that work comes from Dunkin'. The coffee franchise ran a campaign to promote people using their products to make Dunkin' from home, as the campaign's #DunkinAtHome hashtag shows.
Dunkin' took this campaign a step further by using Rapunzel as a theme throughout their ads. Instead of letting the prince save her like in the classic fairytale, Rapunzel says she doesn't want to be saved and instead, wants to stay home with her Dunkin'.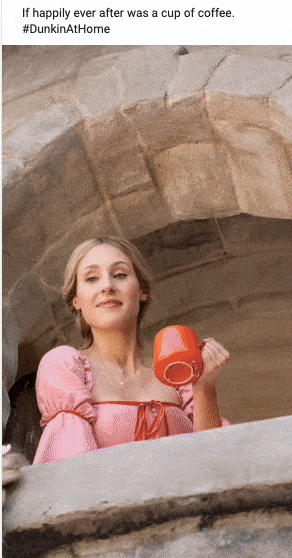 Dunkin' carries this theme with Rapunzel throughout the ad campaign as a unique way to catch viewers' attention.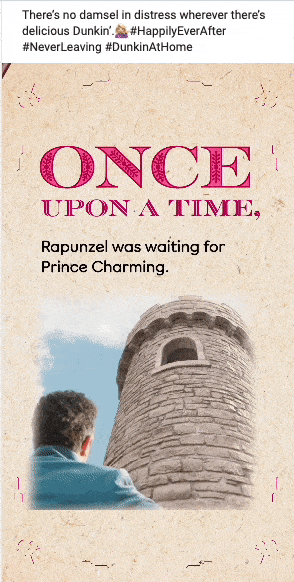 What makes this ad a good advertising campaign example?
Dunkin's #DunkinAtHome campaign is a great example of taking a creative and engaging approach to advertising. They use a classic story and put a modern, branded twist on it to convince people to buy and use their Dunkin' products at home.
View Social Media Marketing Examples
Ad campaign example #3: Target – Hearth and Hand
Next on our list of ad campaign examples is Target. Target distributes products from the well-known Hearth and Hand collection by Chip and Joanna Gaines. To help promote it when people are looking for those products, they created search ads.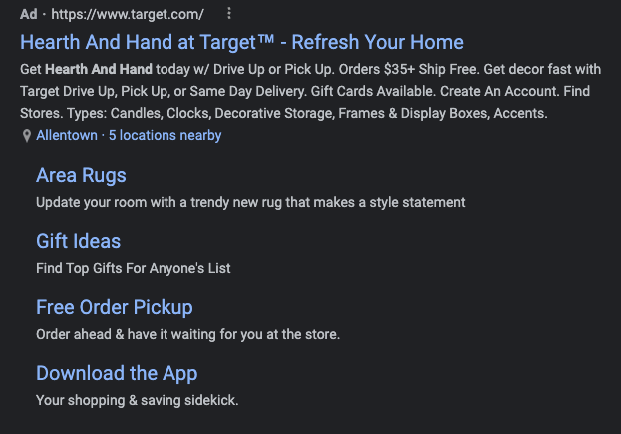 One of the best aspects of this ad is the use of ad extensions. Ad extensions enable you to include more information in your ad to entice people to click. This ad in particular uses location, sitelink, and structured snippet extensions to provide helpful information.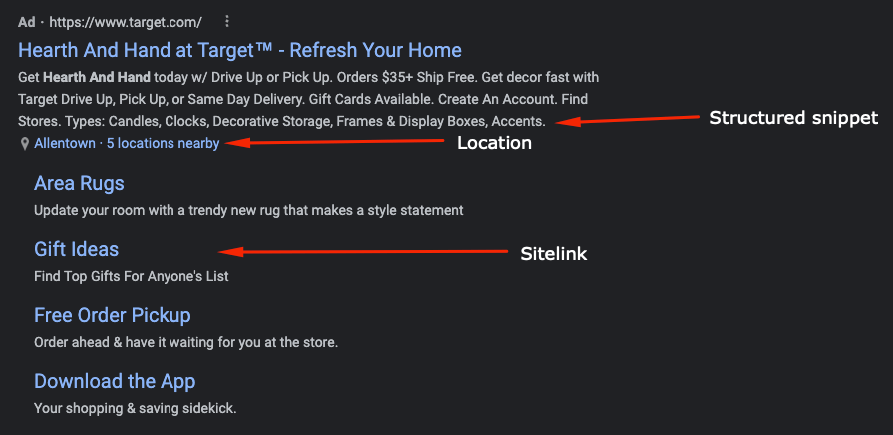 What makes this ad a good advertising campaign example?
Target's ad campaign provides the helpful information users need to learn about Hearth and Hand. It utilizes ad extensions to create more reasons for people to click on their ad, which helps boost engagement and leads.
Ad campaign example #4: Chewy — Pet prescriptions
One of the advertising campaign examples you can take inspiration from is Chewy. Chewy creates ads for animal lovers to get them to buy the products from their website. In this ad example, the focus is on Chewy's pet prescription services.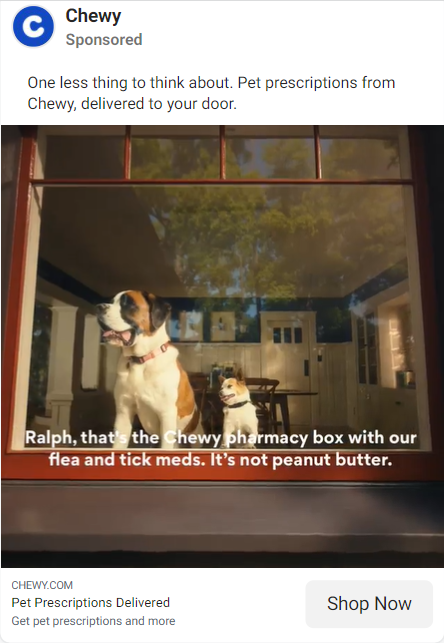 The ad features a video showing a box that gets delivered to the doorstep of the dogs' home. The one dog thinks it's a box with peanut butter, while the other dog tells him that it's their prescription box from Chewy.
What makes this ad a good advertising campaign example?
This ad campaign from Chewy is a great ad because it entertains while delivering essential information. The video ad uses some humor to promote their prescription services and the fact that it comes right to the owner's doorstep. It's a fun ad that still passes along the core message of the ad.
Ad campaign example #5: Hydro Flask — Award-winning bottles
Hydroflask runs plenty of online advertising campaigns to promote their insulated water bottles. In this pay-per-click (PPC) ad, Hydroflask highlights the benefits of buying their bottles.

Hydroflask highlights important must-know information, like free shipping when you spend a certain amount and the variety of sizes and colors. You get all the information you need to know when looking at Hydroflask's ad.
What makes this ad a good advertising campaign example?
This PPC ad is a great ad campaign example because it provides a plethora of information that informs searchers about their product efficiently. They also use sitelink extensions to direct people to relevant pages for their products.
Ad campaign example #6: HelloFresh — Free meals
Last on this list of advertising campaign examples is Hello Fresh. This Gmail ad promotes Hello Fresh's meal service to users in their inboxes.

The ad offers a unique code that users can use to sign up for 16 free meals. The ad also promotes their food as being fancy dining at home with no dress code.
What makes this ad a good advertising campaign example?
HelloFresh is a great example of creating an engaging ad campaign that entices people to take advantage of their offer. The tagline is creative and appeals to users who want to have good food but don't want to have to go out to get it.
Additionally, the discount code is a bonus to get users to convert and try out the service.
Types of advertising campaigns
Now that we've answered the question, "What is an ad campaign," let's move on to where you can run ad campaigns. When you look into running online ad campaigns, you'll find there are numerous channels you can use to promote your business.
Here are five online channels you can use to run ads:

Third-party websites: Display ads are visual advertisements that appear on other websites. These websites are part of Google's Display Network. You can create visual ads that appear in the margins of these websites, within the text on their pages, and more.

Social media: Social media ads are visual ads that appears in users' newsfeeds as they scroll through content. These ads are highly targeted, so you promote your business to people most interested in what you offer.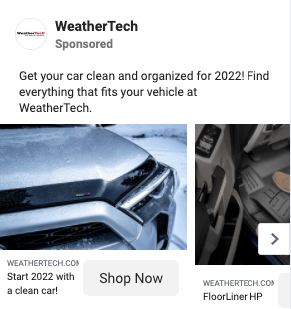 YouTube: YouTube ads are a form of display ads where you showcase video ads within ad content on YouTube. These ads can appear at the beginning, middle, or end of video content people watch.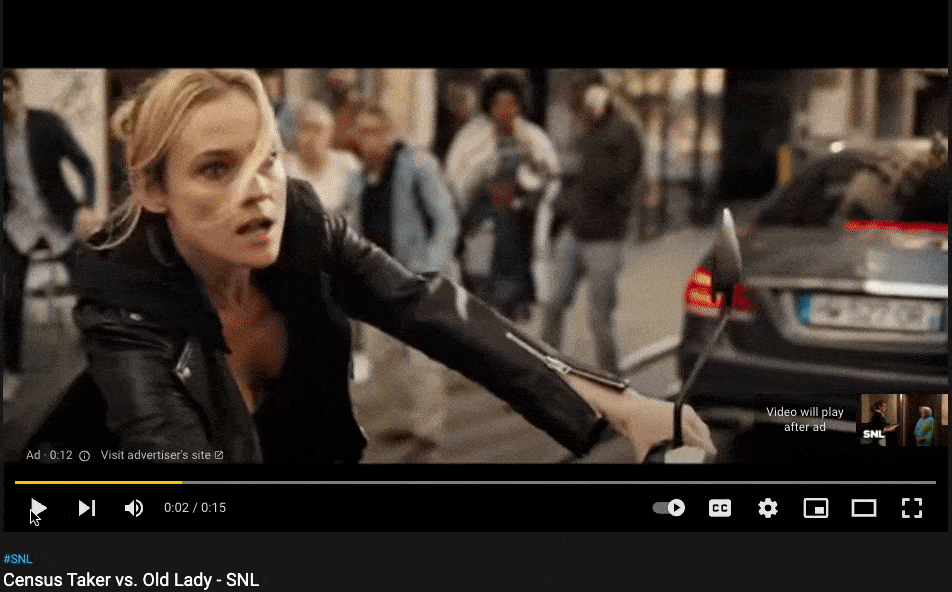 Email: Gmail ads are ads that appear at the top of users' inboxes and look like another email in their inbox. These ads only appear on desktop inboxes.

You can run online advertising campaigns through any combination of these channels to help you reach people interested in your products or services.
In addition to online advertising campaigns, you can also run ads through traditional channels like:
Print ads: Print ads appear in places like newspapers or flyers. These ads enable you to promote your business to people in your local community.
Radio ads: Radio advertisements are played between songs on a radio station. These ads can help you reach people as they commute to work, school, and more.
Television ads: TV ads enable you to reach people as they're watching their favorite programs. You can also invest in in-stream ads to promote your business to people as they stream shows through apps like Hulu.
Elements of successful ad campaigns
Before you start running online ad campaigns, it's important to know what makes a good online ad campaign. Here are five elements your ad campaigns should have if you want them to be successful:
1. Audience-focused
When you run online advertising campaigns, make sure they're focused on your audience. You're trying to appeal to audience members to get them to buy your products or use your services. If your ads solely focus on how great you are, it won't appeal to your audience.
Instead, focus on audience pain points. What problems does your product or service solve? How does your product or service make your audience's life better?
When you focus on your audience and what they need, you'll produce better results with your online advertising campaigns.
2. Organized content
Another key component to successful ad campaigns is having your content organized. From the ad copy to the visual to the call to action (CTA) button, everything should flow and fit one another. An organized ad will give you a cohesive ad campaign.
If your ad appears disorganized or unfocused, it can lead prospects to feel confused and be unwilling to engage. A focused ad will tell your audience what they need to know and how to proceed next.
3. Visual appeal (if applicable)
Another core element of a good online advertising campaign is visual appeal. This qualification only applies to ads that are visual-based ­­–– PPC search ads, for example, are all text.
If your ad includes a visual element, you want to ensure its eye-catching. Your audience sees dozens of ads a day, so it's important for you to make yours stand out in the crowd and attract their attention.
Your ad visuals should be high-quality, relevant to your ad, and enhance the ad experience.
4. Error-free writing
Even if you create visually focused ads, you'll still have text on your ads. It's important that any text in your ads is error-free.
Even the smallest errors can hurt your ad's credibility. People want to see polished and professional ads, so you'll want to ensure you review your ads multiple times to check for any errors.
5. Goal-focused
Success with your ad campaigns starts with setting goals. If your ad campaigns don't have goals, you can't determine if you've achieved success with your ads.
You can set multiple goals for your ad, including:
Increase brand awareness
Increase leads
Increase sales
Your goals will help keep your ads on track to ensure you're driving the results you desire. If you aren't reaching your goals, you can readjust your ads to help them perform better.
Start creating your ad campaigns today
Online advertising campaigns are a great way for you to promote what your business offers online. With the ad campaign examples from above, you can get inspired and start drumming up new ads for your business.
Feeling overwhelmed with launching your online advertising campaigns? WebFX can help. Our team of experts know how to craft ad campaigns that drive results ­­–– we've driven $3 billion in revenue for clients in just the past five years.
Ready to drive more revenue for your business? Contact us online or call us today at 888-601-5359 to speak with a strategist about our digital advertising services!
WebFX Careers
Join our mission to provide industry-leading digital marketing services to businesses around the globe - all while building your personal knowledge and growing as an individual.