In this video, Madison from the WebFX Social Media team dives into LinkedIn 101 — how it works and how you can take full advantage of it for your business.
Transcript:
Disclaimer: This video focuses on LinkedIn company pages rather than individual profiles. But we think you'll find something useful either way.
LinkedIn is more than just a place to humble brag about how you overcame some business challenge. It's a social media platform full of opportunity to connect with business decision makers and generate qualified leads.
According to LinkedIn, four out of five of its users drive business decisions. With a fully-optimized company page and fleshed out content strategy, you can form connections with those decision makers and start to see your business grow.
The best part about all of this is that creating a company page on LinkedIn is so easy. With that in mind, let's kick off this LinkedIn 101 guide by setting up a LinkedIn account. If you already have an account and company page, skip ahead using the timestamps in the video description for tips on how to grow your page.
How to set up your LinkedIn account
Your LinkedIn company page must be connected to a LinkedIn profile. If you don't have any LinkedIn account, you'll want to create one. Just follow the prompts you see on screen to get started.

Oh, and by the way, you'll want to do this on a desktop computer or laptop.
When you have your personal profile set up, go to the "Work" icon at the top of your LinkedIn feed. Select the option to "Create a Company Page."

You'll see a few different options for your page. You'll likely want the "Company" option since you're creating a page for your business. The "Showcase page" option refers to a sub-page that's connected to your main company page. It looks very much like a regular company page.

You would likely use a Showcase page if you had different divisions of your company. LinkedIn, for example, has a main parent page and several Showcase pages for different aspects of its business, including LinkedIn Sales Solutions, LinkedIn Ads, and LinkedIn Social Impact.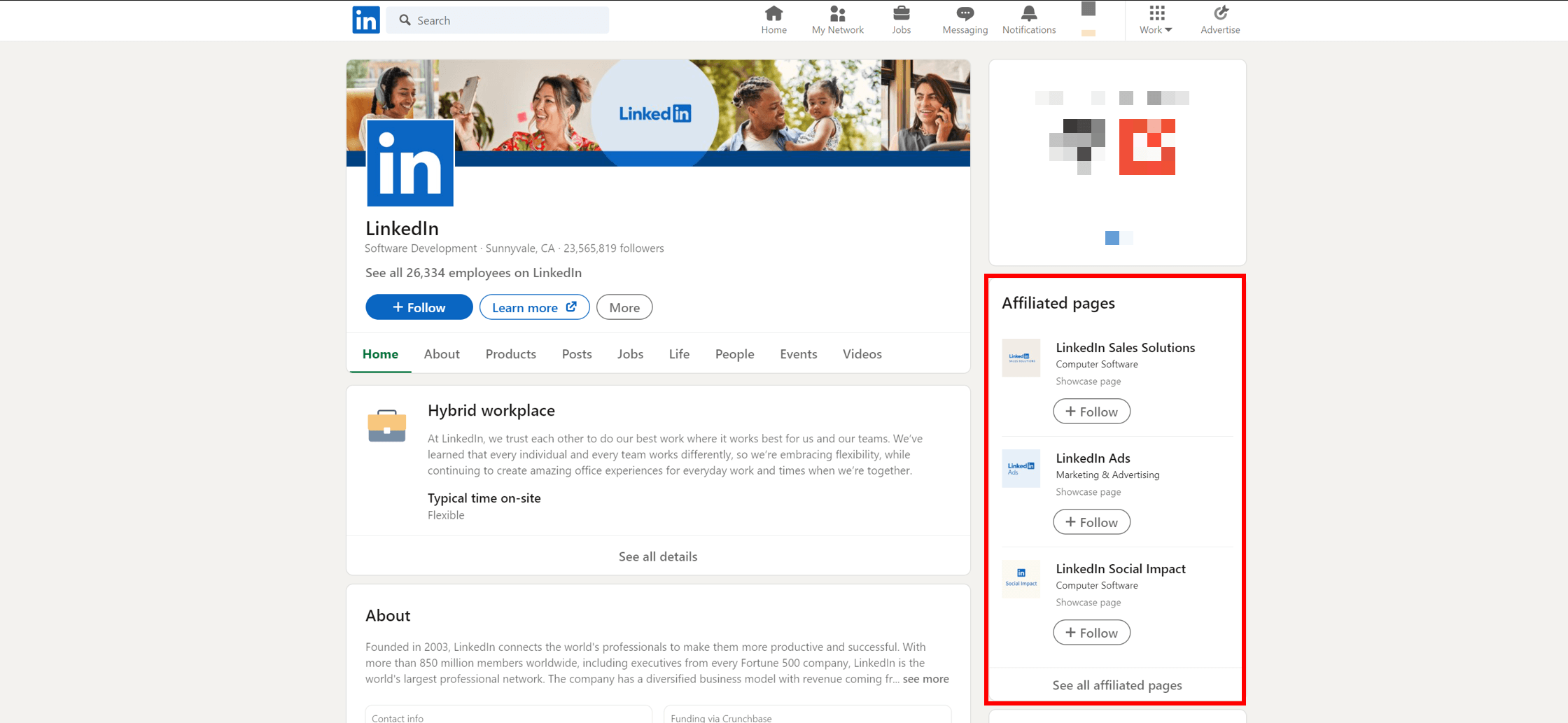 You don't necessarily have to create a Showcase page for all aspects of your business. If it makes sense for you, and you have the resources to manage it, then go for it. If not, focus on making your one page the best it can be.
After you've selected the proper page type, you'll fill in your information.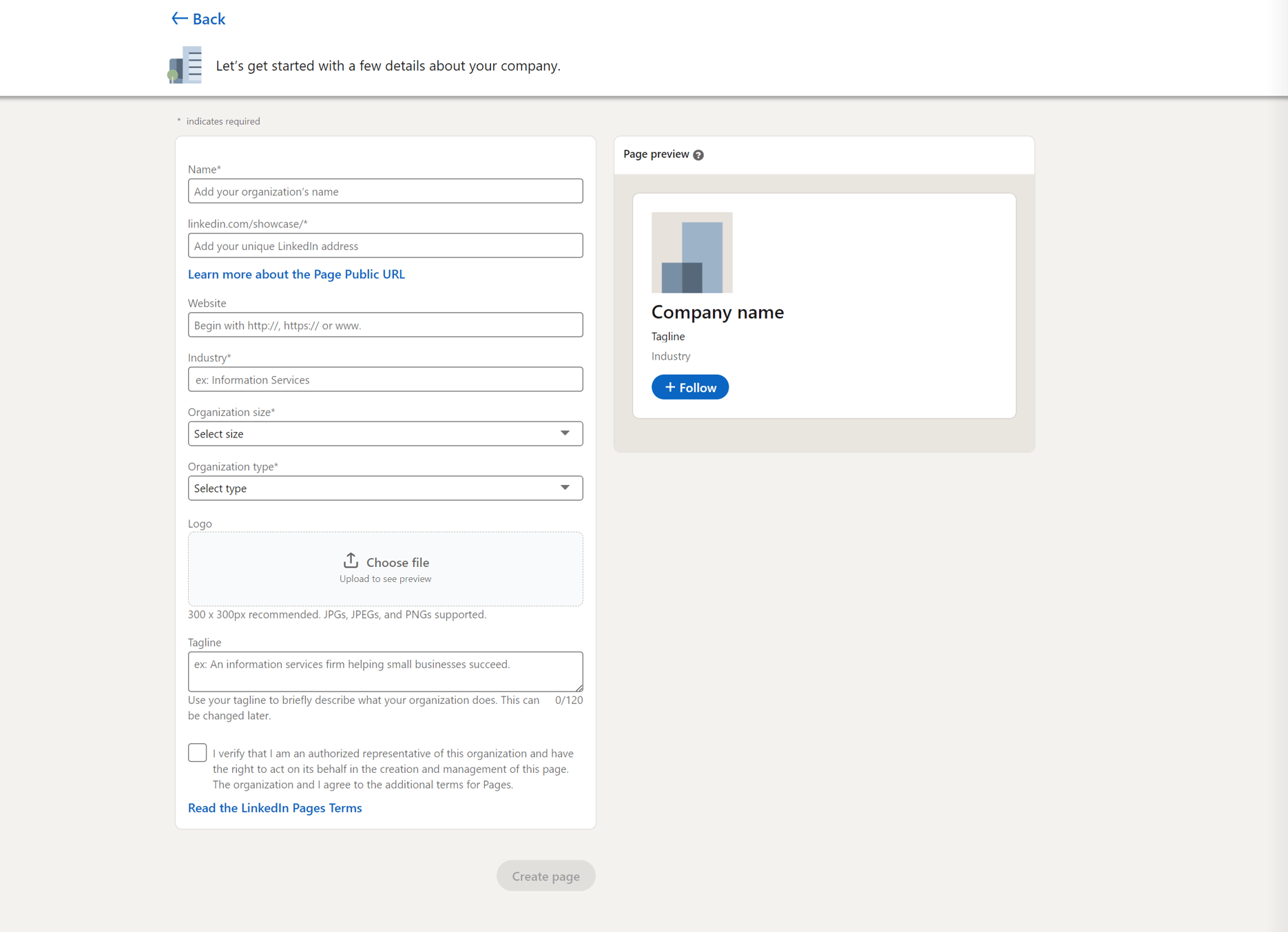 You'll add your business name, create a LinkedIn URL that's easy to remember, add a link to your website, and specify your industry.
When uploading your logo, keep it square. LinkedIn recommends 300 x 300 pixel images. And that doesn't mean squish as much text as you can into that little box.
Use the simplest version of your logo on LinkedIn. Remove your tagline and anything else that would be hard to read on a phone screen. You can actually add your tagline as a separate line of text on your page.
Hold it right there, buddy. You're not done creating a business page on LinkedIn after you hit that "Create" button.
You still need to update your cover image. And this is more than just a bigger version of your logo. You'll want an image that complements your logo while also capturing the essence of your business.
LinkedIn is all about connections, so that's what you see in their cover image.

You can also use this space to communicate different promotions for your business. Maybe you want to hire more people. Your cover image can communicate that. Maybe you have a big event coming up. Your cover image can communicate that, too.
If you want it to match up with your other social media platforms, that's okay, too! Do what's best for you.
Images aside, you can add even more to your LinkedIn company page. Select the "Edit Page" button on your profile, then fill out as much as you can.

You can add different specialties, share your phone number, write a description of your company, add a custom button, update your locations, and even create a form that gathers leads.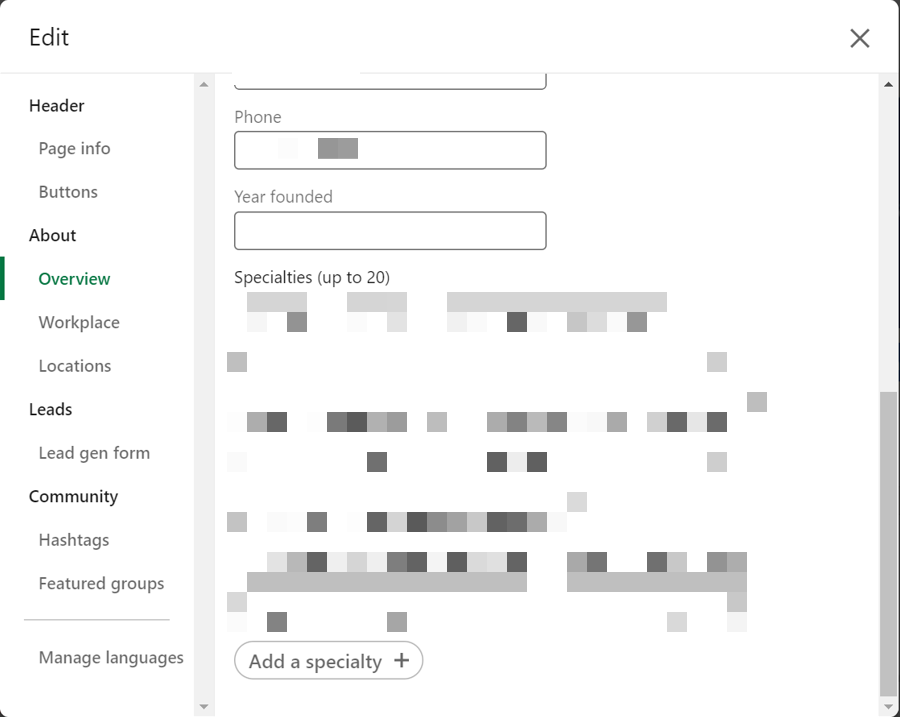 The more information people have, the easier it is for them to contact you.
Now the fun begins. Planning your LinkedIn content strategy.
How to grow your LinkedIn business page: 4 tips
I'm not going to tell you how to put together your social media calendar. You are an expert in your business, so you are the best person to figure out what to post and when. It just comes down to what performs best with your audience.
While I won't tell you how to create a calendar, I will share some tips for posting content that makes an impact.
1. Use native content formats
Every social media platform has one goal, even if they don't say it. They want to keep people on the platform as long as possible. I mean, how does a social media platform survive if no one uses it?
Native content is a platform's way of getting people to stick around. I'm talking the content that is shared exclusively to a platform. On LinkedIn, native content includes videos, PDFs, articles, and even images. So, instead of sharing a link to a YouTube video or an image portfolio, you would upload everything right to LinkedIn.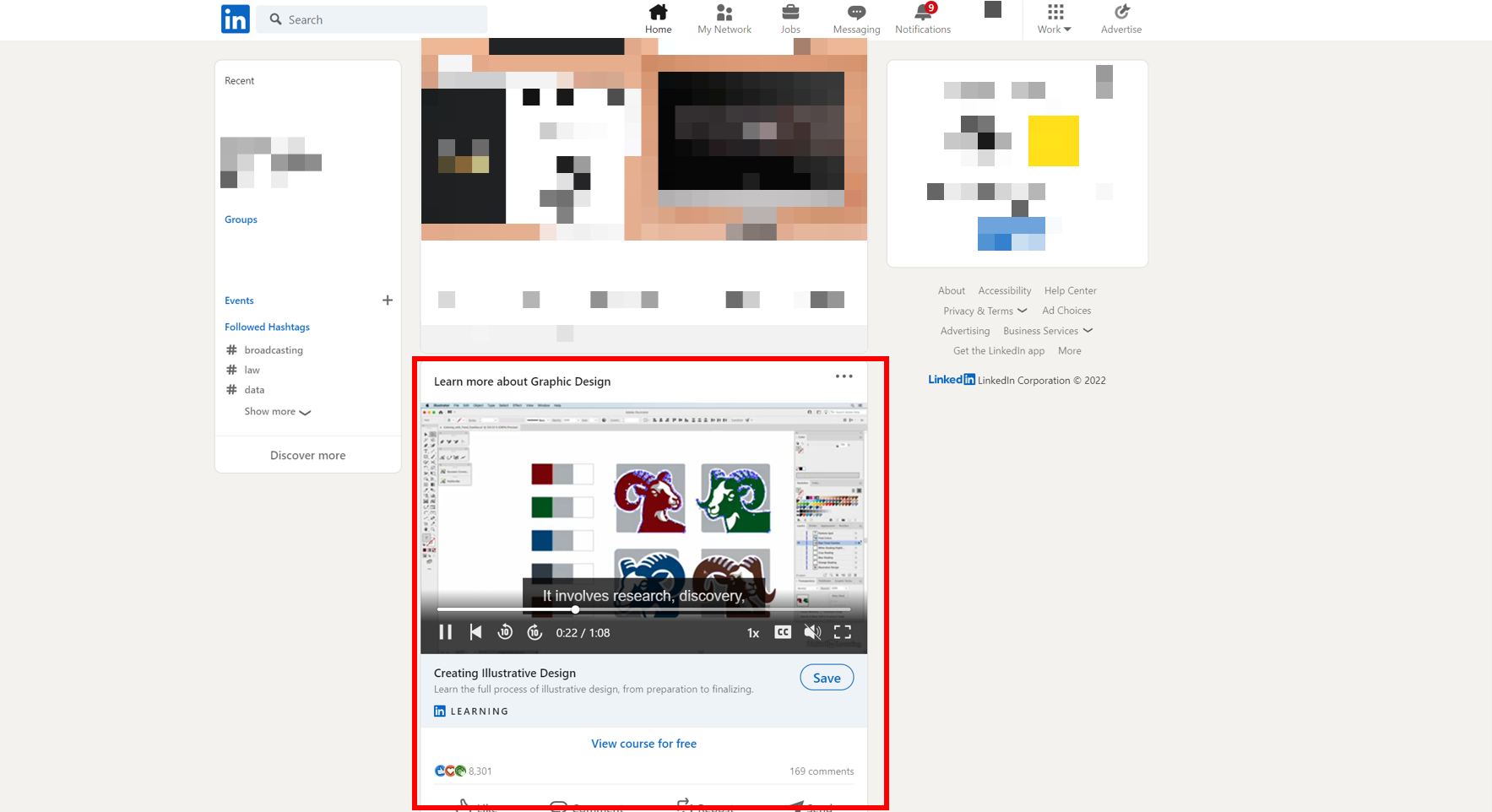 Here are two cool statistics straight from LinkedIn. You may see double the comment rate when you share an image with your post on LinkedIn. And you may get five times more engagement when you post a video.
This tactic keeps people on LinkedIn instead of directing them off of the platform. And, let's be real. Native content is convenient for users. Wouldn't you rather engage with something that's right in front of you instead of clicking away to who knows where? It's easier to view, share, and engage with — three factors that play a role in your content performance.
2. Review your analytics
Don't get me wrong. I love seeing photos of people's pets on LinkedIn. Especially when they're sitting at a desk like little workers. But that may not be what your audience wants from your company page. So, how do you know what to share — and what to save for your personal account?
Pay attention to the analytics you get from LinkedIn, or from another third-party tool like Google Analytics. If you notice one type of post gets way more comments and shares than the rest, that may be the direction you should take for your business.
But look deeper than likes and shares. If you have a tool that can measure website traffic and conversions from LinkedIn, use it.
3. Test different types of content
With your analytics in mind, try new things with your LinkedIn content strategy. Share photos from your office and see if they gain traction. Post a video or create a poll related to one of your services.
Create a PDF guide that answers common questions your team gets.
Don't be afraid to take a risk and post something different from your normal lineup of content. The worst thing that can happen is your content underperforms and you try something else. Just go for it. You may get more leads than expected when you think outside the box.
4. Interact with your audience
Posting on LinkedIn is only half of the equation. The other half is interacting with your audience.
It's just LinkedIn basics. When you engage with your audience and encourage conversation, they engage with you. This helps you not only build trusted relationships, but it also makes it more likely your content will appear in front of their connections.
Even if someone has a complaint or a problem, address it. Show that you listen, you care, and you're willing to offer a solution. How you handle both positive and negative interactions speaks volumes about who you are as a company.
LinkedIn Ads overview
Now, let's talk about the paid advertising side of LinkedIn. This will be brief because we actually have a video that covers LinkedIn Ads in detail.
1. Sponsored Content: Reach people while they scroll through their main feed.
2. Text Ads: Get a simple message to people at the top of their feed.
3. Sponsored messaging: Start conversations with a goal in mind.

4. Dynamic Ads: Create personalized experiences while people browse LinkedIn.

You'll create your ads through LinkedIn's Campaign Manager.

Here you'll have the option to pick the ad format that works best, determine how much you want to spend, choose your ad's audience, put your ad content together, track performance, and more.
Again, it all comes down to performance. You should check your campaign performance often to make sure you're hitting your goals.

And that was a quick LinkedIn 101 lesson. We do have more LinkedIn videos on our channel, so check those out if you want to keep learning the basics.
Don't forget to sign up for our email newsletter, Revenue Weekly, using the link in the video description. See you next time, revenue drivers.
How is your website's SEO?
Use our free tool to get your score calculated in under 60 seconds.
Get posts by email
Join 200,000 marketing managers and subscribe to Revenue Weekly!
"*" indicates required fields
WebFX Careers
Join our mission to provide industry-leading digital marketing services to businesses around the globe - all while building your personal knowledge and growing as an individual.