How to Use LinkedIn In Your Marketing Strategy
If you're trying to market a B2B company, LinkedIn is one of the most powerful tools at your disposal. Many marketers overlook the platform, as user base is much smaller than that of Facebook or Twitter, but considering that the majority of its users are professionals, it can be a huge help when trying to connect with the people who make purchasing decisions at various businesses.
So how can you start using the platform as part of your marketing strategy? Keep reading for some of the best ideas we've come across. If you'd like to speak to a specialist about how to use LinkedIn to market your business, you can reach us at 888-601-5359.
We offer our digital marketing services to clients all around the world, so whether you need social media services in Jacksonville, or social media marketing in Miami, we've got you covered.
WebFX is a full-service LinkedIn marketing agency that can help you integrate LinkedIn into your marketing strategy – flawlessly.
CONTACT US FOR YOUR FREE CUSTOM QUOTE!
How to use LinkedIn for marketing purposes
LinkedIn is a great platform to advertise your company, connect with other influencers, and build brand awareness for your company.
In fact, LinkedIn marketers can experience a 2x increase in their conversion rate. With LinkedIn statistics like that, promoting your brand on the platform is a no-brainer.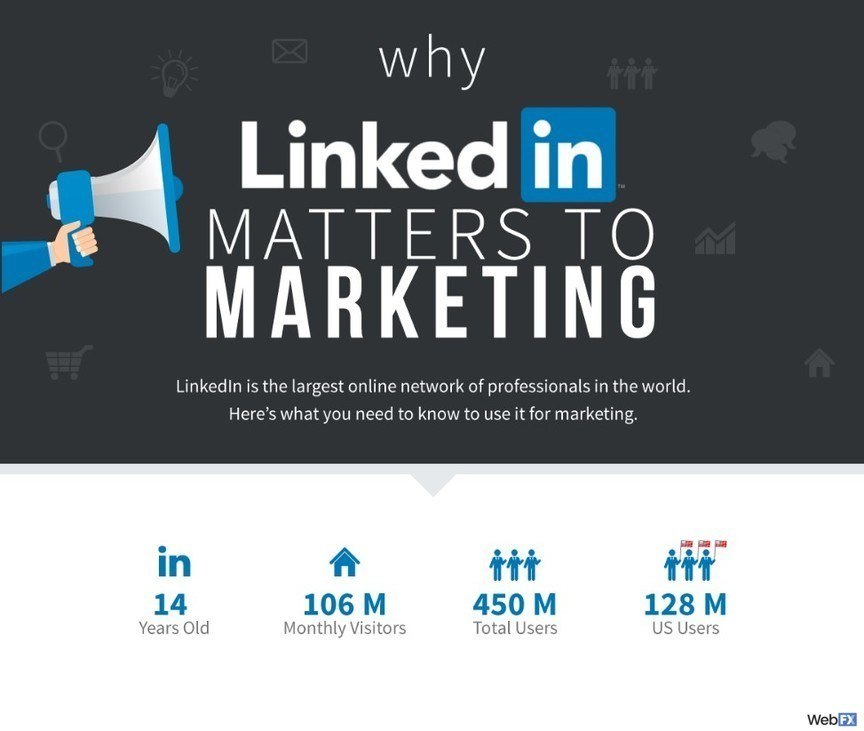 Read on to learn how to use LinkedIn in your marketing strategy!
Ask every employee to create a LinkedIn profile
This will help you get your business name out again… and again… and again. If current employees already have LinkedIn profiles, make sure they are up-to-date.
Each time someone with a LinkedIn profile updates his or her page, all of their connections will be notified of the changes. Considering that their company name shows up in each of these updates, it's an easy way to get your business noticed.
Build your own network of connections
If you've been in business a while and don't have the coveted 500+ number of connections, it's time to start networking in earnest. First, try to find anyone you regularly work with on the site—you might be surprised how many people with whom you come in contact are on LinkedIn.
Don't forget to make use of LinkedIn's suggested connections feature. The platform does a decent job of figuring out whom you may know, and can be a huge help in building your network if you're having trouble thinking of specific names off the top of your head.
Start to engage in discussions on LinkedIn
Set aside 15 minutes once or twice per week and read through your news feed. You might want to add comments to particularly interesting posts, or even just "like" them. This is a great way to stay updated on what the people in your network are up to—and much more productive than Facebook.
By engaging in discussions, you can build connections with new people in your industry and strengthen the ones you already have. You don't need to spend hours coming up with witty responses, but you should always ensure that you maintain an informed and professional tone.
Write an article for LinkedIn publishing
Now that LinkedIn has opened up publishing on their site to all people who hold a basic profile, there's little reason not to position yourself as an expert. One caveat is that your articles must be interesting and not self-serving.
If you have difficulty writing, it could be worth working with a content writer. Although your articles don't have to be novella-length, most web marketing firms recommend that LinkedIn publishing articles be on the lengthy side, rather than the short side. Instead of a short, 350-word blurb, aim for closer to 1,000 words. Add up to five high-resolution, powerful, eye-catching images for emphasis.
Follow some heavy hitters
There are so many Influencers on LinkedIn that it might make your head spin to try to count them all. You don't need to follow every one of them, but you should choose a couple. This isn't to say that they are going to suddenly "discover" you among their tens of thousands of followers, but what can happen is that you make contact with others who are interested in the same thing you are.
For instance, your Influencer may write a particularly fascinating article on LinkedIn. In the comments section, you can talk about what you thought. People who agree with your comment may "like" it or respond to you. This is another great way to build connections.
Join groups
Just as there are Influencers, there are also groups. These groups can be broad or incredibly narrow, but there are hundreds within every industry. Choose which ones resonate with you most.
For example, if you work for a software company, join groups related to software development as well as groups related to the demographic you market to. By making connections within these groups, you may find a potential client. Just avoid the temptation to spam the group with marketing messages. That won't go over well, and you may even be kicked out.
Add presentations to your LinkedIn profile
Have a PowerPoint you're particularly fond of? Rather than turning it into content for your LinkedIn publishing post, just upload it to your profile. That way, anyone who comes to your profile will have the opportunity to watch the presentation.
TO SEE THE OUR INFOGRAPHIC ON WHY LINKEDIN MATTERS TO MARKETING, CLICK HERE!
Integrate your Twitter account with your LinkedIn account
Already an active participant on Twitter? Make it easy on yourself and integrate all your tweets with your LinkedIn updates. There are numerous free software platforms that enable you to do this seamlessly. That way, whenever you post to Twitter, you will simultaneously be posting to LinkedIn.
Create a company page
Have you started a company page for your business? If not, it's time to do so. Professionals who want information about your company may very well look to LinkedIn for information, so you need to provide it. Also, it's never a bad idea to have a presence on as many platforms as possible—especially when they're free.
Are you ready to integrate LinkedIn into your marketing strategy?
How you use LinkedIn to promote your organization is entirely your decision. But one thing is clear: ignoring its authority as a social media platform for professionals isn't going to do your business any favors.
If you need help using LinkedIn (or any other social media platform) for marketing purposes, feel free to contact us! Our talented social team is more than happy to come up with a strategy for generating brand awareness and attracting new leads on any and all platforms.