Social Media

2023 LinkedIn Video Guide: Why You Need It and How to Get Started
2023 LinkedIn Video Guide: Why You Need It and How to Get Started
7 minute read

Trevin serves as the VP of Marketing at WebFX. He has worked on over 450 marketing campaigns and has been building websites for over 25 years. His work has been featured by Search Engine Land, USA Today, Fast Company and Inc.
LinkedIn is a valuable network for targeting professionals in your audience — and the platform's growth rate is soaring with more than two new members joining per second. It's a promising platform for marketing, but does video perform well on LinkedIn? You may expect video to only strike a chord on informal social media platforms, but video content resonates with the professionals of LinkedIn too.
Keep reading for our 2023 guide to LinkedIn video marketing! Do you need a LinkedIn advertising specialist? WebFX is a leading social media management agency, and we'd love to amplify your campaigns with our expertise.
Contact us online or call us at 888-601-5359 today.
3 effective places to share videos on LinkedIn
Because LinkedIn functions differently than other social media platforms, posting and sharing videos don't all happen on one front.

Where you put your videos on LinkedIn matters, and you even have a couple of options for the way you introduce videos to your connections. You can upload two kinds of videos on LinkedIn — embedded videos and native videos.
Embedded videos: These are videos added through linked URLs. If you prefer to use YouTube, embedded videos are convenient.
Native videos: These are videos either made on LinkedIn or directly uploaded as files.
These videos can appear in a variety of places, depending on their purpose. So, which are the best locations to display media? Check out these three places that attract views and build brand awareness.
1. Timeline update videos on LinkedIn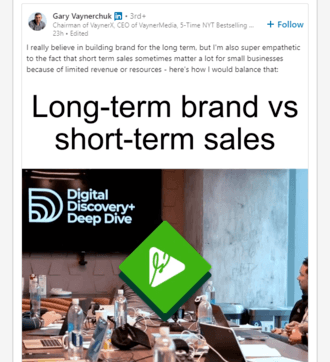 The most straightforward method for sharing videos with LinkedIn users is through updates. Just like text-based posts, you can launch your engaging video content onto the timeline. Video updates have high visibility and remain a worthwhile zone to engage followers and connections.
You should keep your update videos brief to suit attention spans and timely to address changes in your field. The homepage area constantly has information cycling through, so you need to embrace material that connects you to the online community. If you can explore topics that pique interest in your brand and cater to your contacts, posting update videos can become a lucrative strategy.
2. Published videos on LinkedIn
LinkedIn's Publishing Platform lets users retain the rights to their content while spreading the material to a wide base of professionals. While Publisher normally hosts intensive articles, you can include rich media, as well. Informational videos that pass on applicable knowledge can appeal to this highly educated audience.
Along with video content, Publisher requires written copy, so you have to enter somewhere between 1,300 to 125,000 characters. If you can post lengthy content along with instructive media, this format is ideal. Whether you cover industry trends or rehash seminars, your published videos should demonstrate proficiency in your field and serve as an educational resource for LinkedIn users.
3. Profile videos on LinkedIn
Rather than presenting videos to the primary timeline or LinkedIn Publisher, you can integrate videos on your company profile. For business-to-business leads, this demonstrates your values, expertise, and specialties through visuals. Under your intro's media section, you can choose between linked or uploaded videos.
It's wise to outfit your profile with video to offer alternatives to skimming your details, services, and products. It's beneficial to add testimonials and endorsements from industry leaders as profile videos, so customers immediately have references for your company.
4 types of LinkedIn videos to share
When you get your creative juices flowing to tackle videos on LinkedIn, you may wonder what types of videos adhere to the style and features of the platform. LinkedIn tends to retain a formal but collaborative sense, which extends to video marketing.
Gathering footage for this crowd takes thought and effort, but there are numerous ways to treat your connections to inviting visual content. Check out these four types of LinkedIn videos you can create and share.
1. Event recaps
From organizing events to attending them, they make for sensational videos in the professional realm. You can review the high points of conferences, conventions, and fundraisers. It's handy for everyone who couldn't make it to an industry conference to hear snippets from the speakers.
Make sure to emphasize the keynote speaker to supply the information that's highly in demand.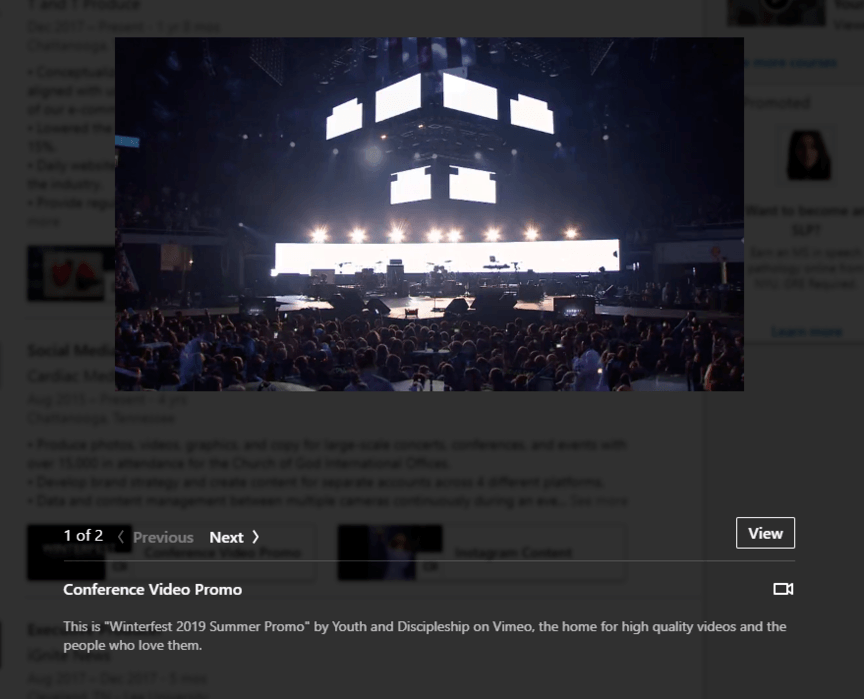 Even recounting breakout sessions, interactions and downtime can construct a positive perception of your company. Portraying your business from a unique angle can increase the attachment of customers.
2. Releases and news
As your company grows, you have fresh products to promote, changes to your business, and industry news. To break from the usual format, you can film the latest news for your audience. If you have an exciting technology rehaul, you can create a highlight reel for the network to enjoy.
You can strengthen customer loyalty when they're invested in your company culture. Sharing stories about your employees' experiences, successes, and growth can generate impressions and show future partners a window into your focus.
3. How-tos
Video explanations are crowd-pleasers, especially when the instructions are pertinent. Tips, tricks, and online courses fit into LinkedIn's setting. Partnering with Lynda.com, LinkedIn has a devoted learning platform that features video courses for technology, business, and creative pursuits.

If you want a returning group eager for videos, consider posting a series of clips about a complicated topic. The sequence of videos allows you to delve deeper and invite your audience along for the journey.
4. Interviews
Hearing from your industry role models is a dream come true. So, why not share the experience with the rest of LinkedIn? Interviews with experts, entrepreneurs, and big-name successes are impressive, and if you can garner a one-on-one with influencers and leaders, publish these exchanges on for your connections.
Prepare questions that you might cover in articles on your website or blog, and begin compelling conversations that plenty of people will want to hear.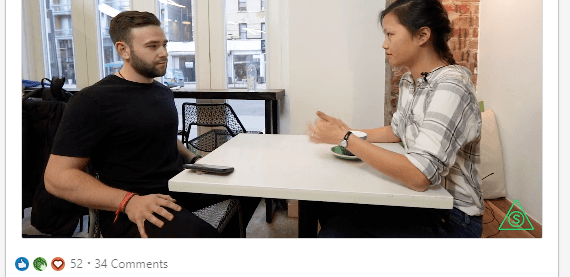 3 best practices for LinkedIn videos
LinkedIn has some specifications you should remember for your video content creation. Getting views for your videos requires planning and optimization, so follow these best practices.
1. Begin with a bang
You have a limited amount of time to convince people your video is worth their time. Secure viewers with a clear message and purpose, followed by solid audio and imagery. Your high-quality video content should coax viewers in within the first few seconds so they make it to any call-to-action you've placed.
2. Balance mobile and desktop orientation
Internet usage has shifted from laptops and desktops to small handheld devices. Since LinkedIn has a large percentage of users accessing from mobile, you need to consider this during your video planning. Mobile video marketing on LinkedIn can pinpoint a huge section of users that you might not otherwise reach.
3. Bank on supported file formats
LinkedIn only supports a selection of file formats, so stick by the designated kinds to comply with the platform. Here are the current file formats you can use:
QuickTime
VP8
VP9
WMV2
WMV3
WebM
H264
AVC
ASF
AVI
FLV
MPEG-1
MPEG-4
MKV
MP4
Start creating LinkedIn videos with WebFX
To deliver intriguing videos to the LinkedIn bunch, follow these guidelines and keep up with the most recent features for the site. You can also master LinkedIn alongside a capable social media management agency. WebFX has thorough experience in LinkedIn advertising, and we focus on driving real results for our clients.
In the last five years, we've generated 7.8 million leads for our clients and $3 billion in client revenue. Are you ready to achieve success through LinkedIn marketing? Contact us online or call us at 888-601-5359 right now to speak with an expert!
Trevin serves as the VP of Marketing at WebFX. He has worked on over 450 marketing campaigns and has been building websites for over 25 years. His work has been featured by Search Engine Land, USA Today, Fast Company and Inc.

WebFX is a full-service marketing agency with 1000+ client reviews and a 4.9-star rating on Clutch! Find out how our expert team and revenue-accelerating tech can drive results for you! Learn more
Twitter and Facebook Status Generator
Finding engaging social media content for your business can be difficult. Use our tool to quickly find ideas and post directly to your page.
Give Me an Idea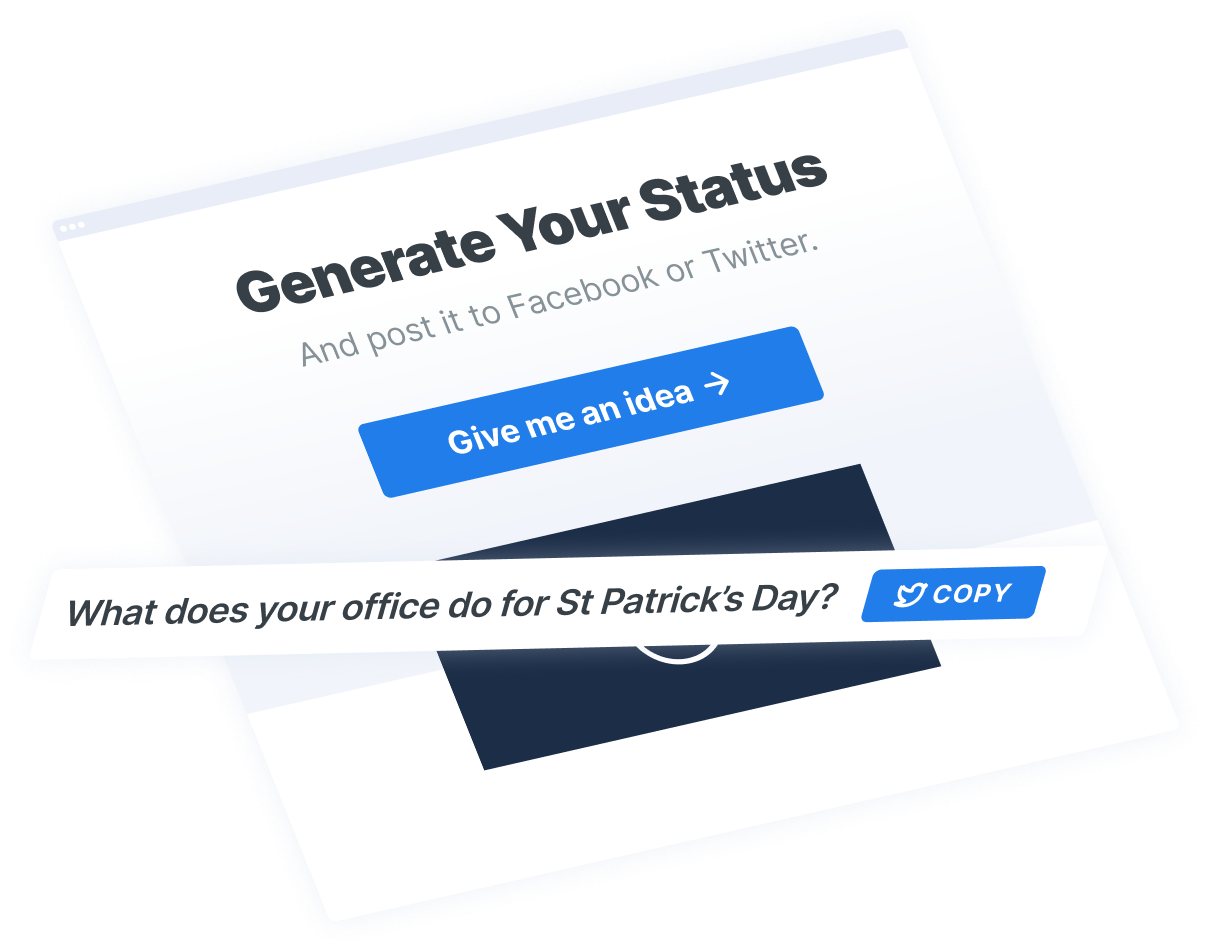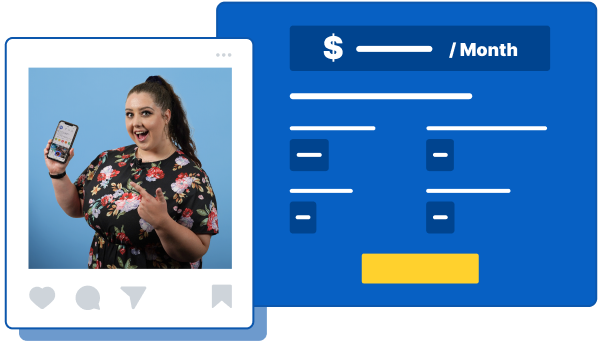 Twitter and Facebook Status Generator
Finding engaging social media content for your business can be difficult. Use our tool to quickly find ideas and post directly to your page.
Give Me an Idea