As Internet users, I think we can all agree that we value hassle-free online shopping. Unorganized browsing experiences and complicated check-outs can make us rethink our purchase in a heartbeat. But, with YouTube Shopping, you can make your audience's shopping experience simple.
Through Shopify integrations, you can sell your inventory to your YouTube followers with ease. In this article, we cover the basics of YouTube Shopping, including how to sell merchandise on YouTube by connecting your Shopify account with YouTube.
Did you know WebFX is home to social media marketing and ecommerce experts? It's true! We've helped our partners develop ecommerce sites that create positive online shopping experiences for their customers (and you could be next!).
Contact us online or give us a call at 888-601-5359 to learn how WebFX can assist you in developing your next ecommerce campaign.
What does a successful ecommerce website need to drive sales?
We wrote you an ecommerce essentials checklist.
Read the Blog Post & Watch the Video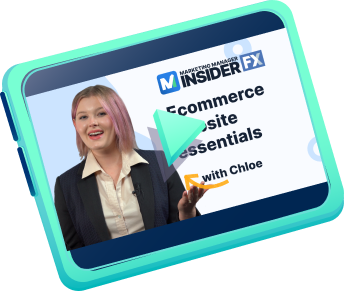 YouTube Shopping with Shopify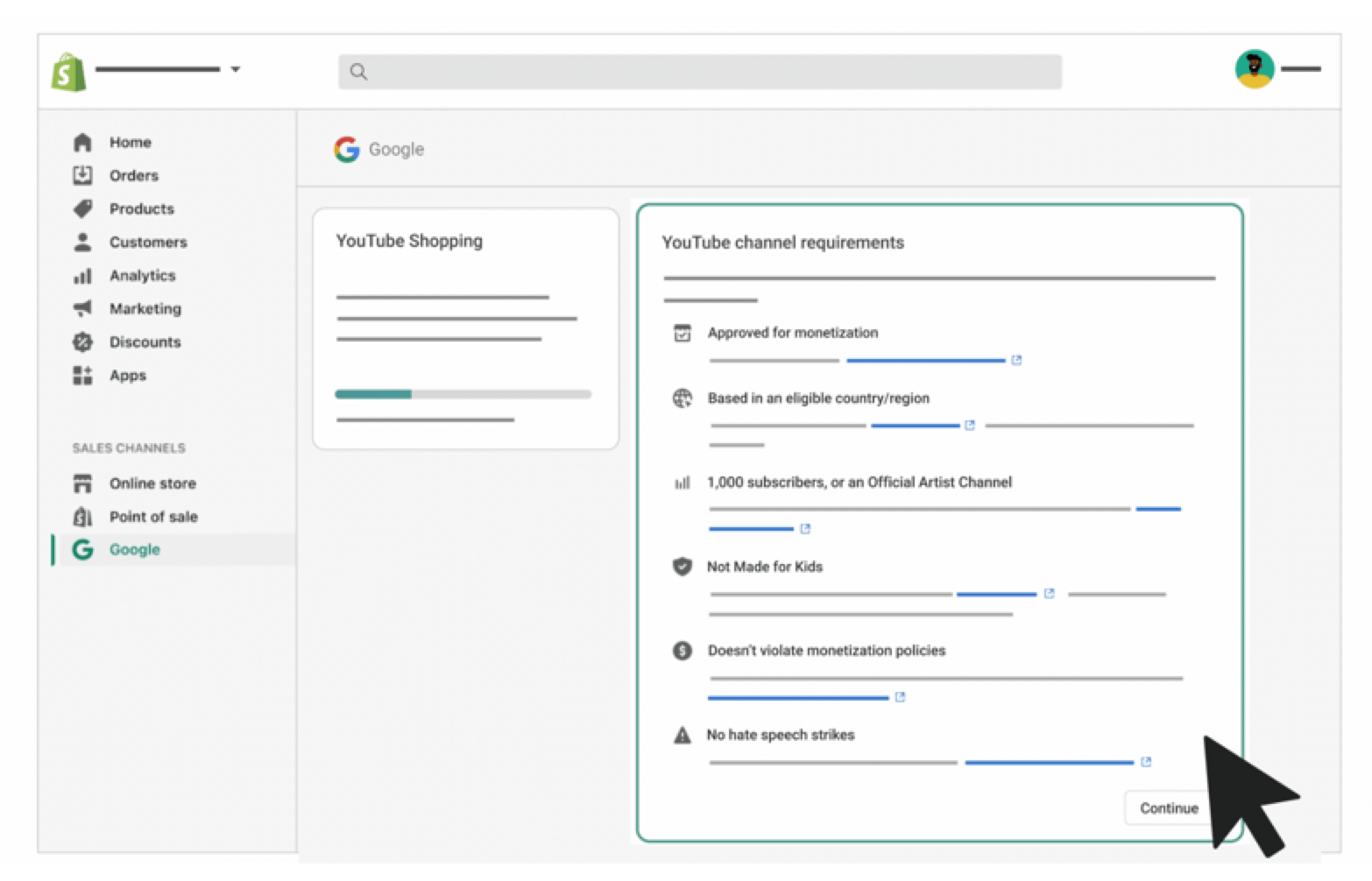 Much like TikTok's new in-app shopping feature, creators can now promote and sell products directly to users in one place through YouTube Shopping.
With YouTube Shopping, creators can set up and connect their Shopify accounts to their YouTube Channel and feature products in videos, livestreams, YouTube Shorts, and live chats.
When you begin selling with YouTube Shopping, you'll have access to features like:
Your channel's store (via a connected Shopify account)
Tagged products in your video content and livestream events
Products shown in the end screens of videos
Pinned products in live chats
YouTube Shopping isn't limited to ecommerce businesses — in addition to creators featuring their own merchandise, users have the option to use YouTube Shopping to promote another brand's products.
YouTube Live Shopping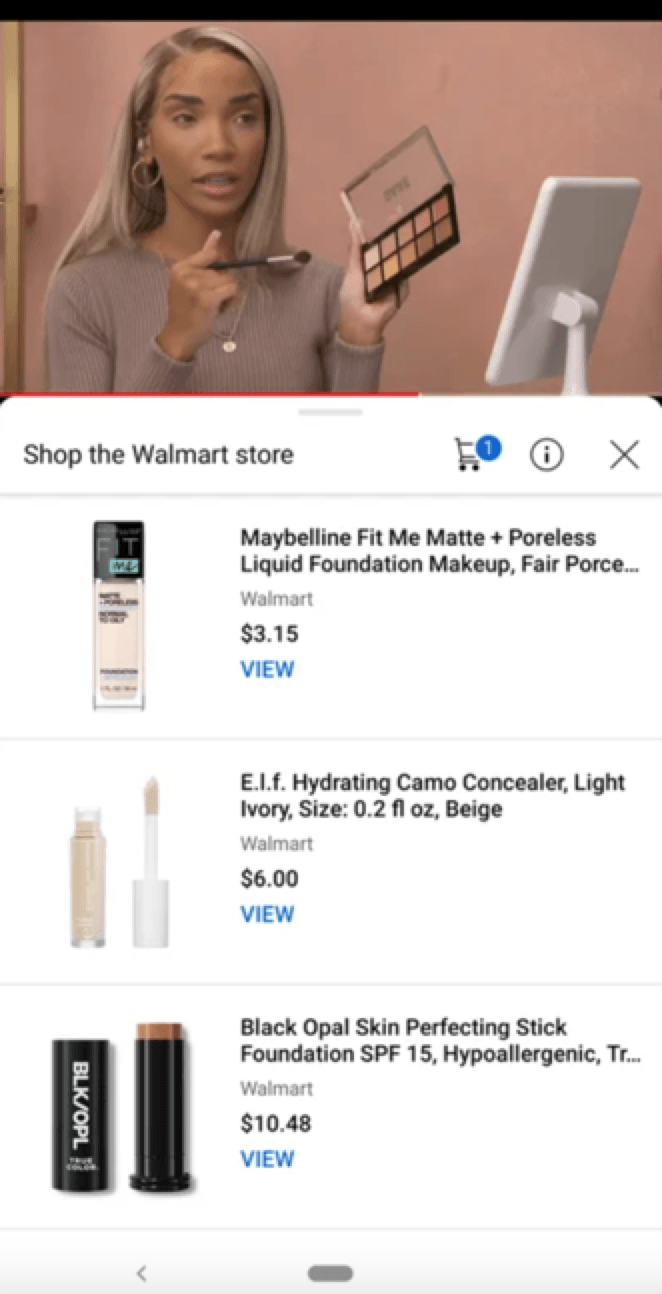 With YouTube Live Shopping, you can sell your products to your viewers in real time through a YouTube livestream.
Unlike traditional ecommerce, with YouTube Live Shopping, you can present products and talk about them in your livestream, offering firsthand information about the product to viewers.
Live shopping experiences, especially online ones like YouTube Live Shopping, are incredibly immersive, entertaining, and, in recent months, profitable for brands.
A study found that live commerce creates a sense of urgency to buy in customers due to the time-sensitive nature of livestreams. As a result, companies using live shopping have seen conversion rates increase by over 30%.
3 tips on how to sell merchandise on YouTube Shopping
Now that we've covered the basics, let's look at some helpful tips for setting up and maintaining your inventory through YouTube Shopping via Shopify.
1. Make sure you're an eligible creator
Currently, only eligible creators can link their Shopify accounts to YouTube and sell directly to users on the site. Eligible creators can also promote and sell products from other brands
Promote products from other brands on YouTube Shopping
To be an eligible creator who promotes products from other brands on your own channel, you must meet the following requirements:
Be based in Brazil, India, the UK, or the US
Have more than 20 thousand subscribers to your channel
Have your channel approved for monetization
Cannot be a music channel (ex: associated with music partners, considered an "Official Artist Channel")
Cannot have your channel's audience set as "Made for Kids"
If you're a YouTube creator who meets the above criteria, you can tag products in your videos, Shorts, and livestreams for viewers to browse and buy directly on YouTube while viewing your content.
Sell your own products on YouTube Shopping
In order to sell your own merchandise through YouTube Shopping and YouTube Live Shopping, you must meet the following criteria:
Your channel is approved from monetization.
You're based in a region where the YouTube Partner Program is available.
You have more than one thousand subscribers or are labeled an Official Artist Channel
Your channel's audience isn't set to "Made for Kids."
Your channel hasn't received any Hate Speech Community Guidelines Strikes, and your channel doesn't have a significant number of videos that violate YouTube's Channel Monetization Policies.
If you meet the above criteria, you can begin selling your brand's merchandise on YouTube through your channel's store, normal video content, and livestreams.
2. Connect your Shopify account to YouTube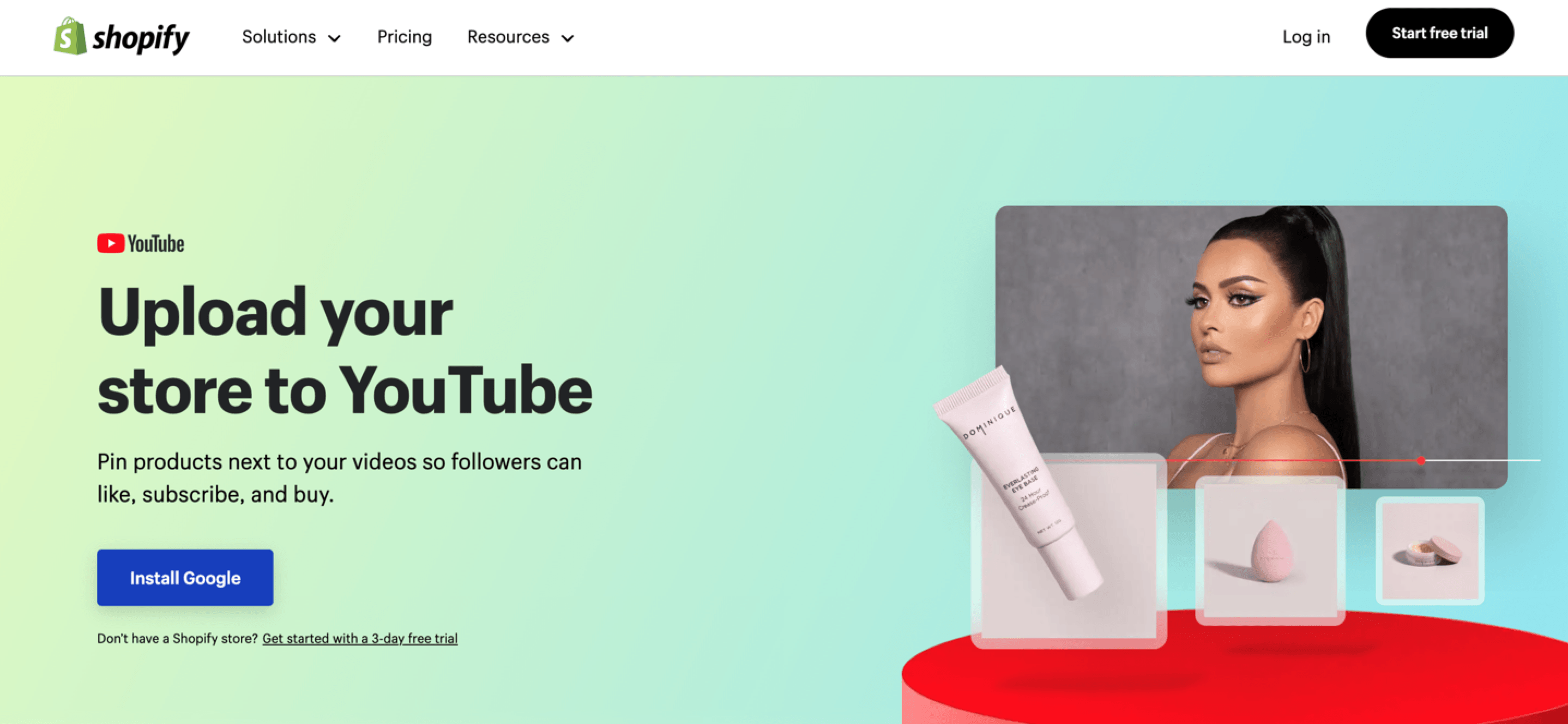 Connecting your Shopify account to YouTube is simple. Here's a brief breakdown of how to do so:
Log in to YouTube Studio and select Earn in the left Menu.
Select the Shopping tab (this will only appear if you're channel is eligible for YouTube Shopping), then select Get Started if this the first time you're connecting a retailer to your channel. If not, select Connect New Store + on the product card.
There, you'll see an option for Shopify — click it, then select Go to Shopify. You'll then be redirected to your Shopify account.
In Shopify, add the Google Channel app to your store and follow the onscreen instructions to complete the setup.
Then, from the Google Channel app, select Overview > YouTube Shopping > Get Started.
Almost done! Select the YouTube channel you want to connect to your Shopify account, review the program rules, and select Complete Setup. From here, you can follow any onscreen instructions to begin fine-tuning your YouTube Shopping page and begin selling to your viewers!
3. Draw attention to your merchandise with YouTube Shopping ads
YouTube Shopping ads are a great way to earn valuable impressions and engagements from YouTube's 2.6 billion active users.
YouTube Shopping ads appear to the right of the video player or just below it, depending on the user's device. These video ads are shoppable, allowing users to interact with products being shown within them. When users click on a product they're interested in, they're redirected to your site to complete the purchase or browse additional items.
The biggest appeal of YouTube Shopping ads is that they can help increase brand and product awareness. Whether a user completes a purchase or not, the user now knows about your brand, and it gives you the opening to target those customers with remarketing ads.
Not only that, but users are aware of your brand's presence on YouTube and can view your content and shop all from within the YouTube platform.
Partner with a team of ecommerce masters!
WebFX campaigns have delivered more than 12,936,451 ecommerce transactions in the last 5 years
Read the Case Studies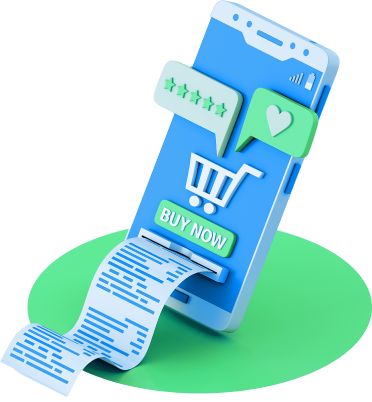 Get started with YouTube Shopping and Shopify with WebFX
Not only is WebFX's digital marketing team experts at social media marketing, but we're highly skilled in ecommerce website building, maintenance, and marketing. And yes, that includes Shopify!
Together, we can do great work for your business. See what we can offer you when you partner with WebFX for ecommerce and social media services today by giving us a call at 888-601-5359 or contacting us online.
How is your website's SEO?
Use our free tool to get your score calculated in under 60 seconds.
Get posts by email
Join 200,000 marketing managers and subscribe to Revenue Weekly!
"*" indicates required fields
WebFX Careers
Join our mission to provide industry-leading digital marketing services to businesses around the globe - all while building your personal knowledge and growing as an individual.