Keeping up with the newest shopping trends is critical to helping you maximize sales for your business. With 56% of people preferring to buy online, more shopping platforms are creating new ways for people to shop from the comfort of their homes — the latest being live shopping.
So, what is live shopping?
On this page, you'll get all the information you need about livestream shopping, including:
And if you need help selling more products online, subscribe to Revenue Weekly to get the latest tips and tricks for marketing your products and increasing sales!
What is live shopping?
So, what is live shopping? This process involves streaming videos of your products and selling them in real-time to people who watch your videos. It's an interactive medium that lets people see what you're selling and buy it as you present the product.
Live shopping has existed for years now, with companies like QVC and HSN running TV shows where people could see their products modeled and call a phone number to order them. Today, those companies live stream their products on YouTube to hundreds of people.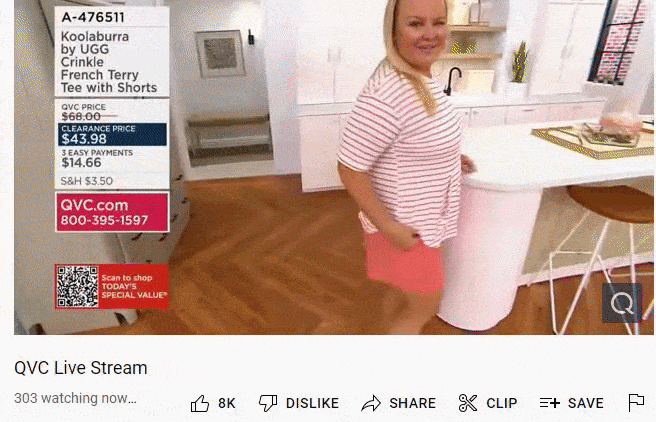 But QVC's style of live shopping is only one of the many ways you can sell products live to consumers. With modern platforms, you can have prospects purchase online without skipping a beat. Keep reading to learn more!
How live streaming shopping works
If you're interested in live stream commerce, you may wonder how it works. How do you sell products live to consumers?
There are three components you need to start shopping live:
1. A platform
After asking, "what is live shopping," many people ask, "where can you do live shopping?" There are numerous platforms where you can do shopping live.
Two popular platforms businesses use to sell online are Facebook and Instagram. Both platforms offer live video features, so many companies will go live on those platforms and sell products to people who follow them.
This option can be tricky because there's no integrated payment plan within live shopping on these platforms. That means you must guide people to your website to purchase products.
In addition to social media platforms, some ecommerce platforms offer online shopping. Amazon, for example, offers Amazon Live, where people can watch someone talk about Amazon products and buy them right from the platform.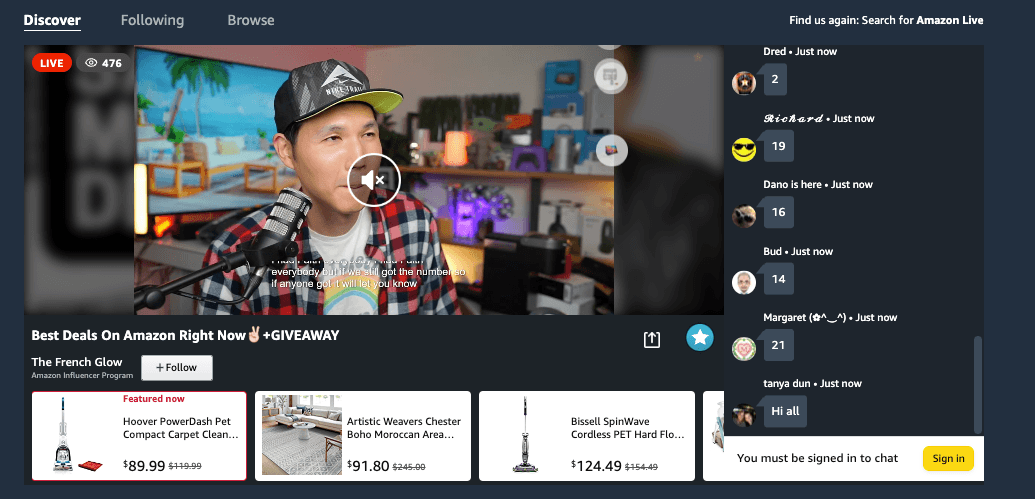 Other big commerce platforms, like eBay, are working on creating live shopping features.
Aside from ecommerce platforms, there are also niche-specific platforms and apps that businesses can use to sell to a specific audience.
WhatNot is a live stream shopping platform that enables businesses to sell collectibles, from comic books to sneakers, in an auction-style format. This app offers a unique experience where prospects participate in a timed auction (usually around 30 seconds) and see the product live as they bid.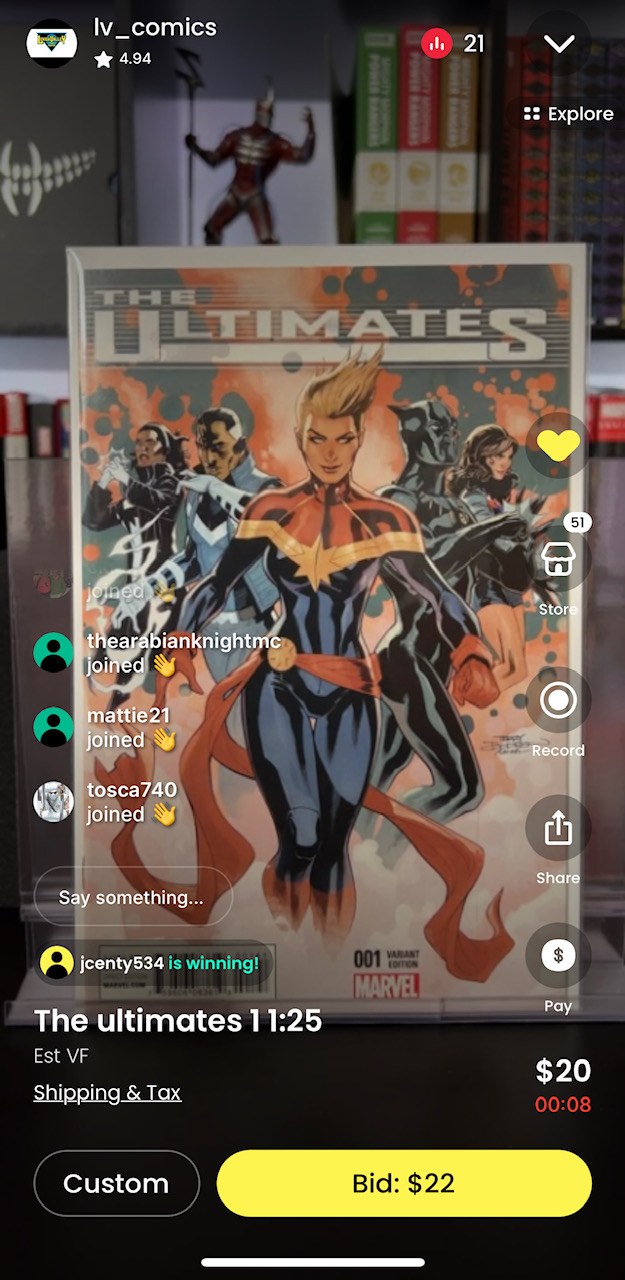 Platforms like this often have an integrated payment system, so you don't need to go to an outside website or different page to make or complete the purchase.
As you can see, there are numerous live shopping platforms you can use to sell your products.
2. Your products
You can't do live stream shopping without products. You need multiple products you want to sell to prospects throughout your show.
What companies choose to sell while live-streaming varies greatly. Companies sell everything from old coins to clothing to patio furniture. What you decide to sell depends on your business and what you feel comfortable selling.
For example, if you have a smaller operation, you may not want to sell bigger items online because of the time and money it costs to ship those items. You may stick to products that aren't as big because it's easier for your small team to manage.
On the other hand, a company with an established manufacturing process may feel comfortable selling items of all sizes because they have a team to handle shipping the item. What you want to sell depends upon your shipping process and what you feel comfortable selling.
In addition to figuring out what you're selling, you must figure out how much you sell for each live show. You want to make a lot of sales, but you must factor in the time it takes to package those orders and ship them out. You need to consider how your volume impacts your output if you have a smaller operation.
3. A host
You know where you want to do shopping live, and you have your products selected. So, what's missing? Someone to host your show!
Since you're selling these products live, you need a host. You need someone to serve as an authority on your products so they can share information about the product as people look at it. Not to mention, you need someone to show all angles of your product and show it in use.
A host is a critical component of live shopping because hosts keep shoppers engaged. If you saw a video with products on the screen and no one talking about them, would you want to buy them? Likely not.
Having a host adds an element of engagement to your live streaming shopping. They keep the pace and flow of the live stream going, get prospects excited about your products, and answer any critical questions.
5 benefits of livestream shopping
We answered questions like "What is live shopping," and "How does live streaming shopping work?" Now it's time to address the next question: What's the benefit of livestream shopping?
Here are five key benefits to know:
1. Live shopping brings the store experience online
One reason people like shopping in-store is for the customer service. If someone has a question about a product, they can easily flag down an employee and ask the question. Live shopping provides a similar experience.
When you showcase products for purchase on your live stream shopping show, people can ask you questions in real-time — and you can answer them live. It makes it easy for you to give prospects the information they need to purchase.
By doing live shopping, you give people the ability to shop online while getting real-time customer service.
2. Live shopping helps build brand recognition
Shopping live is an excellent opportunity for prospects to get to know your brand. When trying to earn loyal customers, you need to get them familiar with your brand. Knowing your brand helps prospects determine if your company is a good fit.
With shopping live, prospects interact with your host and get to know your company. It's a great way to build brand recognition and encourage future interactions and purchases with your brand.
3. Live shopping helps you build connections
Something that's shifted in the retail landscape in the past few years is how people want to interact with companies. People don't want to interact with stiff corporations that don't care about them. They want to buy from companies that build connections and treat them like people, rather than numbers.
With live stream commerce, you build those connections. In fact, 60% of shoppers who had tried live shopping claimed that it improved their online shopping experience.
You enable prospects to interact with your company and have conversations. These prospects can chat with your host as they learn about your products, which helps them connect to your brand. It's a great way to build valuable relationships with prospects that turn them into customers.
4. Live shopping helps you showcase your products better
One of the biggest problems with shopping online is trying to show prospects your products. While photos and videos are a great help, it's not the same as seeing the product in person, which can make people hesitant to buy.
Live stream shopping changes that.
Though it's not the same as being in person, it's the next closest thing. Viewers can see the actual product in its packaging, rather than relying on stock photos. They can also watch the host use the product and see how it works.
This experience helps prospects see if the product is suitable for them and ultimately purchase it.
5. Live shopping helps you earn more sales
A great benefit of live streaming shopping is that you earn more sales. Since you create an interactive environment where people can see your products and how they work, they can better understand what you're offering. They can see all the features and get a good idea of whether it's a good fit for their needs.
As a result, you earn more sales from these live shows because people feel confident in purchasing from you.
What is live shopping? Your new revenue stream
Livestream commerce is an up-and-coming way for you to sell your products to customers in real-time. It's a new revenue stream that can help your business earn more sales and drive revenue that grows your business.
Want to learn more about topics like live shopping? Join 200,000 savvy marketers by subscribing to Revenue Weekly!
WebFX Careers
Join our mission to provide industry-leading digital marketing services to businesses around the globe - all while building your personal knowledge and growing as an individual.