With over 1.8 billion users, YouTube is an excellent platform that provides you with the opportunity to reach users interested in your business. If you don't have a YouTube ecommerce marketing plan in place, you're missing a vital opportunity to reach new leads and increase their familiarity with your brand.
On this page, we'll discuss the three main types of YouTube ads you can run, as well as YouTube ads best practices to help you succeed with your campaign. If your ecommerce business needs help getting started with creating YouTube ads, contact us online or call us today at 888-601-5359 to speak with a strategist.
YouTube for ecommerce: 3 types of YouTube ads you can run
If you want to get starting to YouTube ecommerce marketing, you need to know what kind of ads you can run. Let's look at the three main formats of YouTube advertising.
1. Bumper ads
Bumper ads are the shortest video ad option available for your ecommerce business. These ads only run for six seconds and are not skippable. You'll find these ads at the beginning, middle, or end of YouTube videos.
If you use bumper ads, you'll pay on a cost per mille (CPM) scale. A CPM scale means that you pay when people view your ad, not if they click it or engage with it. Considering bumper ads are non-skippable, you're paying for people who watch the entire six seconds of your ads.
Bumper ads are an excellent option for ecommerce businesses looking to raise product awareness and reach. You can bring more attention to a new product and expose people to products you think would fit their needs.
2. Preroll Ads
Preroll ads are non-skippable ads that appear before, during, and after a YouTube video. They last for 15-20 seconds.
These ads help encourage users to click. Preroll ads run on a pay-per-click (PPC) system, so you only pay when someone clicks on your ad. You want them to engage with your ad content and click on them.
If you use preroll ads, you must make them enjoyable. Since users can't skip them, you want your ad to be compelling and keep their attention, so they don't feel like your ad is invasive or annoying.
Overall, preroll ads are an excellent way for you to get your audience familiar with your products and compel your audience to check them out.
3. Trueview ads
Trueview ads are advertisements on YouTube that can be longer than other ads. There are two types of ads under Trueview.
In-stream ads
In-stream ads are a type of Trueview ad that runs on a PPC scale. These ads can run anywhere from 12 seconds to 3 minutes.
In-stream ads are skippable after five seconds. These ads appear at the start of any YouTube video. People can choose to watch the entire duration of the video, or go to their video when the skip button becomes usable.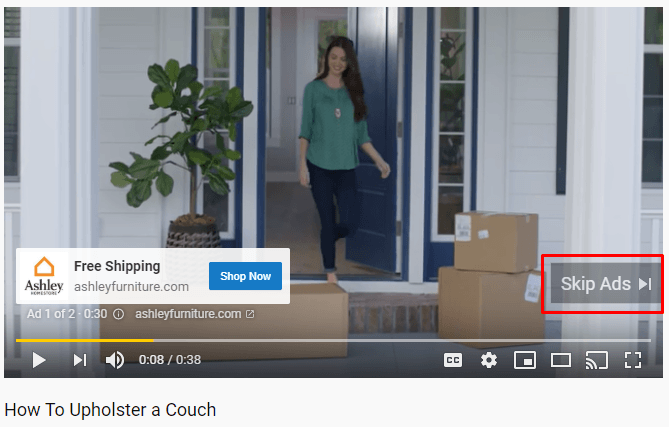 In-stream Trueview ads are valuable for generating sales opportunities. You expose people to your brand and get them interested in your company. It can help you drive traffic to your website, so you gain more interested leads.
Video discovery
The second type of Trueview ad is video discovery ads. These ads appear in search results and sidebar feeds of videos. These ads look just like another YouTube video, except they're tagged with the word "ad."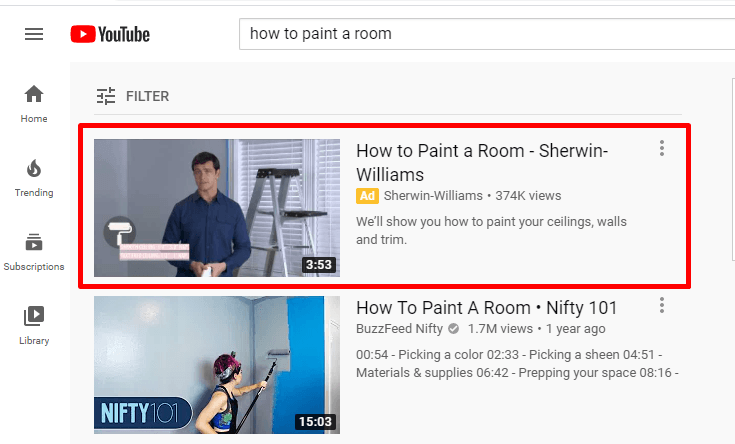 Like in-stream ads, these ads operate on a PPC system. You pay when someone clicks on your ad, which is likely because it blends in with other videos. Your company will pay for the click regardless of whether someone watches the video.
Video discovery ads are great if you want to increase your YouTube channel's visibility and expose people to your products.

Hear What It's Like to Work With WebFX!

"Our WebFX team was on top of everything. Best part is our lead contact felt like she was part of our company. She learned everything about our business so quickly and was able to be very efficient with our brand. Reacting to what we needed or wanted to change, making us feel so comfortable the whole way!"
Retail
YouTube ads best practices: How to create YouTube ads for ecommerce
Now that you know the different types of YouTube ads for ecommerce, it's time to get started with your advertising campaigns. Let's look at five YouTube ads best practices for driving success with ecommerce digital advertising.
1. Know your target audience
Before you launch YouTube ads for ecommerce, you must establish your target audience. You need to know who you're trying to reach with your ads, so you can run successful campaigns.
When you set up your account, you should know the following information about your target audience:
Gender
Age
Interests
Occupation
Buying habits
Struggles/Problems
And more
You need to know your audience, so you can produce YouTube ads that resonate with them. If you aren't familiar with your audiences' wants and needs, you'll miss the mark with your advertising campaign.
2. Highlight your product's benefits immediately
This next tip mostly applies to Trueview ads since they're longer, but it's essential to keep in mind regardless. When you create YouTube ads for ecommerce, you want to highlight your product's benefit(s) immediately.
You need to show the benefit of your product within the first five seconds. With shorter ads, like bumper ads, the benefit should be evident within the six seconds.
It's important to show the benefits of your product right off the bat to keep your audience interested in your ad. If people don't immediately relate to the benefits of your product, they're not going to stick around and watch your ad.
3. Use emotion to make your ads more compelling
Many companies will use emotion to create compelling ad content that gets their audience to take an interest in their products.
You can use humor or sadness to try and appeal to your audience. These are strong emotions that often make ads more compelling. Humorous ads work great for engagement and retention, while sad or emotionally compelling ads can increase brand awareness and remembrance.
Check out Hyundai's advertisement for their new Sonata, for example.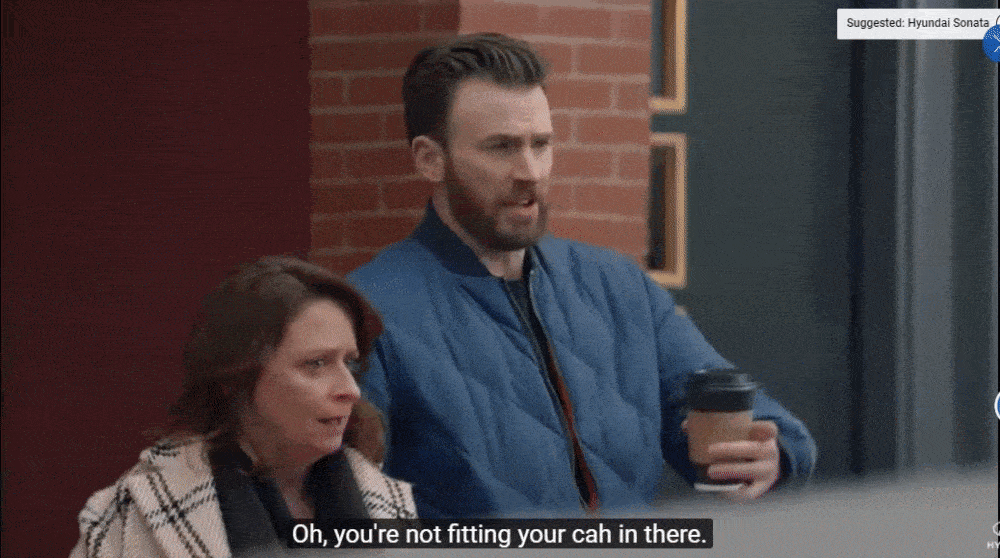 Hyundai used this commercial as a Trueview in-stream ad. Within their ad, they advertise the car's new feature called "Smart Park," where people can get out of the car and let it park itself.
This car company took a humorous approach with their ad by having the actors speak with a Boston accent. So, instead of calling it "Smart Park," they call it "Smaht Pahk" and mimic the Boston accent. It makes the ad fun and humorous, which catches viewers' attention immediately.
If you click on the in-stream ad and visit their page, you'll see that they carry across the theme of the Boston accent. When you visit the landing page, you can choose to view the page "in plain English" or "the Boston way."
This YouTube ad is an excellent example of how to make an ad that appeals to emotion (humor) and create compelling ad copy that hooks in users.
4. Make your ad as visual as possible
This tip may seem obvious, but it's essential, nonetheless. If you want to be successful with YouTube ads for ecommerce, you must make your ads as visual as possible.
Some companies will create video advertisements and fill them with text. Videos are meant to be visual, so it's better to use less text and more images and film. You can, of course, have some text in your ads — matter of fact, text is likely essential to the success of your advertisement. However, focus more on using visuals to highlight your products.
As you focus on visuals, you'll want to ensure that they're high-quality. You don't want to deliver grainy, low-quality photos and film to your audience.
5. Always monitor ad performance
One of the most critical YouTube ads best practices is to monitor your advertising campaign constantly. Many companies make the mistake of launching ads and never returning to them. This practice is a waste of money, as you'll never know if your ads are driving the best results for your business.
You'll want to track metrics, like clicks, views, and time spent watching the video. These metrics can help you understand if your ads are driving results or if you need to make tweaks.
Monitoring also allows you to test your ad formats, ad content, and more. By keeping tabs on your ad's performance, you'll create the most impactful YouTube ads for ecommerce.
Time to Level Up Your Sales
Our long list of services helps you grow every aspect of your business with marketing strategies that are proven to increase bottom-line metrics like revenue and conversions.
In the past 5 years, we've managed more than 12.9 MILLION transactions across our client base.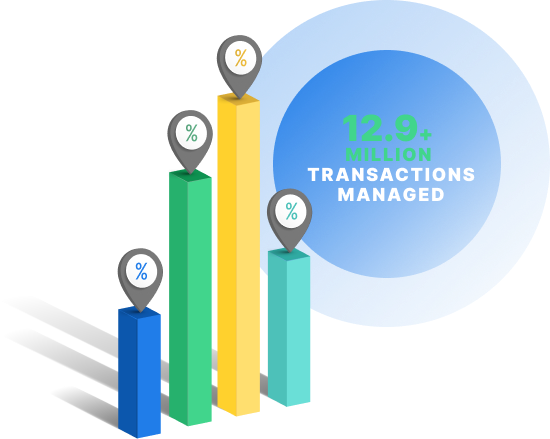 Start creating YouTube ads for ecommerce today
Are you ready to take advantage of YouTube ads for your business? By running YouTube ads, you'll help your company reach more people interested in your products. It's a great way to capture more leads, increase brand awareness, and more.
If you need help with YouTube ads for ecommerce, WebFX is here to help. With over a decade of experience, you can count on us to drive valuable results with your YouTube advertising campaign.
In the past five years, we've driven over $3 billion in sales and over 7.8 million leads for our clients, so you can count on us to help you grow your business through YouTube advertising.
Ready to start? Contact us online or call us today at 888-601-5359 to speak with a strategist.
Earn a 20% greater ROI with WebFX