Usability Testing Tips and Tools (Elsewhere on the Web)

I wrote an article for Mashable that discusses critical factors you should test when conducting website usability evaluations. The factors discussed are: user task analysis, readability, site navigability, accessibility, website speed and user experience. Each factor includes tips and strategies for testing, as well as some suggestions of affordable tools you can use to conduct usability analysis.
Here's a short except from the post:
Testing usability is an art and a science. There are many times when usability testers rely on qualitative measurements, intuition, opinions and feedback from users and experience. However, there are also factors you can test quantitatively to ensure that a site is usable. In this post, we'll discuss six crucial factors that affect usability. For each, you'll be provided with some tips, tools and ideas on how you can measure these usability factors.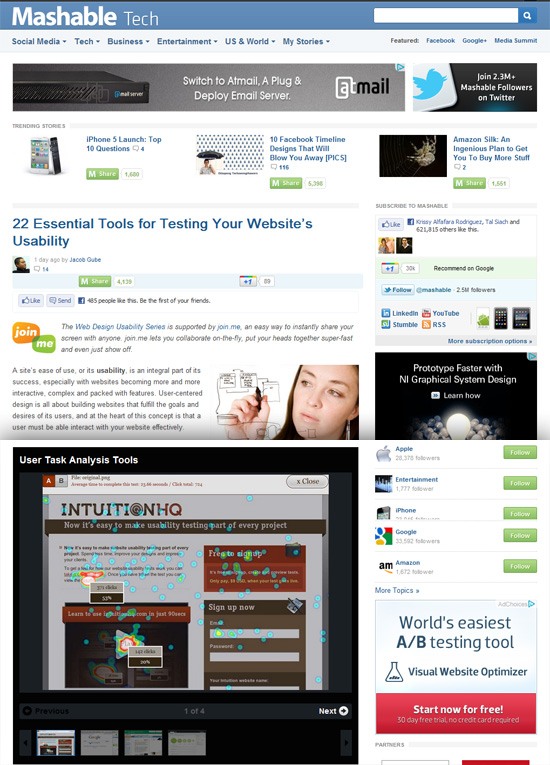 If you enjoyed the post, please consider showing your support and appreciation by sharing it on your social networks (Twitter, Facebook, etc.). Thank you!
Also, you may want to check out my other writings on Mashable and also follow the Six Revisions Mashable profile.
I sincerely hope the post helps you in your usability testing process, whether you're just starting out in user testing or if you already have an existing methodology that was improved by reading the article.
Below is the link to my article on Mashable:
22 Essential Tools for Testing Your Website's Usability
Related Content