Industry-Leading Account-Based Marketing Agency
Companies in the business-to-business (B2B) industry looking to take advantage of account-based marketing (ABM) partner with the best ABM marketing agencies, including WebFX. With a team of more than 500digital marketing specialists, plus some of the industry's most advanced artificial intelligence (AI) technology, we are the trusted ABM agency partner of small and midsized businesses worldwide.
Secure your next client with the power of ABM and WebFX
Whether you're looking to land a high-value account or secure the continued business of a current client, WebFX can help. With decades of industry experience, plus an impressive client recommendation score (it's 488% higher than the industry average), we provide what you need to succeed.
With a competitive strategy, developed by your dedicated account manager with years of industry-specific data, your business can compete with competitors, achieve its most ambitious goals, and secure some of the most valuable accounts in your industry.
Learn how our custom data-driven strategies can grow your business by contacting us online today. Or, call 888-601-5359 to speak with an experienced strategist about your company and goals for account-based marketing.
Partnering with our account-based marketing agency
Choose our account-based marketing agency, and you provide your business with an unmatched client experience. From our customized strategies to our knowledgeable account managers, you receive a seamless experience, as well as the results your company's decision-makers demand.
Get a preview of what our account-based marketing services include:
Deliverables
In-depth target analysis
As one of the industry's leading ABM marketing agencies, we recognize the critical role of your target account. It's the backbone of your strategy, which is why our team invests a significant amount of time researching and analyzing your target account.
Our in-depth target analysis includes the following research:
Company size
Company decision-makers
Company expectations and requirements for your service or product
Following your account manager's assessment, they can begin building profiles and strategies for your business. Depending on their research, your account manager may develop a multi-pronged approach, allowing your company to reach decision-makers in different phases of the buying funnel.
Competitor evaluation
The most valuable accounts come with a tremendous amount of competition. That's why our dedicated account managers adopt a proactive, rather than reactive approach to account-based marketing. They research your competitors, determining which businesses are chasing your target account.
As a part of their research, they evaluate the following factors of your competitors:
Budget
Strategy
Management (in-house or outsourced)
With your account manager, you can review how competitors are targeting a potential client. For your account manager, this information provides incredible insight, allowing them to go after the weaknesses (and overcome the strengths) of your competitor's campaign.
Data-driven decisions
For our ABM company, data plays a critical role. Combined with the expertise of our award-winning team, it provides valuable information that eliminates the risk of biased decisions. We guide our strategies with data, rather than hunches.
That's why our clients have earned more than $3 billion in revenue in the past five years.
When you partner with WebFX, you can expect your account manager to leverage their experience, plus industry-specific data. With the AI-power of IBM Watson, plus MarketingCloudFX, our client-exclusive and proprietary software, we can obtain actionable insights for building and improving your strategy.
As one of the leading account-based marketing agencies, we have access to billions of data points from a variety of industries. This vast data bank provides your team and company decision-makers confidence in the accuracy and value of our recommendations.
Customized strategies
A copy-and-paste approach doesn't work in ABM marketing — or any other digital marketing strategy. That's why your dedicated account manager creates a plan tailored to your business. They consider the unique features of your industry, product or service, and target account to build your campaign.
When building your strategy, your dedicated account manager answers the following questions:
Where is each decision-maker in the buying funnel?
What makes our product or service attractive to decision-makers?
What questions or challenges do we need to answer or resolve for decision-makers?
Which channels should our strategy target?
How much should we invest in paid channels?
How can we develop a stronger campaign than competitors?
With a personalized strategy, your business can launch a competitive campaign that can change your company. From securing a high-value account to maintaining the loyalty of a client, you can partner with our account-based marketing agency to generate real, tangible revenue for your business.
Even better, you can combine and coordinate your digital marketing strategies when you partner with WebFX. We're a full-service digital marketing agency as well as an ABM company, so we provide all the services your company needs to maximize the revenue, awareness, and loyalty generated by your online presence.
Measurable results
Partner with our account-based marketing agency, and you can expect routine check-ins and regular reports from your dedicated account manager. With our commitment to transparency, we make it easy for your team and company to track and monitor the progress of your strategy.
Plus, MarketingCloudFX allows your businesses to view the performance and results of your account-based marketing campaign 24/7. It's accessible via desktop, as well as a mobile app, which allows your team to access your account on-the-go.
When you partner with WebFX, you can also expect your dedicated account manager to set measurable goals for your campaign. This additional step allows our team (and yours) to measure not only the results of your strategy but also the performance of our team.
As a preview, explore the results we've driven for our clients in the past five years:
More than $3 billion in revenue
More than 12.9 million managed transactions
More than 5.2 million phone calls
More than 7.8 million leads
This data is only part of what our account-based marketing agency does for clients. The results we drive allow businesses to grow, like by expanding into new areas, contributing to local communities, hiring new team members, and more.
With WebFX, you can create an immense and positive change in your business.
Impressive ROI
When you invest in account-based marketing, your business expects a return on investment (ROI). As your ABM marketing agency, we measure our success by your successes. That's why we focus on not only driving revenue but also a substantial ROI for your business.
Already, account-based marketing drives a significant ROI. Around 97 percent of marketers state that ABM marketing provides a higher ROI than other marketing strategies. This fact, combined with our expertise, allows us to amplify the results of account-based marketing for your business.
Advanced AI technology
For account-based marketing companies, technology is critical. WebFX offers your business access to some of the best marketing software available. In addition to leveraging the power of IBM Watson, one of the most advanced machine learning and AI platforms, we also developed MarketingCloudFX.
MarketingCloudFX is our client-exclusive marketing suite and includes:
LeadManagerFX, to track and manage offline and online leads
CallTrackerFX, to monitor phone calls, voicemails, and more
ContentAnalyticsFX, to develop user-friendly and revenue-generating content
PredictionGeniusFX, to make data-driven decisions on future strategy moves
CompetitorSpyFX, to track and monitor the movements of top competitors
CompanyTrackerFX, to discover competitors evaluating your business
LeadNurtureFX, to reach and reengage valuable leads
ReviewBoostFX, to monitor and encourage online reviews
VisitorRecorderFX, to gain insight into how users interact with your site
CPLdashboardFX, to make lead generation costs transparent
PersonalizeFX, to create a custom experience for high-value users
With MarketingCloudFX, your company gains immediate access to some of the industry's most innovative tools. Plus, you receive insight into the movements of your target audience, which can inform your strategy. Even better, you have the tools to personalize your campaign to key decision-makers.
The best part is that you don't have to do anything to use these tools. Your account manager can take care of leveraging this technology for your business, like by enabling PersonalizeFX to help your company create an unparalleled experience for the decision-makers of a target account.
WebFX is a partner businesses trust.
Hear from HydroWorx, who saw a 236% increase in organic sessions with WebFX services.
Watch the Video Testimonial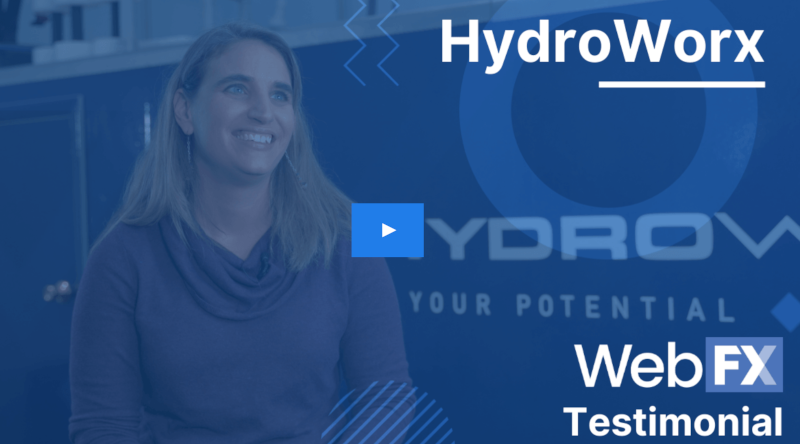 Why Businesses Choose WebFX as Their ABM Marketing Agency
Companies decide to partner with WebFX as their ABM agency for a variety of reasons. As one of the best ABM marketing agencies for midsized businesses, we provide not only competitive campaigns but also an effortless client experience. It's easy to work with our team because we serve as an extension of yours.
Learn more about why businesses choose WebFX:
Experience
With more than 25 years of history, WebFX is one of the most experienced account-based marketing agencies in the industry. When you partner with WebFX, you choose an established company that you can count on to achieve your goals.
Technology
MarketingCloudFX offers your business unprecedented insight into the performance of your marketing strategies, from account-based marketing to search engine optimization (SEO). With this platform, you can convey the power and performance of marketing to tough-to-please company decision-makers.
Developing MarketingCloudFX in-house, versus relying on a third-party provider, lets us provide consistent prices to our clients too. You don't have to worry about a sudden spike in service rates, due to a third-party provider increasing theirs, which is a risk with other ABM marketing companies.
Talent
We feature one of the most experienced teams in the industry. With more than 500 digital marketing specialists, plus a dedicated copywriting, web design, and web development team, we can provide everything your company needs to launch a successful account-based marketing strategy.
Your business can also expect a seamless experience when collaborating with our team.
We provide you with a dedicated account manager, plus maintain low employee turnover rates. That means your team works with the same members continually, removing the frustration of moving between staff that knows nothing about your business, account, or goals.
Testimonials
Explore our more than 1020 testimonials, as well as hundreds of reviews, and you can see that WebFX is a different kind of account-based marketing company. It's effortless to work with our team, plus we build a level of trust that other agencies can't match.
The experiences and results we offer are why our client retention rate is 91%. It's also why our client recommendation score beats the industry average by more than 488%. Like your business, we're unique, which makes us a favorite of companies worldwide.
Results
For your business, as well as your team, it's critical to see results from account-based marketing. We make tracking, monitoring, and sharing your strategy results easy. With MarketingCloudFX, plus our routine reports, you and your company's decision-makers can see the impact of your investment.
Services
With WebFX, you can receive all the digital marketing services you need. As a full-service digital marketing agency that specializes in account-based marketing, we can handle every aspect of promoting your business to a target account.
For example, if your company uses content marketing in your campaign, we can develop, create, and publish the content. Or, if your account manager recommends a pay-per-click (PPC) advertising campaign, we can design your ads, landing pages, and more.
We provide everything your business needs to launch a successful account-based marketing strategy.
Ready to Grow? Get your FREE Quote Today!
"We measure our success by how much we WOW our clients."

Bill Craig
WebFX President
FAQs about ABM marketing agencies
Do you have questions about account-based marketing agencies? Browse our FAQ:
1. What is account-based marketing?
Account-based marketing targets specific accounts for conversion. In most cases, account-based marketing focuses on promoting your business to certain individuals, like decision-makers at a company. It uses advanced technology and data to create personalized campaigns and marketing materials.
2. What do account-based marketing agencies do?
When you partner with an ABM marketing agency, they provide your business with a tailored strategy for reaching and converting your target account. While every ABM company varies, many include strategy development and management with their services.
Leading agencies, like WebFX, provide additional deliverables to maximize the success of your campaign. For example, we conduct a competitor and target account analysis. We also reference years of industry-specific data to improve the quality and performance of your strategy.
Before you partner with an account-based marketing company, review what their services include. When you take this proactive step, you ensure your business partners with the best ABM agency for your company. Plus, you save your team from taking on responsibilities and tasks you don't have time to handle.
3. Why partner with an ABM marketing agency?
Companies decide to work with an ABM marketing agency for several reasons, including:
They don't have the expertise to develop a campaign
They don't have the time to manage a campaign
They don't have the technology to build a competitive strategy
They don't have the budget to hire an ABM marketing specialist
For many businesses, account-based marketing companies offer an unbeatable advantage.
They save your internal team time, allowing your in-house marketing staff to work on high-priority tasks that require their specific skillset. Plus, they bring a level of expertise that would need months (or even years) of recruitment to obtain.
In addition, with an account-based marketing agency like WebFX, you have access to more than 200 digital marketing specialists. It's an immense advantage that outweighs the benefits of recruiting and hiring someone in-house.
Technology is also another problem that account-based marketing companies solve for businesses. With WebFX, for example, you have access to our marketing software suite. You don't have to worry about researching or budgeting for a software application because we include it for free with your services.
In short, it's easier to partner with an ABM marketing agency than manage a campaign in-house.
4. What do account-based marketing services include?
Every account-based marketing agency varies, which is why service deliverables can differ. If you want an effortless and hassle-free experience, look for a company that offers an all-inclusive experience. They take care of everything, allowing your team to focus on other projects.
A few examples of service deliverables to look for from an agency include:
Competitor evaluation
Account analysis
Strategy development, launch, and management
It's also helpful if your account-based marketing company offers marketing software. With this kind of software, like MarketingCloudFX, your team can monitor and track the performance of your campaign. You also make sharing your campaign's results with key decision-makers in your company quick.
This streamlined experience can make earning company support for ABM marketing easy.
5. How much do account-based marketing agencies cost?
The cost of professional account-based marketing services varies widely. Service rates depend on several factors, including the agency's experience and the campaign's complexity. That's why many account-based marketing companies provide quotes, rather than publish a flat-rate online.
If you're researching account-based marketing agencies for your business, create a list of potential agencies. Next, narrow that list to your top choices. Then, contact each agency and request a quote for your business.
While this process can take time, it provides your business with an accurate estimate of what you may pay for account-based marketing. With these quotes, your team can then develop and pitch an appropriate ABM marketing budget to your company's decision-makers.
It's important to mention that account-based marketing differs from other marketing strategies. With other techniques, many businesses start with a budget and then build their plan around that number. ABM marketing, however, requires a different approach.
You need to research the potential value of an account, and then decide how much you should spend to secure that account. An account-based marketing agency can take care of this research for you, providing you with an estimate for launching, developing, and managing your campaign.
6. How can you find a trusted account-based marketing agency?
With more than 60 percent of B2B marketers planning to use account-based marketing, more agencies will start to become available. This growth comes with a risk, however. It makes way for low-quality agencies, which often lure customers by promoting "cheap" rates.
Ensure your business partners with a trusted and reputable agency by looking for the following:
A substantial number of reviews
A portfolio with numerous examples
A history in the marketing industry
For many businesses, it's helpful to mention that the price shouldn't serve as the deciding factor in your decision. While price can help narrow your choices, it's dangerous to use cost as the only reason for choosing an account-based marketing agency.
In most cases, agencies with a higher level of service, client support, and results come at higher prices. While the upfront investment is more, your potential ROI also increases. Plus, your company only has one chance to secure the business of an account.
If you want to get the most from ABM marketing, invest in a top account-based marketing agency
ABM Marketing Plans From WebFX
Browse our ABM marketing plans to learn more about what our services include and what they cost
Features
Basic
Current Clients Only
Aggressive
Current Clients Only
Market Leader
Current Clients Only
Initial Campaign Development and Strategy
LinkedIn
Company Size, Industry, Job Title, Job Function, etc
LinkedIn
Targeting of Existing Contact Lists (emails and phone numbers)
LinkedIn
CompanyTrackerFX Site Visit Targeting
LinkedIn
Wish-List Account Targeting
LinkedIn
Site Visit LinkedIn Retargeting
Google Ads Retargeting
of LinkedIn Company Visits (starts in month 3)
Google Ads
Similar audience target development for those visiting your site through account-based targeting strategies
Google Ads
Custom in-market segments developed for target industries
Google Ads
Competitor Interest-Based Display Targeting
Bing Audience Targeting
Professional User Profile Targeting
Lead Nuturing Strategy for Account-Based Marketing Leads
Creative Development for Ads and Long-Term SEO Account Targeting
Initial LinkedIn Sponsored Content Ads (up to 4)
Additional LinkedIn Ads
Additional One-Time Creative
Additional One-Time Creative
Additional One-Time Creative
LinkedIn Lead Form Ad Included
Initial Display Ad Development for Google Audience Targeting
Additional Display Ad Development (up to 4) (created every 6 months)
Google Analytics & MarketingCloudFX Integration & Goal Tracking
MarketingCloudFX (MCFX) Software Installation, Access, and Training
MarketingCloudFX Competitor Intelligence Monitoring
MarketingCloudFX Lead Tracking (Calls and Forms)
MarketingCloudFX CompanyTrackerFX Visit Reporting
Results analysis/reporting with Google Analytics and MCFX for ROI
Ongoing Industry Analysis and Monthly Strategy Development
Ad Campaign Copywriting and Strategy Development
Single Account Representative
Personal Consultation Per Month
1 Consultation
Up to 2 Consultations
Up to 4 Consultations
Up to 100 web lead phone calls tracked per month (Included for all WebFX clients)
*Additional call tracking over 100 calls
Custom Quote
Custom Quote
Custom Quote
Up to 25 web lead phone calls transcribed per month
Monitoring clicks, conversions and click fraud activity
Monthly performance & analysis reporting
500+ SMEs behind campaign driving results
Initial ABM Campaign Investment (1-Month Duration)
$2,500
$2,800
+12% of ad spend
Ad Network Monthly Spend
$850 – $2,500
$2,500 – $ 5,000
$ 5,001+
Progressive Monthly Management Cost (6-Month Commitment, Subsequent 5 Months)
$525
$650
$225/mo. +12% of ad spend
Need more information? Call Us: 888-601-5359
GET STARTED
GET STARTED
GET STARTED
Work with the best account-based marketing company
With a client retention rate of more than 91%, WebFX is a trusted partner of businesses everywhere. In the past five years, we've helped our clients generate more than $3 billion in revenue, as well as more than 7.8 million, demonstrating the power of our custom data-driven strategies.
Start growing your business with ABM marketing by contacting us online or calling us at 888-601-5359!
Learn more about ABM pricing, services, & industry tips!