Native Advertising vs. Display Advertising
There are two challenges to advertising online. One is getting people to notice your ad, an increasingly tough challenge as consumers become more immune to ads. The second is getting the best return on investment on those ads.
However, as the Internet marketing industry continues to evolve, another challenge has become increasingly difficult: Choosing between the many channels available to your business. Display advertising, for instance, has been a popular option since the early days of the internet. Another one, native advertising, is new and still growing in popularity.
Where display ads are obvious promotions that appear on a web page, native ads are subtler. They look and feel like other content on a page, but the objective is to generate brand awareness and possibly site traffic.
Keep reading to learn more about the similarities and differences between native advertising and display, and to learn how to make the best choice for your next campaign. You can also give us a call at 888-601-5359 to speak with a strategist.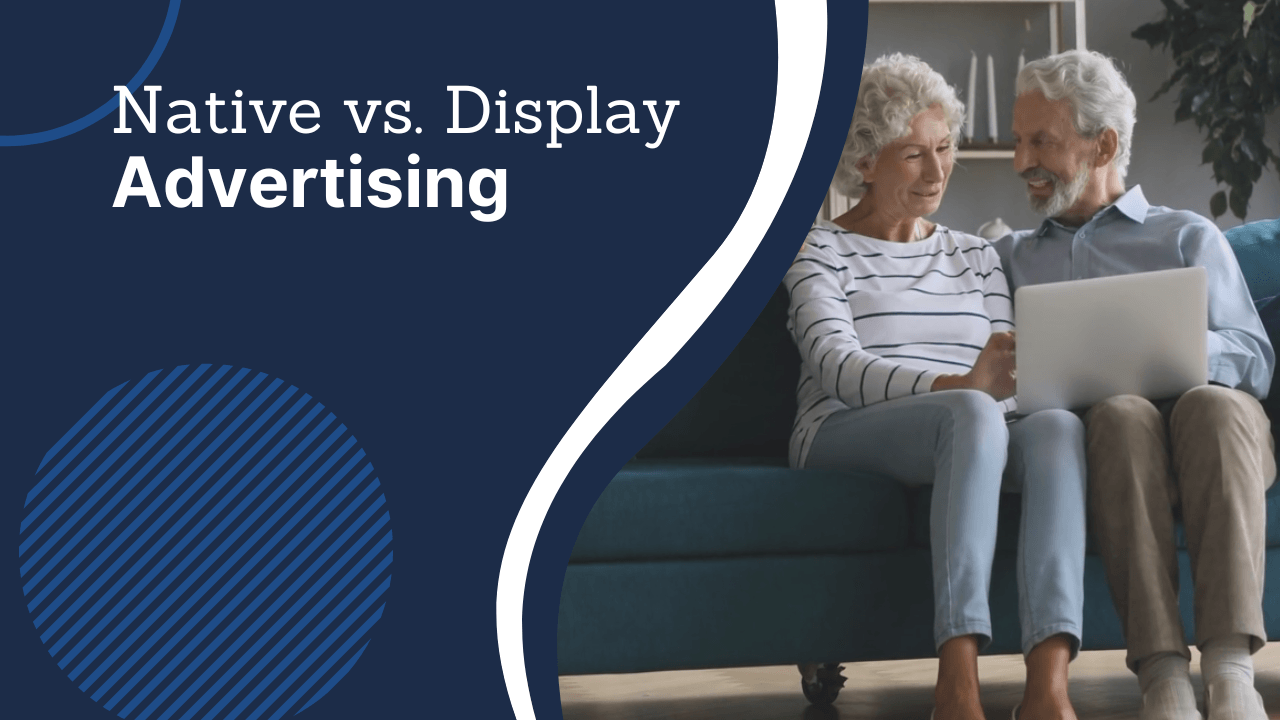 What is display advertising?
When you visit a website, you may see a banner ad at the top of the page or smaller ads next to the main content. These are display ads. They show up based on several criteria, including how much the advertiser paid for the spot, the content's relevance to the website and its audience, and whether you've had any interactions in the past.
Many companies use display ads because they're relatively inexpensive, they're a familiar form of online advertising, and they leave ample room for a company to gain visibility and reinforce its brand. They can be designed to fit your campaign's goals, and some platforms allow you to add video and other multimedia to help them stand out on the page.
On the other hand, the popularity of display ads can be a bad thing. Since so many advertisers use them, there's lots of competition for ad space on certain sites, which drives the costs up. And even if you earn a spot, your ad might be ignored by the people who see it.
What is native advertising?
Have you ever read an article or an infographic that looked like it belonged on the site but seemed to favor a particular product, or featured a company logo? If so, you were most likely viewing a native advertisement.
Instead of looking like a traditional ad, native ads mirror the tone, style and format of the site's content. They also include terms like "Sponsored" or "Promoted" to distinguish it from editorial content.
Advocates of native advertising will point to the higher level of creativity and lower level of intrusion. A good native ad will seamlessly fit into a website, attracting visitors by cleverly mimicking the tone and style they expect from the site without interrupting the flow of the content. In fact, a study by IAB and Edelman showed 54 percent of respondents looked favorably on the site if the native ad is relevant to the site's content.
On the other hand, this strategy can backfire. While most people look at them in a positive light, some consumers and businesses might feel tricked if they're reading content that ultimately turns out to be advertising. What's more, if the ad isn't clearly presented as an ad, it could be flagged by the FTC and search engines as unlawful—thus undermining the ad's effectiveness and your overall marketing plan.
Which is more effective: Native advertising vs. display?

There's been a debate over the last few years about whether display ads or native ads are better—and some marketers even wonder whether native will overtake and eventually make display ads obsolete. This is doubtful. For one thing, a similar debate occurred in print, when advertorials were published alongside traditional ads. Neither option saw a major loss. What's more, display ads are suited for some campaigns, while native ads make more sense for others.
Display ads are the better choice for your campaign if:
Your target market visits several sites that don't have common formats or editorial styles and don't feature the same kinds of content
You want to take advantage of ad networks, which make the process of placing ads on multiple sites quicker and easier
You're trying to reach multiple market segments that don't go to the same online destinations
The primary goal of your campaign is retargeting
You want to test and optimize your ads for better performance going forward.
On the other hand, native ads will probably work better if:
You want to implement a clever and creative marketing campaign
You know your target audience can be found on a handful of sites and, as a result, the same native ad would reach them all
You want to mitigate the risk of your display ads being ignored by potential customers
Part of your marketing strategy involves increasing loyalty to your brand
You want people to share the content with their friends and colleagues
Of course, there's no reason you can't employ both tactics in your strategy. Just make sure you understand the benefits and pitfalls of both before choosing.
WebFX is a partner businesses trust.
Hear from HydroWorx, who saw a 236% increase in organic sessions with WebFX services.
Watch the Video Testimonial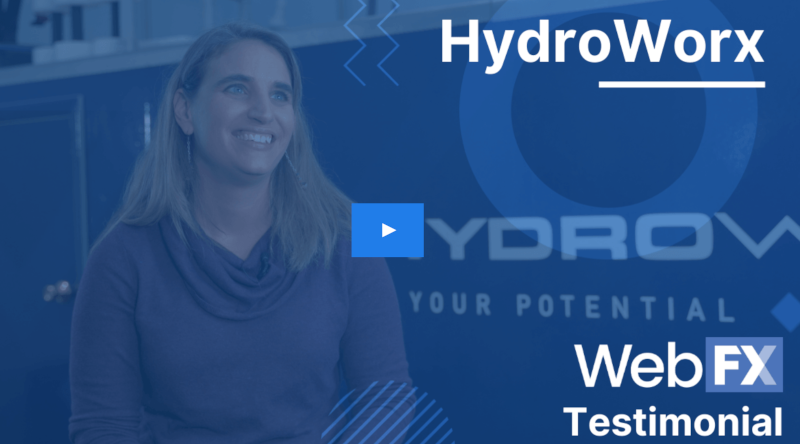 Want to run native or display ad campaigns?
Native advertising has taken off in the last few years, and the results make a great case for incorporating them into your marketing strategy. However, there's still a place or display ads. It's up to you to decide which option is best for your next campaign—and to make sure you have the right team to carry out the campaign for you.
If you're ready to use native or display ads, or would like some guidance in determining which is better suited to your company's goals, don't hesitate to contact us! Our talented Internet marketing team has experience with both types, and our strategists are more than happy to discuss how they can fit into your marketing strategy.