What Is Programmatic Marketing? (Definition, Benefits & More)
Programmatic marketing is the automated purchase of ad inventory in real-time. Programmatic marketing is also known as programmatic advertising, and it's available for desktop, mobile, video, and app ads.
The digital world offers countless opportunities to reach your target market. And as it continues to evolve and change, new methods are constantly improving how you can use your marketing budget to engage new customers.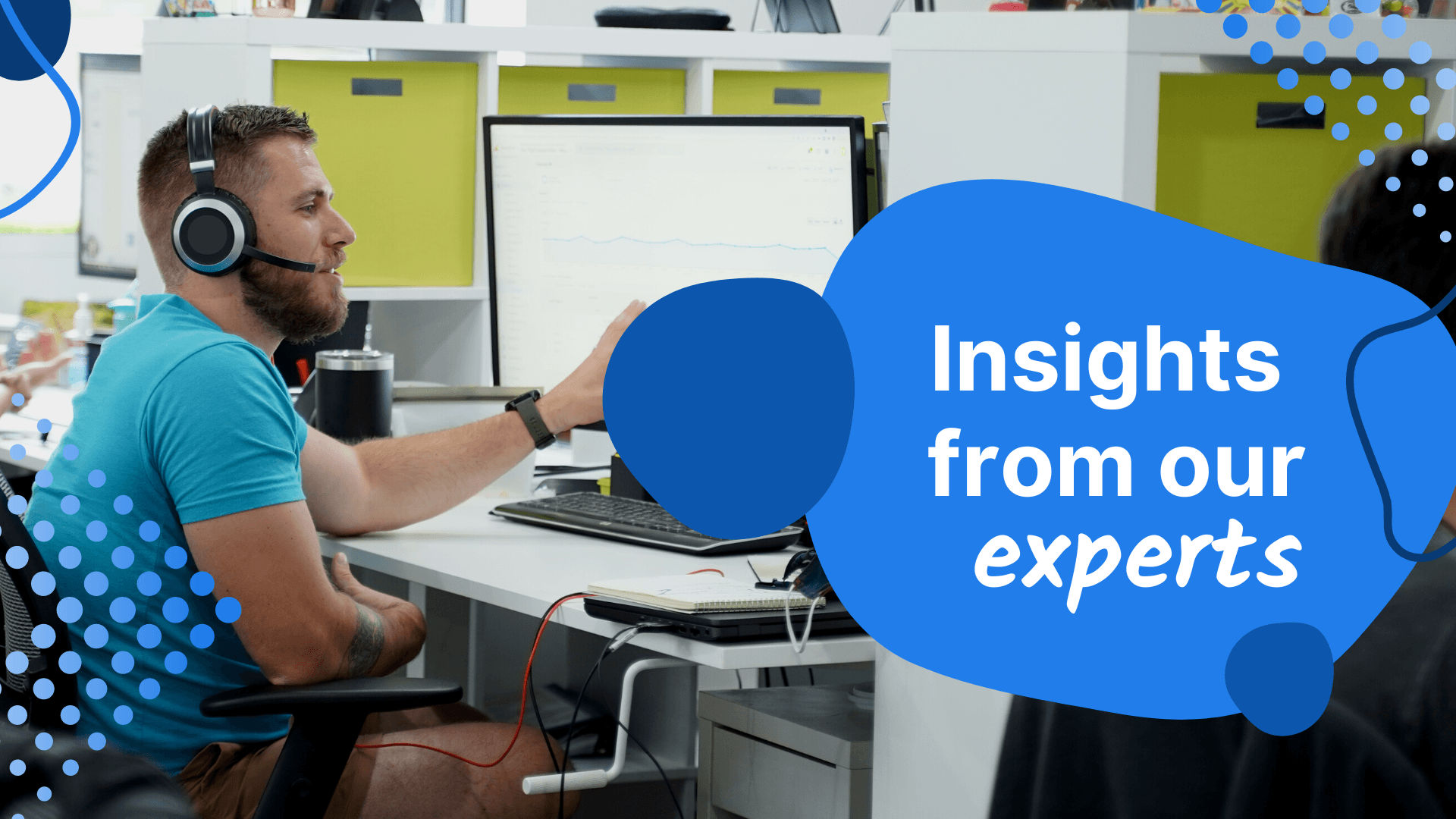 One of the most impactful developments in digital marketing is programmatic marketing. A programmatic marketing strategy enables you to target specific customers on a certain page they are visiting.
So, what is programmatic marketing, and how does it work? And what benefits could it have for your company? Keep reading to learn all about the programmatic marketing definition and its potential impact on your organization's bottom line!
Want to get started with programmatic advertising? Call us today at 888-601-5359 to speak with a strategist about programmatic services from WebFX, or keep reading to learn more about programmatic marketing.
What is programmatic marketing?
Programmatic marketing is an advanced marketing strategy that uses an automated, real-time bidding process that purchases ad inventory for you, allowing you to advertise to specific users in specific contexts, which results in hyper-targeted, super-effective ads.
How does programmatic marketing work?
So, now that you know the answer to the question "what is programmatic marketing," let's explore how it works in more detail.
When a visitor enters a page set up for programmatic advertising, the marketplace for programmatic marketing puts up an auction for interested companies to bid on putting an advertisement on this page. This is also known as an ad impression auction.
If the individual entering the page falls into a company's target market, the company is entered into the auction. Many advertisers will compete for this ad position, but only one company can win the spot. The company that bids the most money wins the position, and its ad will appear on the page.
The most important part about this process is that it is automated. It may seem like this takes place over a few minutes, but it happens in milliseconds. The winner of the auction is determined before the page loads for the user.
This happens because companies set their maximum bid ahead of time. They set the amount they want to pay, as do their competitors. When an advertising spot becomes available, the bids are compared and calculated for businesses that qualify for the spot.
The company's ad will appear on the page when it loads. The ad may only make an impression on the individual user, but it is still valuable. There is also a good chance that, due to it being relevant content, the person will click on the advertisement.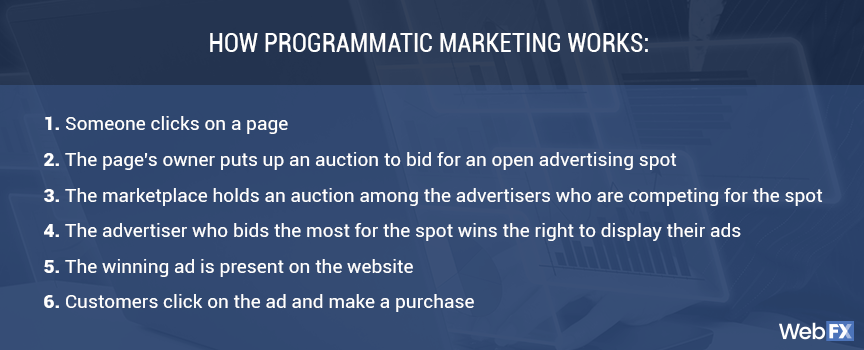 This may seem like a confusing process, but it is an easy process that happens in milliseconds. Here is a simplified version of the steps that explain how programmatic marketing works.
Someone clicks on a page.
The page's owner puts up an auction to bid for an open advertising spot.
The marketplace holds an auction among the advertisers who are competing for the spot.
The advertiser who bids the most for the spot wins the right to display their ads.
The winning ad is present on the website.
Customers click on the ad and make a purchase.
Learn More About Programmatic Marketing
Benefits of programmatic marketing
Now you the programmatic marketing definition and how programmatic advertising works. But how can it help your business increase sales and revenue?
There are numerous benefits your business will receive from a programmatic marketing strategy, including: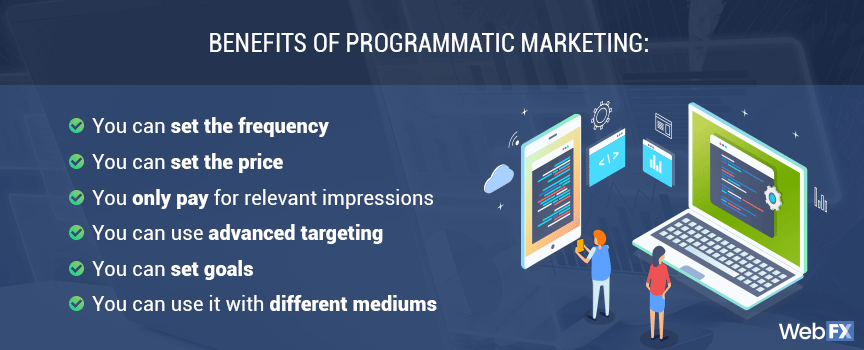 1. Set the frequency
When you set up your bid, you can set the frequency and time. If you know that the people you want to reach typically browse the Internet during the day, you can tailor your campaign so that you only bid for advertising spots that fit your qualifications.
This is a great benefit for your business because it enables you to focus even more on your target market. You can reach them at the precise time of day that they will be online.
It also prevents you from wasting money. You won't be putting money towards ads that the people in your target market won't see. This enables you to put your money towards reaching your target market better.
2. Set the price
Another benefit of programmatic ads is that you can set the amount you want to pay. Just like pay-per-click (PPC) advertising, you set a maximum bid that are you willing to pay.
The ability to set a bid makes your programmatic marketing strategy a flexible option for your business, since you choose exactly how much you pay.
When you can set the price, you can have better control over your advertising budget overall.
3. Relevant impressions
With programmatic advertising, you only pay for relevant impressions. You aren't creating a blanket campaign where you hope to reach some people in your target market. This method enables you to only get relevant impressions.

You can set up the minimum number of impressions you want to receive. This helps to ensure that you are achieving the goals of your campaign.
When you only pay for relevant impressions, you're investing money in reaching people that are most likely to covert. This enables you to gain a better return on investment (ROI) for your business.
4. Advanced targeting
Programmatic marketing enables you to target a specific audience.
It's an effective way to market because you can figure out what kind of content resonates with your audience. You'll be able to see what content gets people to click on your ad, and which content makes a positive impression on your audience.
You can also create a better user experience with programmatic ads. Since you are utilizing tailored ads to reach these customers, they are more likely to click on the ad. The ads are directed towards people who are most likely to convert, so you are able to better target your market.
5. Set goals
Programmatic ads enable you to set goals. You aren't just putting your advertisements in front of people hoping they will convert. Instead, you can choose a specific goal you want to achieve.
Once you have the goal, you can target specific people who will help you fulfill that goal. Your goal can be anything from brand recognition to conversion. The ability to set various goals makes this a versatile option.
6. You can use it with different mediums
Programmatic marketing is versatile in many ways. One of the most favorable options is the ability to use programmatic advertising on different mediums.

You can use it on desktop, mobile, videos, or apps. This makes programmatic marketing a great option because you can tailor your ads to the medium that fits best.
If you know more of your target market will conduct searches and browse on mobile, you can tailor your advertisements in order to reach them best. This allows you to reach people through the medium your audience uses the most.
Partner with a team of ecommerce masters!
WebFX campaigns have delivered more than 12,936,451 ecommerce transactions in the last 5 years
Read the Case Studies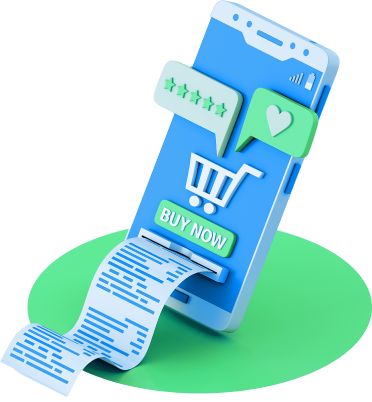 What is the future of programmatic marketing?
No matter the size of your business, programmatic marketing shows significant potential. Companies already invest $60 million on programmatic advertising annually — and that number continues to increase, demonstrating the power and impact of programmatic marketing on advertising strategies.
If you want to enhance your online ad strategy, go ahead and try programmatic advertising.
While you can start the process in-house, you can expedite it with the help of a programmatic service provider, like WebFX. With our experienced team of more than 500 ad specialists, we can help you create, launch, and manage your campaigns.
Tips for programmatic marketing
If you are thinking about using programmatic marketing, you may be wondering if it's the right choice for you. Will it fit into your marketing plan? What opportunities are available with your campaign.
Here our some suggestions from our company.
If you aren't using some form of display marketing, this is a great opportunity to do that. Display marketing can drive new leads for your business. If you haven't used display marketing yet, this is an opportunity for you to bring in new leads and build your brand awareness.
You can use this as a budget-friendly option. If you want to reach more leads, but you have a tight budget, this is an option that won't break the bank for your company. You can reach new leads and do it in a cost-effective way.
If you want to advertise on social media, this is an option for your business. You can use sites like LinkedIn and Facebook to target people in your audience. Remarketing on these sites brings success for many companies.
Use a tracking feature that enables you to see who visits your site the most. This will give you a good idea of who is interested in your business. Then, with this information, you can use programmatic marketing to reach these people and get them to convert.
WebFX knows programmatic digital marketing
If you're ready to start using programmatic digital marketing, look no further than WebFX. We're a full-service digital marketing company with experience in creating programmatic campaigns.
Our team of 500+ experts will bring their knowledge and experience to your campaign. You'll get a customized plan to fit your business' needs and goals.
We are driven to bring our clients' success. In just the past five years, we've driven over $3 billion in revenue and over 7.8 million leads for our clients. We put our clients' success first and work to earn them the best possible results.
Our clients love the work we do, too. We have over 1020 client testimonials from a variety of industries. Check them out to see what it's like to partner with us!
Get started with programmatic marketing today
Programmatic marketing is a great opportunity for your business. If you want to learn more about how you can use programmatic advertising, contact us online or call our programmatic advertising agency today at 888-601-5359 to speak with a strategist.
We look forward to hearing from you!