8 Considerations When You Hire an Online Marketing Specialist
Read on to learn more about digital marketing, and then partner with WebFX — the agency with over 1020 client testimonials.
Did you know that over 70% of people research companies and products on the Internet before deciding to make a purchase? If you want to convince those people to use your products or services, you need a compelling digital marketing campaign!
But who will run your digital marketing? Crafting a good marketing campaign takes time and effort, and you're already occupied with a variety of other business tasks. To ensure your marketing receives the necessary attention, you need to hire an online marketing specialist.
That still leaves the question of who to hire, though. You could opt for either a new employee or a third-party agency to handle your marketing efforts. To help you narrow down your selection, here are eight things to consider before deciding.
Read on to learn more, and then partner with WebFX — the agency with over 1020 client testimonials — to boost your marketing to new heights. Just call us at 888-601-5359 or contact us online to get started!
Our digital marketing campaigns impact the metrics that improve your bottom line.
See More Results

WebFX has driven the following results for clients:

$3 billion
In client revenue

7.8 million
Leads for our clients

5.2 million
Client phone calls
8 questions to ask before you hire an online marketing specialist
Selecting a marketing specialist for your business isn't an easy choice. A lot depends on the success of your marketing campaign, so you need to ensure you select the best candidate for the job.
One option is to hire an individual marketer to be your in-house expert. Another is to hire a professional marketing agency. In either case, you still have plenty of options to choose from, and you need some way to narrow it down.
To help you do that, here are eight questions you should ask before hiring a marketing specialist.
1. What's their experience level?
When you're deciding between in-house help or outsourcing to a marketing company, you want to look at their experience first.
When it comes to digital marketing, experience can go a long way. Knowing how to get the most out of a campaign requires more than purely factual knowledge of marketing — it requires a personal familiarity with the way marketing works.
For that reason, it's worth considering the level of experience for each of your options. Have they only been working in digital marketing for a year or two, or have they been at it for over a decade?
Generally, more experienced marketers have more to offer your business. They'll know the ins and outs of running campaigns, which will ultimately lead to more success for your business.
2. What skills do they have?
Another quality you'll want to consider is your specialist's skill set. Marketing isn't limited to a single task — it encompasses a variety of strategies and tools, and whoever you hire should have multiple skills in marketing.
You may want to look for someone who knows how to manage different types of digital marketing, from search engine optimization (SEO) to social media marketing.
When you hire someone who's only familiar with one strategy, they may craft some great social media posts, but be no help at all when it comes to optimizing for Google. On top of that, hiring someone with only one skill means you'll have to hire additional people to fill other roles, which can be expensive!
Variety is important for your campaign, and therefore important for your digital marketing specialist as well. Of course, as important as variety is, you also have to consider the other side of that coin: Specialization.
A new hire may be familiar with a variety of marketing strategies, but not particularly exceptional at any of them. Essentially, you can sum up this relationship with the familiar adage, "A jack of all trades is a master of none."
One of the benefits of working with an agency rather than hiring a single individual is that you get a team of experts that each specialize in different areas.
Whether you hire an in-house marketer or an external agency, make sure they strike an acceptable balance between variety and specialization.
3. Do they have proof that they can drive results?
We've already mentioned that you should look at how much experience a potential hire has, but it's just as important to look at whether they've driven results in their experience. Experience is great, but you also want to partner with a company that can drive results with their experience.
The easiest way to find if someone meets that requirement is to see if they've driven results in the past.
If you're looking to hire in-house, you can do as you would for any other applicant and contact their previous employers about the quality of their work. For agencies, meanwhile, you can look for reviews and testimonials to see what their clients think of their work.
If you can find specific, results-oriented data, such as how many leads a specialist has driven, that's also a plus.
4. Do they have access to any advanced tools or resources?
Digital marketing frequently requires the use of tools to get the best results. From Google Analytics to Buffer, you can accomplish much more for your campaign when you have access to the right resources — and when you hire someone who knows how to use them.
When you hire an online marketing specialist, consider their access to tools and whether they have experience with a variety of tools across different marketing strategies. If you can hire someone who already has access to — and is proficient with — high-end marketing tools, there's a good chance they'll be able to produce better results.
Marketing agencies are likely to come with this benefit. In some cases, they may even have their own marketing software that you can't get from anyone else!
5. How many people are you getting when you hire them?
Yet another critical consideration when hiring a marketing specialist is how many people you'll be adding to your team. Are you hiring a single individual? A team of in-house marketers? Or a full, third-party agency?
The number of people you have working on your marketing can make a world of difference. When all your marketing is handled by one person, there's only so much they can manage at one time. But when you have a team of experts working on your campaign, you'll have more people working on your different marketing campaigns
Once again, this gives marketing agencies an advantage. Agency teams are often quite large, so you don't have to worry about the limitations of a single individual.
6. Do their rates fit in your budget?
Your hiring decisions should also be informed by your budget. When you're looking into hiring a marketing specialist, you need to look at the cost for hiring them to see if it's affordable for your company.
When you're looking at hiring a marketing specialist in-house, you need to consider costs of salary, healthcare, and company expenses. If you opt to hire a marketing agency, you need to consider what you get in your package and the resources or tools that may add a cost.
Your marketing has a huge impact on your revenue. For that reason, you should also consider how much a marketing specialist may be able to drive up your revenue — in other words, what they can do to boost your return on investment (ROI).
A specific marketer may be more expensive to hire, but if they end up boosting your revenue enough, it could be worth it. Of course, this is a delicate balance to figure out, and comes down largely to your best judgment.
7. How well can they build your brand?
Marketers aren't the type of specialists whose work is kept behind-the-scenes. On the contrary, the content a marketing specialist produces will end up being seen by hundreds or thousands of potential customers.
Since that marketing content is supposed to lead people to your products or services, it's essential that it crafts some solid branding for your company. And that depends largely on the online marketing expert who creates it.
Looking at portfolios and testimonials can give you a good sense of whether a potential hire is good at developing brands. Have they done so successfully in the past? Have their past employers or clients been happy with the image they've created for their businesses?
Of course, this is largely a subjective concept, and it comes down to your company's unique needs. The important thing is that you make your choice based on what you consider essential for your brand.
8. Are they up to date on the latest trends?
A final factor to consider when hiring a marketing specialist is how up to date they are on the latest marketing trends. Like everything on the Internet, the world of digital marketing is in a state of constant flux. Things like SEO and email marketing change every year.
You don't want to hire someone who will be marketing the same way in 2045 as they did in 2005. Look for a candidate who keeps up with the latest updates from Google, is quick to move away from dying trends, and can be flexible with their methods.
To help judge if someone meets this requirement, you can ask them to tell you about the most recent marketing trends. For agencies, you can check their website to see if they have any pages or blog posts on recent trends.
WebFX is a partner businesses trust.
Hear from HydroWorx, who saw a 236% increase in organic sessions with WebFX services.
Watch the Video Testimonial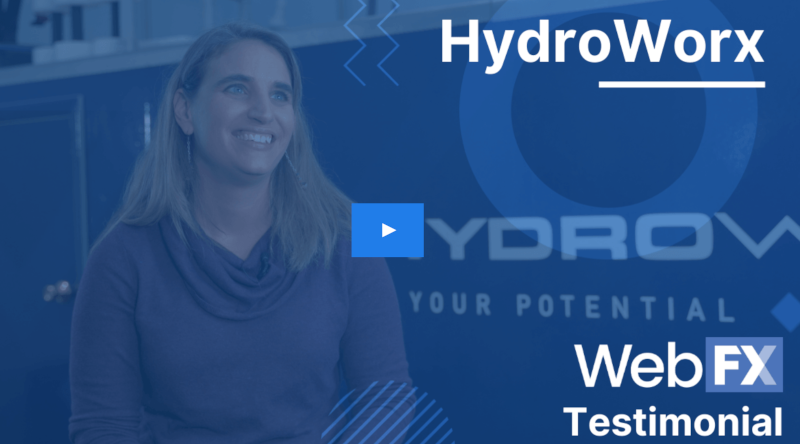 Reach new heights with WebFX as your digital marketing specialist
Ready to hire an online marketing expert? WebFX is the agency for you. Based out of Harrisburg, Pennsylvania, we have all the skills and commitment to rocket your marketing campaign to new heights.
WebFX is the perfect answer to nearly all the questions listed above. With over 25 years of experience, our team is made up of over 500 experts in everything from SEO to web design. We even have our own unique digital marketing software, MarketingCloudFX!
When you partner with us as your digital marketing specialist, you'll get access to all these features and more. We've driven results for hundreds of clients in the past, and we'd love to do the same for you. Just call us at 888-601-5359 or contact us online to get started today!
Earn a 20% greater ROI with WebFX