Have you noticed that breweries seem to be everywhere? Even small towns are boasting their own brews and selling bottles of the hoppy stuff online.
While these facts are enough to make any brewer feel like tipping back an Oktoberfest-sized swig of IPA or lager, they also pinpoint just how competitive the marketplace has become. This means that marketing a brewery is not quite as simple as setting up a shop and hoping craft brew enthusiasts do the rest.
In an age of heightened consumer awareness, craft brewery marketing ideas have to be strategic, appealing, and, above all, fruitful.
If you'd like to speak with an Internet marketing specialist, you can contact us at 888-601-5359.
Our digital marketing campaigns impact the metrics that improve your bottom line.
See More Results

WebFX has driven the following results for clients:

$3 billion
In client revenue

7.8 million
Leads for our clients

5.2 million
Client phone calls
Marketing a brewery starts with the brew… and the bottle
The first step to marketing any brewery is to spend time on the recipe. In other words, it has to live up to the expectations and hype. Taste and appearance are integral to any great craft brew. No aficionado wants to pour a glass of liquid that looks and smells like swill.
But the flavor alone isn't enough to entice: the design on the bottle seems to be just as important to buyers.
Invest in memorable designs
Remember the old adage that says you shouldn't judge a book by its cover? It's wrong when it comes to people choosing new brews. The names and labels attached to those beers can influence buyers quite strongly, especially if the brew is being sold in a marketplace against other competitors.
Make no mistake — top craft brewery marketing gurus are already using logos and triggering verbiage to attract buyers. One microbrewery in L.A. commissioned young and hungry (and probably thirsty) artists to design unique works of art for their microbrews. Gimmicky? Sure. Smart? You bet.
Aside from label designs, you should invest in design that will be memorable. This may mean creating a killer logo for your establishment, or having a web design company create an amazing parallax scrolling website for you. Do what you can to stand out and be memorable.
Growing your social presence with WebFX is a walk in the park.
"WebFX allows growing your social media platforms to be stress-free! They are knowledgeable and adapt to your company needs!"
Learn More About Our Social Media Services

Hear What It's Like to Work With WebFX!

"I am an avid fan of WebFX because they have really helped to take our search optimization to the next level. Thanks to their help, I know that our hard work with creating a great content is really set up for success. Thanks, WebFX!"
Food Service
Try marketing with social media
What could be more social than hanging out with friends and trying some craft beer? It's the epitome of socialization, and it's the reason that smart brewers do not neglect social media platforms. Some of their tried-and-true marketing techniques may sound too simple to work, but they are actually too simple to fail.
Here are a few social media tips you can try yourself.
Create a custom hashtag
Many breweries create hashtags around either their brewery name or their special brews. This allows them to track whose talking about their products online, as well as to infiltrate the mainstream with their social marketing.
If you do create (and use) these hashtags, make sure you monitor them for conversations, and chime in as appropriate. Don't ignore complaints that may be posted there: they're a prime opportunity for you to make things right.
Visual marketing
Craft breweries often encourage fans of their brews to snap pictures of them enjoying a glass, and then post those pictures online. You'd be surprised at how much interest a glass of beer in a tall glass can garner on Twitter, Instagram, or Facebook!
One ridiculously ingenious idea that works deliciously well for craft breweries trying to woo local patrons is to take a smartphone photo of their brew "what's on tap" board (provided it changes regularly) and place the photo on their social media page. As consumers stumble upon the menu, they are more likely to consider stopping by for a drink or two after work or even a tough workout at the gym.
Stay engaged
Obviously, engagement is key as well, so don't forget to have a conversation with your not-so-secret brew admirers. The more you can connect with them in a social forum, the higher the likelihood that they will influence their friends to try your product.
Try to monitor your social media pages as much as you can for feedback, comments, and questions. Respond quickly and politely. By doing this, you'll create a reputation as a brewer that cares about its patrons, what they think, and the experiences they have.
Time to Level Up Your Sales
Our long list of services helps you grow every aspect of your business with marketing strategies that are proven to increase bottom-line metrics like revenue and conversions.
In the past 5 years, we've managed more than 12.9 MILLION transactions across our client base.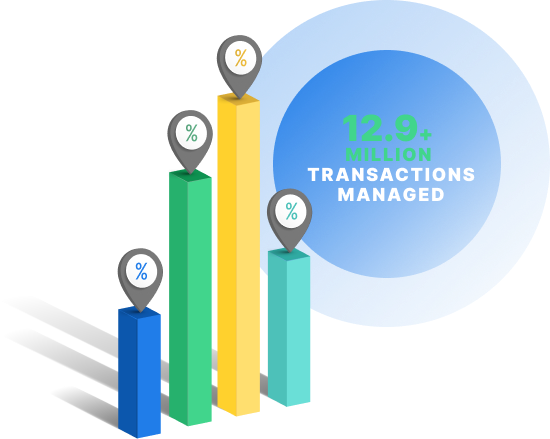 Beer events have taken center stage
One final way of marketing a brewery is to create and host an event. The event can be as big as a Mardi Gras week-long celebration, or a simple night of microbrew samplers for ladies only. According to EventBrite, events that focus on beer are popping up all across the nation.
It isn't necessary to spend a fortune marketing your events if you have developed a strong enough following. Even a few people can make an event fun and exciting, and that means they'll come back the next time with more people.
If you're hesitant to host a beer event solo, why not do it in tandem with another complementary local business, like a restaurant or bakery? French pastries and brews have a nice ring to them, as do spicy pulled pork sandwiches and a killer IPA.
Also fresh and modern is the fundraiser, whether it's berry-flavored beer for breast cancer awareness or a more geo-targeted non-profit. The combinations are endless, and are only limited by your imagination.
Want more ways to market a brewery?
Here are a few extra suggestions you can use to take your marketing to the next level.
Be bold
Don't try to be anything but bold in your marketing. There's a lot of competition out there—you have to be the squeaky wheel.
For example, be arrogant about your brew. When someone doesn't like it, shake it off publicly. It will only serve to make your beer seem more exciting and exclusive. However, you should always listen to feedback: if a majority of people are saying that your beer needs some adjusting, try to take those comments into consideration rather than disregarding them.
Tell a story
Share your story with the world. Every craft brew has a story behind it. Spend time developing yours and weave the tale into everything you do. You'd be shocked at how people love a great tale!
If you have a great story, you might consider investing in content marketing—like blogs, articles, infographics, or videos—to share it. This content can be easily shared over and over again, and the links the content accumulate can help you improve your rankings in search engines.
Try new things
Ask your buyers what they want. This doesn't mean you have to kowtow to every beer-related whim, but give some thought to comments that you hear on a regular basis. Maybe you need to develop a new brew or tweak a current one.
As far as your marketing is concerned, keep pushing yourself to invent new ways of getting the word out about your brew. The moment you sit on your laurels, someone else will come swooping along and try to take your piece of the craft brew pie.
Learn more about marketing for your brewery
These tips will help you take your brewery's marketing to the next level. But there's still plenty more you can learn, particularly about marketing online.
Check out our free beginner's guide to inbound marketing to learn how you can capitalize on search engines, social media, compelling content, and links from other websites to get your brewery found more often by people searching for new beers and hangouts.
Curious to know more about inbound marketing and what it can do for your business? Call one of the experts at WebFX to find out how we can help your brewery find more success online. One of our strategists will be happy to put together a custom quote just for you.