Is Email Marketing Worth It?
You have a business, and you want it to grow. You've considered email marketing as a part of your growth strategy, but aren't sure if you want to dive right in. After all, is email marketing worth the time and effort? Or will it just be something that takes you away from other ways of bringing in revenue?
In a nutshell, email marketing is absolutely worth it.
On this page, you'll learn exactly why—as well as 7 best practices to keep in mind as you launch your strategy. Check it out if you want to learn more, and give us a call at 888-601-5359.
Time to Level Up Your Sales
Our long list of services helps you grow every aspect of your business with marketing strategies that are proven to increase bottom-line metrics like revenue and conversions.
In the past 5 years, we've managed more than 12.9 MILLION transactions across our client base.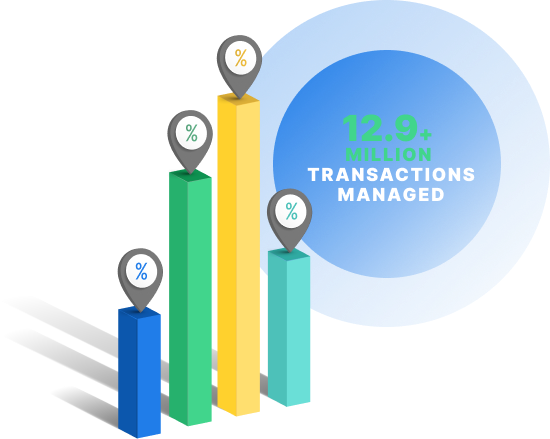 What does email marketing involve?
To begin, let's look at the many forms of email marketing. Email marketing, as you may have guessed, includes any marketing message sent to customers or prospective customers via email.
This involves:
Emailed newsletters
Usually, these are brief emails with links to landing pages or other web pages at your website. The purpose of the newsletter is to educate those people who have opted in to receive regular updates and information from your company.
Emailed coupons
Everyone loves getting a bargain, which is why so many companies send out coupons as part of their email marketing campaigns. These coupons or special offers are typically for a very limited time, and can be tracked utilizing email marketing software.
Emailed letters and announcements
Sometimes, businesses have something they want to share with everyone in the database. It could be an announcement about a merger, or a letter discussing a rebranding strategy. This form of communication is often personalized to the individual receiving the email.
Why email marketing matters
Most consumers have at least one email address, and most check their inboxes daily—if not multiple times throughout the day. When you send out marketing through emails, you have the ability to reach consumers where they're already looking.
Plus, email marketing isn't as intrusive as most traditional marketing like TV or radio ads, which interrupt the viewer or listener. Anyone receiving an email can read it at his or her leisure, making it a much more welcome form of communication.
Email marketing can also build brand and top-of-mind awareness. How many experiences have you had of getting an email at just the right time? Perhaps you were looking to make a purchase of shoes, when suddenly you received a coupon from an online shoe retailer.
When you combine marketing automation with your email strategy, you can arrive in potential customers' inboxes at exactly the right time, making the chance of a sale that much higher.
Should you use email marketing?
It doesn't matter if your company has one person—you—or thousands of employees. You can always use email marketing, because it's relevant for any sized business.
When you have email marketing at your fingertips, you can ensure that you're reaching out to all interested consumers efficiently. And with the right platform, you can make the process of communicating with them more efficient than ever before.
Email marketing best practices
As you develop your email marketing strategy, the following best practices will help you make the most of the channel:
1. Be upfront with email subscribers about how often you'll email them.
Just because a subscriber says you can email them doesn't mean you should email every day. Explain to site visitors what they can expect if they opt into your email marketing list.
For instance, you might say that you will send out a monthly e-newsletter, and occasional coupons and special offers.
2. Make sure your email marketing is branded.
Take some time to develop a "look" and feel for your email marketing. That way, whenever someone opens an email from your company, they'll instantly recognize it. You may want to work with a web designer to come up with templates that reflect your brand.
3. Make your content easy to scan.
People aren't known for spending tons of time pouring over their emails, so make sure your content is scannable. Use bullet points and different sections to help your recipients know exactly how to get the info they want and need.
4. Be welcoming in your emails.
Treat your subscribers with the greatest respect possible. Welcome them when they first join your email marketing list, and keep treating them well.
Don't forget that the content you send them needs to be important to their needs, not overtly focused on your own. For example, discuss product and service benefits, rather than focusing on the features without explaining their advantages.
5. Tell your email subscribers what to do.
Every email you send out should have a call to action. Never send out anything without a link, or you'll be wasting an opportunity to build relationships and cull data.
6. Create a calendar for your email marketing.
Email marketing should go along with the rest of your marketing strategy, so create a calendar, determining what you'll cover in each one. Make sure your calendar is planned at least three months in advance. This avoids making the misstep of having to create content suddenly and without any forethought.
7. Test different types of emails.
One of the most integral parts of marketing is to conduct A/B split tests. Send out one email to a certain group, and another email to a different group. Then, evaluate what happened. Was there any perceptible difference in the effectiveness of different subject lines, formats, or content? If so, how will that affect your future emails?
There's no doubt that email marketing is worth doing. And if it's worth doing, it's worth doing right.
Want to learn more about email marketing?
If you'd like to learn more about email marketing or are ready to put a strategy into place, don't hesitate to contact us! At WebFX, we have years of experience creating successful email marketing campaigns for our clients, and we'll do the same for you.
Earn a 20% greater ROI with WebFX