What Metrics Are Important for Email Marketing?
A good email marketing analytics program will tell you everything you could possibly want to know about your campaigns. But just because it tells you everything doesn't mean you have to know all of it.
One metric here or there may be interesting, but if it doesn't have anything to do with your specific goals, it won't actually help you get better. At the extreme, it could distract you from the metrics that do matter and complicate your email marketing campaigns.
You can contact us online or call 888-601-5359 today to speak with one of our experts and find out which metrics will be most effective for your company's email marketing campaign!
Which email marketing metrics are the most important overall, though? It depends on what you want to accomplish, but these six are often the most helpful.
Our digital marketing campaigns impact the metrics that improve your bottom line.
See More Results

WebFX has driven the following results for clients:

$3 billion
In client revenue

7.8 million
Leads for our clients

5.2 million
Client phone calls
1. Open rate
Your subscriber list may contain hundreds of email addresses, but that doesn't mean every subscriber is going to open your emails. Recipients can skip over your email for any number of reasons, and they may even delete it.
But those who pay attention to your emails contribute to your open rate. This metric shows you everyone who actually took the time to click on your email after they got it. It's incredibly valuable when you want to test different headlines or see what kind of topics interest your recipients the most.
A high open rate means you're engaging your recipients (at least initially), while a low rate means people are deleting or skipping your emails altogether.
2. Click rate
An opened email is a great sign of success, but you need people to click to your site to actually become customers.
The click rate shows you who's actually returned to your site based on the content and information you offer them.
Click rate is a fairly "deep" metric, too, meaning you don't have to just look at one number for everyone. You can dig into individual emails to see which got the most clicks, and you can see which recipients click back to your website.
That tells you what topics, layouts, and content encourage people to come back to your site the most. That way, you can use those metrics more in the future and avoid other, less popular topics.
3. Conversion rate
Emails should always contain a call to action to encourage recipients to become paying customers. Whether it's an invitation to download an ebook or shop during a special sale, every email should tell someone how they can take the next step.

The people who follow that call to action have successfully converted because of your email. You can check your email conversion rate by looking at how many people followed through on your site after they received your email.
Ultimately, this metric is the one that will tell you the most about your emails in terms of profitability. Moving new leads down the sales funnel is the ultimate goal of email marketing, and if you're not getting conversions, you need to make a change in your emails.
4. Unsubscribe rate
In a perfect world, people sign up to receive emails and stay subscribed forever. Unfortunately, it doesn't always happen that way.
People lose interest in companies over time, or they might forget why they signed up for emails in the first place. Or sometimes they just want to reduce the number of automated emails in their inboxes.
Regardless of the reason, it happens to every company, and the number of unsubscribers you have tells you how relevant your emails are to your audience. It's also an indication of how well you're attracting qualified leads to your site.
To reduce lost subscribers, link recipients to a page that asks them why they're unsubscribing. Give them a couple of answers they can click for a fast response (like "You're contacting me too much" or "I've lost interest"), and let them write in their own reason if they'd like.
Depending on the responses you get, you can refine your email marketing campaigns to avoid those issues in the future. After all, if you're going to lose a lead from email marketing, you might as well learn something from them first!
5. Bounce rate
Just because you send an email doesn't mean the recipient gets it. Someone may have given you an incorrect email address, changed their own address, or blocked your messages. These are all called "bounces" because they cause your emails to "bounce" back to you.
Email bounce rate is important because it shows how many people on your email list simply aren't getting your messages.
But unlike other metrics on this list, bounce rate can't tell you much about the content of your emails. Instead, it tells you something about your email list process.
High bounce rates reflect incorrect email addresses, whether they're intentional or accidental. If you see a lot of emails coming back, then you should consider adding an email address verification step to your sign-up process.
If you already have a verification step, examine it to check for any vulnerabilities or weaknesses it may have. Or, if you can't find any, consider removing your sign-up forms from your website for a few days, purge your current list of bad email addresses, and resume collection later.
Time to Level Up Your Sales
Our long list of services helps you grow every aspect of your business with marketing strategies that are proven to increase bottom-line metrics like revenue and conversions.
In the past 5 years, we've managed more than 12.9 MILLION transactions across our client base.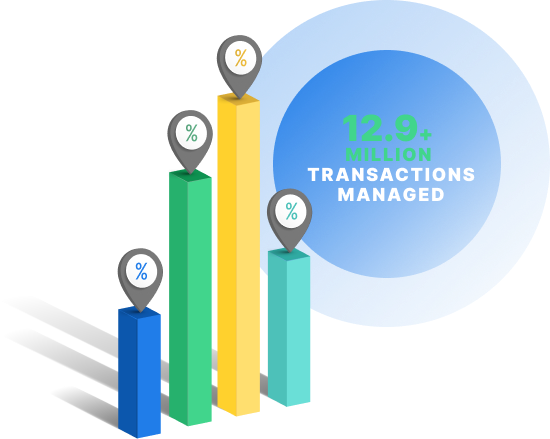 WebFX knows how to use data to take action
At WebFX, we've worked in email marketing for years. Our talented team of marketers has experience in getting customers for our clients all from email, and we're happy to do the same for your business! All you have to do is get in touch, and we'll help your business grow.
Contact us today to start an email marketing campaign for your company!