A hospital or medical practice that's looking for an EHR company will most likely begin the process on a search engine like Google. The screenshot below shows what they will see if they perform a basic search for "EHR company."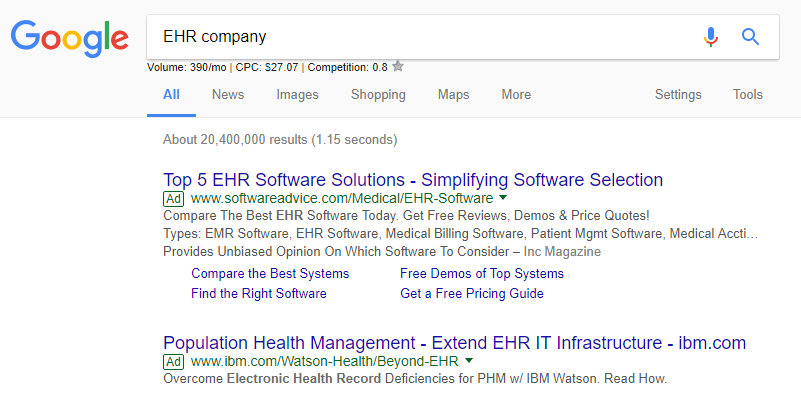 You may be the best EHR company in the business, but if you don't show up near the top of the page when medical practices research their options, it's unlikely that they'll find you.
On average, 41% of clicks go to the top three paid ad spots – which is why today, pay-per-click (PPC) advertising is essential for any EHR company to succeed.
Using PPC advertising also saves you from wasting your budget, because it allows you to target people who are already interested in digital solutions. Those who click on PPC ads are 50% more likely to purchase your product or service than those who are organic visitors. So if you're ready to start generating more leads, investing in PPC advertising is a worthwhile strategy.
WebFX is a nationally recognized PPC management company with over 500+ digital marketing experts. Contact us today to learn how our PPC management services can help you reach your goals, or keep reading for more information about why PPC is important to EHR companies.
Why does PPC matter?
If you use search engines on a regular basis, you've probably noticed the top search results often have a green "Ad" tag next to them.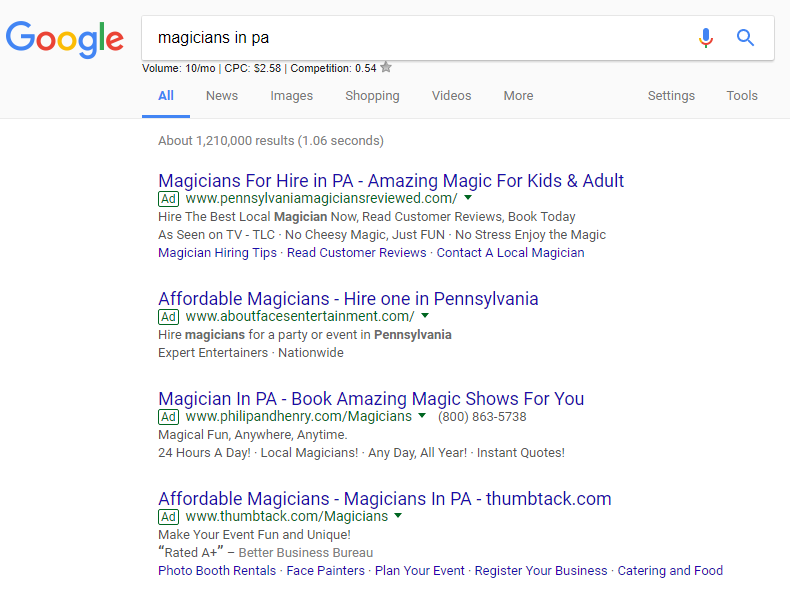 These are PPC ads, and advertisers bid to place them in results for keywords and phrases related to their businesses.
The most popular PPC platform is Google Ads, which lets you place ads in Google search results for the keywords your target audience searches. These ads operate on a bidding system, and you determine ahead of time how much you're willing to pay for each click to your website.
If your bids for your target keywords are among the highest, your ads will appear above the organic results in search engine results when someone searches those keywords.
When you use PPC advertising, you can get immediate results. Your ads can drive traffic to your website the minute you launch them, making PPC an effective way to quickly increase traffic for your EHR company website.
You work hard to provide valuable services to your clients, and you don't want to miss out on opportunities that can bring even more of them to your company. PPC helps you reach more of the people who are interested in what you have to offer.
If you're ready to start attracting more qualified leads, WebFX can help. We have years of experience creating effective PPC campaigns, and we'll do the same for your EHR company. Contact us today to get started!
Traffic attracted through PPC advertising yields 50% more conversions than organic advertising.
Are you leveraging PPC in your marketing efforts? Let's get started.
View the Guide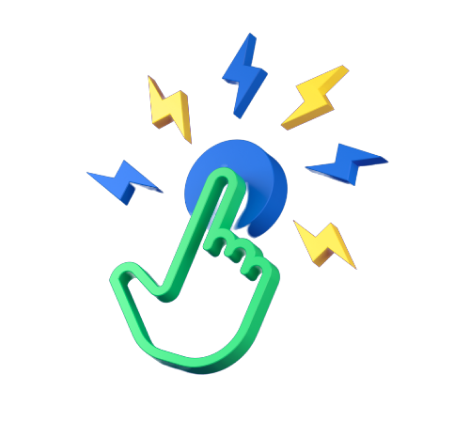 Hear What It's Like to Work With WebFX!

"I worked with some other SEO companies in the past, but WebFX is the first one that got results!"
Ehr Software Provider
PPC tips for EHR companies
The right PPC ad strategy is different for every industry and target audience, and these PPC tips for EHR companies can help you optimize your campaigns for best results.
Take time to research your keywords
In order to reach your target audience, you need to know what they're typing into the search bar. Do keyword research to find out what words and phrases people search when they need the services you provide.
In this case, those keywords might be something along the lines of, "top EHR companies 2023."
The more relevant your keywords are to what your audience is searching, the more clicks and conversions you'll be able to generate with your campaigns.
Create relevant landing pages
When someone clicks one of your PPC ads, they should be directed to a relevant page on your site. This page should provide additional information about the keyword they searched.
Your landing pages need to be consistent with the target keywords, and help users take the next step towards becoming a client.
Your landing pages should also include a clear call to action, or CTA. CTAs tell the visitor what you want them to do next. For example, this landing page on EHR Integration Services' site uses CTA to tell visitors to contact them for more information.

Another tip for your landing page is to include images. Having images on your website breaks up the text to make your content more attractive. An image is processed 60,000 times faster than text! Your EHR company can use images relevant to the content you're promoting, but that also add personality. Images get peoples' attention and leave a lasting impression because they're engaging.
While adding images to your landing pages can produce positive results, having long contact forms can deter potential clients. Keep your contact forms short and simple, and only collect the information you need to follow up with relevant information.
Consider optimizing your ads for phone calls
Some people may prefer to call you rather than browse the landing page your ad directs them to. Fortunately, you can use your PPC ads to generate phone calls. For example, RunningShoes.com includes their phone number in their PPC ads in order to give their customers additional options.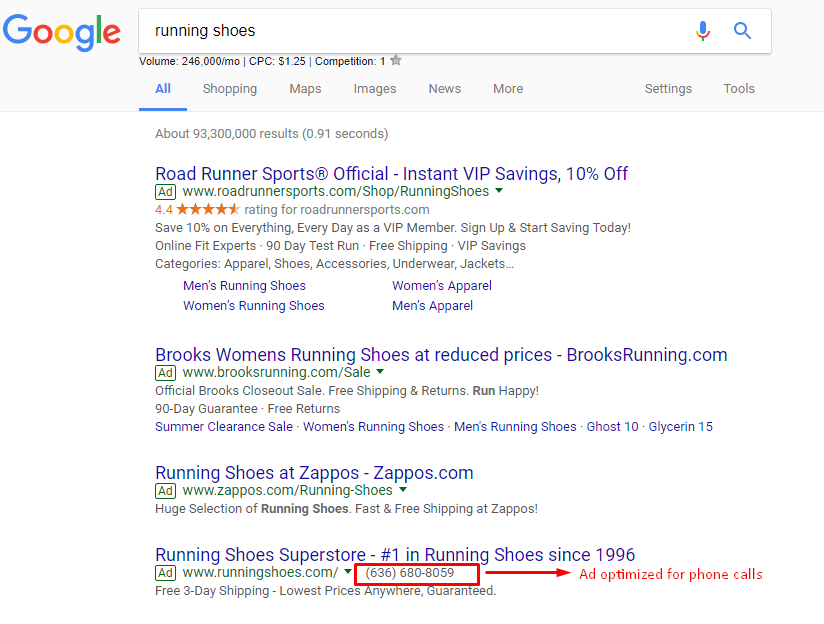 You pay the same amount when you generate a phone call as you would for a click, so this is still a budget-friendly option for attracting new leads.
To ensure efficiency and minimize unnecessary costs, you can include your phone number in all of your advertisements and set your ads to only show when someone is available to answer the phone. This prevents you from wasting your advertising budget on calls outside of business hours, and guarantees that searchers will be able to speak with someone when they call.
Analyze your results
To make the most of your PPC campaigns, you'll need to analyze and evaluate your PPC campaigns on a regular basis.
You can log in to your Google Ads account and access the built-in analytics platform to discover what information on your site is successful and what should be improved for better results.
You can revise your low-performing ads, pause ads that aren't generating results, and increase your budget for the ones that are performing well for your business. As you continue to make these changes, you'll gradually improve your ROI over time.
Ready to start using PPC ads to reach new leads for your EHR company?
At WebFX, we have all the tools and expertise to create an effective PPC strategy for your EHR company. Our focus is driving revenue for our clients, and to date, we've driven over $3 billion in sales and over 7.8 million.
Earn a 20% greater ROI with WebFX