Are you a healthcare professional looking for marketing ideas, or ways to improve your online marketing strategies? If so, you've come to the right place. As experts in the field of Internet marketing, WebFX has compiled this article to educate you on the topic of online marketing for hospitals, healthcare providers, and other medical offices.
By reading this page, you'll learn about the biggest difference between online marketing for healthcare and other industries, and get the three most crucial healthcare marketing tips you need to succeed online.
Call 888-601-5359 to speak with a strategist about inbound marketing plans from WebFX, or keep reading to learn more about how inbound marketing works within the healthcare industry.
Partner with a team of ecommerce masters!
WebFX campaigns have delivered more than 12,936,451 ecommerce transactions in the last 5 years
Read the Case Studies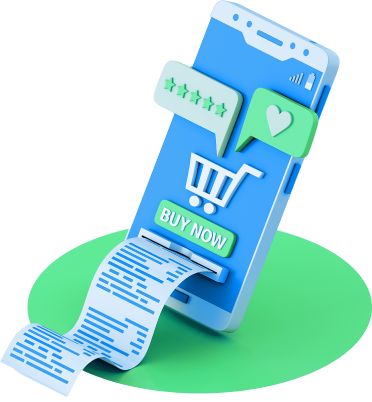 3 healthcare inbound marketing tips
Here are three of the most important hospital marketing tips and healthcare marketing ideas you should try if you're considering utilizing inbound marketing.
Tip #1: Be visible at their time of need with SEO
Search engine optimization (commonly abbreviated as SEO) refers to the practice of optimizing and improving your website's content and code so that it appears higher and more commonly in searches. For example, by using SEO, you might be able to rank #1 for phrases like "doctor in [city]" instead of #10.
SEO has the potential to be complex and multi-faceted. It involves optimizing not only the content on your website—that is, ensuring the keywords and phrases you want to rank for appear on your pages, in special locations like titles and headings, and in your navigation—but also improving your page speed, factors like bounce rate, and even increasing the number of links pointing to your site.
If you are unfamiliar with SEO, it is best to learn about it, and implement it, in small steps. If you do not have the time to devote to properly optimizing your site, you may want to hire an SEO professional to improve your website so that it ranks well for the phrases people are searching for.
Without SEO, you may not be able to reach those who are searching for a hospital, healthcare, or a physician in their time of need. That's why SEO is so crucial, and is the first thing you should implement as part of an online healthcare marketing plan.
Tip #2: Use web design and UX to make their experience hassle-free
What happens after a potential patient locates your website via an online search, and is trying to find information about your location, hours of operation, accepted insurance, or physicians on your site? Is your website providing a hassle-free experience or is it driving these valuable visitors away?
By utilizing modern web design standards and up-to-date user experience guidelines, you can make the experience of visiting your site and locating crucial information much smoother. This may involve replacing out-of-date side navigation and homepage stock photos with navigation on the top of your site, a new search option, and recent photos of your hospital or facility.
Consulting a web design expert or user experience (UX) specialist is often the best way to ensure that your hospital's web design meets the standards users have come to expect and is as easy to browse as possible.
Tip #3: Add educational content to increase your facility's appeal
On some occasions, visitors will not seek out your website because they are in an emergency situation. Sometimes they will be researching their health, looking up information on a future surgery or procedure, or simply be reading about conditions they are curious about.
If you add educational content that answers questions, provides information, and introduces your facility and its staff, you are more likely to bring these website visitors to your doors. Potential patients who are able to learn more about your operations, and get a sense of what you do, are much more likely to consider you for their needs.
Additionally, the presence of educational content on your website can help with your SEO. The more keyword-rich content you have, the better you may rank, and the more potential patients you may reach.
Content Example: Stellar staff pages
This is an elaboration on the "introduce your staff" aspect of tip #3. As a hospital or healthcare provider, your physicians and other staff are at the center of what you do.
Many people choose a hospital or healthcare provider based on the quality of the staff alone. Extensive staff/physician pages are a fantastic way of demonstrating why you're the best hospital or provider in town.
As far as doctors go, each one should have his or her own page on your website. At minimum, this page should show a headshot, areas of specialization, location, a full education history, and any other prudent background information.
To really show potential patients how qualified, compassionate, and invested your staff is, there are plenty of ways you can build these pages up to be industry-leading examples of great staff profiles. Add links to any work published in medical literature. Give the pages a personal touch by adding an "interview" with the doctor. Include a video of the doctor speaking about his/her background and medical philosophy. Highlight patient testimonials if possible.
The opportunities are endless, but one thing is clear: stellar staff pages show potential patients why they should pick your hospital or healthcare provider over the competition, and will keep them coming back for future visits.
Hear What It's Like to Work With WebFX!

"WebFX has completely transformed my practice. With their support, I have expanded my practice significantly and grown exponentially. I could not have expanded to this degree, nor this quickly had it not been for the incredible efforts provided by WebFX and my team."
Healthcare
Case Study: Lebanon Valley Cancer Center
One example of online marketing for hospitals and healthcare is the work WebFX performed for the Lebanon Valley Cancer Center. This radiation oncology center has provided compassionate care to its patients for more than 24 years.
WebFX provided website design services to ensure that those visiting the site could easily learn about the center, read information about its cancer treatment services, "meet" its staff, and contact the center for information.
The website ranks #1 for phrases like "Lebanon cancer center" and "Lebanon cancer treatment" for those searching locally, ensuring that those seeking out treatment options are able to find the website and learn more about the center's services quickly and efficiently.
Here are a few images from the website: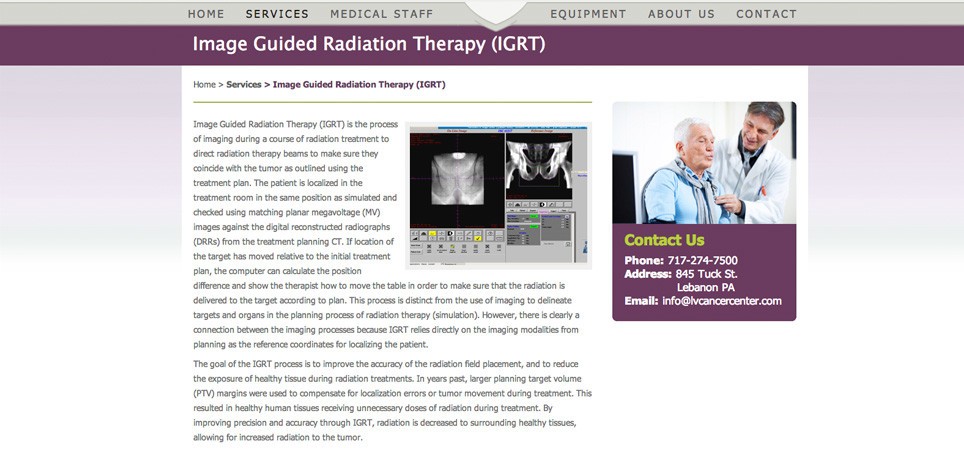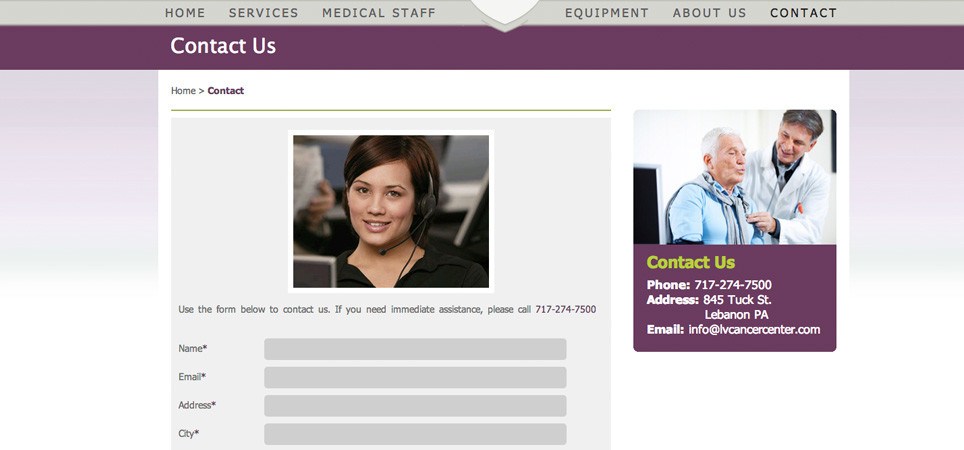 FAQs about inbound marketing for healthcare
Use our FAQ to learn more about inbound marketing for healthcare.
What is inbound marketing?
Inbound marketing refers to the practice of presenting helpful, informative content to those when they are looking for it—that is, when they are actually specifically searching for your hospital, office, or services. Rather than relying on advertisements or methods that are intrusive, inbound marketing has you improve the experience for those who come to your site, increasing the likelihood that they will choose you for their healthcare needs.
Inbound marketing is necessary for healthcare and hospitals because those who are looking for treatment, or even experiencing an emergency, aren't likely to recall traditional marketing methods. They're more likely to make their decision based on quick Internet searches, and the quality of information they can find online. That's why it's so important to use inbound marketing to make your website more visible, more informative, and more appealing to those who may be looking for it in the heat of the moment.
You can learn more about inbound marketing and how it works by reading our free Beginner's Guide to Inbound Marketing.
How is online marketing for healthcare different from other industries?
With many industries and professions, online marketing tactics don't have to be time-sensitive. Businesses can utilize strategies like pay-per-click ads, email marketing, and special deals, all of which consumers may view and act on at any time.
However, as far as healthcare is concerned, a majority of consumers are seeking out hospitals or physicians only when they need them—and sometimes very urgently. So these broader, less targeted marketing strategies may be far less effective. After all, how effective will an ad or email campaign for a hospital be when someone is completely healthy? Marketing strategies for hospitals need to be much more precise.
Rather than focus on typical online marketing strategies that require your hospital or office to reach out to potential patients, your focus should be on increasing the number of patients that come to you. You can accomplish this by using inbound marketing, one of many aspects of hospital Internet marketing that can increase awareness and increase patient volume.
Contact WebFX for your healthcare marketing needs
If you're ready to learn more about online marketing for healthcare, medical facilities, and hospitals, and how WebFX, a leading Internet marketing company, can help you, we'd love to hear from you. We know all about hospital Internet marketing, and we're sure we can increase the awareness of your medical practice. With us, you won't just get hospital marketing tips—you'll get much more.
WebFX offers award-winning and industry-leading SEO, website design, and content creation services designed to appeal to the most amount of visitors, boosting your patient acquisition rate dramatically and allowing you to extend your reach to those who need your care the most. Marketing strategies for hospitals aren't just about money—they're also about making sure people know they can trust you in the event of an emergency.
Whether you need a new website or help with your search engine optimization, we are more than happy to help you meet your online marketing goals. Contact one of our experts online today, or give us a call at 888-601-5359 for a no-obligation quote.
Earn a 20% greater ROI with WebFX