As nutritionists and dieticians, you can't do your job unless you have clients. If your website isn't seen by enough people, you won't be able to attract your valuable clientele that could be looking for your health and nutrition expertise right now!
If you want to draw new clients to your website, you need to make yourself known on the Internet. The best way to do that is through search engine optimization (SEO).
With SEO for dieticians and nutritionists, you can direct more web traffic to your site from search engine results pages (SERPs), generating new leads and connecting with more clients!
These are real SEO results driven for a WebFX client.
You're next.
Learn More About SEO Services


260%
increase in organic revenue

198%
increase in organic transactions
150%
increase in organic traffic

3872%
increase in sessions from SEO
What is SEO for nutritionists and dieticians?
When you enter a query into Google, you're met with thousands of search results. These seemingly endless lists of results based on your one search term or phrase are compiled and ranked based on each site's SEO.
SEO is the process of optimizing your website using specific keywords and phrases to gain a higher ranking on SERPs. That way, when a user searches that specific term, your site shows up as one of the first search result options.
68% of clicks users make when landing on a SERP go to the first five search results, and 71% of user clicks go to the first page of results alone. That means it's critical to optimize your site for SEO so you can achieve a higher search engine rank and grab the attention of Internet users.
Local SEO for nutritionists and dieticians
Local SEO refers to the strategies you use to help your website appear on local search results. When users in your area do searches like "nutritionists and dieticians in my area" or "near me," or "dietician/nutritionist in Harrisburg, PA," you'll want your business to appear on those SERPs.
You can employ local SEO by incorporating keywords in your website copy that tells search engines where your business is located. Indicating your business's regional or exact location makes your site easier for local searchers to find, while your traditional SEO works to make your site visible to general audiences.
On-Page SEO for nutritionists and dieticians
On-page SEO refers to the elements on your website that you can control to better your SEO rankings. Optimizing on-page elements can increase user traffic to your site and, in time, can result in better online SEO rankings.
A few on-page ranking factors you might consider adjusting to boost your on-page SEO include:
Off-Page SEO for nutritionists and dieticians
Off-page SEO, sometimes called off-site SEO, deals with efforts to generate links and ratings to boost your site's rank. The key difference between on-page and off-page SEO is that on-page SEO focuses on proving your site's relevancy, while off-page SEO focuses on demonstrating your site's credibility.
Links to your site are like gold for off-page SEO. High-value links help your site rank well on SERPs and make your site look more authoritative when they come from other credible sites. A few ways you can improve your off-page SEO include:
Earning backlinks
Create blog posts
Share your content on social media
Encourage clients to leave reviews on your site
The quality of your off-page SEO could be the deciding factor between you and another website when search engines like Google formulate their SERPs. Get a leg up on your competitors and employ some of these off-page SEO factors to improve your site's credibility and drive more traffic to your page!
Looking for an all-in-one SEO audit tool? You've found it.
SEO Checker provides data on key metrics to give you:
Complete SEO score

Content Grade

Site Speed Analysis

and more.
SEO strategies for nutritionists and dieticians
SERP rankings have a lot of moving parts, that is, factors that go into where search engines place your site on the results list. To gain higher rankings, you need to optimize certain elements of your site. Take a look at some SEO strategies nutritionists and dieticians can use to achieve higher search engine rankings.
Use relevant keywords
Keywords are the words or phrases searchers use when entering a query to search engines, like "nutritionists and dieticians in my area."
When formulating SERPs, search engines rely on keywords (in addition to other SEO factors) to understand what pages on websites are about. By incorporating specific keywords into your website's content, you can help improve the relevance of your site and its content to that specific keyword.
Use our proprietary keyword research tool,
KeywordsFX

, to help you find high-quality keywords for content and PPC campaigns. Identify Top Keywords for Free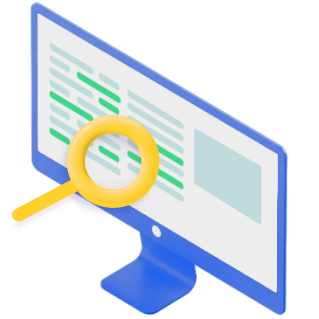 When optimizing your site for keywords, you need to build up a master keyword list to use for your site. There're a few things you can do to help you identify keywords to use and add to your master keyword list, like:
Use keyword research tools: Moz Keyword Explorer, AnswerThePublic, LSIGraph, and our very own KeywordsFX are fantastic tools that can help you identify related SEO keywords for certain topics.
Identify your audience's search intent: You can better reach your audience on search engines when you put yourself in their shoes and identify future search intents. Create content you know they'll be looking for so your site shows up on their future searches.
Study your competitors: If you're still stuck on what keywords to incorporate into your site, take a peek at your competitors. Look at the content they have on their site and see how you can better optimize it for your own original content!
Integrate responsive web design
Responsive web design refers to a web design approach that allows websites and pages to properly display on different-sized screens and devices. Making your site adaptable to all mobile devices like phones, tablets, and laptops makes your website easily accessible to clients who aren't using a desktop when viewing your site.
Not having a mobile-friendly website can actually hurt your SEO rankings on Google — in 2015 the search engine announced that responsive web design would become a factor in SEO rankings. Additionally, 61% of consumers said they're more likely to do business with a site that's optimized for mobile devices.
Earn the trust and business of current and new clients by ensuring your site includes responsive web design!
Create high-quality content
When you create helpful, informative written content for your site you're not just helping your customers learn more about you. You're also helping search engines know more about your website.
Search engines use the content on your site to help gauge what your site is about and more accurately rank your pages on SERPs.
This "high-quality content" we're raving about can be anything from blog posts to in-depth case studies. The key to producing great content for your site is to create something that solves a problem, answers a question, provokes thought among your audiences, or provides value to them in some way.
High-quality content informs your readers, entertains them, or helps them solve a problem or answer a question. This builds your credibility among audiences, and also helps search engines decide where to place you on SERPs.
Develop an SEO strategy that generates leads with WebFX
We're no strangers to helping clients in the medical and health industries. In fact, we offer for over 40 industries dedicated to improving the health and well-being their clients and patients.
Learn more about our digital marketing services for nutritionists and dieticians by visiting our health page. Ready to get started? Contact us online now or call us at 888-601-5359 to speak with one of our experienced strategists!
Earn a 20% greater ROI with WebFX