Two people, Martin and Mallory, go online in search of a speech therapist for each of their respective children. Martin encounters an ad from your practice but scrolls past it.
But when Mallory encounters the same ad, she pauses. She recognizes the name of your practice, having visited your site last week, and decides to click. Her child ends up becoming a patient.
In the above scenario, the same ad proved far more effective for Mallory than for Martin. The reason is that Mallory was already a lead — that is, she already had a familiarity and interest in your practice.
If you want to turn people into patients, you have to turn them into leads first — but how do you do that? We'll provide an overview of speech therapist lead generation below, so read on to learn more.
Then consider partnering with WebFX's team of over 500+ experts for our expert lead generation services. Just call 888-601-5359 or contact us online to get started!
What is lead generation for speech therapists?
Speech therapy lead generation is the process of giving people a vested interest in your speech-language pathology (SLP) practice. The goal is to get people to a position where they're more likely to convert the next time they encounter your marketing.
Check out this video for a brief overview of lead generation:
How does SLP lead generation work?
While the end goal of your marketing is to convert online users into patients, you won't have much success turning people into patients on the first try. Users need to grow familiar with you first and develop a solid interest in your services. In other words, they need to become leads.
If the buyer's journey is a timeline, everyone starts at the beginning with no knowledge of who you are and — ideally — ends as a full-fledged patient. At the midpoint on that timeline, though, they're a lead. They have an interest in you, but aren't ready to become a patient yet.
Lead generation is a crucial step on the way to driving conversions. Someone with no interest in you won't have any reason to convert. To convert a user into a patient, you have to foster an interest in your services first. Only then will they consider converting.
37% of marketers say that generating high-quality leads was one of their biggest challenges.
We want to decrease that percentage.
WebFX can help you generate high-quality leads with a customized marketing strategy.
Learn More About Lead Generation Services
6 expert speech therapy lead generation strategies
Generating leads is a critical part of your marketing, but how can you do it? What can you do to turn people into leads?
There's no single answer to that question, as you can use several strategies to generate leads. Here are six tips to help drive more successful SLP lead generation!
1. Start a blog on your website
One of the most effective ways to generate leads on your site is to start a blog for your practice. On your blog, you can write about various SLP-related topics. It's a good idea to center each blog post around a particular keyword, like "what is SLP" or "how can speech therapy help me."
By targeting specific keywords with your blog posts, there's a good chance you can get them ranking in relevant Google searches. Then, when people look up queries about speech therapy, they'll find your blog in the search results.
As people come to your site to read your blog, many of them will develop enough interest to become leads.
2. Claim your Google Business Profile account
When people search for a speech therapist online, they're typically looking for practices in their area, meaning they're performing local searches such as "speech therapist near me." If you want to appear in those searches, you can benefit from creating a Google Business Profile.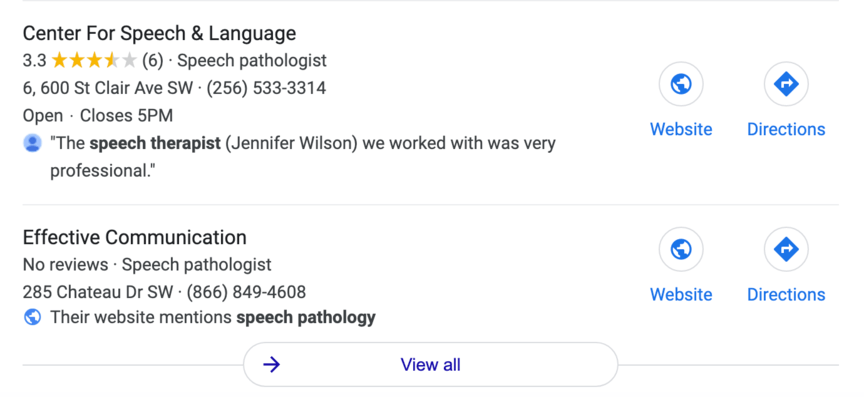 Google Business Profile is a platform that allows you to create an online profile for your practice with information like your name, address, phone number, and more. With a Google Business Profile, you can appear in local 3-packs where users can find you quickly and easily.
3. Launch a paid advertising campaign
Organic results aren't the only way of marketing yourself through Google. You can also display paid ads at the top of Google search results by launching a pay-per-click (PPC) advertising campaign in Google Ads.
In Google Ads, you can bid on specific, SLP-related keywords to target with your ads.
With an optimal bid strategy and a high Quality Score — Google's assessment of your ads' quality — you can get Google to display your ads whenever someone searches for one of your chosen keywords.
While PPC ads are fantastic tools for converting people, they can also turn people into leads by spreading brand awareness for your practice.
4. Market through social media
Did you know that the average user spends 28% of their Internet time on social media? That means social media is one of the best places online for reaching large audiences, making it an optimal marketing location.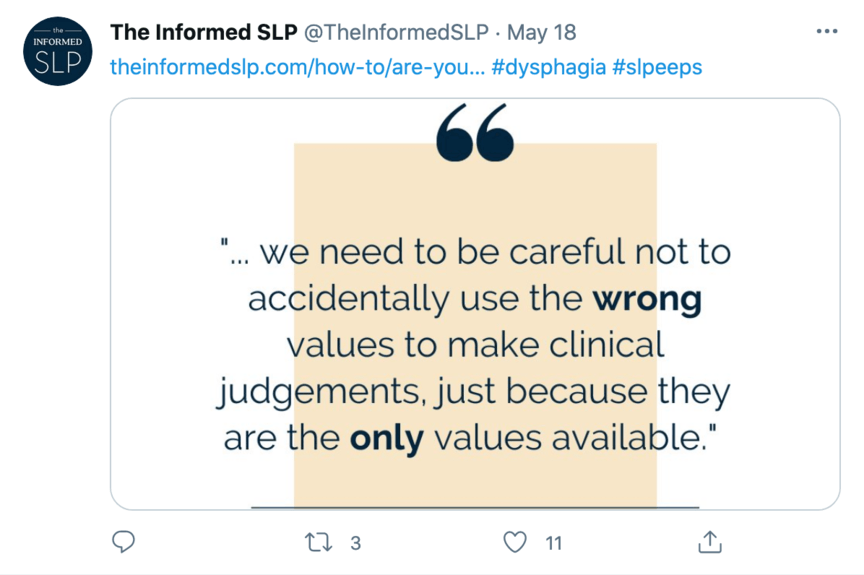 You can begin generating leads by creating a social media account and posting engaging content like videos and infographics. You can also run paid social media ads to reach users who don't find your account organically.
As people discover your page and start following you, your SLP lead generation will drastically improve.
5. Build out an email list
One of the most beneficial speech therapy lead generation strategies is to build out an email list on your website. You can present site visitors with a short form where they can submit their name and email address in return for a newsletter or special discount.
When people submit their email address, it tells you that they have a strong enough interest in your practice to qualify as a lead. The best part is, you now have a perfect path to take them the rest of the way from being a lead to being a patient.
You can send people on your email list whatever they signed up for, hopefully enticing many of them to convert later.
6. Create a YouTube channel
Our final speech therapist lead generation tip is to create a YouTube channel and post compelling video content. Videos are an excellent way to engage users, particularly users who don't like reading lots of text.
Your videos can cover a wide array of topics, from introducing your staff to answering common speech therapy questions. Just be sure all your videos are fairly short and carry information users will find helpful or interesting.
As people are attracted to your channel, many of them will be interested enough to progress to your website, where they can become leads.
WebFX knows speech therapist lead generation
If you want help mastering lead generation for speech therapists, look no further — WebFX has your back! With over 25 years of digital marketing experience, we know all about generating leads, and we'd love to help you get started.
With our lead generation services, you'll get help optimizing your marketing for each of the strategies listed above and more. You'll also receive a dedicated account representative to keep you informed and involved in everything we do for you.
To get started with us, just give us a call at 888-601-5359 or contact us online today!
Earn a 20% greater ROI with WebFX