When you market your speech therapy practice online, you want it to be somewhere where you can reach the most people in your audience. And if you go to where the average user spends 28% of their Internet time, you'll find that social media is a viable place for reaching that audience.
Social media spans a variety of online platforms, and each platform has its own immense audience. With so many people on social media, it's the ideal location to market and advertise your practice.
But how should you market your speech therapy practice on social media? What can you do to optimize social media for speech therapists? We'll answer that question below, so read on to learn more about improving speech therapy social media.
Then consider partnering with WebFX's team of over 500 digital marketing experts for our social media marketing services. Just give us a call at 888-601-5359 or contact us online to get started with us today!
Growing your social presence with WebFX is a walk in the park.
"WebFX allows growing your social media platforms to be stress-free! They are knowledgeable and adapt to your company needs!"
Learn More About Our Social Media Services

8 top-level speech therapist social media tips
Your speech-language pathology (SLP) practice can harness the power of social media to reach people who need your services.
Here are eight superior tips on optimizing social media for speech therapists!
1. Interact with your audience
Social media involves being social — specifically, interacting directly with your audience.
On social media, interaction goes beyond simply posting things for others to read. It requires you to listen and respond, not just speak. Think of it less like announcing things from a stage, and more like hosting a dinner party, where you mingle with your individual guests.
When users tag you in posts, consider responding. When they ask questions in the comments on your posts, answer them. Do what it takes to make your audience feel heard, and they'll subsequently have far more loyalty toward you.
2. Post photos and infographics
On social media — and the Internet at large — visuals are powerful. Most people have built up a habit of scrolling mindlessly through their feeds, and if all your posts consist purely of text, you probably won't earn too many views.
Try spicing up your content with visual elements like photos and infographics. Your photos can depict some of what goes on behind the scenes at your practice (keeping patient confidentiality in mind) or to introduce members of your staff.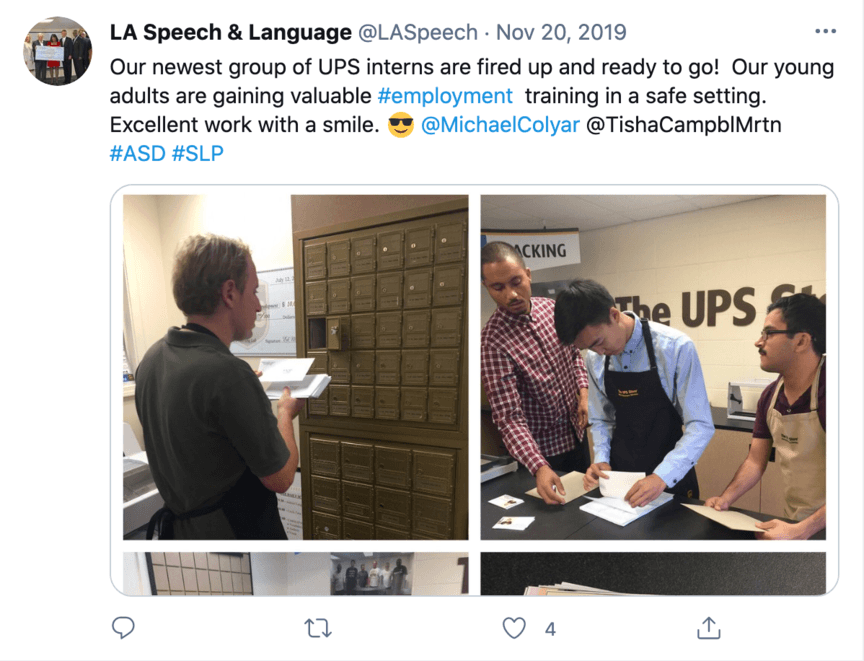 Infographics, meanwhile, are excellent tools for conveying information in a visual way. The information can be about your practice or speech therapy in a general sense.
3. Create social media video content
As compelling as images and infographics are, even they have nothing on the power of video. If you want users to stop their scrolling to look at one of your posts, video content is probably your best bet.
Your SLP social media videos can achieve a variety of purposes. Some of them can show off your staff or office, while others can educate people about basic speech pathology concepts.
Whatever they depict, videos are an excellent way to engage users and improve your overall SLP social media presence.
4. Run contests and promotions
Another stellar speech therapist social media tactic is to run contests and promotions. When people have the chance to win something, they become far more likely to engage with your brand online.
What exactly the contest entails is up to you. You could have followers submit their names and email addresses or do something more, like enter a photo contest of some kind. Whatever your criteria, make the contest simple enough to engage users.
As for the prize, it can be various things. Try offering a simple gift basket or provide special discounts on your services. Just be sure it's something people will want!
5. Identify with a local community
One of the best ways to attract people to your social media page is by helping them feel a sense of shared community with you. To achieve that, you can connect with the culture of your local area.
For example, let's say your practice is in a small town in Iowa. Maybe that town has a local fair every year to which local businesses contribute. By contributing to that fair, you could establish yourself as part of the regional community.
You could then share your contribution to your social media page by, posting photos from the fair. When people feel like you're part of their community, they'll be more willing to trust and visit your practice.
6. Respond to reviews
Social media is a place where people love to express their opinions about topics, and your business is no exception. There are bound to be a few people who take to social media to describe their experience with you, be it good or bad.
When people leave reviews on social media, try to respond. Answer good reviews by thanking the reviewer. If anyone gives you a bad review, though, it's even more critical to respond.
Start by publicly apologizing for any issues the reviewer experienced and offer to fix it for them if possible. Then message them privately to resolve the issue. This tactic can help you turn unhappy patients into happy ones!
7. Run paid social media ad campaigns
Not all your SLP social media marketing must be organic posts. You can also extend your reach to new users when you launch paid social media ads.
With paid social media advertising, you can display ads right in users' social media feeds. Furthermore, you can target the ads to specific groups of users based on features like age and location.
By harnessing paid ads, you can increase your overall social media influence and improve conversions.
8. Schedule your posts
As a final speech therapy social media tip, consider scheduling your posts. You won't have time to create new posts every day, but you'll want to post reasonably often to keep users engaged. That's why you can benefit from creating a social media calendar.
Using a tool like Buffer or Hootsuite, you can create posts in advance, and then schedule them to go live later. That way, your account will stay active even when you're busy helping your patients.
WebFX knows how to optimize speech therapist social media
Need a hand getting your speech therapy social media off the ground? WebFX can help! With over 1000 client testimonials, we're the agency businesses trust to drive top-level results for their online marketing.
With our social media marketing services, you'll get help implementing all the tips above and more. You'll also receive a dedicated account representative to keep you in the loop about everything we do for your campaigns
To get started with us, just call us at 888-601-5359 or contact us online today!
Earn a 20% greater ROI with WebFX