Nearly all your online marketing is designed to lead users back to one place — your website. On your site, you can familiarize people with your speech-language pathology (SLP) practice and turn many of them into patients.
But your site will only benefit you if it's optimized to engage and inform users. If it doesn't accomplish those two things, all your additional marketing efforts that lead to your website will go to waste.
So, what are the best ways to optimize web design for speech therapists? We'll dive into the answer to that question below, so read on to learn more about improving SLP web design.
Then consider partnering with WebFX — the agency with over 25 years of experience — for our professional web design services. Call us at 888-601-5359 or contact us online today to get started!
7 professional speech therapist web design tips
For your website to be compelling to users, it must meet several criteria, both in terms of its visual design and its performance. You can optimize for both of those benchmarks with the list of tips below.
Here are seven ways to boost your speech therapy web design!
1. Use responsive design
Did you know that over 50% of all Internet traffic comes from mobile devices? That means most of your website visitors will be using their phones to view your site, so it must be optimized for mobile — especially since Google ranks sites based on their mobile format.
The key to having a mobile-friendly website is to use responsive design. A responsive website changes its format to fit the screen where it appears. It keeps the same elements but rearranges them for optimal appearance and performance.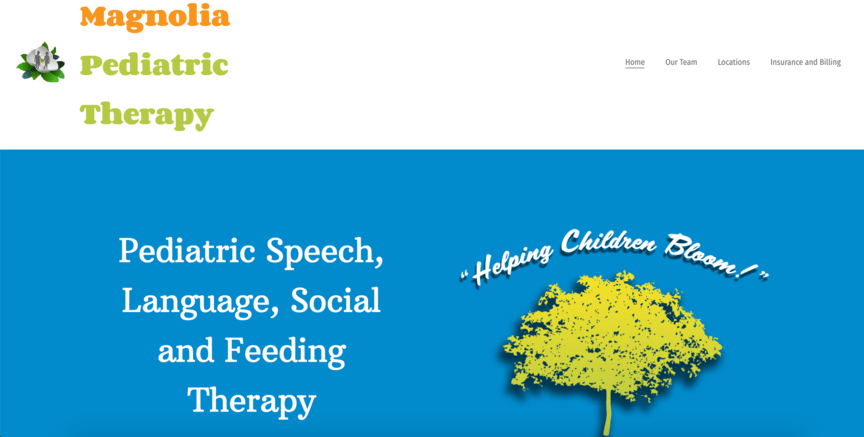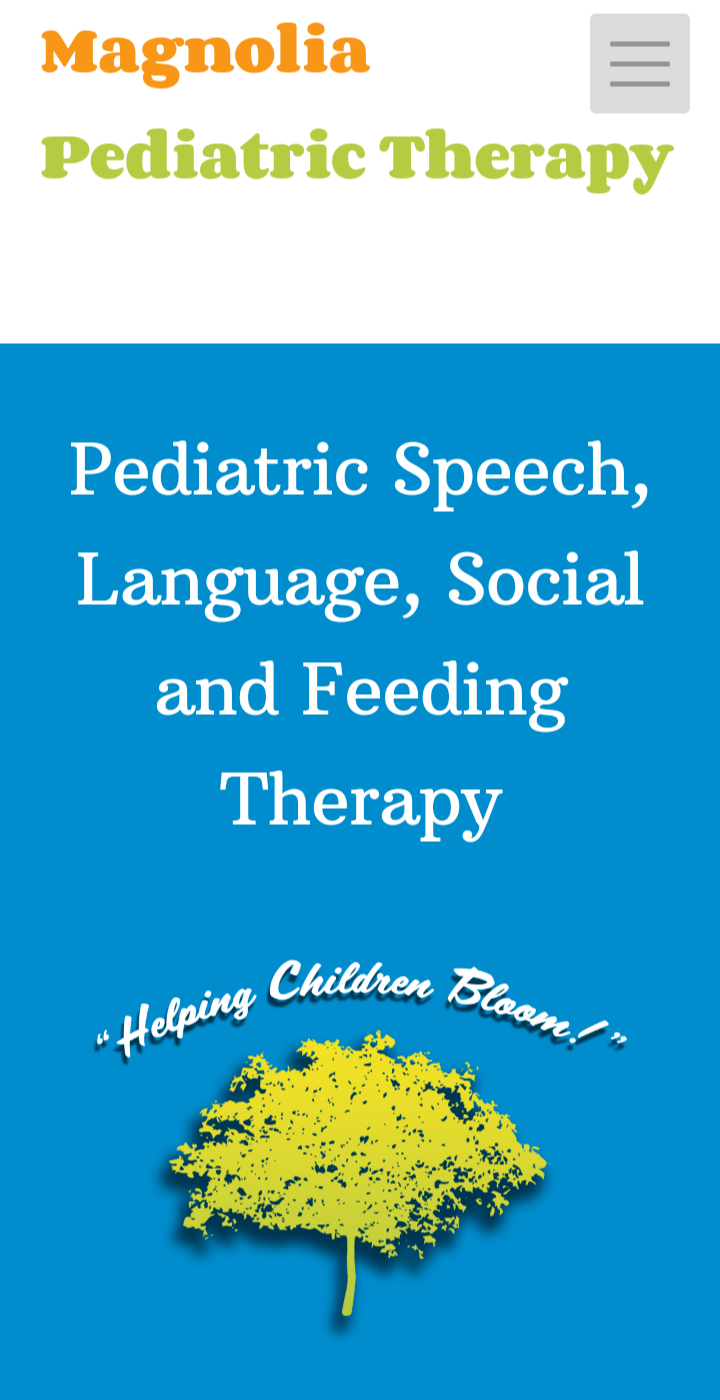 With a responsive site, you'll be able to retain more users and drive more conversions in the long run.
2. Create an intuitive navigation setup
Another crucial element of speech therapist web design is the site's navigation. Navigation refers to the setup you have in place for helping users find their way around your site. A site with poor navigation won't retain visitors for long, since they won't be able to find anything.
To keep your site traffic on your site, try to make your navigation setup as simple as possible. Group all your pages into some basic tabs in your navigation bar at the top of the page. Also, consider using breadcrumb navigation to show users where they are on the site at any given time.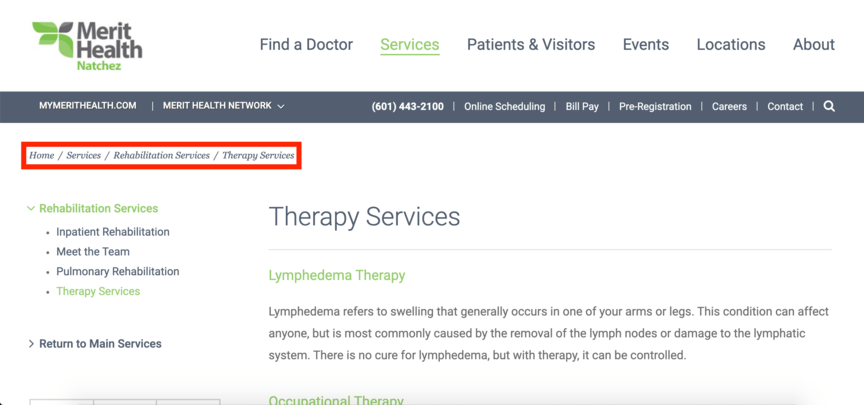 Furthermore, put in the effort to avoid orphaned pages. Orphaned pages don't have inbound links from other pages on your site, meaning no one can find them. To optimize your SLP web design, be sure to link all your website pages together.
3. Optimize your page load speeds
When people visit your website, they expect it to load quickly. In fact, 83% of users expect pages they visit to load in three seconds or less. If your website doesn't meet that expectation, it'll end up losing a lot of traffic.
To avoid that issue, be sure to optimize your page load speeds. You can take several steps to help your pages load faster, including:
Caching web pages
Minifying code
Compressing images
You can then check your page speeds with Google's PageSpeed Insights tool, which will rate your page load times between zero and 100. With fast-loading pages, you can retain more traffic on your site, significantly improving your speech therapy web design!
4. Harness video elements
People online often have very short attention spans, making it difficult to hold their interest. Thankfully, there are still a few reliable ways of catching people's eyes, and video is one of the most effective methods.
The moving visuals of a video make it a highly efficient medium for grabbing users' attention, which is why it's beneficial to your site. Your videos can span a wide range of purposes, from a short ad on your homepage to an informational video paired with a blog post.
Whatever speech therapy topics your videos address, they can help engage users who might not want to read through blocks of text, improving your overall SLP web design.
5. Brand yourself
One of the most critical things to get right on your website — and in your marketing in general — is to brand yourself. That means you need to represent your practice in a way that accurately reflects your unique brand, particularly when it comes to visual elements.
You can display your brand in a variety of ways. Some elements that contribute to branding include:
Font style
Color scheme
Shapes
Word choice
And more!
Branding your practice is so important because it helps users remember you. Someone may visit five or ten different speech therapist websites, and you want yours to be the one that stands out in their memory.
6. Write compelling content
With all the focus on how to improve the look and performance of your site, don't forget that an equally big part of speech therapy web design involves drawing people to your site in the first place. To attract traffic, you need to create compelling pieces of content.
"Content" in this case can mean a variety of things, including video, which we've already discussed. One of the best types of content for attracting traffic, though, is written content like blog posts.
When you start a blog on your site, you can write posts on various topics related to speech pathology. As people come to your site to read the content, many will end up sticking around to become patients.
You can also vary the types of content on your site, from service pages to informational articles.
7. Optimize your images
However, you choose to design your site, you'll want to use images. Including images on your site makes it easier to catch visitors' eyes and break up text on the page. But if you want to get the most from them, you should familiarize yourself with image optimization.
One way to optimize your images is to compress them to smaller file sizes, so they don't slow down your pages. But the other, more significant optimization tactic is to use alt tags.
Alt tags are small snippets of text you attach to images to describe what they show. For example, you might add an alt tag to one image that says, "doctor-talking-to-patient."
The benefits of alt tags are twofold. Firstly, they allow Google to read the images, which means those images can contribute to your search rankings. Secondly, alt tags can be read by screen readers, meaning visually impaired people can experience the full context of your site.
WebFX knows web design for speech therapists
Want a hand with your speech therapist web design? Here at WebFX, we'd be happy to lend one! Our team of over 500 experts knows web design for speech therapists, and we'd love to help you get yours off the ground.
With our web design and development services, you'll get help optimizing your site for each of the tips listed above and more. You'll also receive a dedicated account representative to keep you in the know about everything we do for you.
To get started with us, give us a call at 888-601-5359 or contact us online today!
Earn a 20% greater ROI with WebFX