Is your mining company looking to reach more clients? With a digital marketing plan for mining companies, you can reach clients looking for services like line drilling, rock splitting, and more. A digital marketing plan can help you connect with the leads where they're trying to find you.
So, what options are available to you to grow your business online?
On this page, we'll cover marketing strategies you can use to grow your mining company online. Keep reading to learn more and call us today (or contact us online) at 888-601-5359 to speak with a strategist about our digital marketing services!
Our digital marketing campaigns impact the metrics that improve your bottom line.
See More Results

WebFX has driven the following results for clients:

$3 billion
In client revenue

7.8 million
Leads for our clients

5.2 million
Client phone calls
1. Search engine optimization (SEO)
Search engine optimization (SEO) is the process of boosting your website's ranking in the search results to help you reach more clients interested in your services. When users want to find mining companies, they turn to search engines to help them find the right one.
Considering Google processes 70,000 searches per second, SEO is a valuable component of online marketing for mining companies.

If you're not ranking at the top of the search results, your competition will get your clients. With SEO, however, you can help boost your website's ranking to the first page of results and drive more leads for your business.
To create an effective SEO campaign, you'll need to:
Optimize for relevant keywords: When users conduct searches, they use keywords to help them find valuable information. If you want your mining company to appear in relevant search results, you need to select relevant keywords for your campaign. To help you reach the right leads, focus on long-tail keywords. Long-tail keywords, like "mining companies in Texas," contain three or more words and are more specific, so they drive more qualified leads. You'll want to focus on long-tail keywords to ensure you're driving the right leads for your mining company.
Improve your site load time: When users search for information, they want to find it fast. If your site takes too long to load, users will bounce from your page and visit a competitor's page instead — 53% of users abandon a page if it takes longer than three seconds to load. To improve site load time, you can use Google PageSpeed Insights to see your site's current load time and get suggestions for how to improve your site's load time. If you don't have the time to dedicate to improving your site's load time, you can invest in page speed services to have someone do it for you.
Ensure your site is mobile-friendly: In addition to having a fast loading site, you need a mobile-friendly site to cater to people who perform searches on mobile devices or tablets. Since Google adopted mobile-first indexing, which takes the mobile version of your site into consideration for ranking, you must have an excellent mobile version of your site. You can use Google's Mobile-Friendly Test to see if your site is mobile-friendly.

If it's not, you must integrate responsive design to make your site friendly for mobile devices. Responsive design enables your site to adapt to whatever device it's viewed on, which provides a better user experience that helps you rank higher in search results.
Focus on building backlinks: An essential part of ranking higher in search results is backlinks. Backlinks are links to your site from industry authorities. These links help you establish yourself as a credible source in your field. To earn backlinks, you need to create content (we'll dive into this more later). You'll want to create informative content that gets industry authorities to want to link to it.
Hear What It's Like to Work With WebFX!

"We had been looking for a new SEO firm responsible for industrial companies and we found the right one with WebFX. We have had nothing but great experiences so far and don't expect anything to change moving forward."
Boiler Installation
2. Pay-per-click (PPC) advertising
The next strategy you'll want to consider as part of digital marketing for mining companies is pay-per-click (PPC) advertising. PPC ads are paid advertisements that appear at the top of the search results above organic listings.

These paid advertisements help you attract leads that are ready to convert. In fact, ad clickers are 50% more likely to convert than organic visitors. When you run PPC ads, you'll be more likely to attract visitors who are ready to hire a mining company.
If you want to use PPC as part of your online marketing plan for mining companies, here's what you need to know:
You need to bid for ad placement: To appear in the search results, you need to bid for your ad's placement. To appear in search results, you'll need to bid on keywords, and like SEO, you'll focus on long-tail keywords for your PPC campaign.
You'll want to do some research to find the average cost-per-click (CPC), so that you have a better idea of how much to bid.

You need to set your budget: With PPC, Google doesn't require you to have a specific budget. You set your own budget, which means you can choose an amount that works best for your business. That said, it's important to note that the amount you set will affect the results of your campaign. For example, you'll get better results from spending $2000 on your campaign rather than $500. So, you'll want to balance your budget with how much you need to spend to drive valuable results. You can find the perfect budget by analyzing each campaign.
You need relevant ad copy: Your ad copy is what your audience sees when your ad appears in the search results. The keyword you choose, and your ad copy must be relevant to one another. So, if you run an ad for the keyword "top mining companies," your ad copy should be related to being a top mining company. You'll also want to consider using ad extensions on your ad. This feature adds additional information to your ad that entices users to click. From sitelink extensions to call extensions, you can add extra tidbits of information that help users choose you over your competition.
You need a tailored landing page: Aside from relevant ad copy, you also need a tailored landing page. If you're creating an ad about being a top mining company, your landing page should focus on delivering information related to your mining company and why customers choose you.
3. Content marketing
When you do marketing online for mining companies, you must integrate content marketing as part of your plan. Content marketing is the process of sharing your knowledge and providing your audience with valuable information related to your industry.
With content marketing, you can create numerous types of content, including:
Ebooks
Guides
And more
Content marketing is a great way to help you drive interested leads to your page and get them to check out your mining company. To have a successful content marketing campaign, you'll want to:
Post content frequently: If you want to be successful with content marketing, you need to post content frequently. Posting content frequently keeps your website fresh with new information and helps you reach leads who search for your business using different terms. To help you post content frequently, use a content calendar. A content calendar will help you organize when you're posting content to ensure you're posting enough. You can see if you have enough content for the month and identify gaps for where you could post more content.
Use a variety of content formats: While blogs are fundamental and a core piece of your content strategy, you don't want to limit yourself to blogging. With so many other content options available, you'll want to make sure you're using a combination of them to reach members of your audience that may not like reading blogs. From videos to ebooks, you'll want to try different content formats to see what resonates with your audience. Using different types of content will keep your strategy fresh and help you attract people through different methods.
Write for humans, not search engines: The biggest mistake companies make is writing for search engines. Many companies try to write content, so they can rank in search engines, so it becomes incredibly technical and difficult to read. Search engines, however, rank websites based on how humans interact with the site. If your site is too focused on search engines, your audience won't enjoy themselves or want to stay on your site. But if you write for humans, the information will make sense to your audience and encourage them to keep reading. This increase in engagement and dwell time will help you rank better in search.
Use high-quality visuals: If you're blogging, your audience doesn't want to see a wall of text on your page. For videos, your audience doesn't want to look at blurry footage and have to try and decipher what they're seeing. Regardless of the type of content you create, you always want to use high-quality visuals. Whenever you integrate visuals, whether it's into a blog post or on an infographic, make sure they're clear and visually appealing for your audience.
Time to Level Up Your Sales
Our long list of services helps you grow every aspect of your business with marketing strategies that are proven to increase bottom-line metrics like revenue and conversions.
In the past 5 years, we've managed more than 12.9 MILLION transactions across our client base.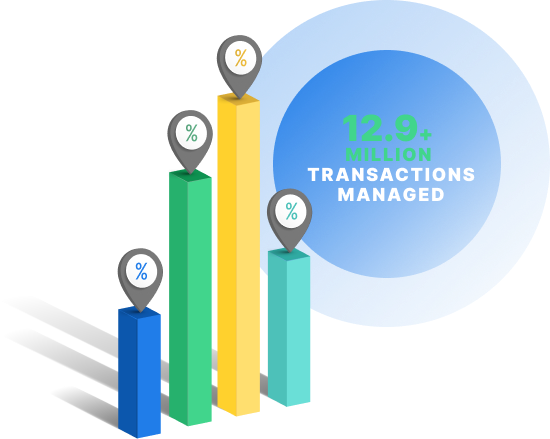 Digital marketing for mining companies: Services from WebFX
Implementing online marketing for mining companies is no small endeavor. We've just broken the surface on what you can do to market your business online. If you don't have the time to dedicate to building a strategy for digital marketing for mining companies, WebFX is here to help.
As a full-service digital marketing company, we offer dozens of services, including:
And more
As your marketing partner, we make marketing online for mining companies easy by creating a custom campaign that fits your mining business. With over 500 dedicated experts, you have the expertise and resources you need to drive more leads and increase revenue.
Ready to break ground and start your marketing campaign? Contact us online or call us today at 888-601-5359 to speak with a strategist!
Earn a 20% greater ROI with WebFX