Have you ever been concerned about the online reputation of your insurance agency? Are you worried that negative information could be costing you critical leads? Do you feel as if you have no control over what's being said about you online?
While the Internet can be a great marketing tool for businesses who know how to use it, it can also be intimidating for companies who are unsure of what people are saying about them. If the latter sounds like you, then it's time to take charge of your insurance agency's online presence with online reputation management.
Keep reading to learn more about reputation management for insurance companies, like how to manage your reputation better. For professional help with reputation management, contact us online or call 888-601-5359 to speak with an experienced strategist.
Meet WebFX:
Your world-class, tech-enabled marketing agency with over 1.6 million hours of combined expertise.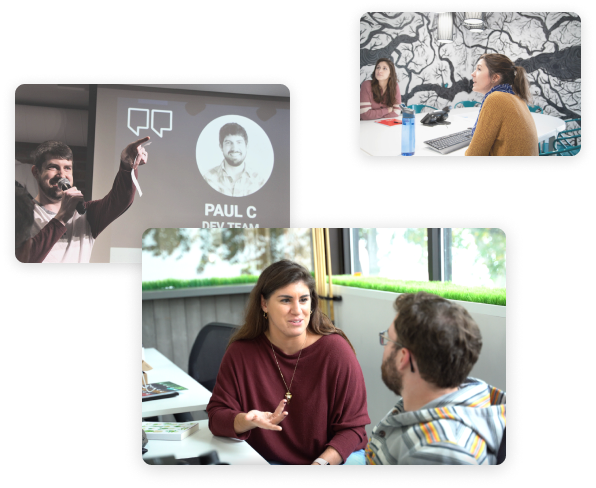 What online reputation management involves
It's easy to immediately think of all the bad things that could happen when talking about online reputation management, but the practice is more comprehensive than dealing with a negative review or customer complaint. Online reputation management encompasses everything that's being pushed out to the public about your insurance agency, from the awards you've won to the relocation of your office across the city.
The good news is that you have a lot more control than you might think over your online reputation, even if you've been plagued with some poor ratings or publicity nightmares. Though it can take time to repair a damaged reputation, it's been done before and is completely possible. The key is to take proven steps to restore or revitalize your insurance agency's online presence.

Hear What It's Like to Work With WebFX!

"WebFX provides professional, knowledgeable SEO services that can help any business. They are thorough and always provide detailed responses to help educate you on what they're doing and why. I've learned a lot from WebFX and it helps me do some SEO in-house while continuing to use their services."
Insurance Company
5 ways to improve your insurance agency's online reputation
There are many ways to affect your insurance company's online reputation, but some are more important than others. If you're looking to improve yours, there are a few basic steps you should take as soon as possible.
1. Have a robust website
If you haven't done anything with your website in more than a few months, it's time to reevaluate the way it looks and functions. Is it optimized for relevant keywords? Even if you did at one point, keywords can and do change over time, and SEO should be seen as an ongoing process.
Then, examine the content on your site. Is it content well-written and comprehensive enough for search engine crawlers? A thorough overhaul of your insurance agency's site can have a transformative effect in your search engine rankings, meaning that searchers will find your site before any others.
2. Add content to your site regularly
Getting your insurance agency's site indexed frequently is as easy as adding content to your site on a consistent basis. This can be done by publishing new blog posts, articles, and content in other formats. It can also be done by making some of your current webpages longer.
3. Use PPC campaigns
PPC, or pay-per-click, advertising on platforms such as Google Ads is a terrific way to increase viewership of your insurance agency's name and brand. If you've ever noticed, Google Ads advertisements are the first to pop up when you conduct a Google search. This means that even if your insurance agency isn't yet ranking for important keywords, it may still be seen when certain keywords are entered into a search engine by users.
4. Be active on social media
You have to engage with potential and current customers, and that includes being active on social media. Social media can help you establish your agency as a reputable source of information, and can improve the way people think of you within your community and industry. Be sure to keep up with your social media pages, and respond to any comments—both positive and negative—in a timely manner.
5. Maintain a consistent brand
Nothing confuses the public like mixed messages. Make sure that every tweet, every image, every article, and every video that goes live represents what you want your brand to say. Every person who has the power to speak on behalf of your insurance agency needs to understand your branding and voice, which you may need to outline for consistency.
How to take a proactive approach to your insurance agency's online reputation
In addition to managing your online messaging, you can minimize the chance of a poor online reputation by engaging in some of the best practices that work for other insurance agencies like yours.
Pay attention to what your competitors are doing online
Do you know who your agency's main competitors are? Check out what they're doing online, and learn what they're doing well. And while we'd never recommend plagiarizing content or copying another business's strategy to the letter, seeing what customers respond well to can help you improve your strategy.
Sign up for Google Alerts
What's being said about your insurance company online? When you sign up for Google Alerts for your agency's name, you'll never have to wonder. And if you notice something that needs attention, you'll be able to take action almost immediately.
Remember that your reputation is linked to your company as a whole
Your agency's name is tied to a larger corporate brand, and if that brand experiences a PR issue, you can't afford to ignore the problem. Figure out how you'll deal with it, because your agency's name will be attached to their issue—even if you had nothing to do with it.
If it doesn't affect your customers, acknowledge the problem and reassure them of that fact. And if it will, you'll need to come up with a plan for both managing the issue and retaining your customers.
Keep looking for ways to get the word out about your insurance agency
When it comes to managing your online reputation, your own site shouldn't be the only place you think about. Positive mentions on other sites, like industry blogs and news publications, can also help boost your reputation in the public eye.
Offer to be an expert for local journalists who are writing insurance-related stories, publish articles about insurance on your LinkedIn profile, and reach out to industry bloggers. These will all show your expertise, which is always a good thing for an insurance agent.
Want to manage your agency's online reputation more effectively?
Whether your insurance agency has recently suffered a PR issue or you'd simply like to take a proactive approach, WebFX can help. We have years of experience with online reputation management, and we can create a unique strategy for your business.
If you'd like to learn more about how we can use content, social media, and outreach to improve your agency's online reputation, contact us today!
Earn a 20% greater ROI with WebFX