Are you looking for insurance marketing strategies that will help you grow your business in 2021 and beyond?
If so, you've come to the right place! We've got a list of seven insurance marketing ideas that will help you increase brand exposure and gain more leads for your company.
Keep reading to learn more and give us a call today at 888-601-5359 to speak with a strategist about how to get started with digital marketing for insurance agents.
1. Create a visually appealing website that 'wows' your audience
One of the best insurance marketing ideas for making a substantial impact on your audience is investing in your website's design. First impressions of your insurance agency have a lasting effect. When it comes to your website, 94% of first impressions form based on your site's design.
If your site doesn't have a clean, modern, and visually appealing design, you're risking a negative first impression. An outdated or visually unappealing site can drive leads away from your page and to your competitors.
Prevent leads from bouncing off your site by investing in a beautiful website that 'wows' your audience.
Here are some things you'll want to include with your fresh new design:
Colors that reflect your business
Your insurance company is unique, so make yourself stand out from other insurance agencies. When you design your site, establish a color scheme that reflects your business. Choose one primary color, up to two accent colors, and one font color.
Simple navigation
Make it easy for people to find the type of insurance they need on your website. You don't want people to feel confused when trying to find the right kind of insurance. Use broad headings and include subheadings beneath each to organize your navigation.

Responsive design
If you're going to put in the time for this insurance marketing tip, you need to ensure that it looks great on all devices. By using responsive design, your website will adapt to smartphones and tablets to provide the best experience for your audience.

Hear What It's Like to Work With WebFX!

"WebFX provides professional, knowledgeable SEO services that can help any business. They are thorough and always provide detailed responses to help educate you on what they're doing and why. I've learned a lot from WebFX and it helps me do some SEO in-house while continuing to use their services."
Insurance Company
2. Boost your insurance agency's visibility on search engines
Search engine optimization (SEO) is one of the best marketing strategies for insurance agencies. SEO helps you boost your website's visibility and ranking in search results so that you can drive more qualified traffic to your page.
A strong marketing strategy for an insurance company will include SEO as a core component.
Consider this: 93% of all online experiences start with a search engine.
That means that there's a pretty good chance that your target market is turning to search engines to start their search for the right insurance company. If you aren't optimizing for these search engines, you're missing out on leads.
To help you get started with this insurance marketing idea, you'll need to:
Select long-tail keywords
Your website appears in search results based on keywords you optimize for on your site. Long-tail keywords, which contain three or more words, drive more relevant traffic because they're specific. Keywords, like "car insurance company," work great for driving relevant traffic.
Use a keyword tool, like KeywordsFX, to find industry-specific keywords and drive the right traffic.
Optimize title tags and meta descriptions
These two meta tags help Google determine your page's relevancy. Integrate your keywords into these two tags so you can rank for those keywords in search results. Additionally, keep your title tag to 60 characters and meta description to 160 characters to ensure your text doesn't get cut off.

Ensure your site loads quickly
Users hate to wait for slow-loading pages, so you need to optimize your site to ensure it loads quickly. Your site should load in two seconds or less. You can use a tool like Google PageSpeed Insights to learn where you can improve your site, or you can invest in page speed services to have someone optimize your site for you.

If you're looking for insurance marketing ideas that give results, invest in SEO. You can check the status of your website's SEO with our free SEO checker.
Looking for an all-in-one SEO audit tool? You've found it.
SEO Checker provides data on key metrics to give you:
Complete SEO score

Content Grade

Site Speed Analysis

and more.
3. Create content to drive leads to your insurance agency's site
An important marketing strategy for an insurance company is content marketing. Content marketing is one of the best insurance marketing strategies for agencies that want to drive not only more traffic but also more leads.
When you create content, you share your knowledge and expertise with your audience. From health insurance to car insurance, it can be challenging to wade through the language and policies. By providing helpful content, you can help clients understand insurance options and coverage better.
Content marketing allows you to build yourself as a trusted authority in insurance. You create new avenues to drive traffic to your site. It's one of the best insurance marketing ideas that gives the results you desire.
To start creating content for your insurance agency, you'll want to:
Research content topics
What do your clients want to know about insurance? Do some research to get some ideas of topics you should cover. You can also brainstorm some topic ideas with your team based on common questions you get.
Choose your content format
Content comes in numerous forms. From blogs to infographics, you can create a variety of content to keep your audience engaged. For each piece of content, choose the format that presents your information in the best way to your audience.
Link internally
When you create written content for this insurance marketing idea, make sure you include internal links to other pages on your site. Internal links help keep leads on your site longer and get them to check out more information. It also helps Google discover and index pages on your site, so they appear in search results.
4. Use pay-per-click (PPC) ads to drive qualified clients
One of the most cost-effective Internet marketing strategies is pay-per-click (PPC) advertising. When you run PPC ads, they appear at the top of the search results above organic listings. As the name implies, you only pay when someone clicks on your ad.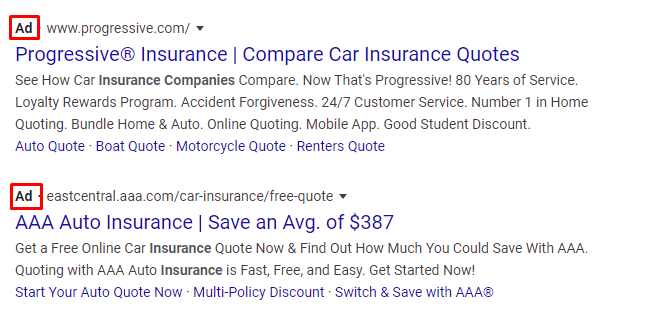 PPC ads are one of the best marketing ideas for insurance agents looking to reach leads who are ready to choose an insurance company. Considering PPC ad visitors are 50% more likely to convert than organic visitors, you don't want to miss a prime opportunity to get new clients.
These paid ads are great for building brand awareness, too.
Even if someone doesn't click on your ad, they still see it at the top of the search results and get exposed to your brand. When they're ready to convert, they'll remember your brand and refer to you during the decision-making process.
To get started with PPC as a marketing strategy for your insurance company, you'll need to:
Select your long-tail keywords
Like SEO, PPC ads appear in search results based on keywords, so you'll want to choose long-tail keywords. Long-tail keywords have a lower cost-per-click (CPC) because they are specific, and fewer companies bid on them, so you'll get more for your budget.
Set a bid amount that works for your budget
Make sure you set an appropriate bid amount that enables you to get the most value from your ad budget. Keyword research tools, like Google Keyword Planner, will help you find the average CPC so you can determine a proper bid amount to drive success with your campaign.
Create a separate landing page
When visitors click on your ad, it takes them to a landing page. Instead of using your homepage or another page on your site as a landing page, create a separate landing page tailored to your ad content. So, if you run a PPC ad for renters insurance policies, build a separate landing page that focuses on it.
5. Manage reviews to help you get new clients
Review management is one of the most critical aspects of obtaining new clients. That's why it's one of the best marketing strategies for insurance agents. People rely on reviews to help them make decisions, as the feedback is as good as feedback from a friend or family member.
Reviews help potential clients see what they can expect from your insurance agency. It can make or break their decision to choose your company. Review management is one of the most important marketing ideas for insurance agencies looking to build a positive reputation.
Here's how you can do review management effectively:
Keep tabs on different review sites
Your clients won't review you in just one place. If you want to ensure you're building a positive perception of your brand, you need to monitor platforms where your audience reviews you, including Google, Facebook, and Yelp. Keep tabs on these sites to see what people say about your agency.
Respond to positive and negative reviews
When someone leaves you a review, respond to it regardless of whether it's positive or negative. Thank people who leave positive reviews and address problems with those who leave negative reviews. It's okay to have negative reviews — what matters is how you respond.
Ask for reviews
If you don't have a lot of reviews for your agency yet, ask for them! Encourage your current clients to leave reviews about their experience and help provide insight for new clients.
6. Keep tabs on prospects through email marketing
Email marketing is one of the best insurance marketing strategies to keep in touch with prospects.
With email marketing, you send information directly to prospects about what they're interested in most. It's a great way to have a one-on-one connection with these clients and provide them information that gets them to convert.
When you use email marketing, you can send prospects information about policies you offer, bundle discounts, and more. It enables you to put your insurance company directly in front of these leads with the information they want.
If you use email marketing as a marketing idea for your insurance agency, follow these best practices:
Personalize your emails
Not everyone who has an interest in your insurance company is looking for the same type of insurance. By personalizing emails, you send subscribers information based on their interests, which makes them more likely to engage.
Use email automation software
When you invest in email marketing, you're going to send a lot of emails to subscribers. To make your job easier, use email automation software like EmailMaketingFX, which enables you to create, send, and monitor emails all in one place.
Use compelling calls to action (CTAs)
If you want people to act on your emails, you need to add compelling CTAs that entice leads to click. Don't stick to generic CTAs like "Click here" or "Buy now." Instead, opt for more compelling CTAs like "Get your free quote."
7. Advertise on social media to reach new clients
Social media advertising is a must if you want an insurance marketing idea that gives results. When you use social media advertising, you get your business in front of more people interested in your insurance.
With social media's refined targeting, you can reach interested leads better.
Social media ads appear in users' newsfeeds, so it puts your insurance agency right in front of them. You can use these ads for advertising your bundles, policies, and more. Additionally, social media ads are visual, so you can make your business pop off the page in a user's newsfeed and catch their attention.
If you use social media advertising as one of your insurance marketing strategies, follow these best practices:
Set a precise target audience
Run the most effective social media ads by creating an accurate target audience. You don't want to limit yourself to just gender or age. Define parameters like buying habits, interests, and hobbies to help you focus on those most interested in your insurance company.
Create compelling visuals
Since social media ads enable you to use visuals, you'll want to take advantage of it. Whether you use photos or videos, make sure you create visuals that stand out on the page and catch your audiences' attention. Keep your ads professional by making sure the visuals are high-quality, too!
Test different ad formats
When you run social media ads, you'll want to try using different ad formats. The forms you can use will depend on the platform, but generally, you can use a variety of photo, video, and carousel ad formats.
Good agencies have more than 50 testimonials.
Great agencies have more than 100 testimonials.
WebFX has over 1000+ glowing client testimonials.
See What Makes Us Stand out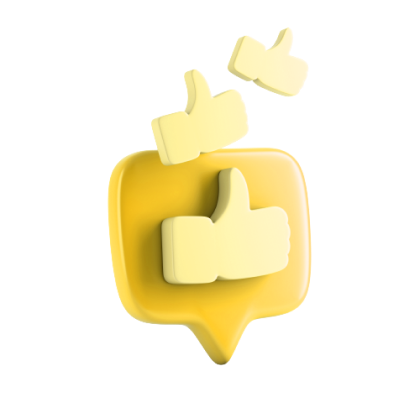 Invest in insurance marketing strategies today
Insurance marketing strategies will help you grow your presence online and reach more leads interested in your insurance company. By creating a plan with the right marketing strategies for insurance agents, you'll help your company earn more clients.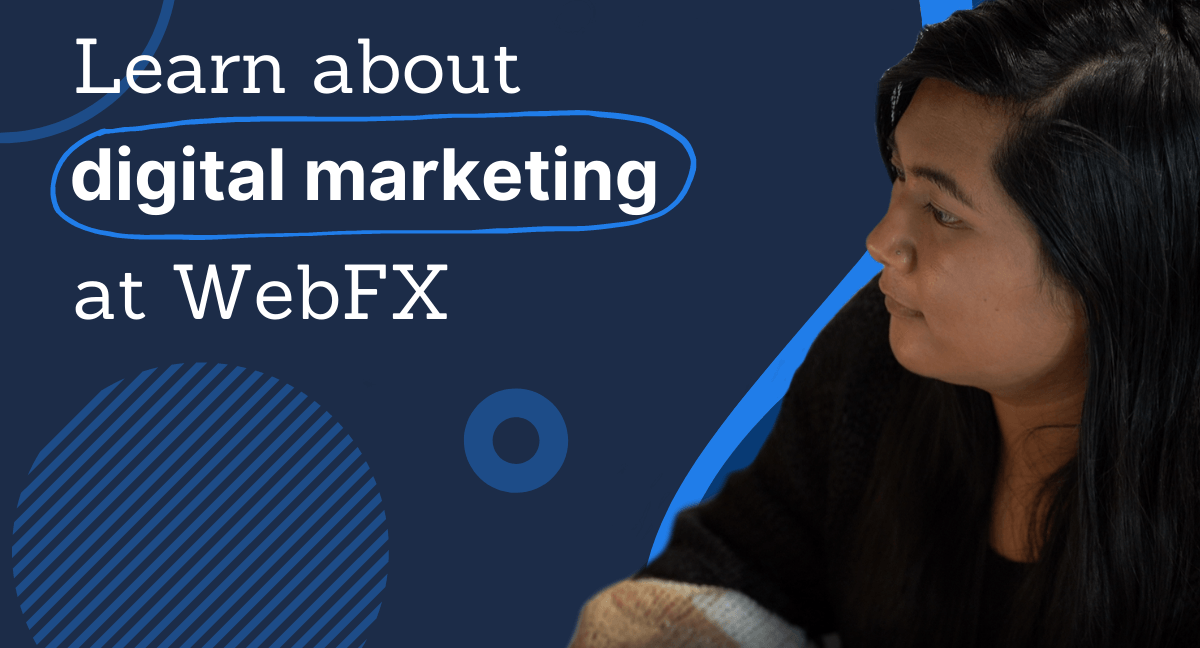 If you're too busy managing policies to dedicate time to put these insurance marketing ideas into action, WebFX can help.
We're a full-service digital marketing company that offers everything you need to grow your presence online. With a team of over 500+ experts, you can count on us to deliver a marketing campaign that drives results.
If you're ready to dive into digital marketing for insurance agents, contact us online or call us today at 888-601-5359 to speak with a strategist about our digital marketing plans!
Earn a 20% greater ROI with WebFX