SEO for Images
With so much focus on producing high-quality content and a top-notch website, many people neglect search engine optimization, or SEO, for images. By now, you probably understand the importance of optimizing your content and showcasing pristine images for your audience. But did you know you're missing out on an opportunity if you aren't optimizing your images?
Keep reading if you want to learn how to optimize your images with SEO, and give us a call at 888-601-5359 to find out how WebFX can help!
Need help with your image SEO
WebFX can help!
Here's how it works:
The process search engines use to analyze and rank web content is a complex process. Good SEO ensures your audience can quickly find you online. It is also one of the best ways to earn a top spot in search engine results pages (SERPs).
If you're like many business owners, you may think that SEO only applies title tags, headers, and body content. And while these are some of the most critical places to do SEO, they aren't the only ones. Search engines cannot process images the same way people can, and SEO is the only way to make sure that they can understand. Although the process takes a little know-how, it's fairly straightforward to get your images ready for search engines.
Optimizing your images is another step toward improving your position in search engine results, and as a result, attracting more visitors to your site. Here are a few helpful tips for SEO for images: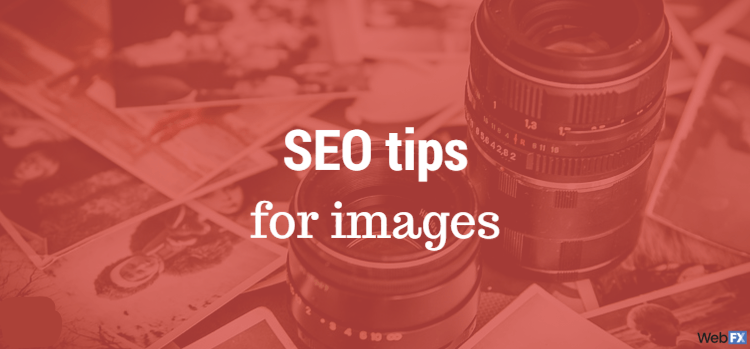 Know your keywords and keyword phrases
Be sure to do your research, just as you would to optimize the rest of your website. You likely know the key search terms people use to find you online. If you're familiar with the keywords for which you rank, excellent. You already know which keywords to include when you do SEO for your images.
If you're unsure of your keywords, it's time to do some research. Use Google's Keyword Planner or another keyword research tool to discover what people are searching for that relates to your business. After you're armed with the best keywords, you're ready to begin the task of appropriately using SEO for images.
Use best practices for image labeling
We understand that it's tempting to take the easy way out and label images with the standard title your camera gives them, or something simple like "image2.jpg." But because search crawlers actually analyze image filenames, this is not ideal. This means your image filenames should accurately describe their content.
If a certain keyword is relevant to the image, include it in the file name. That being said, don't just use random keywords with the hope of improving your rankings. Even though a search engine might not be able to identify that the description is irrelevant right away, keyword stuffing is never a good idea.
Include images in sitemaps
Because search engines cannot get information from visuals, you need to put as many clues as possible about what exactly they contain. Google Webmaster Tools recommends creating image sitemaps as a best practice for publishing images.
This means you should follow its instructions for publishing images online. If you don't, your images aren't going to do as well as they could in the search engines.
Some of our client Successes
Optimize image alt tags

Hopefully, all browsers are able to display your images. If everything is working properly, an alt tag is what's displayed when users hover their mouse over an image. But if for some reason a browser can't display your image, an alt tag is the text that displays in its place.
Image alt tags are relevant for two reasons: they help users who can't see your images understand your pages better, and they can add SEO value to your site. With this in mind, you should add alt tags to every image on your website. It can be somewhat tedious if you have lot of images and didn't create alt tags when you originally uploaded them, but the SEO value is worth the effort.
Don't hide your text with images
Hiding any text is considered a black hat SEO tactic, and it will come with penalties. You may want to use an image in place of the first page heading, also known as your H1, but don't do this by covering up your header text. The thinking is innocent, but it should be avoided.
If you really want to use an image instead of text as your header, be sure to label the image appropriately to reap the SEO benefits of optimized images.
Decrease image sizes if possible
Images add aesthetic appeal to your website, but use decorative images wisely. Too many of them, or decorative elements that are too large, can slow your load time. This can lead to fewer conversions or come with a hit to your page ranking.
The general rule is to keep any image below 70kb. Aim to keep images as clear as possible to maintain the quality. Don't decrease the file size so much that the quality suffers, and don't change the file type to something that's going to cause a drastic difference in appearance.
JPGs are generally a safe option because they offer the highest quality at the smallest file size, but other file types work as well. Test out your options and see which type delivers the quality you want with the lowest size and load time.
As you optimize your content for the Internet, we hope you'll also consider SEO for images. It's a little time consuming, but the SEO benefits are worth the effort as you extend your reach and strengthen your reputation online.
If you still aren't sure how to do SEO for your images, or for any other aspect of your site, we're happy to help! Contact us today to start attracting more traffic and leads, or check out our complete guide to image SEO.
Ready to start your Internet marketing and design campaigns? Call 888-601-5359 or contact us online today to learn more about how WebFX can help with your SEO challenges.