If you're in the transportation and logistics industry, being all over the place is a sign that your company is doing its job. By traveling up and down the country—or even around the world—you generate more revenue and greater customer satisfaction.
However, the opposite is true when it comes to search engine rankings. Your site must stay consistently at the top if it's going to generate the kind of business it needs, and that's only possible with search engine optimization, or SEO.
SEO is the process of optimizing your website so that it continually ranks higher and higher in search engine results. On this page, you'll learn why transportation companies need SEO, as well as few tips for how your company can use it to start attracting more customers and generating more revenue.
To learn more, keep reading, and contact us at 888-601-5359 for information about our custom SEO plans!
How does SEO help transportation and logistics companies?
Search engine rankings are based on a number of factors, some of which you can control, and others that depend entirely on how users react to your content. Google and other search engines continually crawl the web for new and updated pages, so that whenever a search is performed, their algorithms can determine which pages are most appropriate for the search and rank them accordingly.
When potential customers search for transportation and logistics services, you want to rank at the top. Here's what search engines take into consideration when determining their results:
Relevance
The more closely the content on a page aligns with a search, the higher it ranks. However, search engines don't just count the number of times a keyword appears on a page—they also look for a semantic match, or whether the content would appeal to the searcher.
Authority
When a page has many links from outside sites leading to it, it's seen as more authoritative and trustworthy than similar pages. The increased authority leads to a boot in ranking.
Social signals
Although it's unclear just how big of a role it plays, social media can impact how well your pages perform in search engines. Pages that generate shares, tweets, pins, and comments rank higher than pages that generate little to no response.

Hear What It's Like to Work With WebFX!

"Ever since signing on with WebFX, we have had nothing but POSITIVE results across the board. Everyone that we have worked with has been wonderful, and really makes an effort to understand our business and how to get the best results possible!"
Transportation Company
Why do transportation and logistics companies need SEO?
Yours is not the only company providing transportation and logistics services. There could be hundreds more, all of them competing for the same customers as you. No one has the time to research all of these companies, so they narrow their selection to the companies that are most visible. Since search is becoming the primary tool for researching businesses, the sites that rank highest get the most attention.
Your site needs SEO, because no website reaches the top of a ranking page haphazardly—it gets there through an ongoing process of refining content to meet user searches. As your site ranks higher, it will generate more traffic from qualified prospects, leading to more conversions than you would get from other marketing strategies.
Now that you know why your website needs to optimize for search engines, keep reading to learn some of the most effective way to rise to the top.
Top 3 SEO strategies for transportation and logistics companies
Search engines rank websites on a number of factors, and it can take weeks for your strategy to take effect. Because of this, developing a strategy will take time, but as long as you commit to an ongoing approach, your rankings and business performance can both benefit. These steps will help you get started:
1. Targeted keyword optimization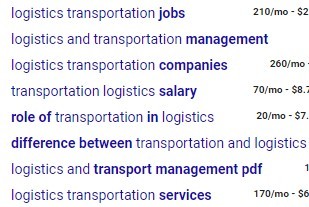 Not all transportation companies offer the same services to the same types of business. You may cater to a particular segment and tailor your services to their particular needs, or perhaps you use a certain piece of equipment that differentiates you from similar firms. Make these distinctions clear in the search terms you use.
Include your chosen keywords and phrases throughout your site, including page titles and headers. If you haven't done so already, you should also create a menu of services and give each type of service its own page. This will allow searchers to navigate directly from search engines to the page with the information they need, so they won't need to spend time scrolling through paragraphs of irrelevant information. The more specific your keyword selection, the more likely you are to target the right leads.
2. High quality content
Although they may seem on the surface like two separate strategies, content marketing and SEO go hand in hand, because every piece of content contributes to your site's rankings. Produce high-quality content on a regular basis to engage current and potential customers and increase traffic to your site.
Starting a blog can be a great way to regularly add new content to your site, and you may also consider content in other formats like infographics, videos, and white papers. This content can be created around virtually anything within your industry, like common questions or issues about transportation, as well as news related to your company.
3. Active social media presence
Search engine rankings are determined by both internal and external factors, and social media is an example of the latter. An active social media page can boost rankings on your site and help you reach new audiences, so your company should create and manage accounts on the sites where your potential customers spend time.
Post updates on a regular basis, including links to new content and news stories related to your field. Follow customers on these sites and share their updates, and over time, they may do the same for your posts. You can also join discussions in industry-related forums to build credibility among colleagues, so that as your reputation on social media grows, your website will gain authority as well.
Time to Level Up Your Sales
Our long list of services helps you grow every aspect of your business with marketing strategies that are proven to increase bottom-line metrics like revenue and conversions.
In the past 5 years, we've managed more than 12.9 MILLION transactions across our client base.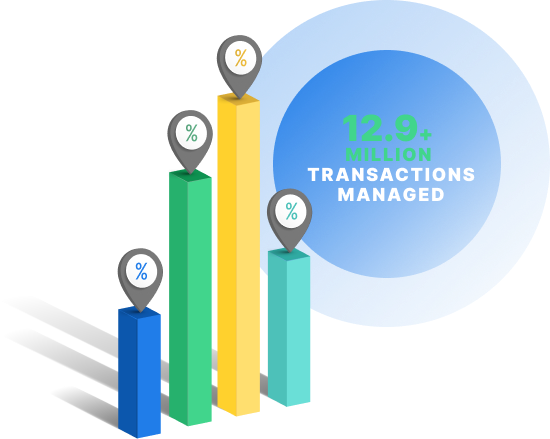 Drive revenue with SEO for logistics and transportation companies
Search engines have evolved from a consumer resource to a powerful marketing tool, and can be an extremely effective way to reach new customers. However, your company has to be among the top results to really benefit, and the only way that can happen is with SEO.
A well-executed strategy can give a boost to both your rankings and revenue, and we want to help. If you're interested in learning more about SEO for your transportation and logistics company, don't hesitate to contact us! We're more than happy to discuss your business' goals, and how SEO can help you achieve them.
Earn a 20% greater ROI with WebFX