How do Columbus social media marketing services benefit my business?
When you invest in a social media marketing plan, you will reap numerous benefits including:
1. You reach more qualified leads
The most important part of your campaign is targeting the right people. You want to try and reach people that are interested in your business. Social media marketing makes it easy to target people interested in your business.
When you create social media ads, you decide who you want to target. Setting your target audience allows your ad to appear in relevant newsfeeds for leads that are looking for a business like yours. It helps you draw them to your social media page and get them to follow or like your page.
Targeting a specific audience increases your opportunity to earn conversions. It's a great way to help your business grow.
2. You earn more conversions
Social media marketing helps you earn more conversions for your business. This is due to the ability to create tailored posts of content. Tailored content is geared towards different members of your target audience and gets them to convert.
When you send your audience personalized content, they are more interested in checking out your content. If it's tailored to their likes and interests, you will garner more interest and get them to think about purchasing from your business.
This will lead to more conversions for your Columbus business. It's a huge benefit to using social media marketing.
3. You build brand recognition
Brand recognition plays a fundamental role for your business. You want people to recognize you and immediately feel comfortable with your company. Building brand recognition helps you earn more conversions down the line for your Columbus business.
Social media is great for building brand recognition. People will see your content in their newsfeeds and check it out. They'll be exposed to your brand and become more familiar with it.
Your audience may not convert right away when they see your content. They may not be ready to convert, but exposing them to your brand will pay off down the line. When these leads decide to convert, they will choose your business over the competition because they are familiar with your brand.
People rely on brands they trust. When you build brand recognition, you build trust with your audience. They will be more likely to choose your business when they're ready to convert because you've built a repertoire with them.
74% of people use social media when making a purchasing decision.
Make their decision easy with a stellar social media presence. See how your brand can level up by requesting a no-obligation proposal today.
One of our experts will be in touch within 24 hours!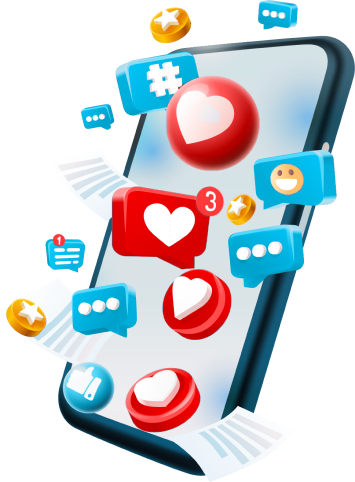 Columbus social media marketing plans from WebFX
At WebFX, we offer numerous social media marketing packages for your business. Our social media packages are customizable and based on the number of networks you want to use for your business. Here's a look at our different packages and some highlighted features from them.
The cost will depend upon the number of networks you need and if you need any additional services, like copywriting. Learn more about our social media packages here.