Your Ultimate Lead Generation Consultant
It's no secret that your business can't thrive without a steady influx of leads. Leads are potential customers that come to you with interest in your product or service and afford you the opportunity to sell them on what you have to offer. WebFX is your ultimate lead generation consultant and can help your business thrive online by attracting target leads to your website. How do we know we're the best? In the past five years alone, we've been able to generate over 7.8 million leads for our clients. On this page, we'll talk about what lead generation companies do, and how to find the best lead generation consultant for your business.
What do lead generation companies do?
Lead generation is a general term that encompasses a wide variety of strategies that work together to bring potential customers to your website.
That being said, the main job of a lead generation company is to:
Study your business and your industry
Understand your business goals
Make lead generation strategy suggestions based on that information
Carry out a lead generation strategy that increases the number of leads for your company
These initiatives just scratch the surface in terms of the actual campaigns that a lead generation consultant implements, but in general, these are the four main goals of a lead generation consultant.
Now, let's dig into some of the strategies that lead generation companies implement to drive leads for your business.
6 strategies that lead generation consultants like WebFX offer
There are tons of strategies that bring leads to your website, but they're only effective if your lead generation consultant is experienced, up-to-date with industry standards, and keeps your goals in mind. With that perfect mix, you're sure to see results with your lead generation strategy.
Let's talk about some lead generation strategies that drive real results.
1. Website design and redesign
This is number one on our list because your website is truly your own personal lead generation hub. Any lead generation consultant will start by asking if you have a website, and for good reason.
You'll need a website if you want to reap the benefits of online marketing strategies. This is where users find themselves after they've been qualified as a lead.
It provides them with a place to learn about your business, your products and services, your team members, and more. This information can easily make or break a lead, which is why your website and the information presented on it is so important.
But let's talk about web design as a whole and how it's truly important to your lead generation campaign.
Your website is a content hub, as well as a place for you to advertise your product offerings. However, not just any website can drive leads. Here are a few elements your website should have to be a lead-generating machine:
An easy-to-use, concise navigation bar: Your navigation bar acts as a road map of your website for users. Without one, site visitors won't be able to find what they're looking for, and consequentially, they'll leave your site without making a purchase. You should be sure that your website has a navigation bar that features all of the most important features or sections of your website, with drop-down menus of important internal pages.
An aesthetically-pleasing appearance: Although appearance isn't everything, it can certainly be a deterrent for potential leads. If someone visits your website to find a mix-match of colors, too many designs, and too many interactive elements, they might feel overwhelmed and bounce from the site.
A simple way to become a customer: When leads make it to your site, their next action item is to purchase something from your site. In order to increase sales and turn leads into purchasing customers, you'll want to make it easy for them. Create a variety of calls-to-action (CTAs) that give users the opportunity to take the next step in the buyer's journey. These CTAs could be a "contact us now!" button, a "add to cart" button, or a "get a quote" form.
These website elements are all crucial to both drive leads to your website and turn those leads into paying customers, but how is your website a lead driving tool in the first place?
Here's the skinny. Google's algorithm ranks websites on their content relevance to a user's search query, but they also look at your website as a whole.
Google cares about giving users a complete, fantastic experience when they visit your website. Of course, content matters, but so does the design and usability of your website.
Google's algorithm ranks your site on many things, but usability is one of them. Your design should feature all the elements we listed above as well as things like a fast page speed.
When your site has a fantastic website in tandem with great content, your products and services will rank highly in search engine results pages (SERPs) and generate more leads for your company.
2. Keyword research
Keyword research is one of the biggest parts of any online strategy since it helps you target your ideal leads. Your lead generation consultant will explain that with keyword research, you'll be able to create content around the terms that your leads search most often, which gives you a leg up in the process.
Keyword research starts by brainstorming a list of keywords that relate to your business, your products, and your services. After you do so, you'll want to add descriptive words to either end of the word to make them more detailed. These longer keywords are known as long-tail keywords, and they target a very specific group of leads.
For example, if you own a women's boutique, you might start by brainstorming a list of keywords that include the following terms:
Women's coats
Women's boots
Women's sweaters
Women's hats
Those keywords are pretty general and they're going to be very hard to rank for in search engines. Therefore, they're also going to be hard use as lead magnets.
Here's a list of long-tail keywords that explain your products in a little more detail:
Women's black wool winter coat
Fur-lined women's ankle boots
Hand-knit women's sweaters
Women's floppy beach hats
As you can see, this group of keywords is much more granular, and therefore, able to target a much more detailed group of leads.
This group of keywords will attract much less traffic, but the leads that do search for these keywords are much more prepared to convert since they know exactly the product that they're after.
Keyword research is an extremely important lead generation strategy since targeting the right keywords can make or break your campaign.
3. Content creation
After you've come up with the keywords you want to target, your lead generation consultant will start to create content around those terms.
Content is another crucial part of your lead generation strategy that your consultant will highly recommend. We've mentioned it when we talked about web design, so let's dive in a little more.
Your content is what ranks in search engines, and there are over 1.2 trillion worldwide searches per year on search engines like Google. That means that there are literally trillions of chances for your website to show up in search results and drive valuable leads to your website.
Not only is your content important for driving leads in search engines, but it also helps turn leads into loyal customers.
If your site content ranks highly in SERPs for your target keywords, you'll get more site traffic to your website. From there, your lead generation consultant will likely tell you that your content is what nurtures leads into paying customers.
The quality and relevance of your content are important to potential customers and you need high-quality, relevant content to convert leads to loyal customers. If your content answers their questions, gives them the information they were looking for, and promotes your products well, you'll see an uptick in conversions.
4. Search engine optimization (SEO)
SEO is one of the best-known online marketing strategies available. Your lead generation consultant will likely recommend SEO as a part of your strategy, and for good reason.
If you want your website to rank highly in search engines, it's one thing to have an amazing website and fantastic content, but what will really get your site to top ranking positions is a solid SEO strategy.
SEO is the process of improving your website to ensure that it ranks highly in SERPs and, as you already know, ranking highly in SERPs is one of the best ways to attract leads.
Here are some strategies your lead generation consultant will use if you opt for an SEO campaign:
Content implementation: If you haven't already opted for a content creation or content marketing campaign, your lead generation consultant will suggest one as a part of your SEO strategy. Content is king, and it's a huge part of optimizing your site to attract leads and conversions.
Multimedia inclusion: Imagine a website with all text and no images — you'd become bored pretty quickly! Multimedia helps to keep users engaged on your pages and keeps them from bouncing because of boredom. It can be images, infographics, or even videos, and they help keep users interested in the information that you share.
Creating a strong internal linking structure: Internal linking is when your site pages link to one another. Not only does this help Google index your pages quicker (and rank them faster), it also ensures that users can find related pages to the ones they're reading, keep them on your site for longer, and nurture them as leads.
There are many more SEO sub-strategies that a lead generation consulting company can talk to you about. Did you know that WebFX provides results-driven SEO campaigns for our clients? With over 25 years of experience, you can trust us to deliver the best advice in SEO and lead generation.
5. Social media optimization
It's estimated that by 2027, there will be over 6 billion social media users in the world. With so many users on social media, it's the perfect place to attract leads for your business.
Your lead generation consultant will be able to help you pinpoint exactly what social profiles your business should invest in, depending on your industry, your competition, and your product offerings.
If you already have social profiles for your business, optimizing them is key for lead generation. Here are some ways to turn your profiles into lead magnets:
Share links to your website: The more users you can get to visit your website, the better. Social media is one of the best places to share links to your website simply because of the sheer volume of people that see and click your links. Don't forget, if your friends and followers like or share something that you post, their friends and followers will see it, too. This increases your reach on social platforms exponentially.
Post promotional messages: Are you releasing a new product or service? If so, post something that lets your followers know! Everyone loves shiny new products, and you can use a post like this to excite and delight your friends and followers. The more excited they are, the more likely they are to share with their friends and family, which creates more potential leads.
Interact with your friends and followers: Social media is called "social" for a reason. It's made to facilitate the interaction of linked profiles. That means you should always try to positively interact with users on your profiles. If someone comments on something you post, respond back! If someone comments negatively, you should also respond in a well-mannered way to show other users that you want to right your wrongs when it comes to your customers.
6. Online review management
Did you know that 68 percent of users are willing to write a review on your company if you just ask them? Encouraging satisfied customers to write reviews of your business can be a fantastic lead generation strategy since a whopping 91 percent of people trust online reviews as much as a personal recommendation from family or friends.
Your lead generation consultant will help you design a strategy to get more reviews in order to drive more leads to your company.
Not only do positive reviews help you gain leads, but the way you respond to bad reviews can also entice users to purchase from your company.
For example, if you have a customer that was not at all happy with their product after it was delivered damaged, responding in a polite manner and offering to replace the items could get you major brownie points when it comes to potential leads.
Users want to know that your company is friendly to their customers and easy to work with, and the way you respond to online reviews can definitely determine that.
Partner with a team of ecommerce masters!
WebFX campaigns have delivered more than 12,936,451 ecommerce transactions in the last 5 years
Read the Case Studies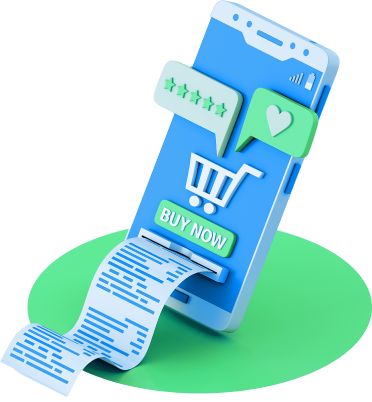 How do you know WebFX is the ultimate lead generation consultant?
If you're skeptical of our claim that we're the ultimate lead generation consultant, read on to find out why we are.
1. We talk to you like a friend
The best lead generation consultants should be an extension of your business. Not only do they genuinely want to drive leads for your company, but they want to see your business succeed.
The best companies, like WebFX, will take the time to get to know your unique business and goals in order to create the perfect lead-generating strategy for you.
Your agency will treat you like a friend rather than a client, and they'll work with you until you reach your business goals.
2. We'll keep you in the loop about your campaign
The best lead generation consultants will always keep you in the loop when it comes to your campaign. As you pay for services every month, you will inevitably wonder what kind of results your marketing budget is driving. Your consultant should always come to you with the cold, hard numbers.
We'll tell you what campaigns are working well and which ones need some tweaking in order to drive optimum leads. Not to mention, we'll be upfront with you about suggestions for the future of your campaign, how it might change, and what their plan is to get you back on track.
3. We've got a ton of online testimonials
Online testimonials are a huge sign of trust when you're looking to hire a lead generation consultant. You should check a consultant's website to determine whether or not they have any testimonials published, and if they do, you can tell they're driven real results for clients if they have over 100.
Testimonials are so trustworthy because they come from clients who have worked with a consultant before and had amazing results — results so amazing, they're willing to share.
Did you know that WebFX, a top lead generation consulting firm, has over 1020 client testimonials?
FAQs about lead generation consulting services
Looking to learn more about lead generation consulting services? Browse our FAQ:
What is a lead generation consultant?
A lead generation consultant helps organizations attract, nurture, and generate more leads. Typically, lead generation consultants will analyze an organization's existing lead generation strategy and then provide and implement their recommendations.
How much does a lead generation consultant cost?
Prices for lead generation consultants vary and depend on factors like the consultant's experience, the number of project hours, and more. On average, businesses spend $50 to $500 per hour or $1000 to $7500 per project. For the most accurate pricing, though, request a custom quote.
Looking for a lead generation company to help your business thrive?
If you like the sound of more leads, you need to hire a top lead generation consultant. WebFX has been in the lead generation industry for over a decade, and we've been able to drive amazing results for our clients.
In fact, in the past five years alone, we've been able to drive over 7.8 million leads for our clients with our top-of-the-line lead generation strategies.
If you're looking for a lead generation consultant that treats you like family, keeps you in the loop with your campaign, and has over 1020 client testimonials, contact WebFX online or give us a call at 888-601-5359 today!
Learn more about SEO pricing, services, and industry tips!