Browse Lancaster digital marketing services
If you're looking for digital marketing in Lancaster, look to WebFX. As a full-service agency, we provide a complete solution to marketing and advertising your business online, whether you're looking to use search, social, email, or another channel.
SEO services
Use our SEO services to bring qualified traffic and leads to your company's website.
Social media services
Build brand awareness and reach the users that matter most to your business with social media.
PPC advertising services
Invest in PPC advertising to generate immediate leads, sales, and revenue.
Content marketing services
Generate continuous website traffic, leads, and sales with content marketing.
Web design services
Launch a fast, easy-to-use website to support your digital marketing strategies.
Email marketing services
Nurture valuable leads and current customers with our email marketing services.
Additional online marketing services we offer include:
And more
If you aren't sure which service matches your specific needs best, feel free to contact us online or call us at (888) 601-5359 to speak with an experienced strategist.
We don't want to tell you about the work we do, we want to SHOW you.
View Our Portfolio

We've built over
Websites
in a variety of industries.
Our Lancaster, PA web design clients like one thing the most about their new websites or redesigns — they move visitors to become customers. We're a leader in Lancaster web design because we know what it takes to draw more visitor traffic to websites and then help those businesses grow.
And with an office in Lancaster and our headquarters in nearby Harrisburg, we can meet with you in person to discuss the specifics of what you want for your brand.
When you think about your website design, Lancaster, PA should not be your only consideration. With the Internet, you have the power to reach beyond your local area, beyond central Pennsylvania, and even beyond the rest of the United States if you want! Your website design should reflect your world-class brand. And with WebFX, you can get a world-class website that delivers phenomenal ROI and converts more of your visitors into paying customers and brand loyalists.
If you'd like to speak directly with a web design specialist, contact us online or at 888-601-5359.
Our Lancaster, PA web design services
At WebFX, we offer various expert web design services for our clients in Lancaster and beyond:
What does our web design services include?
WebFX is a full-service digital marketing agency, and we offer everything you need to make sure your website is ready to drive results. We offer the following with our web design and redesign services:
Custom design: We'll create a custom design for your website that's tailored to your business's needs and goals.
Professional styling: We'll ensure your website helps your business make a positive, professional impression on visitors and can incorporate web design standards and the latest trends.
Responsiveness and mobile-friendliness: We'll use responsive web design to make sure your website looks great no matter what device someone views it on.
Search engine optimization (SEO): As a full-service digital marketing company, we're also experts in SEO, which helps your site rank well on search engines for relevant keywords. We'll ensure your site is optimized for the search and brings in qualified traffic through search engines.
Security: We'll make sure your site is secure and uses HTTPS to protect your business and your site visitors.
Copywriting: We can provide professional copywriting services to ensure your website gets your message across in a professional, user-friendly way and leads users to convert.
Database integration: We can integrate a database into your website, such as for processing payments.
Content management system (CMS) integration: We can also integrate a CMS into your website to make it easier to publish and manage your content.
Ecommerce functionality: If you need ecommerce features, we can help with that too. We can ensure your website has the ecommerce functionality you need.
WebFX is a partner businesses trust.
Hear from HydroWorx, who saw a 236% increase in organic sessions with WebFX services.
Watch the Video Testimonial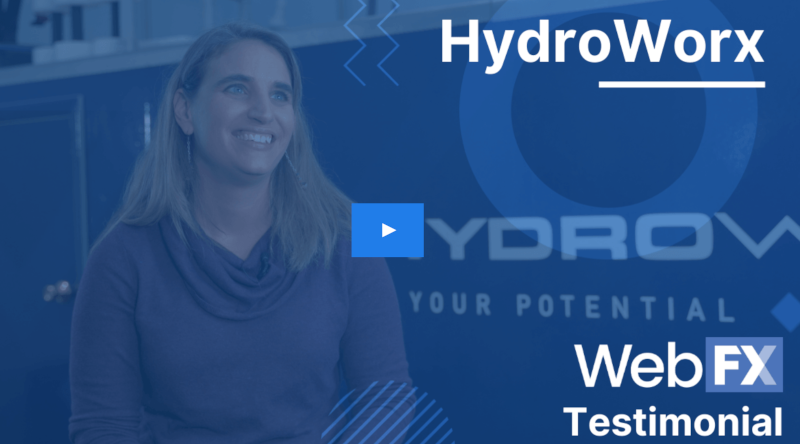 We offer more than just web design for Lancaster companies
At WebFX, we're web design experts — but we're much more than that, too. We're also a full-service digital marketing agency, meaning we offer everything you need to promote your business online. WebFX is a "one-stop shop" for digital marketing in Central Pennsylvania.
In addition to our web design services, we offer:
Our expert Internet marketers can provide you with just one or two services or projects, or act as a full-service marketing company for you. That's the WebFX advantage — we offer everything under one roof.
Our goal is to create a partnership with our Lancaster clients. As their businesses evolve and needs change, we are here to expand the reach of their websites and provide everything they need to attract customers online. And since we're located right in Central PA, we're always available for in-person meetings, events, or phone calls on your schedule.
WebFX's wide range of services create, support, and effectively market your online presence, placing us on the cutting edge of web design in Lancaster, PA. That's what sets us apart from the rest. And that's what will set your website apart from the rest, too.