Browse Lancaster social media marketing services
If you're looking for social media manager in Lancaster, look to WebFX. As a full-service agency, we provide a complete solution to managing your social media presence, from marketing to advertising to customer support. Browse our services to learn more:
Social media advertising services
Attract new followers, comments, and even sales with social media ads.
Social media services
Build brand awareness and reach the users that matter most to your business with social media.
Facebook advertising services
Use Facebook ads to grow your business with our Facebook advertising services.
Content marketing services
Generate continuous website traffic, leads, and sales with content marketing.
Instagram advertising services
Drive online sales, earn new followers, and reduce churn with Instagram ad services.
Email marketing services
Nurture valuable leads and current customers with our email marketing services.
Additional online marketing services we offer include:
And more
If you aren't sure which service matches your specific needs best, feel free to contact us online or call us at (888) 601-5359 to speak with an experienced strategist.
Are you ready to start boosting your brand awareness and reach with a top Lancaster social media marketing agency? That's where WebFX comes in.
When you choose Lancaster social media marketing services from WebFX, you'll have access to:
A dedicated (and seasoned) account manager
Original social media posts
Custom images, including profile and cover photo designs
Brand reputation analysis
Daily social media monitoring
In-depth competitor analysis
And so much more!
Browse our social media pricing and plans below:
We have multiple social media marketing plans and pricing available, so you can choose the best option that suits your business.
74% of people use social media when making a purchasing decision.
Make their decision easy with a stellar social media presence. See how your brand can level up by requesting a no-obligation proposal today.
One of our experts will be in touch within 24 hours!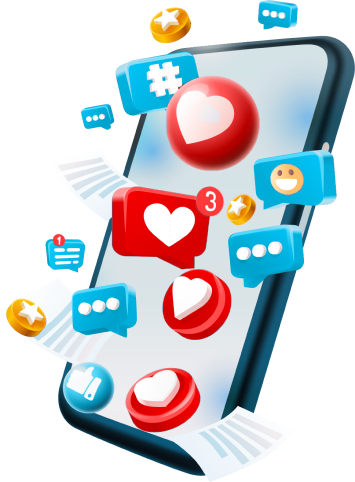 Benefits of partnering with a top social media marketing agency in Lancaster
Are you wondering how partnering with WebFX can benefit your Lancaster business? We've got you covered.
Here are some of the key benefits our leading social media marketing services can bring to your company:
1. Increase your brand awareness
Social media marketing is an excellent way to increase your brand recognition and awareness. In fact, more than 50% of Americans follow their favorite brands on social media and remain loyal to them.
With an effective social media strategy, you can successfully promote your brand, products, and services to billions of active users on social media platforms.
2. Acquire high-quality leads
Perhaps one of the biggest benefits of social media marketing is its ability to create personalized marketing messages and advertisements. Several platforms enable you to create targeted ads that resonate with users' interests, hobbies, demographics, and spending habits.
That means you can reach the consumers who are most interested in your products and services and are most likely to convert into paying, loyal customers.
3. Engage with your audience
Social media offers numerous opportunities to communicate and engage with both your current and potential customers. Consumers can comment on your posts, participate in your contests, and send you messages.
You can also ask your customers for valuable feedback and testimonials. You'll also be able to gain valuable customer insights that can help you improve your products and services for the future.
You can create an engaging online community that boosts your brand recognition and sales by frequently communicating with your audience.
Not happy with your social media engagement?
We've got just the blog post for you.
Read the Blog Post & Watch the Video